March 27, 2014
LAW/POLITICS: Tough Day In Court For Obamacare
Legal Times has the story from the D.C. Circuit on the suit challenging subsidies on Obamacare's federal exchanges on the ground that the plain language of the statute doesn't allow them. I recommend these backgrounders on the case from Sean Trende and Michael Cannon.
You can never tell for certain from oral arguments, and there have been some surprise twists already in this case, but these comments don't sound encouraging for the federal exchange subsidies. A few excerpts - there's much more in the story:
"If legislation is stupid, I don't see that it's up to the court to save it," said Senior Judge A. Raymond Randolph...Randolph and Judge Thomas Griffith seemed inclined to side with foes of the law, who told the panel that lower-income people are only eligible for tax credits if they buy health insurance through an exchange established by a state - not one set up by the federal government...

...[Randolph] called the Affordable Care Act "a last-minute deal filled with a lot of predictions, even the title," and said the predictions have not been born out. "The launch was an unmitigated disaster," and the costs of implementation "have gone sky-high," he said. "Suppose Congress made another prediction" - that if the tax credits were conditioned on setting up exchanges "all the states would line up for this deal." But this prediction too was not borne out, he said.

..."The legislative history is a wash," Griffith said. "There doesn't seem to be any clear legislative history." Without evidence of congressional intent, Griffith said, "You have a special burden" to show that the plain language of the statute "doesn't mean what it appears to mean."

Randolph added, "What we've got here is language that doesn't seem malleable." If the court knows "the clear purpose of the statute" - in this case, to provide affordable health insurance - but Congress "didn't write it clearly enough, is it our job to fix the problem?," Griffith wondered.

Randolph said no. The court can overrule plain statutory language based on the "absurdity principle, but I don't see a stupidity principle."
Stay tuned.
POLITICS: 6 Reasons Why Iowa Senate Candidate Bruce Braley Has Had A Very Bad Week
Iowa Democrat Bruce Braley's Senate campaign has had a rough week, which has only gotten worse after the now-infamous video of Braley at a Texas fundraiser deriding Chuck Grassley as "a farmer from Iowa".
How bad? Let's review 6 ways:
1. Everybody's Piling On
The commentary on Braley's gaffe has been brutal. The Iowa papers have been all over the story, with heavy coverage in the Des Moines Register and a front page above the fold headline in the Quad City Times, helpfully contrasting Braley with the unveiling of a statue on Capitol Hill of Iowa agriculture legend Norman Borlaug. Even reliable Democratic partisans like Jonathan Chait were commenting that "Bruce Braley must realize that his career in Iowa politics is finished." Chuck Todd tweeted that this was a "Big unforced error on Braley's part...not just elitest but un-Iowan to attack another Iowan the way he did." Popular Republican Governor Terry Branstad ripped Braley's "arrogance."
2. Lost On The Farm
The fact that Braley speaks Iowa farmer as a second or third language was driven home by his staff. His press release apologizing for the gaffe only made things worse:
The Braley campaign misspelled a couple of basic Iowa-farm-related words - detasseling and baling - in its press release defending the U.S. Senate candidate's street cred with farms and farmers.

A sharp-eyed Des Moines Register editor noticed that the news release said: "Bruce grew up in rural Iowa and worked on Iowa farms, detassling corn and bailing hay."
One suspects that Braley has not surrounded himself with farm-literate staffers. Which is also ironic for a guy who has mocked his Twitter followers' spelling in the past.
3. Can't Find Iowa With A Map and Google
Andrew Kaczynski of Buzzfeed noticed that Braley's Facebook site had a photo of a supposed Iowa farm that was actually a stock photo of a fruit farm from England or maybe India. Caleb Howe saved screenshots before they were deleted from Braley's site, and noticed other places where the same stock images show up. Kaczynski also noted that Braley's Facebook page featured a photo of a minimum wage worker that was apparently taken in Mexico:
4. Not Polling So Hot
Rasmussen reported this afternoon a poll taken last week (before the gaffe) showing Braley polling only at 40-41% against three of his potential GOP rivals and 44% against a fourth:
A new statewide telephone survey of Likely Iowa Voters finds Braley with a 41% to 38% lead over businessman Mark Jacobs. He leads State Senator Joni Ernst 40% to 37% and runs four points ahead - 40% to 36% - of former U.S. Attorney Matt Whitaker. Braley posts a 13-point lead - 44% to 31% - over another GOP contender, conservative talk show host Sam Clovis.
It was only Monday that Nate Silver's poll model still gave Braley a 75% chance to win this race. Rasmussen's polling has looked rather volatile and unreliable since the departure of founder Scott Rasmussen last year, and its national job-approval polls have tended to be more favorable than any other pollster for President Obama, so take that as you will; there should be more regular polling in this race as it goes along, especially as the GOP field narrows and the candidates get better known. Quinnipiac also polled the race earlier this month, similarly showing Braley in the low 40s but with more distance over his GOP rivals:
42 - 30 percent over former U.S. Attorney Matt Whitaker; 42 - 29 percent over State Sen. Joni Ernst; 40 - 31 percent over businessman Mark Jacobs; 42 - 27 percent over radio commentator Sam Clovis
Note the Q poll found Grassley with a stratospheric 62-27 approval rating among Iowans, compared to 55-31 for retiring liberal Democrat Tom Harkin and a ghastly 39-57 for President Obama. So, insulting Grassley is definitely not the winning move here. Braley's own 35-18 favorability rating in the poll reflects the fact that nearly half the voters hadn't formed an opinion of him yet, which I'm guessing many will be doing this week.
Neither poll seems to have polled the fifth GOP candidate, car salesman and Navy veteran Scott Schaben. There's more to be said about the GOP field - Jacobs has polled of late as the frontrunner, while Ernst has put on a big p.r. push this week, with a viral first ad talking about growing up castrating hogs on a farm and endorsements from Mitt Romney and Sarah Palin - but GOP voters will have plenty of time to size them up before the June 3 primary.
5. Gaffe-Tastic!
At the start of this week, Braley was just a name on paper to a lot of people following this race from out of state, and a modestly-known Congressman to Iowans. But now that he's coming into focus, we can see that the signs have been there for a while that Braley was not the top-flight Senate recruit the Democrats had touted him as, but rather an abrasive lawyer with a gift for gaffe:
-Braley's trial-lawyer-bully demeanor and obsession with academic credentials are on full display in this hearing where he badgered a Canadian female expert in healthcare economics over where she went to school:
-Last March, he had to delete a tweet that compared an NCAA basketball loss by Iowa State to the Cherokee "Trail of Tears."
-During the government shutdown last fall, Braley staggered critics with his out-of-touch complaints about the lack of towels in the House gym. Even left-wing radio host Bill Press, on whose show Braley whined about the towel service, was appalled:
"I was speechless," Press said, telling ABC7 he thought he was asking Braley an easy question that he would answer by saying the gym needed to be shutdown.

"I was angry until he told me that they had to do their own towels," Press said. "I sort of felt sorry
for them. Poor members of Congress, they're only getting paid a hundred seventy five thousand dollars a year, and they have to do their own towels."

"The staff gym, by the way, is closed," he continued. "The members gym is open. And then they have to do their own towels. I don't think many people are crying their hearts out about that tonight. Gimme a break."
6. Wait Until We Get To The Issues
All of this is just revealing Braley's character. On the issues, Braley is still going to have to answer for being a vocal backer of Obamacare who was telling people on the trail last year that Obamacare was "something people should 'celebrate.'" And David Freddoso notes that Braley has a history of being completely in the pocket of his trial lawyer donors.
The filing deadline passed in this race on March 11, so Democrats will sink or swim with Bruce Braley. They may find the going rougher than the Missouri in spring flood season.
March 25, 2014
POLITICS: Iowa Senate Candidate Bruce Braley Insults Iowa Farmers
You won't believe what Iowa Congressman Bruce Braley was caught on tape saying about Iowa farmers:
Braley, the presumptive Democratic nominee for an open and hotly-contested Senate seat in Iowa, is a lawyer, and a former president of the Iowa Trial Lawyers Association, and he's speaking here to fellow lawyers at an out-of-state fundraiser, presumably blissfully unaware that things said at fundraisers could be videotaped (who knew?):
[I]f you help me win this race you may have someone with your background, your experience, your voice, someone who's been literally fighting tort reform for thirty years, in a visible or public way, on the Senate Judiciary Committee. Or, you might have a farmer from Iowa who never went to law school, never practiced law, serving as the next Chair of the Senate Judiciary Committee. Because, if Democrats lose the majority, Chuck Grassley will be the Chair of the Senate Judiciary Committee.
Let us count the ways in which this is colossally stupid.
One, Braley seems unaware that there are a lot of farmers in Iowa, who may well like the idea that someone with their background, their experience, and their voice will have a position of influence in the U.S. Senate, over the courts. This may come as news to Congressman Braley, but while lawyers live with the most immediate day-to-day business of the courts, they affect the lives of everyone - yes, even those lowly Iowa farmers. As a lawyer myself, I like the idea that we should have some lawyers on the Senate Judiciary Committee and on its staff, but the whole point of democracy is that the common man gets a say in how he is governed, not just the experts. Relatedly, Braley's stress on "your background, your experience, your voice" just emphasizes how he sees the voice and interests of trial lawyers as one that will be very different from that of farmers.
Two, Braley didn't just say farmer - he said "farmer from Iowa," as if to underline to his audience that they should view an Iowa farmer as especially parochial. I will hazard a guess that this is not the first time most Iowans have heard themselves spoken of this way, and that they will not like it much.
Three, Braley manages to mention here that his losing the election would elevate the state's senior Senator to the chairmanship of a powerful committee. Way to go making the sale there.
Four, he manages to sneak in the fact that he's been a longstanding opponent of tort reform, and doesn't even bother to come up with some focus-group-tested euphemism for reform. He's bluntly telling the trial lawyers in the audience that he's for their interests - not like those Iowa farmers. [UPDATE: The Des Moines Register helpfully notes that "Braley's biggest donors this election cycle to date are lawyers and law firms, according to OpenSecrets.org. They've funneled $1,122,748 into his campaign."]
Well done, Bruce Braley, well done. This might even get you 47% of the vote.
March 21, 2014
LAW/POLITICS: Court: Planned Parenthood Violated Fourth Amendment in Home Raid
"An incident that is more like home raids by Red Guards during China's Cultural Revolution than like what we should expect in the United States of America"
Sometimes, the recitation of facts in a judicial opinion speaks volumes. A decision this morning from the U.S. Court of Appeals for the Sixth Circuit in Ohio, captioned Bray v. Planned Parenthood, et al., No. 12-4476 (6th Cir. Mar. 21, 2014), is one of those cases.
Michael Bray, the plaintiff, is not a terribly sympathetic character; he wrote a book in 1994 advocating violence against abortionists, and served four years in prison in the 1980s for a series of bombings of abortion clinics. (Like Bill Ayers, Bray never injured anyone and denies any intent to do personal harm, but as we know, setting off bombs in populated areas is a hazardous business). In 1993, the Supreme Court ruled 5-4 that clinic protests by he and his wife Jayne did not violate the Civil Rights Act of 1871, a/k/a the Klu Klux Klan Act, but the following year, at the urging of the Clinton Administration, Congress responded by passing the Freedom of Access to Clinic Entrances Act. Planned Parenthood immediately filed suit against Bray in Oregon under the new federal statute that was more or less designed to target him, and won a $110 million jury verdict, reduced on appeal to $850,000. It then set about trying to collect the judgment from Bray's book sales, which as you may imagine don't seem to have been particularly extensive.
By 2007, further legal proceedings were underway in Ohio, where the Brays live with their seven children. Bear in mind that, while Planned Parenthood at this juncture was entirely in the right in seeking to collect on a valid judgment, this was no more than that: debt collection. Yet when the Marshals came to the Bray house, they brought not only four Marshals, two county sheriffs' deputies and an ATF agent, but also two outside lawyers for Planned Parenthood and a number of other unknown individuals (apparently from Planned Parenthood as well) to root through the house videotaping the place, taking books, computers, manuscripts, cameras and camcorders. Many of those items were later returned by the court on grounds of having been improperly seized, but in some cases only well over a year later and after much legal wrangling. Here's how the Sixth Circuit characterized these facts (as alleged in the Brays' complaint):
If the facts alleged in the complaint are true, this case involves an incident that is more like home raids by Red Guards during China's Cultural Revolution than like what we should expect in the United States of America. A surprise raid was made on a judgment debtor's home to enforce an order of execution on property of the debtor. The order was ostensibly for the purpose of obtaining property of value to be seized, but was obviously focused instead on all means for the debtor to express ideas. The debtor was required to sit on his couch while flak-jacketed U.S. Marshals, along with agents of advocates for moral and political positions that the debtor despised, plus persons with unknown identities and purposes, went through and seized the books and papers, and computers and cameras, of the debtor and his family. The only exception was for children's books and Bibles. The interior of the home was videotaped. The debtor was not allowed to leave the couch, to go outside, or to call his lawyer, although eventually a marshal called the debtor's lawyer.

This kind of home attack on the ability to convey ideas should not happen in our Republic. It is true that the debtor's ideas - that it is moral to take violent, illegal action to stop abortions - are repugnant. But it is contrary to our fundamental norms to permit government-sanctioned attacks on the purveyance of ideas, even when those ideas are repugnant.
In ruling on the Brays' civil suit against Planned Parenthood and the Marshals, the unanimous three-judge panel (which included Judge Bernice Donald, an Obama appointee) found that the presence of Planned Parenthood representatives wandering around the house and videotaping violated the Fourth Amendment, and undermined any claims by the Marshals that there was a genuine security threat presented by the Brays and their children to justify such a heavy-handed raid:
No countervailing governmental interest justified the four-hour detention of Michael Bray. For one thing, the raid presented none of the operational and safety concerns that may justify seizing the occupants of a home during the execution of a criminal warrant….Allowing Michael Bray to leave his home or to use the telephone would not have threatened the completion of the search. Nor would an unrestrained Michael Bray have presented a safety concern. To the contrary, the marshals' own actions belie that argument. Had the marshals believed that not restraining Michael Bray risked violence, they would not likely have permitted numerous representatives of PPCW to join in a surprise raid of his home.

Inviting multiple representatives from PPCW to join the search did more than undermine the argument that the marshals believed Michael Bray to be a safety threat. In addition, the action violated the Fourth Amendment because it exceeded the writ, which authorized only "a representative from [PPCW]" to "be present to assist in the identification of property subject to seizure."...Contrary to this clear instruction, the marshals permitted not one, but "numerous" representatives of the organization to join the raid...

Adding further support to the conclusion that the marshals' actions violated the Constitution, the presence of multiple unauthorized representatives of PPCW served no valid purpose under the writ. Although the Fourth Amendment does not require that all conduct by an officer within a home be expressly authorized by a court order, it does demand that actions relate to the lawful objectives of the order...PPCW had no articulated expertise in satisfying the ostensible purpose of the writ, identifying valuable goods to satisfy a monetary judgment.

Moreover, because the presence of additional representatives of PPCW was not authorized, and because the writ made no provision for the use of a camera, it was a violation of the Fourth Amendment to permit the organization to film the home. A person who is not lawfully present in a home may violate the Constitution by engaging in warrantless filming of the area. The Supreme Court made clear...that the right to be present in a home does not necessarily entitle police to bring photographers with them. In this case, the unauthorized filming of the Brays' home was particularly unreasonable because the raid was unannounced and the filming occurred within the home itself. Moreover, because of the location and nature of the filming, the use of the camera posed a heightened risk of intimidating the family and capturing its intimate, unguarded moments.
As it turned out, because the Brays had settled with Planned Parenthood and certain other defendants, the court ended up dismissing the remaining claims against the Marshals, finding that while they had participated in an unconstitutional raid, they were immune from civil suit under the doctrine of "qualified immunity" because they had been carrying out a valid court order and may not have realized that they were going far enough afield for a clear constitutional violation (qualified immunity law requires that law enforcement officials can be sued only when they clearly and obviously knew they were violating a Constitutional right; the doctrine protects cops from second-guessing by judges after the fact).
At the end of the day, the Brays may not be worthy of much sympathy, but the Constitutional rights of unpopular citizens can matter to the rest of us, especially when the people trampling on those rights come from an organization like Planned Parenthood that is all too accustomed to getting its way in the legal system regardless of who gets hurt (just ask a Pennsylvania state legislator who is the cousin of one of Kermit Gosnell's victims and now faces Planned Parenthood's wrath). The Fourth Amendment's protection against unreasonable searches of the home was put in the Constitution to protect our privacy. It is ironic, given its rhetoric, that Planned Parenthood does not respect that right.
March 12, 2014
POLITICS: Vox in Box
March 8, 2014
POLITICS: Witness the Political Genius of Salon
Brian Beutler of Salon is generally regarded by progressives as one of the smartest people in their movement, and his work is often cited with solemn nods of approval by others on the Left. So, when he writes a widely-cited article purporting to reveal a secret and diabolical Republican plot - breathlessly titled, "Republicans have a secret Obamacare strategy - and it's based on deception" - it's instructive to consider the political basis of this thesis.
I advise you to not be drinking anything when we get to his reasoning.
Beutler argues that Republicans are going to make gains in this year's election no matter what happens, and are deviously going around campaigning against Obamacare to make it seem as if the voters are unhappy with Obamacare, when really they are just peachy keen on it! I will leave aside, as Beutler does not mention them, the polls that have shown that the voters disapprove of Obamacare (spoiler: virtually every poll taken for the past five years), and quote Beutler's poll analysis in its entirety:
I bring this up in light of a new Washington Post/ABC News poll, which finds that in spite of the GOP's abiding unyielding infatuation with Obamacare, the law is actually a political wash, at least to first approximation.

Here's Greg Sargent on the numbers: "barely more than a third (36 percent) say support for Obamacare would make it less likely they vote for a candidate, versus 34 percent who say 'more likely.' This is overwhelmingly driven by Republicans: 70 percent of them say 'less likely,' while only 35 percent of independents say the same, and moderates say they'd be marginally more likely by 35-31."

So here we are, eight months out from the midterms, with control of the Senate on the line, and the GOP is orienting its entire campaign around an issue that - again, to first approximation - confers them no net benefit. Why the hell would they do that?

A few reasons. One obvious reason is that they've worked their voters into such a lather over Obamacare that they can't just quietly sideline it, particularly now that it's actually being implemented. Then there are related, second-order effects. If Obama creates an intensity gap between Democrats and Republicans, then the issue obviously advantages the latter. Having worked their voters into said lather, Obamacare is precisely the kind of issue that will drive them to the polls in November - especially if they've been deceived into thinking that Obamacare can be repealed.
So, you know, it's a political wash...except with the people who actually vote, and except that it is the issue that will motivate them to actually vote.
But you know, besides that. Because who ever heard of voter turnout affecting an election?
If you actually dive into the one poll under discussion, it gets worse for Beutler's and Sargent's theory. Because that 34-36 number is all adults, and as we all know, all adults don't vote; registered voters vote (and not all of them, either, but eight months from an election it's hard to project who the likely voters are, because...oh, sorry, I'm discussing what motivates voter turnout again. How unsporting of me.)
When you flip the tab to registered voters, the +/- on Obamacare deteriorates to 33/40, seven points underwater. A 40/33 issue isn't an 80/20 issue, but it's certainly one I'd feel comfortable running on.
Then you hit the breakdowns by group, bearing in mind that these appear to be subsets of adults, rather than subsets of registered or likely voters. As noted, Obamacare is 11/70 with Republicans and 30/35 with independents. It's 34/40 in the Midwest, which is chock full of purple states that have Senate and House races this year. And then you get to the people the Democrats would presumably bank on, and you see significant weakness. Obamacare is 57/12 with Democrats and 45/18 with moderate or conservative Democrats - that's a lot of Democrats to be unhappy enough with the party's signature domestic policy that they say it would negatively impact their vote. Losing almost 1 in 5 self-identified moderate or conservative Democrats on Election Day, whether they switch sides or more likely stay home, would be a bloodbath when they are already going to lose independents. And let's not discuss unions.
How about non-white voters? 44/18. That's right, among non-white respondents to the WaPo poll who said Obamacare would affect their vote, more than a quarter would be less likely to vote for a pro-Obamacare candidate - nearly a fifth of all non-white adults. Among Hispanics, it's 42/19. If I'm a Democratic strategist counting on these groups as core base voters, those are chilling numbers. (And note that the number for liberal Democrats is 75-1. Which suggests to me that most of the non-white respondents to this poll did not self-identify as liberal Democrats, an interesting finding in itself).
All of this is only one poll, of course, but since it's the entire basis for Beutler's argument, it gives you a sense of how much straw-grasping is really involved here. If you can convince yourself that voter turnout doesn't matter, and that Democrats didn't really suffer in 2010 from their Obamacare votes, I guess you can convince yourself of almost anything.
March 7, 2014
POLITICS: The Democrats' 2014 Whitewash
RS: The Democrats' 2014 Whitewash
Barack Obama's electoral success has shown the Democratic Party the value of a non-white candidate in driving turnout and enthusiasm among the non-white voters that are vital to the party's success. So why are nearly all the statewide Democratic candidates this year white?
If there is one central theme to the political strategy of the Democrats and the electoral analysis and optimism of liberal pundits in the Obama era, it is race. To say that they are obsessed with these topics is to vastly understate the case. Virtually every analysis of "the Republicans' demographic problems" and the long-term case for Democratic/progressive dominance is premised upon the rising share of non-white voters in the electorate and their identification with the Democrats. To be sure, these are not Republicans' only challenges - even with younger white voters there are a few issues (mainly same-sex marriage and marijuana) on which the GOP is out of step with generational trends, and there is legitimate concern that younger voters of all races are less likely to be religious or get married, two traditional markers of conservatism. But even looking at the 2012 election returns, we see that Barack Obama lost white women by the largest margin of any candidate of either party since Walter Mondale, suffered a huge reversal among white voters under 30 (who he lost by 7 points after winning them by double digits in 2008), and even narrowly lost white women under 30. So, all of the Democrats' advantages along gender and age lines are still really just symptoms of a racially polarized electorate.
And turning out that electorate has been a challenge for Democrats. The big turnout wave of African-Americans for Obama exceeded anything John Kerry or Al Gore was ever able to muster, and the midterm elections in 2009, 2010, and 2013 (with the arguable exception of the 2013 Virginia Governor's race) yielded electorates that were older, whiter and more conservative than the 2008 or 2012 electorates (this was even true in 2006, although depressed GOP turnout and heavy independent support for Democrats made that a big year for the Democrats anyway). There has been much open fretting by Democrats that the turnout will look the same this year - which threatens to make this a serious wave year for Republicans, given the public mood. That's even before you get to the fact that Democrats' rising success with non-white voters has coincided with hemorrhaging support among white voters and the very real possibility that the Democrats haven't yet found their floor among white voters. To say nothing of the possibility that the natural long-term arc of Hispanic voter preferences may move back in the direction of the GOP. In the immediate term, we have already seen polling showing that Hispanics are the most disillusioned of Obama's 2012 supporters. Few things in a two-party political system are forever.
And there is a very real sense in which the big turnout of 2008 and especially 2012 was a show of racial solidarity with Obama (and his wife) personally, as much as it was a traditionally political phenomenon. There were all sorts of signs of this in the 2012 exit polls. Only 23% of voters in the exit polls said that the economy was in good or excellent shape, for example, but 90% of these voted for Obama. Who are these voters? A July 2013 Quinnipiac poll - somewhat typical of the breakdowns these days - found that 47% of black voters, but only 25% of white voters, described the state of the economy as good or excellent. By contrast, an October 2007 CNN poll found 69% of black voters describing the economy as in recession, compared to 42% of white voters. This, despite the fact that the objective evidence shows unemployment significantly higher among African-Americans in 2013 than 2007.
But forget the data; listen to liberal African-American pundits. Here is The Atlantic's Ta-Nehisi Coates, laying it out in the purplest of prose:
Barack Obama was not prophecy. Whatever had been laid before him, it takes gifted hands to operate, repeatedly, on a country scarred by white supremacy. The significance of the moment comes across, not simply in policy, by in the power of symbolism. I don't expect, in my lifetime, to again see a black family with the sheer beauty of Obama's on such a prominent stage. (In the private spaces of black America, I see them all the time.) I don't expect to see a black woman exuding the kind of humanity you see here on such a prominent stage ever again....I don't ever expect to see a black man of such agile intelligence as the current president put before the American public ever again.

This symbolism has real meaning. What your country tells you it thinks of you has real meaning. If you see people around you acquiring college degrees and rising only to work as Pullman porters or in the Post Office, while in other communities men become rich, you take a certain message from this. If you see your father being ripped off in the sharecropping fields of Mississippi, you take a certain message about your own prospects. If the preponderance of men in your life are under the supervision of the state, you take some sense of how your country regards you. And if you see someone who is black like you, and was fatherless like you, and endures the barbs of American racism like you, and triumphs like no one you've ever known, that too sends a message.

And this messenger - who is Barack Obama - becomes something more to black people. He becomes a champion of black imagination, of black dreams and black possibilities. For liberals and Democrats, the prospect of an Obama defeat in 2012 meant the reversal of an agenda they favored. For black people, the fight was existential. "Please proceed, governor," will always mean something more to us, something akin to Ali's rope-a-dope, Louis over Schmeling, or Doug Williams over John Elway.

How does a black writer approach The Man when The Man is not just us, but the Champion of our ambitions?
Or here is the Daily Beast's Jamelle Bouie, writing in the midst of that election: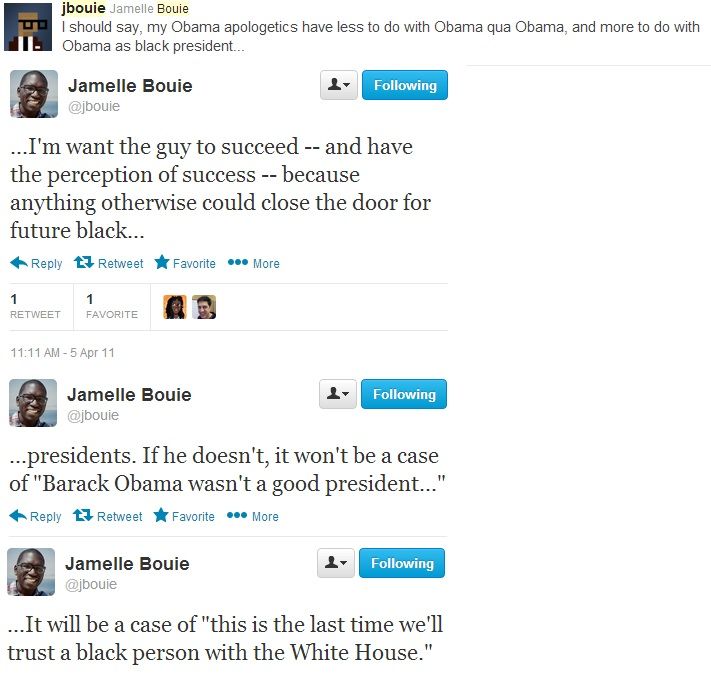 The upside of making the race of the candidate an existential issue for African-American voters is, it's a tremendous motivator to turn out to keep the symbolic leader in office. The downside is, it's not easily transferable to other candidates - not to other non-white candidates for lower offices, and certainly not to a bunch of white politicians who look pretty much just like the people they are running against.
And yet, bafflingly, that is exactly what the Democrats are running in 2014. At this writing, the Democrats are running a candidate in 62 Senate and Governors' races this fall (nobody has really stepped forward yet in the Nevada, Tennessee or Wyoming Governors' races). And depending how you count the frontrunners, anywhere from 57 to 60 of those 62 candidates will be white (92-96%), and 47 to 49 of them will be white males (more than 75%). Let's take a look at that roster of candidates, ranked by a very rough ranking of the competitiveness of the races ("1" being hotly contested races, "2" being races that will be contested but with a clear favorite, "3" being races that look lopsided and may end up being de facto cakewalks - this is giving the benefit of the doubt that a lot more races will be competitive than polling may suggest, but races like the New York and Texas governorships will be big-time battles even if the outcome seems pretty clear in advance). I also rated as at least a 2 every race with a Republican Senate incumbent who has a non-obscure Tea Party challenger. I marked with an asterisk the races in which the Democrats have a significant chance of ending up with a different candidate - for example, the one black female candidate here, Richland County Councilwoman Joyce Dickerson in South Carolina, is an obscure candidate with a white male opponent in a race so unlikely to be contested that there's been no polling (I rate her as the frontrunner because she at least holds elective office, but with a primary electorate that ran Alvin Greene in 2010, you never know). One white male Democratic Senator, Brian Shatz, faces an Asian female primary opponent, Congresswoman Colleen Hanabusa, who may well defeat him, and David Alameel in Texas is in a runoff with Kesha Rogers, a black female LaRouchie who wants to impeach Obama. On the flip side, the two non-white Democratic frontrunners for Governor, Providence Mayor Angel Taveras in Rhode Island and Lieutenant Governor Anthony Brown in Maryland, still face significant white primary opponents - Rhode Island State Treasurer Gina Raimondo and Maryland Attorney General Doug Gansler, respectively. So the number of non-white candidates could easily go down rather than up.
| State | Office | Status | D Candidate | Competitive? | Race | Gender |
| --- | --- | --- | --- | --- | --- | --- |
| AK | SEN | Incumbent D | Mark Begich | 1 | White | Male |
| AR | SEN | Incumbent D | Mark Pryor | 1 | White | Male |
| CO | SEN | Incumbent D | Mark Udall | 1 | White | Male |
| LA | SEN | Incumbent D | Mary Landrieu | 1 | White | Female |
| NC | SEN | Incumbent D | Kay Hagan | 1 | White | Female |
| NH | SEN | Incumbent D | Jeanne Shaheen | 1 | White | Female |
| CO | GOV | Incumbent D | John Hickenlooper | 1 | White | Male |
| CT | GOV | Incumbent D | Dan Malloy | 1 | White | Male |
| IL | GOV | Incumbent D | Pat Quinn | 1 | White | Male |
| MT | SEN | Incumbent D (App) | John Walsh | 1 | White | Male |
| KY | SEN | Incumbent R | Alison Lundergan Grimes | 1 | White | Female |
| FL | GOV | Incumbent R | Charlie Crist | 1 | White | Male |
| KS | GOV | Incumbent R | Paul Davis | 1 | White | Male |
| ME | GOV | Incumbent R | Mike Michaud | 1 | White | Male |
| MI | GOV | Incumbent R | Mark Schauer | 1 | White | Male |
| NM | GOV | Incumbent R | Gary King* | 1 | White | Male |
| OH | GOV | Incumbent R | Ed Fitzgerald | 1 | White | Male |
| PA | GOV | Incumbent R | Tom Wolf* | 1 | White | Male |
| IA | SEN | Open D | Bruce Braley | 1 | White | Male |
| MI | SEN | Open D | Gary Peters | 1 | White | Male |
| MA | GOV | Open D | Martha Coakley* | 1 | White | Female |
| RI | GOV | Open D | Angel Taveras* | 1 | Hispanic | Male |
| MN | SEN | Incumbent D | Al Franken | 2 | White | Male |
| NM | SEN | Incumbent D | Tom Udall | 2 | White | Male |
| OR | SEN | Incumbent D | Jeff Merkley | 2 | White | Male |
| VA | SEN | Incumbent D | Mark Warner | 2 | White | Male |
| HI | GOV | Incumbent D | Neil Abercrombie | 2 | White | Male |
| MN | GOV | Incumbent D | Mark Dayton | 2 | White | Male |
| NH | GOV | Incumbent D | Maggie Hassan | 2 | White | Female |
| NY | GOV | Incumbent D | Andrew Cuomo | 2 | White | Male |
| OR | GOV | Incumbent D | John Kitzhaber | 2 | White | Male |
| HI | SEN | Incumbent D (App) | Brian Shatz* | 2 | White | Male |
| KS | SEN | Incumbent R | Chad Taylor | 2 | White | Male |
| ME | SEN | Incumbent R | Shenna Bellows | 2 | White | Female |
| MS | SEN | Incumbent R | Travis Childers | 2 | White | Male |
| GA | GOV | Incumbent R | Jason Carter | 2 | White | Male |
| IA | GOV | Incumbent R | Jack Hatch | 2 | White | Male |
| SC | GOV | Incumbent R | Vincent Sheheen | 2 | White | Male |
| WI | GOV | Incumbent R | Mary Burke | 2 | White | Female |
| SD | SEN | Open D | Rick Weiland | 2 | White | Male |
| WV | SEN | Open D | Natalie Tennant | 2 | White | Female |
| AR | GOV | Open D | Mike Ross | 2 | White | Male |
| MD | GOV | Open D | Anthony Brown* | 2 | Black | Male |
| GA | SEN | Open R | Michelle Nunn | 2 | White | Female |
| AZ | GOV | Open R | Chuck Hassebrook | 2 | White | Male |
| TX | GOV | Open R | Wendy Davis | 2 | White | Female |
| DE | SEN | Incumbent D | Chris Coons | 3 | White | Male |
| IL | SEN | Incumbent D | Dick Durbin | 3 | White | Male |
| NJ | SEN | Incumbent D | Cory Booker | 3 | Black | Male |
| RI | SEN | Incumbent D | Jack Reed | 3 | White | Male |
| CA | GOV | Incumbent D | Jerry Brown | 3 | White | Male |
| VT | GOV | Incumbent D | Peter Shumlin | 3 | White | Male |
| SC | SEN | Incumbent R | Jay Stamper | 3 | White | Male |
| TN | SEN | Incumbent R | Terry Adams | 3 | White | Male |
| TX | SEN | Incumbent R | David Alameel* | 3 | White | Male |
| AK | GOV | Incumbent R | Byron Mallot | 3 | White | Male |
| AL | GOV | Incumbent R | Parker Griffith* | 3 | White | Male |
| ID | GOV | Incumbent R | AJ Balukoff | 3 | White | Male |
| SD | GOV | Incumbent R | Joe Lowe* | 3 | White | Male |
| SC | SEN | Incumbent R (App) | Joyce Dickerson* | 3 | Black | Female |
| NE | SEN | Open R | David Domina* | 3 | White | Male |
| NE | GOV | Open R | Fred Duval | 3 | White | Male |
As you can see here, beyond Cory Booker (who faced a real race in October but as of now has no real opponent), not only are the Democrats running a virtually all-white slate of candidates in the marquee statewide races, just about every Democrat in a hotly contested race this year is white. (Protip to activists: somebody with the time to put together a graphic of all these candidates could have some fun with it).
Should that matter? Of course not. Does it? Look at the primary results from this week's Democratic gubernatorial primary in Texas - and you can see that white female abortion zealot Wendy Davis lost most of the Southwest Texas border counties - the places where Barack Obama did best in 2012 - to a primary opponent who has basically no campaign, but who had a Hispanic surname: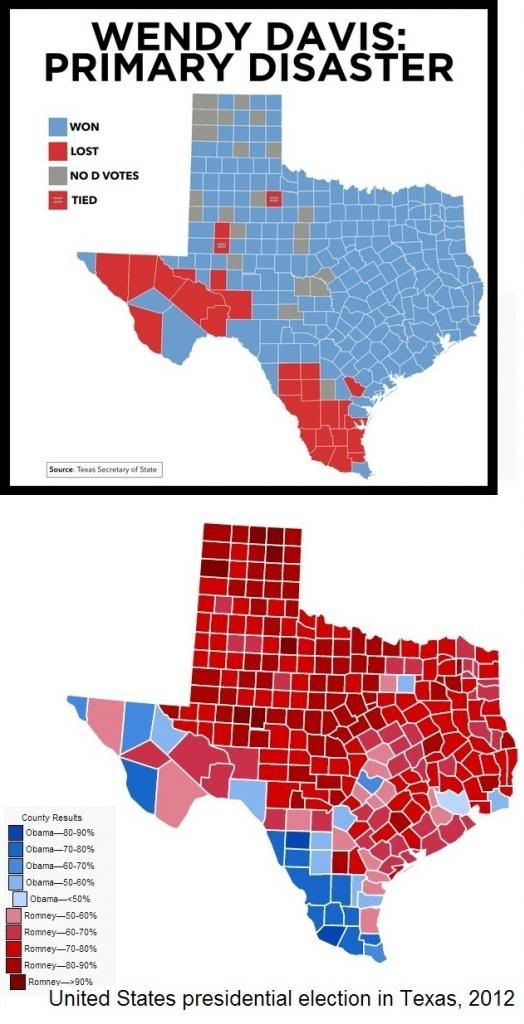 The result was stunningly low turnout in favor of a Democratic nominee in Texas. As it happens, these are also the most Hispanic counties in Texas: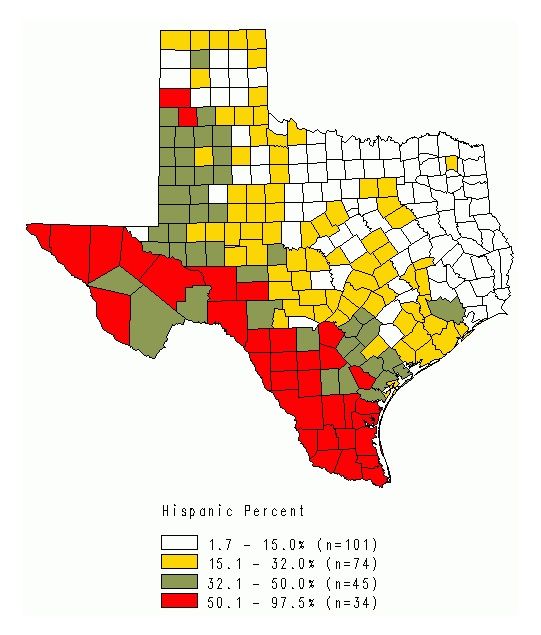 The GOP candidate, Greg Abbott, will not hesitate to send his Hispanic wife, Cecilia, to campaign there.
For a party so focused on "diversity" as a slogan and the turnout of non-white voting blocs as a lifeline, it's hard to see why you would run that risk. Of course, a similar analysis of the leading Republicans would also show a heavily white, heavily male slate - but a little less so: Republicans are running two non-white incumbents in South Carolina, Nikki Haley and Tim Scott, two incumbent Hispanic Governors in Brian Sandoval and Susanna Martinez, and a Native Hawaiian gubernatorial candidate, former two-term Lieutenant Governor Duke Aiona, as well as a number of white female candidates. And more to the point, Republicans are already doing fine with white voters; they're not the ones who are existentially dependent upon firing up non-white voters with racial appeals. Democrats are - and so their failure to recruit and develop more non-white candidates adds yet another cause for alarm in what is already shaping up to be an alarming election season.
And if the results are ugly, that may make the Democrats rethink running a 69-year-old white woman as their national candidate in 2016.
(NOTE: The original version of this article stated that Joyce Dickerson's opponent in the race to run against Tim Scott had a felony record - actually, it's Jay Stamper, who is running against Lindsay Graham, who has a felony record. I've corrected that as quickly as I could.)
March 4, 2014
WAR: Republicans, Ideology and Foreign Policy