January 22, 2009
POLITICS: Looks Like Gillibrand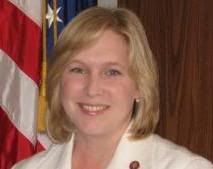 The New York Senate selection process, while not as big a disaster for the Democrats as in Illinois, has looked at times like a family soap opera, as Basil Paterson's son had to decide who should replace Bill Clinton's wife in the Senate: John F. Kennedy's daughter? Mario Cuomo's son, who was once married to Robert F. Kennedy's daughter? We also had the amusing spectacle of Democrats, fresh off the Obama victory, having to explain yet again why a completely unqualified candidate should get the job, and of the Kennedy family feeling cheated that Caroline wouldn't get to join Uncle Ted in the Senate (he inherited his seat years ago) because she had tax and nanny problems.
Now, multiple sources are reporting that Albany-area two-term Congresswoman Kirsten Gillibrand, who isn't related to anybody (but did work for Andrew Cuomo at HUD in the late 1990s), will be Paterson's pick. As I have discussed before, this is a ticket-balancing choice: Paterson is a black urban liberal from Harlem (if that's not redundant); to win statewide, he needs to draw support from upstate and reach out to white voters, while Gillibrand is relatively young (42), telegenic, Catholic, a mother of two young children and represents a traditionally Republican district she won in 2006 from the excessively hard-partying John Sweeney. Gillibrand might want to get out of Dodge - her district is sooner or later going to give her a tough re-election battle (in 2008, Gillibrand and her self-funding opponent combined to raise more money than the combatants in any other Congressional district in the country), and her district may be eliminated anyway in 2012, as New York is likely to lose Congressional seats. Democrats are reportedly shrugging off the possible loss of her seat on the grounds that hey, they have enough seats already, similar to the view they took in sacrificing the Governorship of Arizona and removing an incumbent Senator in Colorado.
Liberals may not that be happy with Gillibrand, who is no centrist but nonetheless in her career so far bears about the same relationship to a deep-blue-state liberal that Lindsey Graham does to a deep-red-state conservative: she's a member of the Blue Dog caucus with a 100% rating from the NRA, opposed Eliot Spitzer's plan to give drivers' licenses to illegal aliens, is a sponsor of the SAVE Act and of employer verification of legal status of workers and, supports making the Bush tax cuts permanent. I'd expect her to drift leftward in the Senate, but if you're a Democrat looking to install someone in a safe seat, you might want someone more reliable. On the other hand, her moderate positions on a few issues may make her a tough opponent in 2010, when she has to run for the last two years of Hillary's term.
You can read the latest writeup here on possible GOP challengers for Gillibrand's House seat.