October 28, 2010
BASEBALL: Alderson Gets The Band Back Together
On the whole, excellent news to see the Mets' hiring of Sandy Alderson, the A's GM from 1983 to 1997, as the new GM. The decision came down to Alderson and recently-sacked Arizona GM Josh Byrnes, but Alderson's experience (also including stints as CEO of the Padres and in the MLB front office) won the day:
[T]he 40-year-old Byrnes impressed with his intelligence and enthusiasm. He would not have made it to the second round of interviews if not for his five years of experience as GM of the Arizona Diamondbacks, but he could not approximate Alderson's stature as a GM. People close to the situation say that Byrnes and White Sox assistant GM Rick Hahn - another impressive candidate who lacked the type of experience the Mets were seeking - very much wanted the Mets job.
I carefully followed the mentions of Hahn; while I don't know Rick especially well, I went to law school with him (Alderson is also a HLS grad) and he was in my first fantasy basketball league (as I recall, he didn't win the league, but I believe he finished well above my 9th or 10th place debacle). He's been second in command to Kenny Williams with the White Sox and should get a GM job sooner or later.
I can't argue with the selection of Alderson. Maybe at 63 he's not as much of a long-term investment as Byrnes, who also seems like a sharp guy, but his stature in the game should give him the most important thing a GM in this organization needs, the autonomy to run the team his way without micromanagement from Jeff Wilpon. And now it seems he's trying to put the old Moneyball band back together (other than Billy Beane), reaching out to Paul DePodesta and JP Ricciardi. While it's debatable whether either of those guys' track records as GMs warrant another shot at the top job, they were clearly both valuable parts of the team in Oakland, and Beane has missed what they brought to the table, especially in locating and developing prospects.
With Alderson, for the first time since the days of Frank Cashen I really have faith in the Mets management.
October 27, 2010
POP CULTURE: 35 Years Ago Today
The famous 1975 TIME Magazine profile of Bruce Springsteen, which I'd heard about but never sat down and read before. Some things haven't changed: even then, the media talked about "the scuzzy Jersey shore." Funny to read back now that Bruce's manager tried to get him booked to perform at the Super Bowl...in 1973, more than three decades before he finally did the halftime show. It's a good read to go with the upcoming release of The Promise, the making-of-Darkness on the Edge of Town album and DVD, which catches Bruce at the next step down the road from this profile of him as a 26 year old still finding his way.
BASEBALL: Ralph Kiner: An Appreciation
Before another baseball season goes by, it is time to appreciate Ralph Kiner, baseball announcer, on the occasion of today, his 88th birthday.
Oh, yes, I know the popular perception: Kiner was a Hall of Fame slugger, sure (averaged 37 homers, 102 RBI, 97 Runs, 101 walks and a .279/.398/.548 batting line for a 10-year career marooned among horrible teammates; that batting line holds up well under slightly more advanced analysis) and a World War II veteran (mainly as a stateside Naval aviator trainee), but he's sort of a comic figure as an announcer, notorious for his malapropisms. He spent years calling Curt Ford "Curt Flood," Barry Bonds "Bobby Bonds," referred to Cory Lidle as an ancestor of steamboat inventor Robert Fulton (he was a descendant) and declared, of Benito Santiago, "Santiago is Spanish for San Francisco." And he'd start stories and stop them abruptly, like when he announced without ever finishing the tale that "Biff Pocoroba's father was a spy." And those are just the ones I heard with my own ears. He was a member of the original Mets broadcasting crew in 1962, and for their first seventeen seasons the Mets' only announcers were Kiner, Bob Murphy and Lindsey Nelson; Murphy and Nelson, now both deceased, are in the Hall of Fame's broadcasters wing, Kiner is unlikely to join them there. These days, he shows up maybe once a week for an inning or three.
All that's true; I'm not here to tell you that Ralph Kiner should be considered the equal of Bob Murphy, a professional announcer and incurable optimist who was truly the voice of Mets fandom for more than four decades of Happy Recaps. But I am here to tell you that Ralph has given Mets fans a lot over his 49 seasons in the booth, and we should appreciate that for what it is before he's gone.
The first thing that's valuable about Ralph is simply how much the man has seen. He's been a part of every major event in Mets history until the past few years, and that's not easily replaced, not even by live-and-breathe-Mets diehards like Howie Rose. But it goes deeper: Ralph has seen an enormous amount of baseball history. He could do things like break down Eric Davis' swing in comparison to the swings of Jimmie Foxx and Rogers Hornsby. He learned the craft of hitting from Hank Greenberg, his mentor his second season in Pittsburgh, and knew the swings and approaches of the great hitters of the Thirties and Forties and everybody since. He'd break into a broadcast with a discussion of how he'd asked the greatest hitters alive, at a Hall of Fame event, what pitch was the toughest for them to hit, and recount in detail their answers. He also spent years talking about the nightmares he got from facing Ewell Blackwell, the fireballing sidearmer who took the NL by storm in 1947. Ralph didn't tell you how much he knew about the game, he just let it seep out.
For a while in the late 80s, the Mets had a feature, mainly focused on trivia questions, called "Ask Tim & Ralph." Questions would come in from viewers that would be posed to Kiner and broadcast partnerTim McCarver. It was generally assumed that McCarver, the author of "Baseball for Brain Surgeons" and the know-it-all's know-it-all, would rack up a humiliating margin of victory over Kiner, and a running tally was kept. But a funny thing happened: McCarver was terrible, to the point where I once saw him miss a question to which the answer was Tim McCarver. Whereas Ralph wasn't any sort of trivia whiz, but he remembered the things he'd seen happen or remembered from when they happened, and after so many decades in the game that was quite a lot of stuff, enough to give him a much more respectable showing. Eventually, the feature was discontinued.
Kiner's perspective is also somewhat unique. He was a union activist as a player; along with Robin Roberts and others, he was one of the prime movers in the early 50s for getting the players a pension plan. But he was also management, having worked as a GM in the Pacific Coast League in the late 50s (the team was the San Diego Padres, then a minor league affiliate of the Indians; Greenberg was the Indians GM at the time). He's stayed active in the Hall of Fame, and thus stayed in touch with his connections among the game's immortals.
The one thing Ralph has always cared about, and on which he has strong opinions, is hitting a baseball. Before the sabermetric revolution, Kiner was - perhaps in part out of partisanship for his own kind of hitter - an advocate for the school of thought that an offense is built around power hitters who wait for their pitch and drive it. He hated seeing home run hitters asked to bunt, consistent with his mantra from the 50s that "home run hitters drive Cadillacs, singles hitters drive Fords," or "the Cadillacs are down at the end of the bat." (This is probably his most famous line, although Kiner is sometimes credited with the line that "two thirds of the earth's surface is covered by water and the other third is covered by Gary Maddox"; I'm not sure who coined that one but he did love to use it). Probably nothing in several decades of broadcasting upset him as much as the Walt Hriniak school of hitting; Ralph would go on and on about how Hriniak's approach, in which the hitter's hand flies off the bat during the follow-through, was death to power hitting. (Frank Thomas ultimately proved it was possible to be a great power hitter with a sort of modified Hriniak stance, but Thomas was the exception; many other of his disciples fell apart after a year or two). At least in his prime as an announcer, Ralph rarely missed a home run call, having hit so many himself.
Ralph's other longstanding job - I believe this is what won him an Emmy some years ago - was Kiner's Korner, the post-game interview show. You can catch up on some clips and interviews with SNY's Ted Berg here, here and here; in the last clip he talks about how Bing Crosby, a part-time owner of the Pirates when Ralph played there, once fixed him up on a date with a young Liz Taylor. Kiner's Korner had its rough moments in the early years, like his famous interview with an uncommunicative Clarence "Choo Choo" Coleman:
Perhaps most famous was an interview on Kiner's Korner, the Mets post-game show. Host Ralph Kiner asked Choo Choo "What's your wife's name and what's she like?" Choo Choo replied "My wife's name is Mrs. Coleman and she likes me, bub." Another time Kiner asked Clarence how he had gotten the name Choo Choo. "I don't know, Ralph." was the answer.
But for the most part, the show was easygoing, conventional interviews, and of course in my childhood in the 70s it had a fantastically cheesy set. (You can read more viewer reminisces here). Most everybody in the game was comfortable around Ralph. Here's Howie Rose (I transcribed this from a broadcast in 2008):
The closest I have ever seen Ralph come to getting angry in the years I have sat beside him in the booth - he smokes these cigars, and let me tell you, you can tell from the smell they are not cheap - was when somebody came into the booth in San Diego, and said, "Mr. Kiner, I'm sorry, it's a state ordinance that you have to put out that cigar." And Ralph turned around and said, "you know, this used to be a great state."
Happy Birthday, Ralph.
October 26, 2010
BASEBALL: Diplomacy
Yankee fans probably shouldn't spit on Cliff Lee's wife if they want to sign him in the offseason (for fun, if you know a Hated Yankees fan and a Phillies phan, goad them into wagering on who will sign Lee. Both groups of fans have clearly already penciled him into their 2011 rotations). Of course, Lee could just sign with the Mets; everybody spits on the Mets.
Which gives me all the excuse I need to link to this.

October 23, 2010
BASEBALL: The Absent Past
One of the interesting subplots in the Giants-Phillies series is the subplot that isn't: the teams' historic rivalry. They don't have one, not even some dusty forgotten past to resurrect. They've been in different divisions since 1969 and never faced each other in October, narrowly missing in 1993 when the 103-win Giants lost the last true pennant race to the Braves. And before that, despite being in the same league since 1883, they never managed to stage a memorable pennant chase. 2010 is only the third time they've both won 90 games in the same season, the others being 1993 and 1964. Between 1883 and 1968, they finished 1-2 in the league only twice, in 1913 (Giants 101 wins, Phillies 88) and 1917 (Giants 98 wins, Phillies 87), neither of which was a close race. Granted, the Giants in 1950 and 1964 were the third wheel in classic Phillies pennant races, but what's remembered is the Phils beating the Dodgers and Cardinals. For a really memorable rivalry, the best you can do is the Phillies' Harry Coveleski playing spoiler against McGraw's Giants in the legendary 1908 pennant race against the Cubs.
So, this one's been a long, long time coming.
October 22, 2010
POLITICS: More Of That Delicious Foreign Money
As noted below, the Democrats' fumfer about outside money is ludicrous on its face, given the help they get from their union allies and the corporate money that helped Obama two years ago. Another avenue of attack is their claim that the GOP is being helped by foreign money, mainly on the theory that outside corporate groups get money from US subsidiaries of foreign companies - but it turns out that 49 of the 59 Democratic Senators have taken PAC money from subsidiaries of foreign companies. Three Senators now up for re-election - Barbara Boxer, Patty Murray and Kirsten Gillibrand - have each accepted over $100,000 from subdiaries of foreign companies. In Illinois, Alexi Giannoulias accused Mark Kirk of "economic treason" over a fundraiser in China...but went and held his own fundraiser in Canada. (And this is on top of the fact that the Obama campaign in 2008 deliberately removed safeguards against accepting donations by credit card from foreign nationals.)
So much for that argument.
POLITICS: Pretending The Union Money Doesn't Exist
Desperate Democrats have been hyperventilating for the past month over money being spent by corporate and other groups, notably the Chamber of Commerce and Americans for Prosperity, to run campaign commercials. To conservatives, running commercials to attempt to persuade voters in advance of an election is known as "free speech," and turnabout is fair play after corporate money went heavily for Obama in 2008, but let's play along here; how much of an advantage does the GOP have here?
Well, according to Greg Sargent, the Washington Post's in-house left-wing activist, it's huge: "The total on the right: $74,733,356. On the left: $9,868,057. And the groups on the left, unlike on the right, consist of well-known names like the Sierra Club and Defenders of Wildlife." This is the standard spin from the Democrats, and Sargent is nothing if not a reliable source for whatever the standard spin from the Democrats happens to be on a particular day. But conspicuously absent from Sargent's list are the largest unions, led by unions of public employees whose taxpayer-funded salaries are funneled into compulsory union dues and then passed on to the people who set those taxpayer-funded salaries. The lead article on the front page of this morning's Wall Street Journal tells the story - check out the Journal's telling graphic: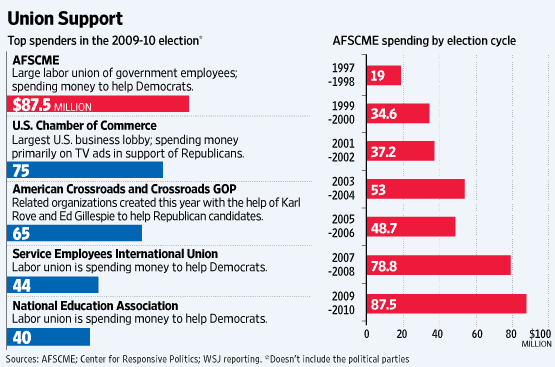 That's right, three of the five largest campaign spenders this year are not business or pro-business groups but unions afffiliated with the Democrats and dominated by public employees.
Read More »
POLITICS: Left-Wing Bloggers Say The Durndest Things!
Somebody should ask Robert Gibbs if he agrees with the assessment of a leading left-wing blogger that President Obama hasn't been "even half-competent in the White House."
See, every now and then, I engage in back-and-forth on Twitter with some of the left-wing bloggers. Sometimes it's pointless, but sometimes it's revealing, and this is one of those examples. I and a few others were tweaking Markos Moulitsas of Daily Kos over this October 2008 post in which, reviewing the 2010 Senate map, he declared John McCain "delusional" for saying the GOP would cruise to "three or four or five" fairly easy Senate pickups in 2010. Instead, Moulitsas asserted:
[O]ff the bat, we have 13 potentially competitive GOP-held seats, and few Democratic takeovers. So no, 2010 won't give Republicans 5-6 "easy" pickups. That's ludicrous.

Things will be much different in 2012 and 2016 when we're slated to play HUGE defense (defending our gains from 2006 and this year). Republicans can brag about the gains they'll make those years because chances are they will. But 2010? Heck no. At this pace, we're headed toward a 65-70-seat Democratic majority in the Senate by the end of 2010.

Yup, those are gaudy numbers, and it's never wise to count your chickens before they hatch -- political winds can change quickly as Republicans just found out. But assuming the current trends remain and Obama is even half-competent in the White House, we'll have little to worry about in 2010. Our majorities should be safe for some time.
Note the use of the plural in that last, "majorities." I asked Moulitsas if he still stood by that prediction, and his response was "That I stand by. GOP not taking Senate." Which may turn out - narrowly - to be true, but it's only one majority. A very different tune, these days.
But his more telling response was what he quoted in response to my question if he still stood by having 65-70 Democratic Senators by the end of 2010:
"assuming the current trends remain and Obama is even half-competent in the White House". Caveats didn't pan out.
There's that plural again. Kos, by traffic at least the most prominent of the left-wing bloggers, based his assumption of an ever-growing Democratic majority in the Senate on the assumption that President Obama would be "even half-competent in the White House." And now, he's basically reduced to absolving his own hubristic projections by admitting that Obama hasn't lived up to that standard.
Tough times.
October 21, 2010
BASEBALL: Walk It Off
Fascinating chart from baseball-reference.com collecting all the walk-off hits in postseason history. A few notes:
-There were only 3 walk-off hits in the first 20 World Series (1903, 1905-23). First one? A Jimmy Sheckard single off Chief Bender, Game 4, 1910.
-There have only been two walkoff hits while trailing in a winner-take-all game: Francisco Cabrera off Stan Belinda in Game 7 of the 1992 NLCS, and Edgar Martinez off Jack McDowell in Game 5 of the 1995 ALDS. Edgar's came in the 11th inning - I'd forgotten quite how dramatic that series was.
-The only player with 3 walkoff postseason hits is not that surprising: David Ortiz. The others with 2: Goose Goslin, Paul Blair, Bernie Williams, and Alfonso Soriano.
-Only pitchers to allow 2 postseason walkoff hits: Alejandro Pena, Dan Miceli, Dennis Eckersley, Jack Bentley, Jeff Reardon, Roberto Hernandez, Ron Perranoski, Steve Kline, Tom Niedenfeur, Tug McGraw.
October 18, 2010
BASEBALL: Wagnerian Tragedy
When the Braves were eliminated from the NLDS, Aaron Gleeman took a look back at the remarkable career of Billy Wagner - which appears to be over - and I highly recommend it. A few additional facts:
-Wagner got better as he got older - his ERA over the last 8 seasons of his career, from age 31-38? 1.99. Among pitchers who pitched from age 31-38 and threw at least 100 innings, Wagner's ERA is the best, followed by Mariano Rivera (2.02), Three Finger Brown (2.19), Cy Young (2.21), and Eddie Plank (2.21). By ERA+, Wagner at 218 is second to Rivera (221), followed by Randy Johnson (178), Kevin Brown (158), Lefty Grove (156) and Trevor Hoffman (152). After his return from injury in 2009, Wagner averaged 13.8 K/9, 4.9 H/9 and a 1.48 ERA in his last 85 regular season innings.
-Perspective on Wagner's career ERA+ of 187 (i.e., 87% better than the league average, when adjusted for park effects): Rivera's the only other pitcher with a career ERA+ of 155 or better to throw 600 or more career innings (1150 to Wagner's 903; the only guys to throw more innings than Wagner with an ERA+ above 150 are Pedro Martinez and early 19th century pitcher Jim Devlin, and Devlin was banned from baseball for throwing games at age 28).
Wagner has thus earned his place very high on the list of the greatest of modern closers. How great? Let's compare him to Rivera, per 162 games over the years 1996-2010 (both pitched briefly in the 1995 regular season):
| Pitcher | W-L | SV | G | IP | ERA | H/9 | HR/9 | BB/9 | K/9 |
| --- | --- | --- | --- | --- | --- | --- | --- | --- | --- |
| Rivera | 5-3 | 37 | 64 | 72.1 | 2.03 | 6.78 | 0.42 | 1.97 | 8.31 |
| Wagner | 3-3 | 28 | 57 | 60.1 | 2.31 | 5.99 | 0.82 | 2.99 | 11.92 |
As Bill James once said, if you can stand next to Babe Ruth and not look ridiculous, you're doing awfully well, and while Wagner's performance and times lost to injury leave him a little short of Rivera, on the whole he hasn't been that far short. (I should run the full comparison to other top modern closers when I have a few more minutes to spare). A side note: Wagner was exclusively a starter in the minors, posting solid but unspectacular numbers; Rivera, in his first pro season, in 1990 at age 20 in rookie ball in the Gulf Coast League, he posted an 0.17 ERA and allowed just 17 hits in 52 innings, mostly in relief; his MLB career got a late start because the Yankees then spent the next five years trying to turn him into a starting pitcher, with mostly success in the minors but not in 10 starts at the major league level.
But of course, what separates the two men is October, and a more dramatic contrast, you could not devise. Wagner's teams appeared in 31 postseason games over his career, Rivera (entering tonight) 148. Here's how they stack up, projecting their postseason records to 162 game schedules, although perhaps the simplest summary is that Rivera has allowed fewer homers (2) and earned runs (11) in 137.2 career postseason innings than Wagner (3 HR, 13 ER) in 11.2 career postseason innings:
| Pitcher | W-L | SV | G | IP | ERA | H/9 | HR/9 | BB/9 | K/9 |
| --- | --- | --- | --- | --- | --- | --- | --- | --- | --- |
| Rivera | 9-1 | 46 | 101 | 150.2 | 0.72 | 5.56 | 0.13 | 1.37 | 7.13 |
| Wagner | 5-5 | 16 | 73 | 61 | 10.03 | 16.20 | 2.31 | 1.54 | 10.03 |
In Rivera's case, he's raised his game in October to a level nobody else has ever matched, not just in quality but in carrying a workload essentially double what he does in the regular season; more than 10% of his career innings have come in the postseason. No other player in MLB history comes close to having as much of his value tied up in postseason games as Rivera, and it's hard to express how much better it makes your team to have a guy who throws the equivalent of 150 high-leverage innings with an 0.72 ERA against playoff teams.
Wagner suffers by that comparison, but he also suffers terribly by his own standards - especially the home runs (as you can see, his K rate was just fine in the postseason and his control significantly improved) - as well as the fact that his teams made it out of the LDS just once in seven tries, only to see Wagner get tagged by a game-winning So Taguchi homer in Game Two of the 2006 NLCS, get kicked around again in Game Six and watch from the sidelines as Aaron Heilman coughed up Yadier Molina's series-deciding homer in the ninth inning of Game Seven. Even as small as the sample size of 11.2 innings is, it hangs over the memory of Wagner's career. Which is why, as Rivera will and should waltz into Cooperstown, Wagner will likely get only a handful of votes, as grand a career as he had.
BASEBALL: For All The Marbles
Baseball-Reference.com has a fascinating chart of the pitchers who have started the most Game Seven-style do-or-die postseason games. Bob Gibson's still the only guy to start and win two of them (although he lost Game 7 in 1968). Roger Clemens has started the most (5), but it's kind of sad to see Jaret Wright tied for second. John Smoltz has the best ERA in deciding games (0.81); Blue Moon Odom is a deceptive second at 0.96, deceptive because he threw 5 innings in one start and 4.1 innings in the other. Ron Darling gets the honor of the worst Game Seven starter of all time (he got chased early in the 1986 World Series and clobbered in the 1988 NLCS, although in the latter case his fielders bore a lot of the blame; Darling didn't allow a walk, homer or flyball double in that game), followed by Andy Pettitte, who would seem to be slated to start Game Seven if the ALCS goes that far.
BASEBALL: Unjinxable
The NY Daily News noted an interesting fact over the weekend: the Yankees all time are 7-0 in the ALCS when starting a series 1-1. That's just wildly improbable.
POLITICS: Humor Classic
WAR: Islam Fractures German Multiculturalism
German Chancellor Angela Merkel has just broken one of Europe's greatest taboos. But the truth may prove more dangerous than the lies that preceded it.
Europe has a decidedly love-hate relationship with racial, cultural and religious pluralism. On the one hand, Europeans have no choice but to deal - more than do Americans - with a continent with a multiplicity of languages, they love to lecture 'simplistic' Americans about tolerance, and moreso than in the U.S., there's a powerful taboo among the governing elite against even talking about cultural or social issues of any kind, let alone subjecting them to free public debate. On the other hand, there's thousands of years of history of racial, ethnic and religious animosities tearing the continent apart and leading to many of human history's worst atrocities. And with regard to specific case of Europe's relationship with the Islamic world, think location, location, location: even places we think of as far distant lands - Algeria, Libya, Syria - are geographically right on Europe's doorstep, and familiarity in Europe has often bred contempt, and worse. It was Europe that was invaded by Muslim imperialists pretty much continuously from the 700s (when Charles Martel stopped the Muslim advance into France at Poitiers) to the 1600s (when the Turks were stopped at the gates of Vienna in 1683); Spain spent 700 years under Islamic rule, parts of the Balkans even longer. It was also Europeans who launched the Crusades, beginning some 300 years after Poitiers. European nationalism is not the conservative, free-market, liberty-oriented variety we have in the United States, and really never has been; it tends to be statist, befitting its feudal origins, and in recent centuries it has lost the restraining or at least balancing force of Christianity, as the continent has become less Christian.
The elite consensus has been placed under exceptional strain in the past decade by two symbiotic trends: the declining birthrates of native Europeans, who reproduce barely more than pandas, requiring large-scale immigration of young workers to make Europe's welfare states even remotely sustainable; and the fact that those immigrants are predominantly Muslim and include large numbers of people who have no respect for pluralism of any kind. Put simply, Europe can't live without Muslim immigration, but at some point, if demographic trends continue and the immigrants don't drastically alter the extent of their cultural assimilation, it won't really be Europe anymore.
We are only now seeing quite how traumatized Europe was by the riots over the Danish Muhammad cartoons in late 2005 and early 2006, a watershed in a long series of events across the continent in which Europeans were faced with behavior by the Muslim minority (or in some cases, almost now a majority) - usually involving violence or threatened violence - utterly inconsistent with pluralism of any kind. (Indeed, one of the great untold stories of the past decade is the extent to which events after September 11 have eroded the benefit of the doubt given by the public in the U.S. and Europe alike to the idea that Islam in practice is a peaceful faith and leached the credibility of leaders like George W. Bush who labored long and hard to draw distinctions between Islam's majority and its terrorist minority.)
There is, of course, great debate to be had over issues of assimilation and cultural tension generally, and specifically over the extent to which Islam can or should be integrated into a pluralistic society in the way that Christianity, Judaism and other faiths have done in the West (albeit with always imperfect results). But the merits of that whole debate aside, what is newsworthy is that Europeans have started fighting back, and if history is any guide, there are real reasons to worry that the reaction will as bad as the problem. We've seen the early signs in France's ban on the burqa and German authorities closing the Hamburg mosque where the September 11 attackers met.
Chancellor Merkel has now broken the elite consensus of silence wide open:
Germany's attempt to create a multi-cultural society has failed completely, Chancellor Angela Merkel said at the weekend, calling on the country's immigrants to learn German and adopt Christian values.

Merkel weighed in for the first time in a blistering debate sparked by a central bank board member saying the country was being made "more stupid" by poorly educated and unproductive Muslim migrants.

"Multikulti", the concept that "we are now living side by side and are happy about it," does not work, Merkel told a meeting of younger members of her conservative Christian Democratic Union (CDU) party at Potsdam near Berlin.

"This approach has failed, totally," she said, adding that immigrants should integrate and adopt Germany's culture and values.

"We feel tied to Christian values. Those who don't accept them don't have a place here," said the chancellor.

"Subsidising immigrants" isn't sufficient, Germany has the right to "make demands" on them, she added, such as mastering the language of Goethe and abandoning practices such as forced marriages.
And there are signs that Merkel has public opinion on her side:
A recent study by the Friedrich Ebert Foundation think tank showed around one-third of Germans feel the country is being "over-run by foreigners" and the same percentage feel foreigners should be sent home when jobs are scarce.

Nearly 60 percent of the 2,411 people polled thought the around four million Muslims in Germany should have their religious practices "significantly curbed."

Far-right attitudes are found not only at the extremes of German society, but "to a worrying degree at the centre of society," the think tank said in its report.
It's easy to think today of European society as a static feature of the landscape that will ever be with us. But much of the continent was, little more than two decades ago, living under the yoke of tyranny. Stable government is a tenuous tradition in Southern Europe, we last had a significant coup attempt in France in 1958, and the last time we had religious war and something like genocide in Europe was in the mid-1990s. With demographic and fiscal crisis rising on the continent, we may yet be in for another time of turbulence in Europe. Germany, at the continent's cultural, geographic and financial center, will be a crucial test of how it weathers that storm.
October 12, 2010
BASEBALL: Cox Out
Bobby Cox's managerial career ended with yet another disappointing exit from the postseason and the usual flurry of questions about his tactical decisions in October, a perennial topic dating back to the 1985 ALCS, when Dick Howser went righty-lefty-righty to expose Cox's platoon system, usher in a new age of relief specialists and, ultimately, deal the death blow to extensive up-and-down the lineup platoons. But by this point, nobody questions the overall record of the Dean Smith of baseball managers; like Dean Smith, maybe Cox only won the one championship but his teams were well-oiled contenders year in and year out against generation after generation of adversary.
(UPDATE: Yeah, I forgot that Dean Smith won two titles. I think the comparison is still apt.)
A quick list of just some of the players who played for Bobby Cox, a list that includes managers, front office guys, broadcasters, authors, Hall of Famers (current and future), NFL stars, MVPs, Cy Young winners, Rookies of the Year, druggies, racists, eccentrics, the deceased, the overachieving, the disappointing...Cox has seen it all:
Cito Gaston, Jim Bouton, Phil Niekro, Bob Horner, Al Hrabosky, Mike Lum, Chris Chambliss, Gaylord Perry, Buck Martinez, Dale Murray, Dave Stieb, Mickey Klutts, Al Oliver, Cliff Johnson, Cecil Fielder, Willie Aikens, Luis Leal, Lonnie Smith, Doug Sisk, Dale Murphy, Steve Avery, Marvin Freeman, Deion Sanders, Danny Heep, Vinny Castilla, Rick Mahler, Juan Berenguer, Jeff Reardon, Bill Pecota, Lonnie Smith, John Rocker, Steve Bedrosian, Fred McGriff, Jay Howell, Roberto Kelly, Mike Bielecki, Gregg Olson, Mike Sharperson, Mike Devereaux, Jason Schmidt, Luis Polonia, Rowland Office, Jeff Burroughs, Randall Simon, Paul Byrd, Ozzie Guillen, Dennis Martinez, Gerald Williams, Norm Charlton, Javy Lopez, Bret Boone, Reggie Sanders, Brian Jordan, BJ Surhoff, Scott Kamieniecki, Dave Martinez, Julio Franco, Steve Karsay, Bernard Gilkey, Gary Sheffield, Jaret Wright, Roberto Hernandez, Mike Hampton, Garth Iorg, JD Drew, Raul Mondesi, Todd Pratt, Rick Ankiel, Chipper Jones, Greg Maddux, Tom Glavine, John Smoltz and Jason Heyward.
October 11, 2010
POLITICS: The Anti-Liberal Vote
John Podhoretz makes an interesting point about why 2010 may actually represent a much more dramatic turnaround than 1994:
In 1992, the election that preceded the one in November 1994, the non-Democratic vote for president nationwide was 57 percent (Bush + Perot), and Republicans actually picked up 9 seats in the House. It is true that the 1994 elections came as a huge surprise, but that was in part due to an odd misreading of the election results in 1992 by pundits and pollsters and Bill Clinton, who staked his first two years on a massive government health-care plan rather than taking account of the fact that 19 percent of Americans had just voted for a lunatic single-issue candidate who spent a year yelling and screaming about the size of the deficit. Those Perot voters took a look at Clinton and simply integrated themselves into the GOP electorate.

The story of America since 2006 is radically different. In the two elections preceding this one, Democrats outperformed Republicans nationally by a margin of 53-46 both in the 2006 midterm and the 2008 Obama triumph. The results in 2010, if they go as it appears they will, are unlike those in 1992 because there was nothing in 2008 that anticipated them.

An 8-to-15 point Republican margin in 2010, which seems increasingly possible, will represent a partisan and ideological turnaround of 15 to 24 percent. That is without precedent in the modern era.
Hence the comparisons to 1894. The lesson for Democrats is obvious: the voters, having been given a taste of unvarnished liberal governance, remembered (or in some cases learned for the first time) why it's a disaster. The lesson for Republicans, of course, is a dicier one; on the one hand it is clear that the GOP will be given an opportunity at redemption it hasn't entirely earned, and will thus be on a short leash as far as doing more than being not-Obama; on the other hand, the Perot-ish Tea Party movement will (rightly) demand that newly elected Republicans start undoing not only the big-government excesses of Obama, Pelosi and Reid but also the big-government excesses of Bush, Lott and DeLay, and doing so into the teeth of certain vetoes.
POLITICS: Mark Halperin Denies Obama A Third Time
The opening of Mark Halperin's column about President Obama's political problems is a classic of Beltway conventional wisdom:
With the exception of core Obama Administration loyalists, most politically engaged elites have reached the same conclusions: the White House is in over its head, isolated, insular, arrogant and clueless about how to get along with or persuade members of Congress, the media, the business community or working-class voters. This view is held by Fox News pundits, executives and anchors at the major old-media outlets, reporters who cover the White House, Democratic and Republican congressional leaders and governors, many Democratic business people and lawyers who raised big money for Obama in 2008, and even some members of the Administration just beyond the inner circle.
The complete absence of named sources makes this diagnosis more than a little questionable - not the merits of it, of course, but it's unclear exactly how many of Halperin's friends (in his famous "Gang of 500" press corps) and sources he's speaking for. Jake Tapper, for example, has been fairly skeptical of Obama from the beginning (Tapper's a liberal, as his pre-ABC employment history makes clear, but is also a guy who tries to play it down the middle and has given Obama all sorts of fits dating back to the 2008 primaries), Tweeted that "Just as a general rule: no pundit definitively saying THIS IS WHAT THE WHITE HOUSE PRESS CORPS THINKS is ever speaking for me, ever ever."
But in Halperin's case, the significance of the column is that it got written at all, as this shows the extent to which Halperin (1) has come to this opinion, although he feels it necessary to couch it in groupthink (Halperin's been a skeptic of Obama and his adoring press coverage for a while, see here, here, and here for some examples) and (2) feels comfortable enough that this is an opinion shared by his colleagues and sources that he won't look silly to them writing it.
Anyway, the perhaps more interesting point is his observations about Obama's tendency - in marked contrast to his predecessor - to go personally on the attack against his partisan opponents:
Throughout the year, we have been treated to Obama-led attacks on George W. Bush and Dick Cheney, Rush Limbaugh, Congressman Joe Barton (for his odd apology to BP), John Boehner (for seeking the speakership - or was it something about an ant?) and Fox News (for everything). Suitable Democratic targets in some cases, perhaps, but not worth the time of a busy Commander in Chief.
There's a reason why presidents have traditionally not done this sort of thing very much themselves, and it bodes ill for Obama's ability to accept and accomodate himself to election results this fall that are likely to show a majority of voters rejecting his attacks and excuses.
POLITICS: Oh, Now, He's Against Foreign Money
Michael Barone and Erick Erickson note the absurd spectacle of Barack Obama, whose 2008 campaign flouted the laws against foreign campaign contributions, suddenly becoming shocked by the concept.
UPDATE: Over at FactCheck.org, longtime campaign finance reporter and crusader Brooks Jackson (I read his book "Honest Graft" in college) says there's not much to the Obama attack anyway.
HISTORY: The Real Che
An illuminating reminder about the career of Che Guevara, the Himmler of Castro's Cuba.
October 8, 2010
POLITICS/SCIENCE: Science and its Enemies on the Left: An Update
Scientific integrity and scientific progress continue to take a beating from the Left.
In Part I of my series of essays on Science and its Enemies on the Left, I looked at the toll of junk science, quackery and anti-technological Luddism and the role of the social and political Left in promoting all three. In Part II, I looked at politicized science (both the misuse of science by politicians and the politicization of scientists themselves) and the temptations presented to scientists by their ability to gain power through science.
I'm overdue to finish Part III of the series, but in the meantime, there have been enough additional examples of my thesis that it's worth taking an updated look at the myriad ways in which the agenda and interest groups of the political Left stand in the way of scientific integrity and scientific progress.
Read More »
October 5, 2010
BASEBALL: Rays vs Rangers
More notes:
-Carlos Pena (.196/.325/.407, with 28 HR, 84 RBI on 95 hits, and 87 BB) has to be the first guy in the post-1920 era (i.e., when home runs became a significant part of offenses, rather than random curiosities) to lead a playoff team in homers while batting below .200. In fact, Mark McGwire in 2001 is the only other guy to hit 20 or more homers with a sub-.200 batting average for a playoff team, hitting 29 of them in 299 at bats, but that team had 37 homers from Albert Pujols, 30 from Jim Edmonds and 27 from JD Drew.
(Off topic of the Rays, but Mark Reynolds this season became the first player to hit 30 homers while batting below .200 (.198, 32 HR), and with 211 Ks was a major contributor to the D-Backs' ludicrous 1,529 strikeouts, 132 more than the prior record and 170 per lineup slot - the first team in MLB history to strike out more than once per lineup spot per game).
-The Rays are an unusual offensive team: third in the majors in runs despite being 8th in the AL in OPS, including 6th in OBP, and 8th in slugging and sixth in homers. But don't declare them a superior contact-hitting team: they finished 13th in the AL in batting average and first in strikeouts (the OBP was made up only by leading the league in walks), and they ran themselves into the fifth-most caught stealings in the AL. They didn't do it by bunting runners over, having a below-MLB average number of sac hits. How'd they do it? An MLB-best 172 steals helped (White Sox were second with 160), as did an MLB-best 57 sac flies (not an easy accomplishment when you lead the league in Ks and are in the middle of the pack in baserunners). But maybe the most staggering number: a MLB-low 92 GIDP, 32 below the MLB average; Carlos Pena, despite not being especially fast, hit into just two double plays all year, the fruits of a lot of strikeouts and fly balls. I'd be interested to see how many MLB teams have put more than 2,000 men on base - more than 1,500 of them on first - and hit into less than 100 double plays (the Cardinals did it in 1985). The team batting line of .266 /.368/.422 with men in scoring position undoubtedly helped too, compared to .275/.338/.431 with a man on first and .230/.313/.386 with the bases empty. Good baserunning and clutch hitting may be cliches that are rarely the keys to success, but for this team, that's the answer. Carl Crawford scored 47.2% of the times he was on base, fourth-best in the majors among players with 300 or more plate appearances (behind Tyler Colvin, Drew Stubbs and Cameron Maybin), and Sean Rodriguez scored 46% of the time. Crawford was also one of the Rays who was best with men in scoring position, as you can see here: he hit .359/.400/.538 with RISP; Matt Joyce hit .288/.444/.576, Pena hit .239/.411/.415, BJ Upton .234/.368/.402, Ben Zobrist .276/.358/.408. Neither Crawford nor Pena hit into a double play with men in scoring position all year. The team's propensity to draw walks with men in scoring position was definitely a contributor to its ability to concentrate a lot of runs out of a relatively few baserunners. The downside is, running the bases audaciously and hitting in the clutch are hard things to replicate in the postseason (Bill James looked at this historically in explaining the failure of the 1985 Cardinals, and subsequent teams like the 1987 Cards and the 2001 Mariners have reinforced the point).
-This insanely detailed look at the evolution of David Price's pitch selection and location is fascinating and helps show the development of a stud starter.
-James Shields is one of those rare pitchers who seems to constantly struggle to get a break on balls in play despite good K/BB numbers and not-terrible HR rates. He managed career-best K numbers this year (187 K, 8.3 per 9 IP with a still-good 2.3 BB/9 and 1.5 HR/9, his career worst but usually survivable with a great K/BB ratio), but saw his opposing BABIP soar from .287 in 2007-08 to .311 in 2009 and .344 this year, even as the Rays had the second-best team defense on balls in play in the AL. And while his numbers were spoiled by the notorious 6 homer outing against the Jays August 7, his ERA - 2.99 through May 25 (BABIP .315, 5.07 K/BB) - was 6.01 over the 15 games before that fiasco (BABIP .327, 3.44 K/BB), and 5.88 in the ten starts after it (BABIP .407 3.47 K/BB), so it wasn't just one game, and his troubles with balls in play escalated as the season wore on. You can't be optimistic that, whatever the causes, that tailspin will get worked out overnight.
-Few things illustrate the current success of the Rays and the historical suffering of even good Rangers teams - recall, Texas is the only MLB team that's never won a playoff series - than Joaquin Benoit's 1.34 ERA with Tampa after posting a career 4.79 ERA in eight seasons in Texas. And Benoit didn't even learn a knuckleball the way RA Dickey did (5.72 ERA in Texas, 2.84 with Mets). As much as getting Rafael Soriano healthy at last, Benoit was a huge factor in this season's Tampa pen.
-In fact, the Rangers have only ever won one game in the postseason. Click here to see who the winning pitcher was.
-Vlad Guerrero rallied to hit .311/.351/.491 after September 1 following an ice-cold July and August, so his solid numbers this year weren't entirely the product of his early surge. He still hit far better at home than on the road. (Needless to say, both Vlad and Josh Hamilton need to be healthy and productive for this team to take out Tampa).
-People beat up on Elvis Andrus for having no power (15 doubles, 3 triples, no homers in 674 PA), but nobody should be surprised by this. Andrus is 21 and batted .257/.338/.343 in A ball in 2007, .295/.350/.367 in the Texas League in 2008. He's a fine fielder and baserunner and led the league in sac hits, but it's impressive that he's able to hit enough (.342 OBP) to avoid being a complete offensive liability. Maybe he'll be a decent hitter when he's 25 (his most-similar player according to Baseball-Reference.com is Alan Trammell), but for now, he is what he is.
-The Rangers actually do have a solid if unheralded rotation entering the postseason, with Cliff Lee's 3.98 ERA since joining the team actually the fourth-best behind CJ Wilson, Colby Lewis and Tommy Hunter.
This series is tougher to predict. I see Tampa falling down somewhere along the lines, but not against the Rangers.
BASEBALL: Phillies vs Reds
For the first of the divisional series - the NLDS matchup between the Phillies and Reds - you can't fight the conventional wisdom that the Phillies have a heavy advantage from their starting three of Roy Halladay, Roy Oswalt and Cole Hamels. A couple thoughts and observations:
-Who ever thought these Phillies would enter a postseason series as the offensive underdogs, but relying on their pitching?
-I'm not gonna do a full analysis here, but Joey Votto has to be MVP, right? This is the textbook MVP season. Votto's team made the playoffs for the first time in 15 years. Votto plays the same position in the same division as the best player in baseball (Albert Pujols), and Votto's team beat Pujols' team in part because Votto had a better year (not that Pujols had that much of an off-year, leading the league in HR and RBI). You go toe to toe with the king and knock him off to give your team a surprise title, that's an MVP. (And while Votto plays in a good hitters' park, he also batted .349/.452/.641 on the road). That's even before you consider Votto's resume of clutch hitting, which while it may not be a year-to-year predictable talent is certainly a factor in awards for who helped the most in the games actually played this year. Votto hit .390/.486/.695 with a man on first, .369/.491/.638 with runners in scoring position, .370/.453/.685 in the late innings of close games, .375/.438/.806 in the 8th inning, .436/.522/.667 in the 9th inning, and .357/.438/.857 in extra innings.
-Sign of the times: the Reds scored 790 runs in 2010 and led the NL in scoring. In 2000, the average NL team scored 811 runs.
-Related note: only two Phillies topped 20 home runs this year.
-Bad timing: Since 1981, the Reds have finished first 5 times and second 7 times, but this will be just their third playoff appearance in that span; they got nothing from having the best record in the NL West in 1981 and the NL Central in 1994, and lost a 1-game playoff to Al Leiter and the Mets in 1999, the closest they've come to the Wild Card.
-Jay Bruce has defied predictions of imminent superstardom, but don't count him out just yet; he's still just 23 and has slugged .453, .470 and .493 his first three seasons, with this year's .281/.353/.493 line being the first time he's made contact and gotten on base enough to translate that power into being a productive regular. Only 5 of the 58 walks he drew in 573 plate appearances were intentional. Maybe he'll never be Adam Dunn with the bat, but steady growth is all Bruce needs to mature into a star.
-I'm not sure there's a more quietly underappreciated player in the game than Bronson Arroyo. No, he shouldn't be a #1 starter for a playoff team (as he was until the return of Ednison Volquez), but even as a slightly built pitcher, Arroyo's managed at least 32 starts and 200 innings six years running, and has averaged a 13-11 record, a 4.06 ERA (ERA+ of 110, adjusting for unfriendly parks), 210 innings, 33 starts, and 142 strikeouts to 60 walks over a 7-year period. That kind of durability and consistency is hard to replace.
-It seemed almost impossible for Roy Oswalt to avoid his first losing record this season, but a 7-1 mark with a 1.74 ERA with Philly did the trick. Oswalt finished with his best K rate since his rookie year. Talk about a guy who's glad to get back to a competitive team.
-Carlos Ruiz, through age 29: .242/.329/.359 (OPS+: 77). This season, age 31: .302/.400/.447. Ryan Madson, age 25-27: 6.9 K/9 (7.3 as a reliever). Age 28-29: 9.8 K/9. Ruiz is probably a fluke, but historically, that's how teams stay on top - somebody steps up.
-Traditionally, teams built around youth up the middle and at key defensive slots. But the Reds have 35-year-old Orlando Cabrera, well past his prime with the bat, at short and 34-year-old Ramon Hernandez behind the plate; also 35 year old Scott Rolen at third. The Phillies have used 34-year-old Placido Polanco at third, and to fill in at second. Raul Ibanez is the only other player in either lineup over 32.
October 2, 2010
POP CULTURE: The Curse of the Cardboard Case
Allow me to vent against the latest scourge of the failing music industry: the cardboard CD case. Yes, I know: it's supposed to be some sort of enviro-friendly packaging. It's supposed to ease the conscience of wealthy musicians. But let's count the problems:
(1) It's not a standard package. No two musicians seem to put these things out in the same shape or size, or with the CD removable from the same angle. Some have the CD falling out the sides, others require you to hold the package just so in a straight line to shimmy the CD out the middle. And in nearly all cases it's impossible to take CDs out of the package or put them back in with one hand while at a stoplight, as one often does in the car. And they can be hard to store: Pearl Jam's Vitalogy album, an early pioneer in this area, simply doesn't fit in any standard CD case.
(2) It's not voluntary or discounted. I pay extra for recyclable soda cans, not by choice but at least you can get the deposit back. If you're buying substandard packaging they should at least charge you less.
(3) It's not waterproof. My wife, in particular, listens to a lot of CDs in the kitchen while doing dishes and the like. Kitchens are wet places, and this is not a problem for plastic CD cases; for cardboard, it's a death sentence.
Plastic exists for a reason. It's durable, it's convenient. If I wanted a cardboard CD case, I'd ask for one.