February 27, 2012
POLITICS: What's At Stake in Michigan
Here's why tomorrow's Michigan primary is so important: it's about establishment confidence in Mitt Romney and the last outside chance of getting another entrant in the race.
There are, as I've noted previously, a number of different types of "establishment" vs "grassroots" divides in the GOP, but you don't have to have any particular definition of 'establishment' to recognize that Romney's candidacy leans heavily on the support he draws from traditional 'establishment' or 'insider' sources: money from big-dollar fundraisers, endorsements from big-name elected officials, and covering fire from right-leaning journalists at major mainstream publications and conservative journals. Romney has depended, time and again, on his ability to get out of trouble by having the resources to go more negative than whatever opponent he's targeting: more money to dump on negative ads and a bigger chorus of voices amplifying those attacks.
Aside from Mormon support - which is somewhat sui generis to Romney - some of Romney's structural support comes from people who know him personally or identify with him as a fellow wealthy businessman; some comes from people who fear running a bold-colors conservative; and some comes from those who, whether or not they'd support a conservative in theory, fear Rick Santorum and Newt Gingrich as electoral liabilities, Santorum for his overly outspoken social conservatism, Newt for his long train of baggage. (It's obviously Santorum who represents the more serious threat to Romney at present.) It's the latter two groups whose loyalty Romney must retain.
But there have been significant signs that if Romney loses his home state, where he grew up and where his father was Governor, that support may at last start to crack. Elected officials not in the Santorum or Newt camps were increasingly vocal criticizing Romney after his tripleheader loss to Santorum earlier this month. There are reports that Romney's fundraising may be ready to tap out, which would require him to increasingly self-finance. His polling among independents is poor, calling into question the whole "electability" rationale of his campaign. The clincher came ten days ago when ABC quoted an unnamed Republican Senator saying that if Romney loses Michigan, a new candidate is needed to avoid running Santorum:
"If Romney cannot win Michigan, we need a new candidate," said the senator, who has not endorsed anyone and requested anonymity.

The senator believes Romney will ultimately win in Michigan but says he will publicly call for the party to find a new candidate if he does not.

"We'd get killed," the senator said if Romney manages to win the nomination after he failed to win the state in which he grew up.

"He'd be too damaged," he said. "If he can't even win in Michigan, where his family is from, where he grew up."
(There was similar talk when Romney seemed in danger of losing Florida to Newt Gingrich) Talk of this nature has quieted a bit as Romney's polling improved in Michigan, but it could revive in a big way if he loses there, while continuing to trail badly in Ohio and Pennsylvania.
Such a response is, in my view, the last remaining plausible path to nominating someone other than the 4 candidates presently in the race.
Read More »
February 25, 2012
HISTORY: Presidents By Birth Month
For your Presidents' Week (or whatever they call it these days) enjoyment, the birth month of all the presidents, plus presidential candidates:
This is...not evenly distributed in terms of quality.
January: Nixon, FDR. McKinley, Fillmore
February: Reagan, Lincoln, W.H. Harrison, Washington
One of these things is not like the others. Then again, at least Harrison did no damage in office.
March: Cleveland, Tyler, Jackson, Madison
(Mitt Romney was born in March)
April: Grant, Buchanan, Monroe, Jefferson
May: JFK, Truman
(Rick Santorum was born in May)
June: George H.W. Bush
(Newt Gingrich was born in June)
July: George W. Bush, Ford, Coolidge, J.Q. Adams
August: Obama, Clinton, LBJ, Hoover, B. Harrison
Poor Benjamin Harrison, in this company.
September: Taft
There wasn't room for another one.
October: Carter, Ike, TR, Arthur, Hayes, Adams
Character of this list changes a lot if you ignore History's Greatest Monster.
November: Harding, Garfield, Pierce, Taylor, Polk
Pierce is the only one who was alive five years after being elected. Polk rather stands out in this crowd.
December: Wilson, A.Johnson, Van Buren
February 23, 2012
POLITICS: The Right Answer on Birth Control
At the CNN GOP debate last night in Arizona, the candidates were asked this question:
Since birth control is the latest hot topic, which candidate believes in birth control, and if not, why?
The question was roundly booed by the audience. Republicans hated this line of questioning when it was aired in a debate a few weeks back by former Democratic White House Communications Director George Stephanopoulos, at a time when it seemed to have nothing at all to do with the issues in the campaign. Since then, President Obama has forced the issue into the public debate with the HHS mandate that all employers, even those with religious objections, include contraceptive coverage in employer-provided health care plans, so the subject can't be avoided entirely. And in fact, for various good reasons, Republicans will probably be talking a good deal about the assault on religious liberty in general and the Catholic Church in particular in the months to come. But there's a simpler way of framing the right answer to this in a debate.
Newt Gingrich came pretty close to the right answer to this question, before the other candidates rambled off in various wrong directions, although Rick Santorum came back to something like the right note right at the end of his. First, here was Newt's answer, which may prove the final installment of the "Newt crushes the debate moderators" series we've been seeing for the past seven months:
Read More »
February 22, 2012
POLITICS/RELIGION: David Waldman of Daily Kos: Know-Nothing Bigot
It's time for Democratic politicians like Elizabeth Warren who are courting Catholic voters, or who - like Senator Bob Casey - profess the Catholic faith themselves, to distance themselves from Daily Kos over the anti-Catholic Know-Nothing bigotry of Contributing Editor David Waldman.
Waldman, @KagroX on Twitter, is one of the leading figures at Daily Kos, the largest left-wing blog; a former Hotline staffer, he's a contributing editor and front-page writer, runs the affiliated site Congress Matters, and his tweets are frequently quoted and retweeted by Markos Moulitsas. In an angry, profanity-laden tirade last night on Twitter over a flap between a local Virginia church and the Girl Scouts, Waldman unloaded his hatred of the Church, grasping for every anti-Catholic trope he could reach (examples: "Catholic Church: the ones we don't rape, we'll alienate by calling them communist b****es" or "Catholics are the next Shakers. No one under 35 will ever stay in this church") and complaining that there are too many Catholics on the Supreme Court ("Oh that's right. Six Catholics. Fantastic.") Waldman's vicious rant would have been right at home with the anti-popery screeds of the Klan in its heyday, the Know-Nothings of the 1840s or the "Rum, Romanism and Rebellion" trope that cost James G. Blaine the 1884 presidential election.
Waldman's full outburst, in reverse chronological order, is below the fold; warning, it includes language I do not ordinarily use on this website):
Read More »
February 21, 2012
HISTORY: Great Moments In Senate Rhetoric
With the Washington Post debating the most underrated presidents, I'd put my vote for James K. Polk. Polk's tactics remain controversial and he had no stomach for resolving the festering issue of slavery and its expansion, even as he forced the issue forward by massively expanding the country. Even for all that, though, Polk's long-term impact on the nation in just a single term in office was massive and indisputably positive, scoring most of what is now Oregon and Washington from Great Britian without a fight (but not without some nervous moments) and adding Texas, California, New Mexico, Nevada, Utah, most of Arizona and much of Colorado from a dysfunctional Mexico that could never have developed them. Polk, not Teddy Roosevelt, should be on Mount Rushmore.
Anyway, we think political rhetoric is harsh today, but this was a favorite example of mine from Robert Merry's book on Polk. Senator Edward Hannegan of Indiana - a member of Polk's own party - in a dialogue on the Senate floor, predicted that history would judge Polk (who had run on a promise to win the Oregon Territory, whose boosters used the slogan "54'40" or fight!") harshly for settling for the Oregon territory only up to the 49th parallel:
So long as one human eye remains to linger on the page of history, the story of his abasement will be read, sending him and his name together to an infamy so profound, a damnation so deep, that the hand of resurrection will never be able to drag him forth. He who is the traitor to his country can never have forgiveness of God.
Ouch.
Polk, of course, did settle, more or less, for the 49th parallel. Footnote: after Hannegan was not renominated for another Senate term, Polk, on his way out of office, appointed Hannegan the US Ambassador to Prussia.
February 16, 2012
BASEBALL: RIP Gary Carter
Age 57. The brain tumors got the third strike past him that Calvin Schiraldi never could. A good man and a great ballplayer, gone too soon.
I put Carter in context in my Hall of Fame catchers column in 2009:
Gary Carter carried the heaviest catching workload of anybody whose prime spans eight or more years - a staggering 144 games caught per 162 team games (and this for a team, in Montreal, that often stacked up doubleheaders in August due to April snow-outs). If you watched Carter at the tail end of those years and the seasons that followed, you saw what a brutal toll the workload took on his body, as every aspect of his game unraveled. Carter is the classic guy whose numbers make more sense when you extract his prime from the wreckage that followed. Besides being a devastating power hitter, Carter was a very tough guy to run on until his last year in Montreal, and in an age when base thieving was running rampant in the National League. In New York he also mentored a talented young pitching staff, or rather shared that role with Keith Hernandez.
As I noted in that column, over the decade of his prime from 1977-86, Carter caught 38.5% of base thieves, while facing an enormous volume of opposing stolen base attempts. And while carrying that heavy defensive load, Carter averaged .274/.347/.474 with 26 HR and 92 RBI. I'd rank Carter behind Josh Gibson, Johnny Bench, Yogi Berra, and Mickey Cochrane, and maybe Mike Piazza given how much better a hitter Piazza was than Carter or any other catcher. But you'd have a hard time finding anybody else with a good case to rank above Carter (I'd put him ahead of Campanella, Dickey, Fisk, Pudge Rodriguez, Simmons and Posada), which in my book makes him the 5th best catcher in MLB history (given that Gibson never played in the majors).
Carter was baseball's Tim Tebow before there was a Tim Tebow - a cheery Christian off the field, tough as nails on it. Carter was the ultimate guy who never backed down, never gave up, never begged out. I loved, loved John Stearns as a kid; Carter had Stearns' toughness with more talent. He battled Stearns to a draw in home plate fight around 1978 or so. In the famous 1986 Mets-Reds brawl, after Ray Knight clocked Eric Davis, Carter took Davis out of the fight by tackling him with his mask under Davis' ribs, knocking the wind out of him.
Carter, of course, arrived with a bang in New York. His first game as a Met, April 9, 1985, he caught the whole game and hit a game-winning walkoff homer in the 10th inning against the Cardinals. His second game, two days later, he caught all 11 innings of a 2-1 win against the Cards. His third game, the next day, he homered in a 1-0 win. He caught the next day (another win), then homered and drove in two runs while catching a 4-0 win the following day. And yet Carter would get better: the last 62 games that year, while catching a young staff including the incomparable season by Dwight Gooden, Carter hit .300/.367/.599 with 21 HR and 59 RBI, while striking out just 18 times (this included his 5 homers in two days rampage in San Diego in September. This after a 1984 season when Carter became one of just four catchers (the others being Bench, Campanella and Darren Daulton) to lead the league in RBI.
By 1988, Carter was a shell of his former self, with his months-long home run drought stuck at 299 career homers a sad joke. But he still had one last great moment left, when he doubled in the winning runs in a 3-run rally in the ninth inning of Game One of the LCS, the Mets rallying to win after Daryl Strawberry snapped Orel Hershiser's scoreless streak earlier that inning.
Rest in Peace, Kid. Thanks for the memories.
UPDATE: Gus Ramsey has a great story about Carter at the Hall of Fame.
SECOND UPDATE: An emotional Keith Hernandez breaks down on air. Keith's a cool customer by nature, but this is what we're all feeling.
How tough was Carter? People forget exactly how many doubleheaders the Expos played in those days because of early season snow. From 1977-83, Gary Carter caught both ends of a doubleheader 40 times in 7 years (I counted games in the game log where he entered the game as a catcher and caught a few innings). In 1978, Carter caught both ends of ten doubleheaders. Ten. In September 1979, Carter caught both ends of a doubleheader 6 times in 13 days. In September 1981, Carter caught both ends of doubleheaders on consecutive days.
Carter drove in 101 runs in 1980 batting behind tablesetters who hit .257/.337/.363 and .224/.307/.293. In 1984, he led the league in RBI hitting behind a guy with a .301 OBP, on a team whose leadoff hitter was 43 years old, slow, and hit .259/.334/.295.
February 15, 2012
LAW/POLITICS: Indecent Proposition
The Ninth Circuit's 2-1 decision last week in Perry v. Brown upheld the decision of Judge Vaughan Walker holding that the people of the State of California violated the Equal Protection Clause of the 14th Amendment by passing - in a statewide referendum in 2008 - Proposition 8. Prop 8 amended the California Constitution to define marriage as between one man and one woman, restoring the rule previously set forth in California statutory law until overturned by the California Supreme Court earlier in 2008. Prop 8 garnered over 7 million votes, two million more than John McCain in liberal California - it was the supported by 52.3% of the same electorate that broke 61-37 for Barack Obama, including 58% of black voters and 59% of Latino voters.
Despite some game efforts to meddle with the burden of proof based on the sequence of events, the core of the decision - written by veteran arch-liberal Judge Stephen Reinhardt - was the same as that of the district court: the assertion that there is no possible rational basis for distinguishing between traditional, opposite-sex marriage and same-sex marriage. More specifically, in the California context, the court found that the federal constitution gives federal judges the right to dictate the language itself, holding that California's voters were not even permitted to reserve the term marriage to opposite-sex marriage while providing effectively all the practical state-law benefits of marriage to same-sex couples through "domestic partnership."
There are arguments for and against same-sex marriage as a policy matter, but the argument for declaring that the Constitution mandates that only one set of those arguments be considered "rational" is itself irrational and intellectually indefensible. This is so not only because it begs the question by redefining the language and because it ignores basic biological reality, but most of all because the argument for striking down Proposition 8 treats history, culture, tradition and social convention inconsistently. It should not be taken seriously as constitutional law.
Read More »
February 9, 2012
BLOG: Links 2/9/12
I should do roundups like this more often of the stuff I do on Twitter.
-Jose Reyes' hair sells for $10,200 in charity auction. The hair will play SS for the Mets.
-I largely agree with Victoria and with John McCain about Syria; the US has much stronger case for taking sides in Syria than it did in Libya.
-Looking back at the sad death of Ron Luciano.
-The one thing that's really booming in this economy - despite the best efforts of liberal activists and the Obama Administration to the contrary - is domestic oil and gas production. Frack, baby, frack!
-Science fail: an Oklahoma state Senator is apparently unaware that baby-making requires both a sperm & an egg.
-Yeah, sure, and being against Nazis is just what Elie Wiesel does to feel young & virile again. It is true that older people overestimate recurrence of the troubles of their youth. Ascribing this to "testosterone" is juvenile.
-Yet another "better Romney argument than Romney is making" column, this one with good ideas from Jim Pethokoukis. Call it a Prospectus for America.
-Dan Abrams debunks some of the myths around Citizens United.
-Then: "core symbol of right-wing radicalism" Now: Democratic mainstream. We always knew a lot of the anti-war stuff was just partisanship. Of course, unlike Greenwald, I regard this as a good thing for the country.
-Elvis Andrus focused on getting better. This seems like a unique goal to have.
-It's not even remotely inconsistent for Mitt Romney to profit from something while saying it should not be compulsory.
-John Edwards' 2008 presidential campaign is still spending money, even though it's in debt to taxpayers.
-The media's blind spot on religious liberty.
-I'd forgotten that, for idiosyncratic reasons, Reagan actually won the popular vote in the GOP primaries in 1968.
-The Wilpons try to get the Supreme Court interested in reversing a decision in the Madoff litigation.
POLITICS: What A Difference Nine Days Makes
Here's what Rick Santorum's campaign looked like on January 30, the night of the Florida primary:
Prompting headlines like "This Is What It Looks Like When A Campaign Dies." Here's what it looked like on February 8, after his wins in the Missouri primary and the Minnesota and Colorado caucuses: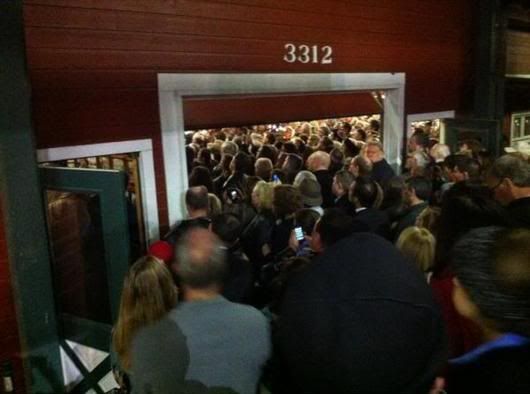 Things change in a hurry, this campaign season.
February 7, 2012
HISTORY: Cleveland on Marriage
A little history lesson, which of course you can interpret any way you like, but I think at least it's a reminder that social-issue controversy - and strong rhetoric about the importance of marriage - is not a totally new thing in national politics. Here's a passage from Grover Cleveland's first State of the Union message, in 1885, at the height of the federal government's effort to stamp out polygamy (some seven years after the US Supreme Court in Reynolds v US held that it was constitutional to ban polygamy). Mind you, this is a Democratic president who had just been elected in a campaign that featured extensive criticism of the unmarried Cleveland for fathering a child out of wedlock. It's also an interesting reminder that the Mormon church was compelled, rather literally at gunpoint by the federal government, to abandon its original definition of marriage.
The last line gives you a sense of exactly how hard-line Cleveland was on this issue.
Read More »
February 2, 2012
BLOG: SEO Ain't Beanbag
Best story on the Huffington Post ever.
BASEBALL/POLITICS: Newtie V
While I write a lot about baseball and politics, I generally try to avoid mixing the two. But once this analogy occurred to me, having lived through both of their tenures as a Mets fan and Republican in the 1990s, it was irresistible:
Bobby Valentine is the Newt Gingrich of baseball managers.
Think about it. Both are essentially relics of the 1990s who have spent a good deal of the past decade as TV pundits, and have had to overcome the initial instinct to laugh at the sudden re-emergence of a once-controversial figure so long out of power. Both are restlessly intelligent, talkative to a fault, energetic to the point of being a whirlwind of activity, devious (in the "what will he think of next?" sense of being constantly alert for ways to exploit opportunities and gaps in the rules), prone to conflict with peers and occasional mutinies among their subordinates, and often overly impressed with their own intelligence. Both have that odd Kermit the Frog lump-in-the-throat tone to their voices, yet are nonetheless compelling speakers. Both had their first go-round ended by George W. Bush, more directly in the case of Bobby V (who Bush fired, rather than just stepping into a power vacuum he left behind). Both have been mostly successful throughout their careers, yet are back pursuing the largest prize that has evaded them. Both need to overcome the creeping suspicion that they're better suited to being scrappy insurgents than frontrunners.
The parallels are not perfect, of course. Valentine lacks Newt's command of history and his ugly marital record; Newt lacks Valentine's family connections (as Ralph Branca's son in law) or his status as a former phenom felled by misfortune (in 1970, Valentine hit .340/.389/.522 as a 20 year old shortstop in the Pacific Coast League, winning his second straight league MVP award - 39 doubles, 16 triples, 14 homers, 29 steals - but was just getting his sea legs as a 23 year old in the majors when he suffered a gruesome leg injury). But once you think about it, the similarities are obvious.
Time will tell which of them ends up with more to show for their return to the arena.