June 29, 2012
LAW: The Supreme Court's Disappointing Tax Ruling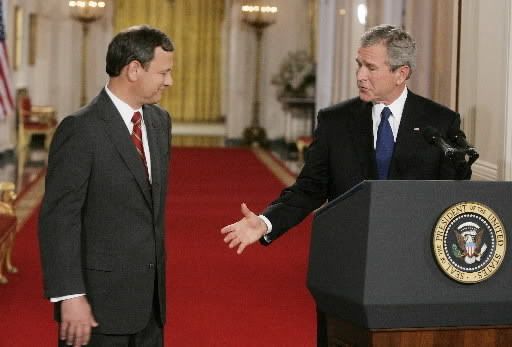 Yesterday's ruling that Obamacare's individual mandate exceeded Congress' power under the Commerce Clause showcased the Supreme Court at its intellectual best: the fruits of years of detailed and heated scholarly and judicial debate, intensive briefing and vigorous argument were reflected in the various opinions. Unfortunately, the same cannot be said of the Court's opinions on the alternative ground - the taxing power - that Chief Justice Roberts and the Court's four Democratic appointees found to be an alternative basis for the mandate. Critics on the Right have assumed that Roberts is wrong about the taxing power, and the cheerleaders on the Left are simply pocketing the result, but neither the various opinions nor most of the commentary have bothered to explain a theory of what Congress can and cannot constitutionally do through its power to tax.
Read More »
June 28, 2012
LAW/POLITICS: The Big Decision
You better not pout, you better not cry, you better not shout I'm telling you why. The Commerce Clause is coming to town....
Here's my writeup on what happened. More to follow on other days, I'm sure.
A few other observations:
-In the long run, I'd rather lose the ones we can fix democratically than the ones we can't.
-If Congress starts justifying every new regulation as a tax, Grover Norquist is going to be a very busy man.
-Romney has raised a vast amount of money from a lot of new donors today. Even more than energizing and galvanizing the base in the presidential race, focusing on repeal as a political goal should help down-ticket Republicans in Senate races (in states like Missouri, Ohio, Virginia and Florida) who lack Romney's baggage on the issue.
-Both the Roberts and Scalia opinions are very explicit about the fact that Obamacare puts "massive new costs on insurers" and is essentially collectivist in using the mandate to force young people to subsidize the care of others by buying policies that will deliver them less benefits than the premiums they pay.
-I don't know that anybody predicted a lineup of 5-4 for the mandate under the taxing power but 7-2 against the withholding of Medicaid funds from states that refuse to join the expansion of the program. It's remarkable that Obama's own Solicitor General at the time Obamacare was written joined an opinion calling it "a gun to the head" of the states.
-For all the flap before the decision about Justice Scalia rethinking Wickard v Filburn in his new book, neither his opinion nor Roberts' actually argues for overturning Wickard or Gonzales v. Raich. That may come another day, but for now the Court simply distinguished them.
-I see in some quarters the notion that Scalia was wrong somehow to refer to Ginsburg's opinion as "the dissent," but her opinion is 4 Justices dissenting from the Court's conclusion that the mandate wasn't supported by the Commerce power. That is, technically, a dissent on that issue.
-Justice Thomas' pithy 2-page opinion basically says that Congress is a spoiled child the Court didn't say no to often enough & now it's grown into an idiot teenager that does stupid things like try to force people to buy insurance policies. I paraphrase, but not by much.
-Characterizing the mandate as a tax may make it easier for Republicans, procedurally, to justify using the reconciliation process to repeal the bill with 51 votes instead of 60 in the Senate.
-This morning's result will make Obama look even more ridiculous the next time he frames Citizens United as the work of a runaway right-wing Court.
-A prediction: the centerpiece of Chief Justice Roberts' legacy on the court will be a case that hasn't arisen yet.
Other commentary around the web worth reading:
Erick Erickson on why he's not that down on John Roberts.
Krauthammer explains the institutional reasons that may have motivated Chief Justice Roberts to uphold the law.
Sean Trende compares Roberts' decision to Marbury v Madison, which was my first thought as well.
Avik Roy looks at how the Medicaid decision could explode the federal deficit.
Tom Scocca looks further down the road at the impact of the Commerce Clause decision.
-In case you missed it, why IPAB is unconstitutional in at least two ways.
June 27, 2012
LAW: My Predictions on the Health Care Case
I follow the Supreme Court fairly closely and, I like to think, intelligently, having participated in briefing a number of cases before the Court. (As usual, my speculation is my own, and not the view of my firm). But I'm as much in the dark as everyone else on how the Court will decide any given case - indeed, the more veteran and expert the Supreme Court practitioner you talk to, the more uncertain they are likely to be in making predictions.
That said, we may as well all make our educated guesses now, while the jury (so to speak) is still out. Here, without much further explanation, I'll offer mine, all of which will be rendered inoperative in less than 24 hours.
1. It looks as if Chief Justice Roberts will write the main opinion, possibly covering all the issues in the case. Sean Trende and Jack Balkin explain why this is so. If Roberts writes an opinion covering all four issues (bear in mind, there are only four issues in the case if the Court rules in the challengers' favor on the Anti-Injunction Act and the mandate and severs at least some of the statute), expect a very long opinion and a whole bunch of opinions concurring and dissenting in differently-numbered/lettered subparts.
2. Judging by the arguments, the overall weakness of the Administration's case, and the simple fact that the whole shebang remains undecided at Term's end, I'll be surprised if there are more than one or two votes to declare the mandate a tax that the Court can't address until 2014 under the Anti-Injunction Act. Court may even be unanimous on that score.
3. Forced to predict, I'll predict that the Court will strike down the individual mandate, 5-4. I can't say I'm overwhelmingly confident in that prediction.
4. On severability, I think the most likely outcome is actually that the Court does what the Solicitor General asked in the event the mandate goes down, and throws out only the community rating and guaranteed issue provisions, probably on a 6-3 vote. That may not be an entirely principled compromise, but it at least has the advantage of being endorsed by the Administration, as opposed to leaving the Justices to decide on their own what is and is not integrally related to the mandate.
5. The enormous sleeper in the case is the Medicaid challenge. I could be wrong, but I don't expect the Court to be willing to rule that Congress exceeded its authority under the Spending Clause here. The bad news for conservatives is that, after years of the Court warning that there are limits to how far Congress could go in using the spending power to indirectly dictate to the states things it cannot directly dictate, the Court would effectively have to concede that it will never tell Congress that it has breached that limit - you simply can't find a more coercive program than Medicaid, which amounts to a quarter of most state's budgets and as to which - as the states repeatedly emphasized - Congress did not even offer a Plan B for what happens if a state opts out. I expect a thundering, epic dissent from Justice Scalia on this abdication if that is where we come out.
June 23, 2012
BASEBALL: Weak D
In a 2-part study in 2011 here and here, I looked at the best and worst team defenses, measured by their Defensive Efficiency Rating (percentage of balls in play turned into outs) relative to the league average. (This is not a park-adjusted measurement, so park effects do play into this).
Let's look at this year's contenders, as well as updating the 2011 charts, which were based on early season results. As I explained in the longer article, it is extremely rare for teams to finish 5% or more above or below the league average - the 2007 Tampa Bay Devil Rays, at 95.32%, were the least effective defensive team in the postwar era (they led the AL the following year, which accounted for almost the entirety of their improvement to a pennant-winning team), while only three teams in that era cracked 105%: the 2001 Mariners (tops at 105.52%), 1999 Reds, and 1975 Dodgers (yes, that's two teams with Mike Cameron in center field). The last team below 95% was the epically awful 1930 Phillies, the last below 94% was the 1899 Cleveland Spiders, who finished 20-134. The 1930 Phillies were also the only team since 1915 to convert fewer than 65% of all balls in play into outs.
Here's the decade in progress, through June 22, 2012:
National League
| | BIP% | NL | High | DER | High % | Low | DER | Low % |
| --- | --- | --- | --- | --- | --- | --- | --- | --- |
| 2010 | 69.7% | 689 | SFG | 707 | 102.61% | PIT | 671 | 97.39% |
| 2011 | 70.4% | 694 | CIN | 705 | 101.59% | CHC | 678 | 97.69% |
| 2012 | 69.3% | 690 | WSN | 718 | 104.06% | COL | 646 | 93.62% |
A couple of things jump out when looking at the NL. First, balls in play are way down this year; the NL in 2010 was the first league ever below 70%, and this season's average would be a historic low. But team defense is also off from 2011.
As far as team defense, the Nationals' surge this year may owe a lot to the "K Street" pitching staff that is averaging 8.4 K/9, but the team has also featured the NL's best defense since the 1999 Reds, beating every NL defense of the past decade by a full percentage point (if they can sustain this pace). At the opposite end of the scale, the Rockies are currently threatening to be the first team since the 1899 Spiders to run below 94% of the league average and the first since the 1930 Phillies to post a DER below 650 (the team opposing batting average on balls in play - BABIP - is an eye-popping .343; there are a few accounting reasons, such as double plays, why DER and BABIP are not precise mirror images). Two of the team's top relievers, Esmil Rogers and Rex Brothers, have been pounded to the tune of BABIPs above .400, although Brothers has survived this by striking out 35 batters in 24 innings and allowing only one home run.
Regression to the mean is likely for both the Nats and the Rockies, and Colorado in particular is likely to tinker with its lineup to fix the problem (this is what the Astros did after a similarly horrific defensive start in 2011).
American League
| | BIP% | AL | High | DER | High % | Low | DER | Low % |
| --- | --- | --- | --- | --- | --- | --- | --- | --- |
| 2010 | 71.4% | 694 | OAK | 711 | 102.45% | KCR | 679 | 97.84% |
| 2011 | 71.3% | 694 | TBR | 724 | 104.32% | MIN | 677 | 97.55% |
| 2012 | 70.0% | 697 | CHW | 715 | 102.58% | DET | 669 | 95.98% |
In the AL, the league DER dropped off sharply from early June 2011 - when I wrote last year's post and the league average was 702 - to season's end at 694, leaving the Rays (who slightly improved their DER) with the best defense relative to the league (and in absolute terms) since 2001. Meanwhile, the Twins' defense collapsed, moving the White Sox out of last.
Turn to 2012, and the White Sox are now atop the AL, and Tampa at 696 is just a hair below the league average. But it's the Tigers who horrify, with an Opening Day infield of Prince Fielder at first, converted outfielder Ryan Raburn at second, lead-footed Jhonny Peralta at short and Miguel Cabrera - who is not significantly thinner than Fielder - at third. Even the spectacular center field defense of Austin Jackson can't salvage this D. Raburn, hitting just .165/.225/.245, has largely been supplanted now by Ramon Santiago, but Cabrera, Fielder and Peralta aren't going anywhere. This presents a real problem. The highest BABIP ever recorded (since such things have been tracked; at present the records go back to 1948) against a pitcher to qualify for the ERA title was .358 vs Kevin Millwood 2008 (four of the ten worst were Texas Rangers - besides (Millwood, you can find Kevin Brown, Aaron Sele, and John Burkett on the list). THis season, you have Max Scherzer at .383 BABIP, Josh Johnson of the Marlins at.365, and Rick Porcello at .350 (no Rockies qualify). Even with some expectation of a regression to the mean, the BABIP vs the whole Tigers staff is .318, so Scherzer and Porcello can expect to struggle with this all year. This is a major reason why Scherzer has a 5.17 ERA despite striking out 11.5 men per 9 innings and a K/BB ratio of 3.45 to 1 (Scherzer has also had home run problems), and Porcello a 4.95 ERA despite allowing just 2.3 walks and 0.9 HR/9 and a 2.3 to 1 K/BB ratio. The 1983 Phillies were the first team ever to finish in first place with the league's worst DER; it's been done twice again since (the 1998 Rangers and 2001 Indians), but for a team that was projected as the division leaders based on their offense (which, granted, is 7th in the league in runs) and pitching, that may prove too heavy a burden to carry.
June 20, 2012
BASEBALL: So, He's Got That Going For Him.
Bill Murray, minor league baseball owner:
June 19, 2012
BASEBALL: The Knuckle Master
Kilimanjaro was a front. In fact, R.A. Dickey went to the Dagobah system in the offseason. It's the only possible explanation.
Dickey right now is locked into one of the greatest pitching stretches in baseball history - he's just the tenth man to throw back-to-back 1-hit shutouts, and the first since 1900 to strike out 10+ batters in both. He's the first pitcher in major league history to notch 5 straight starts of 0 earned runs and 8+ Ks. Over his last six starts, he's 6-0 with an 0.18 ERA, averaging over 8 innings per start (48.2 IP) and a 63/5 K/BB ratio (11.65 K/9 and 0.92 BB/9), no homers, and just 21 hits allowed (3.88 per 9). He's now 11-1 with a 2.00 ERA (ERA+ of 188), leading the NL in Wins, ERA, strikeouts, WHIP, shutouts, and complete games. And his last fourt starts have been against the Cardinals (who entered that series leading the NL in scoring), the first-place Nationals, the then-first-place Rays, and the Orioles, who entered the game 39-27.
Dickey's mastery has come on as a sudden step up from what was already a successful record - his first two years with the Mets, he posted a 3.08 ERA and struck out 5.6 batters per 9 innings; through May 12 of this season, he was striking out 6.5 batters per 9. Jeff Sullivan at Baseball Nation has a great breakdown of how the performance of Dickey's knuckler has improved, including a staggering 69% of his knucklers this season being thrown for strikes. Other knuckleball pitchers have had great seasons, and like them, Dickey has done it wth excellent control - Wilbur Wood in 1971 had a 1.91 ERA (189 ERA+) in 334 innings (walking 1.7 men per 9) and was the second-best pitcher in baseball; Hoyt Wilhelm from age 41-45 had a 1.74 ERA over 539 innings in relief (ERA+ of 185), walking 2.3 men per 9. But even those walk numbers don't really capture the level of Dickey's ability to command a normally un-commandable pitch, to say nothing of the fact that unlike Wilhelm, Wood and Phil Niekro for most of their careers, he actually has a fastball (not the 90+ heater he had in his 20s, but enough to freeze batters looking for a knuckler that has been clocked as slow as 54 mph).
Really, you could not get two better stories at the front of your rotation than Santana and Dickey, assuming Santana can shake off his post-no-hitter doldrums.
UPDATE: Dickey since May 20, 2011: 18-9, 2.42 ERA, 209/57 K/BB ratio & 20 HR in 256.1 IP, one of just six MLB pitchers with an ERA below 2.50 in 200+ innings in that stretch.
Dickey could be the third knuckleballer to start the All-Star Game, after Dutch Leonard (not the 0.96 ERA one, the Senators pitcher from the 40s) and Bob Purkey, and is on track for the best strikeout rate ever by a knuckler.
June 11, 2012
POP CULTURE: The Glade Hander
One of the TV shows my wife and I are now in the habit of watching regularly is The Glades on A&E. It's not Shakespeare, but I'm basically a sucker for crime shows, and South Florida is a wonderful place to set one, something Dexter and CSI:Miami have also exploited (Dexter is a great show; we gave up on CSI:Miami a few years and several hundred removals of Horatio's sunglasses ago).
Which brings me to my rant: Jim Longworth, the main character, is the worst TV detective I have ever seen at questioning witnesses.
Longworth, if you haven't watched the show, is a transplanted Chicago detective turned FDLE homicide investigator. He's cocky, good-looking, wise-cracking, irreverent...he has a shtick. Which is a double-edged sword: a detective with a shtick can become a self-parody like Horatio, but at least it's more entertaining than the colorless parade of no-character characters that a lot of the network police procedurals have turned out over the past decade, while the cable nets like USA have focused on more character-driven shows.
Anyway, it's not Longworth's personality that's an issue, but how it gets in the way of his job. Week after week, he's faced with the whole menagerie of suspects Florida can serve up: UFO freaks, snake handlers, gun and moonshine runners, stock car racers, high school football boosters, drug kingpins, Ernest Hemingway impersonators, you name it. And he can't stop himself from sneering judgementally at them - their lifestyles, careers, hobbies, love lives, what have you. While he is questioning them. Which, even when questioning fictional characters, tends to cause them to get their backs up instead of winning their trust. And then he walks off instead of completing his interrogations. In last night's episode, he literally walked out of an interrogation room while a suspect was shouting, "That's not how it happened!" Any reasonably competent cop would have sat back down at that point and demanded to know, really, how it did happen.
The predictable result of this - which, granted, helps stretch out the episodes to an hour and keep the viewers guessing - is that everybody lies to him. Just about every witness he questions on the show has to be questioned two, three, four times before he gets their full and honest story. He can occasionally be effective in intimidating people he's locked up (he generally locks up 1-2 suspects per episode who turn out not to have done it), but not in the spectacular fashion of Vincent D'Onofrio's Detective Goren or Andre Braugher's Frank Pembleton. He's just a guy who has you locked up and maybe has a case against you.
(I'm leaving aside the political content that sometimes creeps in when Longworth is railing against gun shows and the like, which is a separate issue; it's at least not out of character for a guy from Chicago to have a different, more Jack McCoy view of the world than Floridians)
Now, some TV detectives are interesting because they have character flaws. We used to watch Monk, which at times was an excellent show, and the writers made no bones about the fact that, while Monk was a genius, his various phobias and obsessions sometimes got in the way of doing his job. But the writers of The Glades never give you the impression that they realize that Longworth is doing anything wrong; after all, he does eventually solve all his cases. Sooner or later, they should realize that their main character is bad at one of the principal aspects of his job.
June 6, 2012
BASEBALL: The Green Monster
I've tried to keep short-term expectations for Bryce Harper in line, noting in my NL East preview how few rookies, even among Hall of Famers, hit with significant power before age 22 and especially before age 20.
It's a long season, and Harper as of now has just 144 plate appearances. But if he can sustain his .288/.375/.528 batting line, he'd have done something virtually unprecedented.
Harper's current OPS is 903, and his OPS+ is 143. Among players with 140 or more plate appearances as a teenager, only two post an OPS above 900: Mel Ott and Jimmie Foxx. Both are inner-circle Hall of Famers: Ott was probably the best hitter in his league 4 or 5 times and retired as the all-time NL home run leader (it was 18 years after his retirement before another NL player cracked 500 homers), and Foxx won 3 MVP awards despite playing the same position at the same time as Lou Gehrig and Hank Greenberg, won a Triple Crown and missed a second by not leading the league in homers in a season when he hit 50, and was - until A-Rod - the only player to have 500 homers through age 32.
The OPS+ is equally impressive. Four teenagers with 140 or more plate appearances have cracked an OPS+ of 140, but one (Whitey Lockman) did it against war-depleted competition in 1945, and the other three (Jack Clements, Oyster Burns and Fred Carroll) did it in 1884, when the Union Association badly diluted the talent base. The only 4 guys to crack 130: Foxx, Ott, Ty Cobb and Tony Conigliaro. That's some pretty fast company. If Harper can avoid the kind of plague of misfortunes that befell Tony C, he already looks like a guy who may have a really epic career.
PS - I'm reminded again, when you compare his numbers through age 22 to comparable hitters at that age, what a special player Conigliaro was and what a tragedy his career and life turned into. He should have hit 500 homers and waltzed into Cooperstown; go read his SABR bio for a full accounting of how it all went wrong, leaving him washed up at 25, brain damaged at 37 and dead at 45. I had not previously read the story of how Ted Williams warned him just before the beaning:
On the 17th [of August 1967], Tony's partner in the music business, Ed Penney, was visiting his sons at the Ted Williams Baseball Camp in Lakeville, MA. Ted warned Penney, "Tony is crowding the plate. He's much too close. Tell him to back off. It's serious time now. The pitchers are going to get serious." As Penney was leaving the camp later that evening, Williams shouted to Penney, "Tell Tony what I said. Don't forget to tell Tony what I told you." Penney did tell him, before the game the very next night. Tony was in a slump at the time, and told brother Billy he couldn't back off the plate or pitchers wouldn't take him seriously. If anything, he was going to dig in a little closer.

The Red Sox were facing the California Angels the next day - August 18 - and Jack Hamilton's fourth-inning fastball came in and struck Tony in the face, just missing his temple but hitting him in the left eye and cheekbone. Tony later wrote that he jerked his head back "so hard that my helmet flipped off just before impact." He never lost consciousness, but as he lay on the ground, David Cataneo wrote, Tony prayed, "God, please, please don't let me die right here in the dirt at home plate at Fenway Park." Tony was fortunate to escape with his life, but his season -- and quite possibly his career - was over.
June 1, 2012
BASEBALL: 8020
You gotta believe. There is joy in Mudville. Finally, at long last, the Mets have a no-hitter, and it's by Johan Santana, the Mets staff ace with the surgically reconstructed shoulder and a fastball that only barely impersonates his old heater.
How do you write about something you've waited for your whole life? Something I wish my mom and my older brother and Bob Murphy had lived to see?
This was the best Mets moment since the 1986 World Series, topping even the epic comebacks of 1999 and the 2000 NL Pennant. It was all the sweeter because it was Santana, a classy guy and a true warrior and a pitcher of the stature to deserve succeeding where Seaver, Gooden, Ryan, and others had failed, and the guy who had pitched the previous guttiest Mets start I ever saw, the last win at Shea in 2008. To recap, while the Mets had not produced a no-hitter in 8,019 prior games going back to 1962, the following pitchers had pitched for the Mets and thrown a no-hitter for another team:
Pitchers Who Threw No-Hitters After Leaving The Mets:
Nolan Ryan (seven times, including for every other franchise he pitched for)
Tom Seaver
Mike Scott
Dwight Gooden
David Cone
Hideo Nomo
Phil Humber
*Octavio Dotel (1 inning in combined no-hitter)
Pitchers Who Threw No-Hitters Before Coming To The Mets:
Warren Spahn (twice, albeit long before he was a Met)
Dean Chance (twice)
Don Cardwell
Dock Ellis
John Candelaria
Bret Saberhagen
Kenny Rogers
Al Leiter
Hideo Nomo (got 'em on both ends)
Scott Erickson
**Pedro Martinez (9 perfect innings, but allowed hit in tenth; no longer officially counted as a no-hitter)
*Alejandro Pena (1 inning in combined no-hitter)
*Billy Wagner (1 inning in combined no-hitter - same one as Dotel)
If you count Pedro and leave out the relievers, that's 17 pitchers and 26 no-hitters. Meanwhile, teams like the Red Sox have had no-hitters thrown by figures as obscure as Devern Hansack.
Santana threw over 130 pitches tonight, the most of his career. A choked-up Terry Collins (who told Santana on the field that he was Collins' hero) made the right choice during the game - given how much this meant to Santana and the franchise - to let him finish this game, but he was clearly worried about Johan's health. At a minimum, the Mets have some options for giving Santana (who between this year and next is owed $54.5 million and is again the team's ace) an extra day of rest, either by throwing RA Dickey on 3 days rest or by bringing up Jenrry Mejia.
Santana's champagne and whipped cream shower after the game and SNY's emotional footage of him returning to the Mets clubhouse after the game showed how much this means to these guys. Sports are an emotional business, and Collins, as a leader of men, can't ignore that aspect. This team is unlikely to win the World Series; this is probably as good as 2012 gets for the players and the fans alike.
Collins in the postgame told a great story about managing Sid Fernandez to an A ball no-no; Sid had 18 Ks but had thrown 119 pitches through 8, and had a strict 130 pitch limit. He struck out the side in the 9th on 10 pitches, ended with 21 Ks. Sid was the all-time master of the 5 inning no-hitter and then the wheels come off (I saw him do that in an exhibition at the first game ever played at Camden Yards in 1992: 5 no-hit innings, 5 runs in the sixth). When he was promoted out of A ball in 1982, Sid had a career record of 13-2 with a 1.70 ERA; in 163.2 IP, he had allowed 81 hits and struck out 269. As anyone who watched the All-Star Game or Game Seven of the World Series in 1986 could attest, Sid could be that unhittable at his best even against the most fearsome Major League lineups.
There were many nervous moments in the game, from Kirk Nieuwenhuis almost crashing into Omar Quintillana on an 8th inning popup to Mike Baxter leaving the game with a busted shoulder on a catch against the wall.
There was poetic justice in Carlos Beltran being the last out of the 8th, and Adam Wainwright the losing pitcher.
On the whole, an Amazin' night.