War 2007-18 Archives
September 11, 2018
WAR: The Afghanistan War at 17
NRO: The Afghanistan War at 17
July 23, 2018
WAR/POLITICS: Trump Goes Nuclear again on Twitter, but Who Believes Him Now?
NRO: Trump Goes Nuclear again on Twitter, but Who Believes Him Now?
May 16, 2018
WAR: The Unfixable Tragedy of Gaza
NRO: The Unfixable Tragedy of Gaza
April 13, 2018
WAR/POLITICS: Donald Trump At War: A Conventional American Response to Syria
NRO: Donald Trump At War: A Conventional American Response to Syria
March 12, 2018
POP CULTURE/WAR: Wakanda Has the Right's Foreign-Policy Debate
NRO: Wakanda Has the Right's Foreign-Policy Debate
November 2, 2017
WAR: Yes, radical Islamic terrorism is different
LA Times: Yes, radical Islamic terrorism is different
October 30, 2017
LAW/POLITICS/WAR: Trump Adviser Pleads Guilty to Lying about Seeking Hillary Emails from Russia
NRO: Trump Adviser Pleads Guilty to Lying about Seeking Hillary Emails from Russia
October 17, 2017
WAR/POLITICS/LAW: New Russian Nuclear Scandal Raises New Questions About Clinton Foundation
NRO: New Russian Nuclear Scandal Raises New Questions About Clinton Foundation
July 26, 2017
WAR/POLITICS: Military Fitness Is A Military Decision
NRO: Military Fitness Is A Military Decision
July 20, 2017
WAR: Anti-Radical Muslims Need to Organize and Draw Lines
NRO: Anti-Radical Muslims Need to Organize and Draw Lines
Also up at Fox Nation.
July 12, 2017
POLITICS: It's Not Treason, But It's Not Defensible, Either
NRO: It's Not Treason, But It's Not Defensible, Either
May 16, 2017
LAW/POLITICS: In Hate-Crime Prosecutions, Thoughts Shouldn't Matter
LA Times: In hate-crime prosecutions, thoughts shouldn't matter
May 10, 2017
POLITICS/LAW/WAR: Republicans Should Want The Russia 2016 Story Out In The Open
NRO: Republicans Should Want The Russia 2016 Story Out In The Open
April 11, 2017
POLITICS: Sean Spicer Steps in a Hitler Mess
NRO: Sean Spicer Steps in a Hitler Mess
March 24, 2017
POLITICS/LAW: No, Trump Isn't Under Criminal Investigation by the FBI
NRO: No, Trump Isn't Under Criminal Investigation by the FBI
February 9, 2017
POLITICS/LAW/WAR: Why The Ninth Circuit Ruled Against Trump's Refugee Order
At NRO: Why The Ninth Circuit Ruled Against Trump's Refugee Order.
February 5, 2017
POLITICS/LAW/WAR: Judge Robart: Not A Republican Judge
At NRO: Judge Robart: Not A Republican Judge.
POLITICS/LAW/WAR: Trump vs Judge Robart: What Happened?
At NRO: Trump vs Judge Robart: What Happened?
January 28, 2017
POLITICS/LAW/WAR: Refugee Madness: Trump Is Wrong, But His Liberal Critics Are Crazy
NRO: Refugee Madness: Trump Is Wrong, But His Liberal Critics Are Crazy
September 20, 2016
WAR: Today in Vox Alumni, Afghanistan Edition
NRO: Today in Vox Alumni, Afghanistan Edition
September 11, 2016
WAR: Where I Was on September 11
NRO: Where I Was on September 11 (2016 reprint)
August 1, 2016
POLITICS/WAR: Hillary Clinton's Foreign Policy Failures
Most of my NRO content can be found now on my NR author page, although I probably should update the links here more often anyway.
My first article in the magazine (subscription-only, and those aren't linked in the author archive): Hillary Clinton's Foreign Policy Failures
July 5, 2016
POLITICS/WAR: What Edward Snowden and Hillary Clinton Have in Common
NRO: What Edward Snowden and Hillary Clinton Have in Common
July 1, 2016
WAR: Obama's Holiday Weekend Civilian Drone Death News Dump
NRO: Obama's Holiday Weekend Civilian Drone Death News Dump
June 24, 2016
WAR/POLITICS: What If The Orlando Shooter Wasn't Gay After All?
NRO: What If The Orlando Shooter Wasn't Gay After All?
June 23, 2016
POLITICS: Has Britain Declared Independence?
NRO: Has Britain Declared Independence?
June 14, 2016
WAR/RELIGION: There Is No Radical Christianity That Compares to Radical Islam
NRO: There Is No Radical Christianity That Compares to Radical Islam
September 17, 2015
POLITICS/LAW: My Latest, 9/17/15
Syrian Refugees: Arm Them, Train Them, And Send Them Back
This Was Not A Good Debate For Jeb Bush and John Kasich
The Supreme Court Probably Isn't Done With Obamacare Litigation
June 30, 2014
HISTORY/WAR: Enduring Lessons From The Diplomatic Crisis of July 1914
My latest at The Federalist, which also has fairly extensive coverage of today's Hobby Lobby decision.
June 5, 2014
WAR/POLITICS: Yes, It Matters That Bowe Bergdahl Deserted
Does it matter whether Army Sergeant Bowe Bergdahl was a deserter, or worse, a traitor? In evaluating President Obama's decision to trade five high-ranking Taliban terrorists for Bergdahl, it absolutely does.
Given the public-relations fiasco around the Bergdahl deal, liberal commentators are circling the wagons. Their latest argument, designed to compartmentalize the pieces of the controversy so they can't be considered as a whole, is that the President's calculation of what it was worth giving up to get Bergdahl back should not have taken consideration of the facts of Bergdahl's conduct and disappearance, specifically his abandonment of his comrades and mission under circumstances suggesting a deeper betrayal than simple desertion. This argument (which is summarized here by Brian Beutler at the New Republic, although it's been coming from people all over the left side of the commentariat the past two days), goes more or less like this:
1) Either you believe the military should have an ethos of "leave no man behind," or you do not.
2) Either you believe deserters should be court-martialed, or you do not.
3) You can't have a court martial until you've brought Bergdahl back.
4) If you believe in 1) and 2), you should want Bergdahl back first before deciding if he deserted, which is a matter for the court martial system, and he is presumed innocent until then.
As Beutler put it on Twitter, "this standard of rendering verdicts against POWs while they're in captivity and using them to oppose rescue is disgusting."
There are two related problems with this syllogism that illustrate its dependence on simple-minded sloganeering in lieu of sober judgments of reality. First, it confuses purely military decisions with major national security decisions. For soldiers, "leave no man behind" is more than a slogan - it's part of the deep ethos of military service, the knowledge that your comrades have your back even if you get lost or wounded or just screw up. It's the second-highest value the military has, and it's why commanders won't think twice about rescue missions that may put the lives of more soldiers at risk than those that are being rescued. Of course, there's a fair amount of bitterness at Bergdahl's desertion - his decision to leave everyone behind - among his former Army comrades and especially those who lost loved ones trying to get him back. But nobody really argues the point that the military should make efforts like that to get guys like him back.
But an exchange of high-value detainees is not a purely military decision. It's a national-security decision of precisely the type that has always been reserved, not to military men according to their military code, but to the elected civilian political leadership that makes the really big decisions with an eye beyond today's battlefields to the greater interests of the nation. After all, the military's highest value, even higher than its commitment to the lives of its men and women in uniform, is the mission itself - and it's the civilian leadership that sets the mission and chooses what sacrifices we ask of them. There are serious downsides to making ransom deals with terrorists, including setting dangerous men free and setting bad precedents and incentives for the future. Even President Obama had to admit that we could live to regret this deal in terrible ways:
"Is there a possibility of some of them trying to return to activities that are detrimental to us? Absolutely," Obama told a news conference in Warsaw.

"That's been true of all the prisoners that were released from Guantanamo. There's a certain recidivism rate that takes place."
The existence of downsides, even grave ones, may not convince us to adopt an absolute rule against deals with terrorists; national security decisions often involve a choice among lesser evils, and if your foreign policy can be summarized on a bumper sticker, you will probably get in a lot of accidents. But they illustrate why the pros and cons and competing values need to be weighed carefully, rather than letting one motto ("leave no man behind") or another ("we don't negotiate with terrorists") do our thinking for us. Our principles, as always, must remain a compass, not a straitjacket. And once you concede that the decision involved weighing competing values rather than blindly following a single overriding rule, you have to take consideration of the fact that - while of course we all wanted Bergdahl back - retrieving him was not as compelling a value as retrieving a soldier who did his duty as best he could and unquestionably remained loyal to his country.
Which brings me to the second problem with the syllogism being proposed: that it asks the President of the United States to make vital national security decisions while wearing lawyer-imposed blinders as to the facts. Yes, as a legal matter under U.S. criminal law and the Uniform Code of Military Justice, Sergeant Bergdahl is innocent until proven guilty of desertion or any graver misconduct. But every day of the week, every hour of the day, Presidents make decisions on matters large and small, in the national security area and other areas, affecting the lives of many people, based on facts that have not been litigated in court. The idea that the facts of Bergdahl's disappearance could simply be wished away or pretended not to exist, simply because no court-martial had been convened, is ridiculous and juvenile. It's not as if we could get the five Taliban back if we tried Bergdahl and found him guilty, after all. Presidents make decisions based on the best information they have. Sometimes, that information doesn't come from sources that conform to the legal rules of evidence, or from sources that could ever be disclosed in a courtroom. And sometimes, facts come out later that show that the President was misinformed - but those facts arrive too late for a decision to be made. These are the adult realities of the Presidency, and only an appallingly misguided legalism can lead President Obama's own supporters, in the sixth year of his presidency, to remain blind to it.
The military owed Bowe Bergdahl its promise to try to rescue him, even if he walked away. The nation did not owe him an agreement to compromise national security by surrendering five high-value prisoners without asking what we were getting in return.
May 19, 2014
WAR/POLITICS: Hillary Clinton's Iraq War Vote
March 4, 2014
WAR: Republicans, Ideology and Foreign Policy
December 17, 2013
HISTORY/WAR: Nelson Mandela, Ronald Reagan and the Cold War
My latest at The Federalist looks at the actual history of Nelson Mandela, Ronald Reagan, the Cold War and the end of apartheid. It may not be the history you hear today, but it was all well known to those of us who were paying attention at the time.
December 16, 2013
WAR: Nelson Mandela, Ronald Reagan and the Cold War
The death of Nelson Mandela has unleashed a flood of commentary on a man who now belongs to the ages. Unfortunately, too much of that commentary ignores the extent to which Mandela - and his winning battle against apartheid - was a part and product of his times.
Specifically, much of the punditry by American liberals has recast Mandela's story as a simple morality play in which a great man was kept down by his oppressors with the help (or at least the indifference) of American and British conservatives, foremost among them Ronald Reagan and Margaret Thatcher. In this telling, Reagan and Thatcher are portrayed as having no good or defensible reason for their actions. Instead, the narrative holds that external pressure on South Africa by liberal entertainers and politicians - including economic sanctions imposed over President Reagan's veto in 1986 - freed Mandela, who went on to prove his conservative critics wrong and earn the admiration of the world.
Not every element of this narrative is factually wrong, but it is missing so much critical context as to be grossly misleading. Reagan was wrong about Mandela but right about the world, and in judging Reagan, that was what really mattered; Mandela was wrong about the world but right about South Africa, and in judging Mandela, that was what really mattered.
To understand Mandela's flaws, why he was greeted with skepticism on the Right, and why he deserves to be lionized for rising above that skepticism, you must first consider both the global context of the Cold War and its regional impact on Southern Africa. And contrary to the liberal narrative, it was the end of the Cold War and the end of the regional agony of southwest Africa that made Mandela's release and the end of apartheid possible.
Southern Africa and the Cold War
It is easy to forget now, but as recently as the late 1970s, international Communism was on the upsurge in the aftermath of America's humiliating withdrawal from Southeast Asia - and many observers at the time felt the Communists had the stronger hand than the West. As an ideology of class struggle, Communism most naturally appealed to the Third World, where the poor are often desperately so and tend to vastly outnumber the middle class. In Southeast Asia, following the North's conquest of South Vietnam in April 1975, Pathet Lao took control of Laos in December 1975 and the Cambodian domino fell in 1976, leading to one of the worst genocides in world history over the next four years. In Central America, the Communists gained their first foothold on the American mainland when the Sandanistas overthrew the Somoza regime in Nicaragua in July 1979. In Central Asia, the Soviet Union itself invaded Afghanistan in December 1979.
But no region offered more opportunities for the expansion of Communist tyranny in the late 1970s and early 1980s than sub-Saharan Africa, in particular the southern quarter of the continent, which was beset with an alphabet soup of left-wing guerilla movements. South Africa's immediate neighbor to the northeast, Mozambique, became independent from Portugal in 1975 after nearly a decade-long war of independence. Its new ruling party, the Mozambique Liberation Front (FRELIMO), declared Mozambique a Marxist-Leninist state in 1977, and set itself on a course of persecuting the churches and triggering a massive humanitarian crisis by shuttering the country's many religiously-run hospitals. In response, a Rhodesian-backed resistance movement, the Mozambican National Resistance (RENAMO), launched a civil war that would eventually claim the lives of nearly a million Mozambicans and created some 5 million refugees, about a third of Mozambique's population.. FRELIMO received Soviet support; while much of the West refused to support RENAMO due to its own savagery, the South African regime eventually became its primary source of support after the demise of Rhodesia and its replacement by Robert Mugabe's regime in Zimbabwe.
Inland from Mozambique, and also bordering South Africa, lay Rhodesia, independent from Britain since 1965 and ruled by Ian Smith's white-minority government. Rhodesia had declared its independence unilaterally, which was resisted by Great Britain (Rhodesia was never diplomatically recognized by South Africa, although its government ended up being effectively propped up by South Africa). Its white ruling regime faced a two-headed insurgency from the black majority population: the rural, Chinese-backed Maoist group ZANU, headed at the time by Robert Mugabe and Reverend Ndabaningi Sithole, and Joshua Nkomo's Soviet-backed ZAPU. In early 1978, under international pressure from - among others - the U.S. and South Africa, Smith agreed to a power-sharing agreement with moderate black Bishop Abel Muzorewa, an accord designed to ease Rhodesia into participation and ultimately majority control by the black majority, while explicitly preserving a political power base for the white minority (including guaranteed legislative seats) and empowering the moderate factions within the black majority. Unfortunately for Zimbabwe's people, Mugabe and Nkomo rejected the agreement and refused to make peace, and Muzorewa wasn't a strong enough leader to bring them to heel. By February 1980, the accord had been torn up and Mugabe elected President, where he remains today, with increasingly tragic consequences.
In the 1980s, Mugabe was not yet the full horror he would later become, but he was already a cautionary tale. In 1982, Mugabe sent troops into Mozambique on the side of FRELIMO, and would remain embroiled in its civil war until 1992. Also in 1982, Mugabe ejected Nkomo from his unity government, and Zimbabwe's North Korean trained and officered Fifth Brigade, engaged in massacres of the Ndebele people, who were on the losing side of the ensuing ZANU-ZAPU feud that would last until 1987. Mugabe was also engaged in a long-running campaign to demonize white farmers (they would eventually face formal confiscation of their land beginning in 2000).
To the northwest of modern South Africa lies what was then the South African province of South-West Africa, now the independent state of Namibia. North of that lies Angola, which like Mozambique had won its independence from Portugal in 1975 (in other words, both Angola and Mozambique had also only emerged from white rule of their black populations in the mid-1970s). Independence was, there as well, followed by a vicious civil war between the Soviet and Cuban backed People's Movement for the Liberation of Angola (MPLA) and the South African-backed National Union for the Total Independence of Angola (UNITA), led by Jonas Savimbi. At the peak of the fighting in the late 70s and early 80s, Fidel Castro maintained anywhere from 15,000 to 40,000 Cuban troops in Angola, a major proportion of the fighting strength on the MPLA side. The CIA had sent covert aid to UNITA under the Ford Administration until the 1976 passage of the Clark Amendment, which banned aid to the combatants in Angola; eventually, in 1985, the Reagan Administration was able to obtain the repeal of the Clark Amendment and provide open support to UNITA.
Meanwhile, South African rule in South-West Africa had been challenged since 1966 by a war of independence launched by the South West Africa People's Organization (SWAPO). By the early 1980s, South-West Africa was in the crosshairs of both the regional and global power struggles between South Africa and the various Soviet-aligned forces in Angola; SWAPO aligned itself with MPLA and its Soviet and Cuban allies. Billions in Soviet aid flowed into SWAPO's war against both the South Africans and UNITA. The wars in Angola and South-West Africa often spilled over each other's borders and effectively merged into a single, wider war.
Moreover, given the history of Cold War conflicts from Korea to Vietnam to Hungary to Afghanistan, there were real reasons to worry that this situation would escalate, especially if things went badly for the Cubans. In 1981, the Soviet Union admitted it had military advisers in Angola, after two of them were killed in clashes with South African troops. That threat was one of the drivers of South Africa's nuclear ambitions; its already-covert nuclear program, under Defence Minister P.W. Botha, went to ground in the late 1970s due to international pressure from both the U.S. and Soviet blocs, although South Africa would retain the warheads until the end of the 1980s.
The region's various warring factions also had a destabilizing effect on Zambia, which sits to the north of Zimbabwe, as a result of the tendency of whichever faction was out of power in Rhodesia, Angola, South-West Africa or South Africa to decamp across the border into Zambia. And north of Zambia lay Tanzania, under the rule of Julius Nyerere; Nyerere went to war with Idi Amin's regime in Uganda (to his north) in 1979, the Soviets backing Amin (who was aided by troops from Qaddafi's Libya and Arafat's PLO) while the Chinese backed Tanzania.
To put this in American terms, imagine that you were trying to rally support against Jim Crow in Florida, but the end of segregation in the rest of the region had resulted in oppression of whites and attempted genocide in South Carolina, a Marxist regime in Georgia, a civil war in Mississippi stoked by an army from Louisiana, and Alabama invading the panhandle arm-in-arm with an expeditionary force of Cuban Communists.
This was the world in which Botha became Prime Minister in 1978, and in which Nelson Mandela - held in a South African prison since 1962 and sentenced to life in 1964 for conspiring to overthrow the South African government - would increasingly become an international cause célèbre as the 1980s wore on. It was a region beset by one variety or other of Marxist movements (even UNITA had its own communistic leanings) and treated as a playground for foreign interference by a variety of players in the Cold War scene, first and foremost the Soviet Union and its allies. It was a region short on clean hands (as the roster of atrocities committed by virtually all the combatant forces in the various wars could attest) and long on corrupt and brutal governments (in Zimbabwe's case, a government bent on racial revenge). South Africa was by no means regarded in Washington or London as a virtuous ally, but what it represented was the region's strongest military and economic power and one that implacably opposed the region's Marxist tilt.
Mandela The Communist Fellow-Traveler
In Reagan's search for allies against Communist domination of southern Africa, it's easy to see why Nelson Mandela would not have seemed a promising prospect. Because, for all his later merits, Mandela gave every impression of being cut from the same ideological and political cloth as Mugabe and the region's other Communists and fellow-travelers.
The true extent to which Mandela was a believing and active Communist in the early 1960s, or during his imprisonment, remains a matter of some debate to this day. After his death, the modern South African Communist Party claimed "Comrade Mandela" as having once been an active leader of the Party, but then its self-serving motives in wanting as large a piece of his legacy as it could grasp are fairly obvious. But as Greg Myre at NPR observes, "Comrade Mandela" wasn't that far from the truth:
Mandela's...African National Congress has been closely aligned for decades with the South African Communist Party. Members of both organizations studied and received military training in the Soviet Union. And while Mandela and other ANC leaders called for a multiracial democracy, many members of his group viewed communist countries as more sympathetic to their cause than Western nations.

British historian Stephen Ellis published a 2011 paper citing documents from the South African Communist Party that state Mandela was one of the group's leaders.

Whatever Mandela's role may have been, his open alliance with the Communist Party was often cited by South Africa's government and some conservatives in the United States as reason to be suspicious of him and the ANC's intentions.

For years, the U.S. labeled the ANC a terrorist group because it carried out attacks against civilian targets in South Africa. And it was Mandela himself who established the ANC's armed wing in the early 1960s before he was imprisoned.
Bill Keller at the New York Times elaborates:
Although Mandela's African National Congress and the Communist Party were openly allied against apartheid, Mandela and the A.N.C. have always denied that the hero of South Africa's liberation was himself a party member. But Ellis, drawing on testimony of former party members and newly available archives, made a convincing case that Mandela joined the party around 1960, several years before he was sentenced to life in prison for conspiring to overthrow the government.

..."Today, the A.N.C. officially claims still to be at the first stage ... of a two-phase revolution," Ellis told me in an email exchange. "This is a theory obtained directly from Soviet thinking."

Indeed, the remnants of Communist protocol and jargon — "comrades" and "counterrevolutionaries" — live on in the platform and demeanor of South Africa's ruling party.
Ellis' work also shines light on the ANC:
His book also provides fresh detail on how the ANC's military wing had bomb-making lessons from the IRA, and intelligence training from the East German Stasi, which it used to carry out brutal interrogations of suspected "spies" at secret prison camps.

...Its campaign of "sabotage" and bombings over the subsequent three decades claimed the lives of dozens of civilians, and led to the organisation being classed as a terrorist group by the US.

In his book, Professor Ellis, who also authored a publication on the Liberian civil war, elaborates on other murky aspects of the ANC's past. One is that bomb-making experts from the IRA trained the ANC at a secret base in Angola in the late 1970s, a link disclosed last year in the posthumous memoirs of Kader Asmal, a South African politician of Indian extraction who was exiled in Ireland. He was a member of the Irish Anti-Apartheid Movement, which, Prof Mr Ellis says, in turn had close links to the British and South African Communist parties.

The IRA tutoring, which was allegedly brokered partly through Sinn Fein leader Gerry Adams, led to the ANC fighters improving their bombing skills considerably, thanks to the expertise of what Mr Ellis describes as "the world's most sophisticated urban guerrilla force".

Angola was also the base for "Quatro", a notorious ANC detention centre, where dozens of the movement's own supporters were tortured and sometimes killed as suspected spies by agents from their internal security service, some of whom were "barely teenagers". East German trainers taught the internal security agents that anyone who challenged official ANC dogma should be viewed as a potential spy or traitor.
One of the more notorious episodes was the 1983 Church Street car bombing, which killed 19 people and wounded 217 at a South African Air Force facility. The bombing was pinned on the ANC by the Truth and Reconciliation Commission, which found it was authorized by ANC president Oliver Tambo. Tambo at the time stated that Church Street was a legitimate target. Botha offered Mandela release in 1985 if he would renounce violence; Mandela refused:
Mandela's reply was read out by his daughter Zindzi, at a huge stadium in Soweto: "Let him renounce violence. Let him say that he will dismantle apartheid. Let him unban the people's organization, the African National Congress. . . . I cannot and will not give any undertaking at a time when I and you, the people, are not free."
This was a courageous stance, but it was also one that had to concern American policymakers who feared yet another civil war in the region. Peter Beinart argues that Mandela's immersion in Communist ideology had the unusual effect of encouraging him to move beyond thinking along racial lines, a habit that would stand him in good stead when he sought national reconciliation. But even if this is so, exposure to Marxist thinking had no such effect on Mugabe or other African leftists, and there was no good reason to expect it of Mandela in 1985.
Mandela never really stopped being an America-bashing leftist even after his release; Andrew Kaczynski at Buzzfeed collects some quotes from his later years illustrating that point, as does Tim Graham at Newsbusters. Myre:
Mandela was at odds with U.S. foreign policy on multiple occasions.

He remained loyal to those who provided moral and financial support to his group during the years when the ANC had few friends in the West. This led Mandela to meet and praise leaders such as Cuba's Fidel Castro and Libya's Moammar Gadhafi.

The year after he was freed, Mandela called Castro "a source of inspiration to all freedom-loving people."

Mandela also spoke out against the U.S. invasion of Iraq in 2003 and took issue with the U.S. campaign against Iran's nuclear program.
Michael Moynihan notes Mandela's lifelong callousness towards the human-rights victims of anti-American dictators, with specific recent examples from Iran.
Mandela would attain world renown as a "political prisoner," and Reagan himself would demand Mandela's release in his 1986 veto message:
[L]et me outline what we believe are necessary components of progress toward political peace.

First, a timetable for elimination of apartheid laws should be set.

Second, all political prisoners should be released.

Third, Nelson Mandela should be released to participate in the country's political process.

Fourth, black political movements should be unbanned.

Fifth, both the Government and its opponents should begin a dialogue about constructing a political system that rests on the consent of the governed, where the rights of majorities and minorities and individuals are protected by law. And the dialogue should be initiated by those with power and authority, the South African Government itself.
But Mandela's sentence to life imprisonment was unjust only because the system he sought to overthrow was unjust. He was not jailed for peaceable civil disobedience, which he had tried and seen crushed in the 1950s, but for conspiring to violent overthrow of the South African government - and he admitted at trial that he was guilty of precisely that:
"I do not deny that I planned sabotage. I did not plan it in a spirit of recklessness nor because I have any love of violence. I planned it as a result of a calm and sober assessment of the political situation that had arisen after many years of tyranny, exploitation and oppression of my people by the whites."
As Mandela justified himself at the time:
"We had either to accept inferiority or fight against it by violence. We chose the latter." [Mandela and a co-defendant] strongly denied they were Communists. The charges against Mandela, former leader of the banned African National Congress, and the other accused include sabotage involving nearly two hundred incidents.

...Mandela spoke for nearly five hours. He said: "I do not deny that I planned sabotage. I did not do this in a spirit of recklessness. I planned it as a result of a calm and sober assessment."...

He concluded in June, 1961, that violence was inevitable and that it would be unrealistic for African leaders to continue a non-violent policy when the Government "met our demands with violence."

He said: "This decision was not easily made. The decision was made to embark on violent forms of struggle. I felt morally obliged to do what I did."
Thus, Mandela's release nearly three decades later was not an admission by the government of his innocence or wrongful conviction, but a deliberate step towards reconciliation in spite of his guilt and in recognition of the ultimate justice of his grievances - a gesture that Mandela would reciprocate with a remarkable lack of bitterness despite those grievances.
Should Mandela be condemned for being an anti-American Communist sympathizer? Back in the 80s, Newt Gingrich was one of a group of young conservatives pressing Reagan for a harder anti-apartheid line. Newt, as he often does, frames his defense of Mandela today in the context of America's own Founding Fathers:
[L]et me say to those conservatives who don't want to honor Nelson Mandela, what would you have done?

Mandela was faced with a vicious apartheid regime that eliminated all rights for blacks and gave them no hope for the future. This was a regime which used secret police, prisons and military force to crush all efforts at seeking freedom by blacks.

What would you have done faced with that crushing government?

What would you do here in America if you had that kind of oppression?

Some of the people who are most opposed to oppression from Washington attack Mandela when he was opposed to oppression in his own country.

After years of preaching non-violence, using the political system, making his case as a defendant in court, Mandela resorted to violence against a government that was ruthless and violent in its suppression of free speech.

As Americans we celebrate the farmers at Lexington and Concord who used force to oppose British tyranny. We praise George Washington for spending eight years in the field fighting the British Army's dictatorial assault on our freedom.

Patrick Henry said, "Give me liberty or give me death."

Thomas Jefferson wrote and the Continental Congress adopted that "all men are created equal, and they are endowed by their Creator with certain unalienable rights, among which are life, liberty, and the pursuit of happiness."

Doesn't this apply to Nelson Mandela and his people?

Some conservatives say, ah, but he was a communist.

Actually Mandela was raised in a Methodist school, was a devout Christian, turned to communism in desperation only after South Africa was taken over by an extraordinarily racist government determined to eliminate all rights for blacks.

I would ask of his critics: where were some of these conservatives as allies against tyranny?

Where were the masses of conservatives opposing Apartheid? In a desperate struggle against an overpowering government, you accept the allies you have just as Washington was grateful for a French monarchy helping him defeat the British.
Keller takes a similar line:
The early collaboration of the A.N.C. with the Communists was a marriage of convenience for a movement that had few friends. The South African Communist Party and its patrons in Russia and China were a source of money and weapons for the largely feckless armed struggle, and for many, it meant solidarity with a cause larger than South Africa. Communist ideology undoubtedly seeped into the A.N.C., where it became part of a uniquely South African cocktail with African nationalism, Black Consciousness, religious liberalism and other, inchoate angers and resentments and yearnings.
The view of Gingrich and Keller view is the charitable one: that the Communist component of Mandela's ANC was basically a marriage of necessity, like the Spanish and Chinese anti-Fascist alliances of 1937, or the Western alliance with Stalin a few years later. This is an important point - but the irony is that Newt's defense of Mandela's Communist ties is also the conservative defense of not taking a harder line against South Africa in the final decade of the Cold War, while Marxism and Soviet influence menaced the southern part of Africa. It is the sober realization that the long-term and wider cause of freedom may require short-term alliances of convenience with enemies of freedom. Liberals may reject the concept of alliances driven by interest rather than principle, but conservatives, long accepting of this reality and recognizing that the difference between a nation's allies and its enemies is always a meaningful, should grant Mandela the same understanding as Reagan, FDR, and Washington in this respect: he made the allies he needed to advance a just cause.
Read More »
September 20, 2013
WAR: New At The Federalist
On Wednesday, I had my debut column at The Federalist, on the "neocon" grand strategy from 2001 to today. The Federalist is an excellent and exciting new web publication featuring some great writers, and I'm thrilled to be doing a semi-regular column there (I'll be cross-posting content to here periodically, I still have to post this one here). I'm not abandoning this blog or leaving RedState, but it's another outlet.
September 16, 2013
WAR: Neocon Middle East Part II
Set The Greater Middle East Ablaze
The Bush Administration was fond of touting the milestones of democracy and freedom (the two things are not the same), and in the early years they came in waves. At the same time, the forces of chaos threatened to overwhelm the progress. But as the years have passed, chaos has more often engulfed the enemies of democracy than its friends. Step back and consider the timeline of major events - not every battle or controversy, but the large-scale shifts between democracy, tyranny and extremism:
October-November 2001: U.S. invades Afghanistan, toppling the Taliban government.
December 2001: Conference of Afghan leaders in Bonn appoints Hamid Karzai as interim president.
March-April 2003: U.S. invades Iraq, toppling Saddam Hussein's government.
July 2003: Iraqi Governing Council established as an interim government. Saddam's sons Uday and Qusay killed in a firefight with U.S. troops.
December 2003: Saddam Hussein captured. Also, Libya announces that it is surrendering its nuclear and other WMD program, which would be turned over to international inspectors.
December 2003-January 2004: Afghanistan loya jirga assembly adopts a new constitution.
March 2004: Iraq adopts an interim constitution.
June 2004: U.S. transfers sovereign power to the interim Iraqi government, headed by Ayad Allawi.
September 2004: UN Security Council passes a USNC Resolution 1559, demanding Syrian withdrawal from its occupation of Lebanon. Also, Don Rumsfeld airs the Bush Administration's mounting concerns over Iran supporting the insurgency in Iraq.
October 2004: First Afghan election, won by Hamid Karzai, featuring high voter turnout and the participation of women. Karzai would be re-elected in August 2009, an election surrounded by disputes over various types of irregularities, and at present is scheduled by term limits to leave office following the next elections in April 2014.
December 2004: U.S. officials begin to raise public concerns about Syrian support for the insurgency in Iraq.
January 2005: Iraqis throng to polling places for the first parliamentary elections. Ibrahim al-Jaafari succeeds Allawi as Prime Minister. Meanwhile, elections in the Palestinian Authority (boycotted by Hamas) select Mahmoud Abbas as President and successor to the recently-deceased Yasser Arafat.
February 2005: Former Lebanese Prime Minister Rafik Hariri assassinated by car bombing in Beirut, generally believed to have been orchestrated by the Syrian government of Bashar al-Assad.
April 2005: Following the popular protests of the "Cedar Revolution" in Lebanon and diplomatic pressure from the Bush Administration and the French government of Jacques Chirac to enforce UNSC Resolution 1559, Syria withdraws from Lebanon. The Lebanese protests take inspiration from similar movements in Ukraine and Georgia over preceding months.
May-June 2005: Free elections held in Lebanon without Syrian interference for the first time in 30 years, won by the party led by Saad Hariri, son of Rafik Hariri. The younger Hariri would serve as Prime Minister until 2011, when he would be succeeded by Najib Mikati.
May 2005: Kuwait grants women the right to vote and run for office.
September 2005: First Afghan parliamentary elections.
October 2005: Iraq adopts a permanent constitution via popular referendum.
December 2005: Second Iraqi parliamentary elections, featuring nearly 80% voter turnout. In May 2006, the new government would make Nouri al-Maliki the Prime Minister, succeeding al-Jaafari.
January 2006: Parliamentary elections in the Palestinian Authority, won by Hamas.
February 2006: Bombing of the Shi'ite al-Askari "Golden Mosque" in Iraq, triggering widespread sectarian violence.
April 2006: Taliban launch a major spring offensive in Afghanistan. The offensive is unsuccessful, but the first of several such offensives, usually in the spring, that have protracted the war while the Taliban remains ensconced in northern Pakistan and parts of southern Afghanistan.
June 2006: A U.S. airstrike kills Abu Musab al-Zarqawi, leader of Al Qaeda in Iraq.
July-August 2006: Israel goes to war against Hezbollah in Lebanon.
November-December 2006: Saddam Hussein convicted and executed.
December 2006-January 2007: U.S. launches the "surge" in Iraq.
February 2007: President Bush denounces the Iranian role in arming the insurgency in Iraq.
March 2007: Iran seizes 15 British Navy sailors in the Persian Gulf; they are released after brief captivity.
April 2007: Coalition forces seize Iranian-made weapons from insurgents in Iraq.
May 2008: Lebanese factions reach the Doha Agreement, an accord that resolved a lengthy political crisis involving fighting with Hezbollah, and appeared to set the government on a more stable footing for future elections and management and sharing of power.
September 2008: Elections held in Pakistan after General Pervez Musharraf resigned in August.
October 2008: U.S. Special Forces stage a raid into Syrian territory to kill militants operating across the border into Iraq.
June 2009: New elections in Lebanon, won again by Saad Hariri. Also, Iranian protests over the re-election of Mahmoud Ahmadinejad - supporters of his opponent, Mir-Hossein Mousavi, contended that the election had been rigged even above and beyond the usual constraints imposed by the mullahs on Iran's tightly limited "democracy" - become a mass movement, the "Green Revolution." But under a government crackdown, the protests die down by the early months of 2010.
September 2009: President Obama announces a modest version of the "surge" in Afghanistan, albeit without any plan to pursue military victory over the Taliban.
March 2010: Third Iraqi parliamentary election. This time, it would take nine months of wrangling to establish a new government.
December 2010-January 2011: The "Arab Spring" begins with a protest movement in Tunisia that leads to the resignation of Tunisian President Zine El Abidine Ben Ali.
January-February 2011: Egyptian mass street protest movement culminates in the resignation of Hosni Mubarak and collapse of his government.
February 2011: Protests lead to civil war in Libya. The rebels capture the eastern coastal city of Benghazi, but the military consolidates control over the other major coastal cities. Also, protests erupt in Bahrain, leading to a crackdown by the monarchy.
March 2011: The U.S. joins a multinational force to enforce a U.N. no-fly zone in Libya, ultimately escalating to a bombing campaign against the regime. Also, a constitutional referendum is held in Egypt.
March-April 2011: Civil war breaks out in Syria; it remains ongoing, with the Assad regime facing off against a loose coalition of opposition groups, including a significant presence of Al Qaeda and other jihadist groups.
May 2011: U.S. Navy SEAL raid in Pakistan kills Osama bin Laden.
August-October 2011: The Qaddafi government collapses with the fall of Tripoli to the rebels in August, and Qaddafi himself is captured and killed in October.
October 2011: Elections in Tunisia, won by new Prime Minister Hamadi Jebali, who would resign in February 2013. The next elections are scheduled for December 2013. Tunisia has been seen as one of the Arab Spring's relative successes, but remains threatened by car bombings and unrest.
November 2011: Yemeni president Ali Abdullah Saleh, in office since 1978, agrees to step down following 10 months of protests. An election would be held in February 2012, but with only one candidate.
December 2011: U.S. troops depart Iraq.
January 2012: Military coup in Mali, triggering a crackdown on the growing militant Islamist movement in the country.
May 2012: Egyptian elections, won by Mohamed Morsi of the Muslim Brotherhood, the first elected Islamist head of state in an Arab country.
June 2012: Mubarak convicted and sentenced to life in prison.
September 2012: Attack on the U.S. embassy in Benghazi and demonstrations surrounding the U.S. embassy in Cairo the same day.
January 2013: France sends troops to Mali to quash the Islamist separatist movement in the Saharan north of the country. Meanwhile, a terrorist attack kills dozens at a natural gas plant in Algeria, near the Libyan border.
May 2013: Lebanon's Parliament, citing the Syrian civil war and ongoing disputes over the settlement of the Doha Agreement, votes to delay the June 2013 elections for 17 months.
June-August 2013: Elections in Mali following a June truce. As of September 2013, there has been some recent fighting, raising questions about the truce's durability.
July 2013: Egypt's military responds to popular mass protests against Morsi by staging a coup and placing Morsi under house arrest. The coup is followed by more protests, by Morsi's supporters. In August 2013, an Egyptian court would set Mubarak free.
August 2013: Chemical weapons are used in Syria, apparently by the Syrian government but possibly also by the rebels. Efforts by President Obama and French President Sarkozy to organize a military response are ongoing, but appear stymied by the lack of support in Congress, the British Parliament, the UN Security Council and NATO and the active opposition of Russia.
Along the way, especially in 2011, we've seen more modest protests and reforms or crackdowns in places like Morocco, Jordan and Saudi Arabia.
Compare all of that to the face of the region in September 2001 - dominated by a few theocratic regimes (Iran and Taliban Afghanistan), a handful of Gulf monarchies, and a long row of strongmen - and you can see how far the project of remaking the face of the region has progressed. By no means is the news all good, but it's all news compared to the statis that characterized the internal politics of most of the region before 9/11.
The Iraq War dominated U.S. political discussion for the greater part of five and a half years from mid-2002 to late 2007, and Americans have a tendency to focus on how the war affected our politics and foreign opinion of us. But it also gripped the attention of the Greater Middle East, dominating al Jazeera's regional programming. For would-be democratic reformers, the scenes of voters lining up at the polls and even of squabbling parliamentarians in Iraq and Afghanistan presented an inevitable contrast to their own regimes. And, for that matter, for would-be Islamist revolutionaries, Iraq not only provided a place to prove themselves in battle, but also showed them how to run an insurgency in their own backyards. If U.S. intervention in the region wounded the pride of Arabs and Muslims, it also awakened them to the fact that maybe they could do it themselves - which was the idea of the neocon theory all along, that the process, once started, could develop a momentum of its own without requiring ceaseless American war. We would go to war in Iraq so we wouldn't have to go to war everywhere else. The Bush Administration's aggressive pressure also contributed to the distators' walkbacks - Qaddafi abandoning his WMD program, Assad leaving Lebanon. Where Saddam had shown a face of defiance, the Arab peoples now saw that even a bloodied, quagmired U.S. could bring the region's strongmen to heel.
Iraq alone wasn't the sole cause of the turning; al Jazeera, which had arrived in 1996 and really took off after 9/11, itself had a role in changing the way the region's people saw their societies. As Rany Jazayerli put it:
Al Jazeera was, from its first day on the air, something the Arab world had never seen before: a television channel in Arabic, available to almost everyone in the Arab world, that provided a frank and reasonably unbiased source of news. It provided the unvarnished truth, and that made it extremely dangerous. If there was corruption going on in Jordan, it was reported. If there was a government crackdown in Egypt, it was reported. If a Saudi dissident living in exile in England had some scandalous information about the Saudi royal family, it was reported. All you need to know about Al Jazeera is that its greatest critics are the Arab governments, who have applied all kinds of pressure on Qatar - where Al Jazeera is based - to tone down the rhetoric.

...For the last 15 years, then, the Arab world has had the access that was denied them for so long. They've seen the truth about how oppressive and hypocritical their own governments are, and they've seen the truth about how messy and imperfect and yet ultimately how ennobling and empowering Western democracies are...And having already opened the barn door to letting the masses own satellite dishes, the governments of the region were mostly helpless to do anything about it.
Satellite TV would not be the only technological advance to grease the skids; the internet and social networks like Facebook and Twitter were also altering the playing field. But tools of communications can be a two-way street for propaganda and surveillance, as well; what makes them work is when they have something to talk about.
Flypaper
While the tide of Arab and Muslim revolution was surging in the Greater Middle East, it was waning in the West. Directly provoking the "Arab street" raised concerns about retaliation by the extremists, but the opposite has been true since the region really began boiling in 2005. We've seen three really large-scale terror attacks - the kind that require coordination and planning - far from the Greater Middle East since 9/11: the October 2002 Bali bombing, the March 2004 train bombings in Madrid, and the July 2005 bus and train bombings in London. India, still locked in a front-line struggle with Pakistani extremists, has not been so fortunate, being hit by terror attacks in Mumbai in November 2008 (the work of Lashkar-e-Taiba, a Pakistani Muslim terror group) and again in July 2011. The same is true of Chechen terror attacks in Moscow in 2002 and 2010. (And, of course, Islamists within Europe have been busy with their own forms of homegrown mischief.) The decline in large-scale terror operations is partly due to good fortune, good law enforcement and domestic surveillance; certainly there have been a number of attempted terror attacks against the U.S. that got pretty far, such as the December 2001 "shoe bomber," the December 2009 "underwear bomber" and a May 2010 truck bomb in Times Square. And smaller independent attacks, some of them with major death tolls, have continued: the July 2002 LAX shooter, the Fall 2002 Beltway snipers, the November 2009 Fort Hood shooter, the April 2013 Boston Marathon Bombing. But any accounting of major terrorist attacks since the invasion of Iraq shows a distinct shift towards attacks within the region itself.
This, too, was - as Marshall acknowledged at the time - an inherent, if usually unstated, assumption of the neocon grand strategy. People who are busy killing each other won't have time to kill anyone else. A region that is pulling itself apart will not be able to project force outward. A region engaged in a mad scramble for power internally will dedicate its arms, its money and its excitable underemployed young men to winning that struggle rather than staging complex covert operations in another hemisphere.
Sowing dissension among one's enemies has a long history; perhaps the most successful example was Imperial Germany's success in taking Russia out of World War I by shipping Lenin into Russia in the spring of 1917. In this case, it's a logical extension of the "flypaper theory" of the Iraq War. The idea that the region's Islamic extremists should be enticed into Iraq to fight U.S. troops was sometimes referred to as a "flypaper" strategy - that they'd be drawn in and trapped where we wanted them, and thus that a bloody insurgency was actually good news. Flypaper may sound like a callous attitude towards the safety of American troops, but the thinking is actually the ancient motivation of men at war: confront and kill the enemy on the battlefield so he cannot disturb your homeland. It is perhaps a more cynical approach to the security of the local population - but then, it's not unreasonable to want the problems of Iraq and other nations in the region to be played out on their soil rather than ours.
That was never the original war plan, of course; the insurgency may not have been adequately planned for by the Bush team, but it did not result from any provocation by the United States - it was wholly the independent decision of those who rejected a democratic political process in which the Iraqi people would be sovereign. Nevertheless, it was implicit in the broader idea of creating a contest for supremacy in the heart of the region.
And in that regard, even though American troops have left Iraq and are nearing their departure from Afghanistan, the flypaper theory writ large is alive and well. Civil war in Syria, Libya and Afghanistan, coup in Egypt, revolution in Tunisia...these are all conflicts that entice the jihadists to test their mettle and influence closer to home rather than travel to the West, and give them enemies other than the U.S., Europe and Israel against whom to vent their frustrations. In that regard, the current landscape may represent the fruits of the neocon project, but it's also in line with old-fashioned cynical realpolitik (division to my enemies!) as well as embodying the kind of Jacksonian attitude towards one's enemies that Harry Truman voiced in 1941 when he expressed the view that "If we see that Germany is winning we ought to help Russia and if Russia is winning we ought to help Germany, and that way let them kill as many as possible, although I don't want to see Hitler victorious under any circumstances."
All of these attitudes are wholly foreign to President Obama and his national security team, but they have been neither willing nor able to put the genie back in the bottle, as the momentum and internal logic of the whirlwind have swept away one effort after another to re-impose order.
Where We Go From Here
The grand strategy of the neocons has long since passed out of their control, as few still have any influence with the Obama Administration or even in Congress. But the regional revolution they set ablaze is still with us, and they must trust that the path will be clear enough that even those skeptical of the project will make the proper choices. That is a dicey proposition, because few on either side of the political spectrum understand or accept the grand strategic proposition of turning the region's angst inward to the battle for its own future.
On the Left, there remains no coherent grand strategy or even petit strategy. None of what is laid out above should excuse the Obama Administration from the choices it has made, its inability at times to face the new realities of the region for the challenges and opportunities they present, or its general preference (abroad as at home) for negotiating with elites rather than accepting the messy dynamism of popular sovereignty. In 2009, Obama spoke in Mubarak's Egypt as if the region had been oppressed by President Bush rather than by its tyrants. Since then, as he has grudgingly let go of that illusion, he he failed when he had the chance to encourage moderate forces to rebel against the old order in Iran and Syria, was flat-footed in Egypt and constantly behind the curve in Libya. He has seemed, at times, more interested in weapons than people, and completely oblivious to the efforts of Iran and its ally Russia to gain regional hegemony. He has managed neither a strong hand controlling events nor to wash his hands of responsibility for them. He has acted less like the world's policeman than the world's meter maid, handing out tickets to scofflaws.
On the Right, Jacksonian critics of the neocon project have tended to focus on Islam as an insoluble obstacle to reforming the region, a critique that I've written about before as presenting a collision between two longstanding conservative paradigms: the view of human nature as universal and the view of culture as overriding in its importance. But the facts on the ground have mooted that objection, as nobody has a practical solution if the problem is something inherent in the faith of a billion Muslims; we have no choice but to appeal over the heads of culture to the basic human desire for a better life on this earth. Despairing of a solution is no solution at all.
The way forward must focus on seeking to encourage and influence popular movements to proceed in a democratic, pro-freedom, pro-American direction rather than trying to put the Humpty Dumpty of strongmen - nominally respectful of Westphalian borders and disciplined by international sanctions regimes - back together again. The revolution has come; we should do what we can to see to it that the Islamists are not left alone to ride the wave, as they did in Iran in 1979, Afghanistan in 1996 and Egypt in 2011. And there is a role again for realpolitik as well; we should see the proxy battles between Iran, Russia, Saudi Arabia and Turkey as an opportunity to play balance-of-power politics in the region and prevent one side from gaining the upper hand.
After the fire of September 11, the neocon plan for the Greater Middle East brought not peace, but a sword. America doesn't need to wield that sword in every conflict - this is a fight that affects us and one we can influence, but in the end it is not our fight to win because it is not our people who must make the final choice. But our ability to affect the course of events begins by recognizing that it's still the neocons' world, there is no way out of the fire but forward.
WAR: It's a Neocon Middle East, And We Still Live In It
Twelve years after the September 11 attacks, threats of American involvement in Syria's civil war have refocused attention on the region at the heart of our foreign policy: the Greater Middle East. By "Greater Middle East" I mean not only the Arab-Muslim heartland of the Arabian Peninsula, Mesopotamia, and the Levant, but the broader region stretching from Morocco in the west to Pakistan in the east, from Turkey in the north to Yemen in the south (with the exception, of course, of Israel). Many of the countries in the region are not Arab - Iran, Afghanistan, Pakistan - but all are predominantly Muslim, and all are infected to one extent or another with the ideology of Islamism, built around the view that Muslims constitute a pan-national political entity and not merely a religious confession.
For the past five years, U.S. foreign policy has been made by senior elected officials and political appointees who, in the words of the Boston Globe, "built careers on [an] anti-war posture." And yet, our policy in the Greater Middle East remains impervious to new strategic initiatives that seek to fundamentally alter the "neoconservative" course set by the Bush Administration. And while that much-used term is often abused or misunderstood, the policy it describes has taken on a life of its own. It's still the neocons' world, and everyone else is living in it. And the jury is still out on how it will end.
But this much is already clear: the old status quo is gone and cannot be reconstructed. The biggest loser in the post-September 11 world has been established order of a region previously dominated by Muslim and Arab strongmen who (while they might be seen as religious zealots by Western standards) sought to ground their rule on secular concepts like nationalism, who ran stable, tightly controlled police states and engaged in traditional power politics, and who successfully projected the internal tensions of their repressed societies outwards. The forces of popular change have come to the region, and for good or ill, they will not be denied. The harder question is what replaces the old order.
Digging To The Roots
Writ small, the September 11 attacks were a conspiracy by Al Qaeda - a terrorist group based in Afghanistan, Germany, and to a lesser extent Egypt and Pakistan, and consisting largely of Saudi Wahabbist Muslim fanatics - to attack civilian targets in the United States. Some observers argued from the beginning that we should focus on the conspirators and their organization, and forego broader ambitions.
The Bush Administration never treated the attacks simply as a criminal conspiracy to be isolated and punished, instead preferring to treat Al Qaeda as a symptom of a wider problem, and to seek out a solution that required digging deeper into the region's pathologies in the effort to root out the entire problem once and for all. That approach recognized the reality that the organization of jihadist extremist groups was fungible; Al Qaeda was simply one manifestation of a larger movement. Al Qaeda's own recent behavior illustrates this reality: holding a coordinated conference call with other extremist and terrorist groups that one intelligence professional described as akin to the "Legion of Doom"; current Al Qaeda leader Ayman al-Zawahiri calling publicly for more locally organized terror attacks like the Boston Marathon Bombing; radical imam Anwar al-Awlaki giving Fort Hood shooter Nidal Hasan the ideological encouragement to conduct a lone jihadist attack on an American military base.
The nearly unanimous decision to go to war in Afghanistan was made without real discussion of what our broader goals were, but the war in Iraq nearly a year and a half later forced the question into the open. Even with the publication of memoirs by most of the major players, we have never really had a full, candid accounting of the grand-strategic thinking of President Bush and his team between September 2001 and March 2003. Bush, in his own memoir, summarized his principles in four points:
First, make no distinction between the terrorists and the nations that harbor them - and hold both to account. Second, take the fight to the enemy overseas before they can attack us here at home again. Third, confront threats before they fully materialize. And fourth, advance liberty and hope as an alternative to the enemy's ideology of repression and fear.
That fourth point was the source of the high-flying rhetoric about liberty and democracy and its connection to security in his Second Inaugural Address in 2005:
We have seen our vulnerability - and we have seen its deepest source. For as long as whole regions of the world simmer in resentment and tyranny - prone to ideologies that feed hatred and excuse murder - violence will gather, and multiply in destructive power, and cross the most defended borders, and raise a mortal threat. There is only one force of history that can break the reign of hatred and resentment, and expose the pretensions of tyrants, and reward the hopes of the decent and tolerant, and that is the force of human freedom.

We are led, by events and common sense, to one conclusion: The survival of liberty in our land increasingly depends on the success of liberty in other lands. The best hope for peace in our world is the expansion of freedom in all the world.

...So it is the policy of the United States to seek and support the growth of democratic movements and institutions in every nation and culture, with the ultimate goal of ending tyranny in our world.

This is not primarily the task of arms, though we will defend ourselves and our friends by force of arms when necessary. Freedom, by its nature, must be chosen...
What was missing from all this was an explanation of how we planned to get to that end - precisely who the enemy was and is, and what our strategic philosophy would be in deciding when to use force, when to declare the mission accomplished, when to coexist with dictators who cooperated against the jihadists, and when to support insurrections that were aligned with them. Both Dick Cheney and Don Rumsfeld, in their memoirs, stressed the importance of stepping back and doing strategic thinking even in the bustle of war, but despite their respect for Bush, both memoirs have a little edge of regret that more such thinking wasn't done from the top in a public way that would have given clearer direction to the missions in Afghanistan and Iraq.
But just because the strategy wasn't explicitly stated as such doesn't mean a course wasn't set. When the Bush Administration's actions are considered in light of the thinking of conservative commentators and the justifications offered then and now, it seems clear that the Administration came, rather early, to the conclusion that the problem was the fundamental structure of the Greater Middle East (at a minimum its political structure). Because the solution to such a problem is not merely to launch missiles or drop bombs, but to change the governments of the region - a much more ambitious goal - it inherently required kick-starting the process by choosing a country to make an example. The obvious choice, for a variety of reasons, was Saddam Hussein's Iraq, with which we already had continuous hostilities dating back a decade; the U.S. Congress had already, in 1998, declared a change in Iraq's regime to be official U.S. policy. Regardless of the specific arguments made for the invasion of Iraq at the time, the ultimate historic judgment of the Iraq War must be bound up with the eventual success or failure of the grand strategy it represented, just as the ultimate worth of the sacrifices made in Korea and Vietnam are now subsumed in the larger context of the success of the Cold War.
The Nail Beckons The Hammer
President Bush's "freedom agenda" came to be identified with the neoconservatives, an anti-communist movement dating back to the 1960s, in large part because when the planes hit the towers, the prominent 'neocon' thinkers in and out of government were the ones most ready with an off-the-shelf explanation for how you deal with such a problem, and their template resembled what ended up being put in practice in Iraq and Afghanistan. An accurate history of neoconservatism is too broad a subject for this essay, but it was merely one of several strands of thought on the Right that came to similar conclusions about the Cold War by the time of the Reagan era: that the struggle with Soviet Communism was an ideological one, an important component of which was demonstrating to its captive peoples and those on the fence that our system was superior in delivering a good way of life; that they should be encouraged to undermine and ultimately reject their home governments; and that we would not abandon them no matter how long that struggle took. This broad-based view that the Cold War could be won by rooting out the origins of the conflict had won out over the narrower model of containment that focused on dealing with specific provocations as they arose.
The virtue of the neoconservative model was that it had been proven as part of a long-term ideological struggle that succeeded beyond our wildest dreams by the early 1990s; we had won the Cold War without fighting a full-scale war with the Soviets, ushering in a massive global expansion of democracy and trade. Even Putin's Russia, troublesome as it is, looks more or less like a success story compared to the Brezhnev era - and it looked better in 2002 than it does today. But the parallels were not perfect or entirely encouraging: the Cold War had taken 45 years to win, it had involved a huge, costly military and economic strategy that could not easily be adapted to an adversary that consisted of a loose confederation of non-state-actors and states allied only by convenience, and - perhaps most alarmingly of all - a key ally in the Cold War was the religious faith of Catholic, Orthodox and Muslim subjects oppressed by the atheistic Soviet empire, whereas the battle against Islamism would require convincing millions of Muslims to re-evaluate political doctrines that many of them believed were taught by their faith.
Moreover, the history of the neoconservative model in and before the Cold War offers its own cautions. Ideological competition presupposes populations that have sufficient freedom of action to do something about their governments, or (in the case of Japan between 1850 and 1900) a government that itself sees the benefits of change. Churchill dedicated extensive resources to fomenting rebellion against the Nazis during World War II - he famously directed the Special Operations Executive to "set Europe ablaze" - but the resistance movements in places like Poland and Greece were brutally suppressed; as historian John Keegan concluded from a review of the SOE's operations, most had little impact on the stability of the Nazi occupation. Only external Allied military force was able to crush Hitler. Only the Union Army, rather than slave rebellions, defeated the Confederacy. The French Revolutionaries were rarely able to subvert their monarchical adversaries and had to meet them on a conventional field of battle. Since the dawn of the West, the history of civilizational clashes is long on the use of military force to defend and expand Western Civilization and short on the peaceable conversion of its enemies. Even in the Cold War, the U.S. was compelled to take to the battlefield to protect the populations of South Korea and South Vietnam from conquest.
The neoconservative approach to post-9/11 strategy was not the only one on offer on the Right. On the one hand was the "realist" approach, redolent of containment, that counseled working with the existing regimes in the region to ally against the non-state-actors and bring the bad-actor states in line. The realist school on the Right, preaching power politics, is in this sense often allied with the school on the Left that preaches the maintenance of order by international institutions (an approach that has regained its footing with the passage of time, but which was plainly inadequate to the task of organizing a response in the aftermath of an event like September 11). On the other was the "Jacksonian" approach. Put bluntly, the Jacksonian impulse is to avoid meddling in the world until provoked, and then respond with as much brute force as necessary to convince everyone, innocent or guilty of the attacks, not to get us that angry again. Jacksonians were thus in favor of the wars in Afghanistan and Iraq, but not in favor of sticking around long-term to clean up the mess.
Bush's foreign policy team was by no means ideologically monolithic (just as Reagan's was not); Dick Cheney, Colin Powell and Condoleezza Rice all hailed more or less from the realpolitik school of thought that prevailed under George H.W. Bush (although many of Cheney's old aides, back in government, were identified with neoconservatism), and if you ever described Don Rumsfeld as a "neo" anything, you deserve to have your pundit card revoked. But then, in many ways the decision to seek a more structural, long-term solution was as much a product of Bush's personality and temperament as any ideology. Bush had come into office believing in decisiveness and the use of political capital for large goals and distasteful of half-measures and short-term "kick the can down the road" solutions, and when possible, he naturally gravitated towards bold strokes. Setting the United States the ambitious task of igniting a regional revolution in the Greater Middle East would put all of these impulses into action.
Two Blog Perspectives
To understand the logic of the neoconservative project, it is worth looking back at two essays written at the time from opposite ends of the political spectrum, one on a right-leaning blog, the other for a left-leaning magazine.
Probably the most influential blog essay of the War on Terror was the "Strategic Overview" written in July 2003 by Steven Den Beste. It is interesting and telling, looking back, how much of Den Beste's analysis and that of others on the Right at the time rested more on Arab culture than Islam, although its logic extends to the wider region. Den Beste's essential argument was that we were dealing with a body of people that was (1) stuck in a constellation of failed states and a failed culture, (2) deeply ashamed by that fact, and (3) lacking either the will to face that fact or a political outlet in which to do something about it, and therefore were (4) encouraged to vent their rage and frustrations at those outside the Muslim and Arab worlds. Den Beste's prescription was to break down the political order of the Arab/Muslim world and replace it with something more responsive to popular needs, demands and aspirations. An ambitious project, but one in line with the longstanding conservative view that men can change governments more easily than governments can change men. As Den Beste explained:
The large solution is to reform the Arab/Muslim world. This is the path we have chosen.

The true root cause of the war is their failure and their resentment and frustration and shame caused by that failure.

They fail because they are crippled by political, cultural and religious chains which their extremists refuse to give up. The real causes of their failure is well described by Ralph Peters. Most of the Arab nations suffer from all seven of his critical handicaps, and the goal of reform is to correct all seven, as far as possible.

If their governments can be reformed, and their people freed of the chains which bind them and cripple them, they will begin to achieve, and to become proud of their accomplishments. This will reduce and eventually eliminate their resentment.

Their governments would then cease needing scapegoats.

Their extremists would no longer have fertile ground for recruitment.

This is a huge undertaking; it will require decades because it won't really be complete until there's a generational turnover. But ultimately it is the only way to really eliminate the danger to us without using the "foot-and-mouth" solution (which is to say, nuclear genocide).

The primary purpose of reform is to liberate individual Arabs. This is a humanist reform, but it isn't a Christian reform. There will be no attempt to eradicate Islam as a religion. Rather, Islamism as a political movement, and as a body of law, and as a form of government must be eliminated, leaving Islam as a religion largely untouched except to the extent that it will be forced to be tolerant. The conceptual model for this is what we did in Japan after WWII, where only those cultural elements which were dangerous to us were eliminated, leaving behind a nation which was less aggressive, but still Japanese. No attempt was made to make Japan a clone of the US, and no such attempt will be made with the Arabs.
In Den Beste's view, it was essential that "we had to conquer one of the big antagonistic Arab nations and take control of it" for the following purposes:
To place us in a physical and logistical position to be able to apply substantial pressure on the rest of the major governments of the region.

To force them to stop protecting and supporting terrorist groups

To force them to begin implementing political and social reforms

To convince the governments and other leaders of the region that it was no longer fashionable to blame us for their failure, so that they would stop using us as scapegoats.

To make clear to everyone in the world that reform is coming, whether they like it or not, and that the old policy of stability-for-the-sake-of-stability is dead. To make clear to local leaders that they may only choose between reforming voluntarily or having reform forced on them.

To make a significant long term change in the psychology of the "Arab Street"

To prove to the "Arab Street" that we were willing to fight, and that our reputation for cowardice was undeserved.

To prove that we are extraordinarily dangerous when we do fight, and that it is extremely unwise to provoke us.

To defeat the spirit of the "Arab Street". To force them to face their own failure, so that they would become willing to consider the idea that reform could lead them to success. No one can solve a problem until they acknowledge that they have a problem, and until now the "Arab Street" has been hiding from theirs, in part aided by government propaganda eager to blame others elsewhere (especially the Jews).

To "nation build". After making the "Arab Street" truly face its own failure, to show the "Arab Street" a better way by creating a secularized, liberated, cosmopolitan society in a core Arab nation. To create a place where Arabs were free, safe, unafraid, happy and successful. To show that this could be done without dictators or monarchs. (I've been referring to this as being the pilot project for "Arab Civilization 2.0".)

...Neither Afghanistan nor Iran would serve the political goals. The conquered nation had to be one generally thought of as being Arab.

The human and cultural material we needed for reform did not exist in Afghanistan.

The "Arab Street" would not have been impressed by successful reform in Afghanistan or in Persian Iran.
In addition to Iraq's strategic location and the various casi belli already in existence (also beyond the scope of this essay, but worth revisiting at another time with the distance of a decade), he also noted the important symbolic reasons why Iraq was well-suited to this project:
Saddam had become a hero to the "Arab Street". He was thought of as a strong Arab leader who was standing up to the West. Though Iraq's military had been decisively defeated in 1991, Saddam survived politically and this actually enhanced his reputation. He hadn't won against us, but at least he'd tried, which was better than anyone else seemed to be doing. The "Arab Street" was proud of him for making the attempt. (This involved a lot of revisionism, such as ignoring Saddam's earlier invasion of Kuwait, or the participation of large Arab military forces in the coalition army which fought against Iraq.)

Iraq's military had the reputation of being the largest, best armed and most dangerous of any in the region. If it could be decisively crushed it would be psychologically devastating.

Baghdad historically was one of the great capitals of classic Arab civilization. Having it fall to outsiders would be symbolically important.
I would add that Iraq's religious and ethnic diversity (the very thing that caused Joe Biden to argue for it being partitioned into three separate states) also presented both a challenge and an opportunity. A challenge, because of the sectarian tensions between Sunni and Shia that would break into something resembling a full-blown civil war in 2006, but also an opportunity, because Iraq could not be unified along monosectarian lines; it needed, and continues to need, some tolerance of pluralism within Islam to function as a single state, some mechanism for enabling tolerance and co-existence.
From the opposite end of the political spectrum, Josh Marshall, writing in April 2003, concluded essentially the same thing about the Bush Administration's strategy, a strategy he found deeply troubling. He described his nightmare for the aftermath of toppling Saddam:
The United Nations and NATO are in disarray, so America is pretty much on its own. Hemmed in by budget deficits at home and limited financial assistance from allies, the Bush administration is talking again about tapping Iraq's oil reserves to offset some of the costs of the American presence--talk that is further inflaming the region. Meanwhile, U.S. intelligence has discovered fresh evidence that, prior to the war, Saddam moved quantities of biological and chemical weapons to Syria. When Syria denies having such weapons, the administration starts massing troops on the Syrian border. But as they begin to move, there is an explosion: Hezbollah terrorists from southern Lebanon blow themselves up in a Baghdad restaurant, killing dozens of Western aid workers and journalists. Knowing that Hezbollah has cells in America, Homeland Security Secretary Tom Ridge puts the nation back on Orange Alert. FBI agents start sweeping through mosques, with a new round of arrests of Saudis, Pakistanis, Palestinians, and Yemenis.

To most Americans, this would sound like a frightening state of affairs, the kind that would lead them to wonder how and why we had got ourselves into this mess in the first place. But to the Bush administration hawks who are guiding American foreign policy, this isn't the nightmare scenario. It's everything going as anticipated.
Marshall concluded that, in the view of hawks within the Administration,
[I]nvasion of Iraq was not merely, or even primarily, about getting rid of Saddam Hussein. Nor was it really about weapons of mass destruction, though their elimination was an important benefit. Rather, the administration sees the invasion as only the first move in a wider effort to reorder the power structure of the entire Middle East....

[T]he administration is trying to roll the table--to use U.S. military force, or the threat of it, to reform or topple virtually every regime in the region, from foes like Syria to friends like Egypt, on the theory that it is the undemocratic nature of these regimes that ultimately breeds terrorism. So events that may seem negative--Hezbollah for the first time targeting American civilians; U.S. soldiers preparing for war with Syria--while unfortunate in themselves, are actually part of the hawks' broader agenda.
Eight years later, events have long since taken on a life of their own, and while they have followed neither the precise outline of Den Beste's positive or Marshall's negative view, the essential trajectory has been the one projected: disruption of the long-ossified status quo and the ushering in of a revolutionary era that has replaced one longstanding tryanny after another with something different and (in the short run) more responsive to popular movements.
August 28, 2013
WAR: Obama, Syria and Iraq: Any End But Victory
The plans being floated by President Obama and Secretary of State Kerry for a wildly unpopular military intervention in Syria are incoherent on any number of levels. Rather than identify an enemy and seek the enemy's defeat, the essential requirement for using military force, the Administration is unwilling to declare the toppling of the Assad regime as a goal - despite Obama's own proclamation two years ago this month that "[f]or the sake of the Syrian people, the time has come for President Assad to step aside." Instead, according to one unnamed "U.S. official" quoted by the LA Times, the Administration wants a military strike "just muscular enough not to get mocked." Churchillian, this is not.
That Was Then, This Is Now
Nor is it in line with what Obama, Biden and Kerry used to claim to believe. Once upon a time, Obama's expressed willingness to meet with leaders like Assad made him popular in Syria. Then-Senator Obama argued in the 2008 campaign that "[t]he President does not have power under the Constitution to unilaterally authorize a military attack in a situation that does not involve stopping an actual or imminent threat to the nation" (Senator Biden agreed); now, as in Libya, Obama has no interest in asking for Congressional approval. Obama and Kerry once venerated the need to get UN and international approval for the use of force; now, Kerry's spokesman says of the UN Security Council, where both Russia and China are expected to oppose military strikes, "[w]e cannot be held up in responding by Russia's intransigence." Obama is apparently gunshy of even explaining himself: one of his reliable proxies at Politico asks, "[i]s POTUS going to address the nation directly before embarking on military action in Syria? Many of his aides think it's a passe tactic."
(UPDATE: Here's more from Obama in 2007 sounding a very different note on Syria, and John Kerry cozying up to Assad as recently as 2011-2012).
From Bad To Worse
There are many good reasons to wish to be rid of the brutal Assad regime, long an Iranian proxy, sponsor of Hezbollah, supporter of the insurgency against the U.S. in Iraq, shelterer (and maybe backer) of culprits in the 1983 Beirut barracks bombing that killed 241 U.S. Marines, oppressor of Lebanon and assassin of its prime minister, enemy of Israel and perpetrator of serial massacres against its own people. But it seems increasingly likely that the alternatives to Assad would be even worse, ranging from domination of Syria by Al Qaeda and its Sunni extremist allies to splintering into an anarchic failed state. As it stands, the Syrian civil war is a proxy battle between Assad's backers (Iran and Russia) and the backers of the rebel resistance (Saudi Arabia and Turkey). It doesn't need more combatants who intend to show up, lob in a bunch of missiles and leave without resolving anything, and for the U.S. to control the post-Assad situation to our advantage would require a huge and for many reasons infeasible commitment of ground troops. We did that in Iraq in part so we would not have to do it again every time there was an opportunity to topple a dictator in the Greater Middle East - we can leave the locals to resolve these things themselves. Recent experiences in Egypt and Libya show that the public in the region hungers for change and a greater voice in how their countries are governed, but hardly inspire confidence that the results will be less anti-American or more respectful of individual liberty. The fact that Syria affects the interests of the U.S. and its allies does not mean that we currently have any options on the table that would advance those interests.
The sole peg on which Obama's Administration and its apologists rest the defensibility of a halfway military strike is the idea that Assad should be punished for using chemical weapons against his own people - just as Saddam Hussein once did. In my view, this is misguided as a sole casus belli: the problem of rogue regimes is the regimes, not their choice of weaponry. That was true in Iraq and it's true now, and in particular it's a ridiculous argument coming from the same people who told us that this was no justification for the Iraq War. It's consistent with the idea that the problem of gun crime is guns, not criminals - another of this Administration's pet delusions. In fact, it does not even appear that the Administration can assure that its planned strikes would disarm Assad of the weapons in question. We apparently plan to shoot at the king but carefully avoid killing him.
The Actual Obama Record on Iraq
Of course, say Obama's defenders, the reason to oppose the Iraq War was that Iraq was not a threat because it had no weapons of mass destruction (WMD). That's an easy enough argument (if not entirely accurate) to make in retrospect, but contrary to his myth-making, it's not even what Obama himself argued at the time. Given that these parallels will be hashed out repeatedly in the coming Syria debate, and given that the case for intervention in Syria rests heavily on the credibility of the president and the Secretary of State, it's worth recalling what Obama actually said when the Iraq War debates were happening.
Obama's record on the Iraq War in 2002 and 2003 basically consists of one 2002 speech criticizing the war and a 2003 interview with The Nation in which he framed the issue in purely domestic political terms:
"Blacks are not willing to feel obliged to support the president's agenda," explains Illinois state Sen. Barack Obama. "They are much more likely to feel that (Bush) is engaging in disruptive policies at home and using the war as a means of shielding himself from criticism on his domestic agenda."
There's no recorded instance of Obama in 2002 or 2003 arguing that Saddam did not have WMD; rather, Obama's 2002 speech contended that the Iraqi dictator did still have the weapons he had already used against his own people a decade before, but that this was no justification for war:
Now let me be clear - I suffer no illusions about Saddam Hussein. He is a brutal man. A ruthless man. A man who butchers his own people to secure his own power. He has repeatedly defied UN resolutions, thwarted UN inspection teams, developed chemical and biological weapons, and coveted nuclear capacity.

He's a bad guy. The world, and the Iraqi people, would be better off without him.

But I also know that Saddam poses no imminent and direct threat to the United States, or to his neighbors, that the Iraqi economy is in shambles, that the Iraqi military a fraction of its former strength, and that in concert with the international community he can be contained until, in the way of all petty dictators, he falls away into the dustbin of history.

...You want a fight, President Bush? Let's fight to make sure that the UN inspectors can do their work, and that we vigorously enforce a non-proliferation treaty, and that former enemies and current allies like Russia safeguard and ultimately eliminate their stores of nuclear material, and that nations like Pakistan and India never use the terrible weapons already in their possession, and that the arms merchants in our own country stop feeding the countless wars that rage across the globe.
This was wrong for a number of reasons, but apply the reasoning to Assad today: his regime is barely clinging to power. In 2004, running for the Senate, Obama would no longer even say that he would have voted against the Iraq war, noting that he had not had access to the classified intelligence that convinced nearly everyone who examined it of Saddam's WMD programs:
[I]n interviews around [mid-2004], Obama refused to say flatly that he would have voted against the 2002 congressional war resolution. "I'm not privy to Senate intelligence reports," Obama told The New York Times on July 26. "What would I have done? I don't know. What I know is that, from my vantage point, the case was not made." In other interviews that week, Obama said, "[T]here is room for disagreement" over initiating the war, and that "I didn't have the information that was available to senators."

Obama later justified these comments as an effort to avoid a split with his party's presidential ticket: Both John Kerry and John Edwards had voted for the war, after all. Yet this explanation was undermined when Obama repeated the point more than two years later. "I'm always careful to say that I was not in the Senate, so perhaps the reason I thought [the war] was such a bad idea was that I didn't have the benefit of U.S. intelligence," he told The New Yorker's David Remnick in October 2006. "And, for those that did, it might have led to a different set of choices."
(Kerry, of course, is now the man Obama put front and center in leading his Syria policy). In 2004, speaking of Iraq, Obama told the Chicago Tribune, "[t]here's not that much difference between my position and George Bush's position at this stage," and Obama denied at the time that he had ever called for withdrawal from Iraq.
Eventually, of course, Obama would oppose the "surge" and call for a complete U.S. withdrawal from Iraq by March 31, 2008, a policy that would have been catastrophic. (Similarly, since taking office, Obama has resisted the pursuit of victory in Afghanistan - Obama seems not so much to be anti-war as anti-victory). That was a shrewd bit of positioning for the 2008 Democratic primary against Hillary Clinton and John Edwards, both of whom had voted for the Iraq War, and it came only after the 2006 elections had proven the vote-drawing appeal of attacking the Iraq War.
It's OK When I Do It
The lesson of both Obama's and Kerry's history of criticism of the Iraq War (Kerry, you will recall, voted for the war after voting against the original Persian Gulf War on the theory that the first President Bush hadn't assembled a large enough coalition) is that it was primarily driven by partisan opposition to George W. Bush, rather than any particular principled view of how to run American foreign policy. In that light, it is perhaps unsurprising that the arguments made against Bush have been discarded and forgotten, just as all but a tiny minority of the anti-war movement has been silent on Obama's Libyan and Syrian adventures (and the internet chorus that branded Bush and Cheney as "chickenhawks" has been silent on Obama's and Biden's lack of military service). But being in charge requires more than just blind partisanship, and five years into his presidency, Obama seems lost in formulating an approach to the use of military force that makes any sort of coherent sense.
May 22, 2013
WAR/HISTORY: A Timeline of Islamic Expansion In The Dark Ages
Let me put down here some facts that are worth returning to from time to time, as arguments over the history of Islam and Islamism are back in the news with today's beheading in London. In debates over the history of tension between Muslims and Christians, the Crusades are often cited, out of their historical context, as the original cause of such clashes, as if both sides were peaceably minding their own business before imperialist Westerners decided to go launch a religious war in Muslim lands.
This is not what actually happened, and indeed it is ahistorical to treat the fragmented feudal states of the West in the Eleventh Century as capable of any such thing as imperialism or colonialism (although, as Victor Davis Hanson has noted, even in the centuries after the fall of Rome, Western civilization retained a superior logistical ability to project force overseas due to the scientific, economic and military legacies of ancient Greece and Rome). Moreover, when Islam first arose, much of what we think of today as Islamic 'territory' in Anatolia, the Levant and North Africa was Christian until conquered by the heirs of Muhammad, such that speaking of one side's incursions into the other's territory requires you to ignore how that territory was seized in the first place. That entire region had been part of the Roman and later Byzantine empires, and was culturally part of the West until it was conquered by Muslim arms - Rome is closer geographically to Tripoli than to London, Madrid is closer to Casablanca than to Berlin, Athens is closer to Damascus than to Paris.
All that said, it's worth remembering that the Crusades arose in the late Eleventh Century only after four centuries of relentless Islamic efforts to conquer Europe, and the Christians of the Crusading era cannot be evaluated without that crucial context.
Read More »
April 16, 2013
WAR: Calling The Thing By Its Name
Three hours after yesterday's Boston Marathon Bombings, President Obama gave a short statement in which he pointedly declined to use the word "terrorism." Shortly after his appearance, an unnamed White House official issued a written statement "Any event with multiple explosive devices -- as this appears to be -- is clearly an act of terror, and will be approached as an act of terror." Defense Secretary Chuck Hagel echoed that this morning, calling the bombings a "cruel act of terror." This morning, Obama followed suit, specifically using the term "terrorism."
Presidents must choose their words carefully in these situations, and I do not fault Obama for moving with caution* just hours after the attack, when he undoubtedly had not had the time to gather the full input of all the relevant agencies or separate fact from rumor.** But he is right to call this what it is; as as we move forward, we must all have the courage and clarity to call this terrorism.
Read More »
January 29, 2013
HISTORY: Reflections on the American Revolution (Part I of III)
I've recently been reading a fair amount on the American Revolution, especially David McCullough's 1776 (which should be required reading for every American).* The more you read of the Revolutionary War, the more there is to learn, especially about the vital question of how the colonists pulled off their victory over the vastly wealthier and more powerful Great Britain. The standard narrative of the American Revolution taught in schools and retained in our popular imagination today overlooks a lot of lessons worth remembering about where our country came from.
The Population Bomb: In assessing the combatants and indeed the causes of the war, it's useful - as always - to start with demographics. There was no colonial-wide census, but this 1975 historical study by the US Census Bureau, drawing on the censuses of individual colonies and other sources, breaks out the growth of the colonial population from 1630 to 1780, and the picture it paints is one of explosive population growth in the period from 1740 to 1780:
The black population was principally slaves and thus - while economically and historically important - less relevant to the political and military strength of the colonies. But as you can see above, the main driver of population growth was the free white population rather than the slave trade.
Authoritative sources for the British population during this period are harder to come by (the first British census was more than a decade after the first U.S. Census in 1790); most sources seem to estimate the population of England proper between 6 and 6.5 million in 1776 compared to 2.5 million for the colonies. Going off this website's rough estimated figures for the combined population of England and Wales (Scotland had in the neighborhood of another 1.5 million people by 1776), the colonies went from 5% of the British population in 1700 to 20% in 1750, 26% in 1760, 33% in 1770, and 40% in 1780:
It was perhaps inevitable that this shift in the balance of population between the colonies and the mother country would produce friction, and of course such a fast-growing population means lots of young men ready to bear arms. Men like Franklin and Washington were already, by 1755, envisioning the colonies stretching across the continent for the further glory of the then-nascent British Empire; 20 years later, both were buying Western land hand over fist and picturing that continental vision as a thing unto itself.
The distribution of population among the individual colonies was somewhat different from today. Virginia (encompassing present-day West Virginia) was by far the largest colony and, along with the Carolinas, the fastest-growing, while Massachusetts, Maryland and Connecticut were much larger - and New York much smaller - relative to the rest of the colonies than today:
This is one reason why Maryland gained a reputation as the "Old Line State": it had the manpower to supply a lot of the Continental Army's best troops. Connecticut was, in fact, seen as a crucial economic engine of the war, the most industrialized of the colonies at the time and mostly undisturbed by combat. That said, when you look solely at the white population, the southern states loom less large, and the crucial role of Pennsylvania and Massachusetts comes into focus:
The smaller colonies present a similar picture:
Note that Rhode Island, alone, lost population during the war, due to the 1778-1780 British occupation of Newport. That occupation had lasting effects. According to a 1774 census, Newport's population before the war was more than twice that of Providence (more than 9,000 to less than 4,000) and it was a booming seaport; the city's population dropped by more than half to 4,000, and it never really recovered its status as a port, losing business permanently to New York and Boston. Another lasting side effect: Rhode Island, founded by Roger Williams as a haven of religious tolerance and welcoming even to Jews and Quakers, forbade Catholics from living in the colony, but after the British abandoned Newport in 1780 and the French garrison took up residence, the grateful Rhode Islanders permitted the French troops to celebrate the first Mass in Rhode Island; today, it is the most heavily Catholic state in the union.
Britain's population would surge in the 1790s, and by about 1800 there were a million people in London alone, the first city in world history confirmed to exceed that threshold. But that remained in the future; at the time, France's population of 25 million and Spain's of some 10 million would easily exceed that of George III's domain. Moreover, like its colonies, England had a longstanding aversion to standing armies; while the Napoleonic Wars would ultimately compel the British Army (including foreign and colonial troops) to swell to a quarter of a million men by 1813, a 1925 analysis found that "[a]t the outbreak of the Revolution, the total land forces of Great Britain exclusive of militia numbered on paper 48,647 men, of which 39,294 were infantry; 6,869 cavalry; and 2,484 artillery," with 8,580 men in America. And those forces were always stretched; according to this analysis of Colonial & War Office figures, the British never had much more than 15,202 redcoats in the American theater (including the Floridas, where they fought Spain), and never exceeded 30,000 troops in total, counting "Hessians" (companies of professional soldiers hired from the Hesse-Hanau, Hesse-Kassel, Brunswick and other German principalities) and American Loyalists (a/k/a "Tories"):
The Close Call: More modern American wars like the Civil War and World War II eventually developed a momentum that made victory effectively inevitable, as America's crushing material advantages came to bear on the enemy. By contrast, the Revolutionary War was, from beginning to end, a near-run thing (to borrow Wellington's famous description of Waterloo). At every stage and in every campaign of the war, you can find both British and American victories, as well as a good many battles that were fought to a draw or were Pyrrhic victories for one side. The length of the 7-year war in North America was a burden for the increasingly war-weary British, for a variety of reasons, but a long war was also a great risk for the Americans: the longer the war ran on, the harder it was in terms of both finances and morale to keep the all-volunteer Continental Army in the field. Whole units dissolved en masse at the end of their enlistments throughout the war, and there were mutinies in the spring of 1780 and again in January 1781. As late as 1780, Benedict Arnold's treason and debacles at Charleston and Camden, South Carolina put the American cause in jeopardy of being rolled up by the British, causing America's European allies to strike a separate peace. At one point or another in the war, the then-principal cities of most of the colonies - Massachusetts (Boston), Pennsylvania (Philadelphia), New York (New York), Virginia (Richmond and Charlottesville), Rhode Island (Newport), South Carolina (Charleston), Georgia (Savannah), Delaware (Wilmington) and New Jersey (Trenton, Princeton, Perth Amboy, New Brunswick) were captured and occupied by the British. Only Connecticut, Maryland, North Carolina and New Hampshire remained unconquered, as well as the independent Vermont Republic (Maine, then governed by Massachusetts, was also under British control for much of the war; the failed Penobscot Expedition was aimed at its recapture, and ended with a disastrous naval defeat). In the spring of 1781, Thomas Jefferson - then the Governor of Virginia - escaped capture by Cornwallis' men by a matter of minutes, fleeing on horseback as the government of the largest colony was dispersed. It was only the complex series of events leading to Yorktown in the fall of 1781 - Cornwallis retreating to Virginia after being unable to put away Nathanael Greene's Continentals and the North Carolina militia, Washington escaping New Jersey before the British noticed where he was going, Admiral de Grasse bottling up Cornwallis' escape route in the Chesapeake by sea, Henry Clinton failing to come to Cornwallis' aid in time - that created the conditions for a decisive victory and finally forced the British to throw in the towel.
Moreover, a great many individual battles and campaigns throughout the war turned on fortuitous events ranging from fateful decisions to apparently providential weather. It is no wonder that many of the Founding generation (like many observers since) attributed their victory to the hand of God.
Weather and Suffering: Both the Continental Army and its British and Hessian adversaries endured conditions that no armies before or since would put up with, including a staggering menu of extreme weather ranging from blizzards to colossal thunderstorms to blazing summer heat. Ancient and medieval armies would not campaign in freezing cold and snow; modern armies (like the combatants at Leningrad and the Marines in the retreat from Chosin Resovoir) would at least face them with something closer to proper clothing and shelter. But both sides in the war suffered chronic shortages: the British from lack of food for their men and forage for their animals, the Americans from lack of clothing (especially shoes), shelter and ammunition. The British lost more sailors to scurvy in the war than soldiers to combat, and during the long siege of Boston they had recurring problems with their sentries freezing to death at night. Smallpox, malaria and other diseases were endemic and especially hard on European troops with no prior exposure (one of Washington's great strokes of good judgment was having his army inoculated against smallpox, a disease he himself had survived and which left him pock-marked and probably sterile**). The British were rarely able to make use of their cavalry due to a lack of forage, and their infantry had other equipment problems:
[T]he flints used by the British soldier during the war were notoriously poor. Colonel Lindsay of the 46th lamented that the valor of his men was so often "rendered vain by the badness of the pebble stone." He exclaimed indignantly against the authorities for failing to supply every musket with the black flint which every country gentleman in England carried in his fowling piece. In this respect the rebels were acknowledged to be far better off than the king's troops. A good American flint could be used to fire sixty rounds without resharpening, which was just ten times the amount of service that could be expected from those used by the British forces. Among the rank and file of the redcoats, the saying ran that a "Yankee flint was as good as a glass of grog."
The war was conducted during the Little Ice Age, a period of low global temperatures (it's a myth that "climate change" is a new phenomenon or must be caused by human activity), and the winters of the period (especially 1779-80) were especially brutal. American soldiers and militia forded waist-deep icy rivers to reach the Battle of Millstone, marched miles without boots in snowstorms on Christmas Night after crossing the icy Delaware to reach the Battle of Trenton, and even tried (insanely) to lay siege to the fortified Quebec City in a driving snow on New Year's Eve. These were only a few of the examples of Americans marching great distances in weather conditions that would defeat the hardiest souls. The British performed their own acts of endurance and valor; drive over the George Washington Bridge some time and look at the cliffs of the Palisades, and picture Cornwallis' men scaling them at night to attack Fort Lee. Other battles were fought in heavy wool uniforms in the broiling heat, from Bunker Hill to much of the southern campaign, or in rains that left gunpowder useless, or - on the eve of the Battle of Brooklyn - colossal lightning strikes that killed groups of American soldiers in Manhattan. In the 1776 siege of Sullivan's Island, the British were shocked to discover that their cannonballs wouldn't splinter the soft palmetto wood from which the American fort was constructed, leaving the British ships to take a pounding from American artillery.
Except for Quebec, the weather - however hostile - nearly always managed to favor the American cause, rescuing the Americans when the hand of fate was needed most. McCullough recounts the especially significant shifts in the wind and fog that allowed Washington's army to escape in the night, undetected, across the East River after the catastrophic Battle of Brooklyn, while the blizzard at the Americans' backs was key to their surprise at Trenton.
The Allies: Most educated Americans still recall that France came to the aid of the fledgling nation after the victory at Saratoga, and played a significant role in tipping the scales in the war. In World War I, Pershing's refrain of "Lafayette, we are here" was still a popular invocation of that collective memory. Besides French money and supplies and French land and naval combat at Yorktown, the French also stretched the British defenses with extensive campaigns in the Caribbean and with a threatened invasion of England. But as important as the French alliance was, the emphasis on France understates the role that other of America's allies and Britian's enemies played in the Revolution.
First and foremost, at least as history is taught here in the Northeastern U.S., the Spanish role in the Revolutionary War is scandalously underplayed. There are reasons for this: Spain was a less impressive international power in the late 18th Century than France and would become drastically less so by the end of the Napoleonic Wars in 1815, and unlike the French, the Spanish rarely fought shoulder-to-shoulder with Americans or within the Thirteen Colonies. But Spain performed three vital roles in the war. First, under Bernardo de Galvez (namesake of Galveston, Texas, among other places), the Spanish Governor of the Louisiana Territory, the Spanish shipped significant war materiel up the Mississippi River through the American agent Oliver Pollock, supplementing the French aid that kept the American cause afloat. Second, after Spain's 1779 declaration of war against Britain, Galvez opened a significant second front against the British-held Floridas (which then included, in the territory of West Florida, much of what is now the Gulf Coast of Georgia, Alabama and Mississippi). Galvez was arguably the most successful commander of the war in North America, his multi-national, multi-racial force sweeping through the British defenses, preempting any British move on New Orleans and culminating the capture of Pensacola (then the capital of East Florida) in the spring of 1781. This campaign resulted in the Floridas being transferred from Britain to Spain in the resulting peace treaty; the absence of a British foothold on the southern border of the U.S. would have lasting consequences, and the Floridas would end up being sold by Spain to the United States in 1819. And third, the Spanish played a pivotal role in the Yorktown campaign, not only raising more funds in Cuba for the campaign but also providing naval cover in the Caribbean that allowed Admiral de Grasse to sail north and close off the Chesapeake just in the nick of time. (Spain also conducted a long, costly siege of Gibraltar that ended unsuccessfully and a successful assault on Minorca, both of which spread British manpower thin between 1778 and 1783).
The other main fighting allies of the American colonists were two of the Iriquois Six Nations in upstate New York, the Oneida and Tuscarora (the other four fought with the British), as well as a few other tribes on the western frontier. But other sovereigns caused the British additional problems. The Kingdom of Mysore, a French ally in Southern India, went to war with Britain (the Second Anglo-Mysore War) in 1780, inflicting thousands of casualties with innovative rocket artillery at the September 1780 Battle of Pollilur. The Dutch, who frustrated John Adams' efforts to arrange financial assistance and an alliance until after Yorktown, nonetheless ended up dragged into the Fourth Anglo-Dutch War beginning in December 1780. (Some things never change: Adams was accused of unilateral "militia diplomacy" for ignoring diplomatic protocols and negotiating with the Dutch without consulting the French, but crowed after inking the deal in 1782 that "I have long since learned that a man may give offense and yet succeed."). The Russians, then moving towards an alliance with Great Britain against the French, nonetheless pointedly refused to get involved; Catherine the Great refused a 1775 request in writing from George III that she send 20,000 Cossacks to America (necessitating the hiring of Hessians instead) and eventually joined the League of Armed Neutrality with the Dutch and others to resist British naval embargoes (the step that brought the British and Dutch to blows). Catherine II thought the British were fools for provoking the conflict and predicted from the outset that the Americans would win. All in all, the international situation by the end of 1780 left the British increasingly isolated and drove the strategic imperative to seek out a decisive battle in Virginia - an imperative that led Cornwallis directly into a trap of his own devising but which the American, French and Spanish forces sprung with great skill and coordination.
In Part II: Washington and the other American and British generals. In Part III: the role of the militia.
Read More »
September 17, 2012
WAR: Human Nature, Culture and the Arab Spring's Fall
2011's Arab Spring, like its predecessor in 2005, presented a sight that always elicits natural sympathy among Americans: a popular revolt against tyrannical dictators. But beneath the immediate euphoria, harder questions lurked: who would these crowds follow? Would American interests, and the interests of our democratic allies, be better served if the dictators won? The Obama Administration has never offered any kind of coherent answer to this question, and the Romney campaign does not seem eager to engage the question. In fact, the answers rest on a major fault line in conservative thought not only about foreign policy but about human nature itself.
Here's the dilemma. On the one hand, you have the venerable view, with deep roots in conservative thought, that human nature is universal and unchanging: "human nature has no history," and is the same in all nations and all epochs of history. This is customarily presented as a pessimistic view, an argument against the progressive view of history as one of unfolding enlightenment and the socialist-utopian view that governments can remake man himself. In this context, however, the permanence and universality of human nature has an optimistic character as well. Those who stress the universality of human nature argue that democracy is a universal good because people everywhere share the same basic longings for liberty, peace and security for themselves and their families, just as they also share the same basic urges to violence and oppression towards others. In this view, the virtue of democracy is that it remains the best system for providing people with the ability to promote the former while channeling the latter into lesser forms of conflict resolution. The champions of democracy thus argue that while governments may not change men, men may change governments. Moreover, this is a well-tested method of improving the lot of the individual that has more or less adapted itself to do so in many different times and cultures the world over.
The Federalist Papers, which drew on observed experience with governments around Europe and America, are full of this sort of sentiment. As James Madison famously wrote, in Federalist No. 51:
Ambition must be made to counteract ambition...It may be a reflection on human nature, that such devices should be necessary to control the abuses of government. But what is government itself, but the greatest of all reflections on human nature? If men were angels, no government would be necessary. If angels were to govern men, neither external nor internal controls on government would be necessary. In framing a government which is to be administered by men over men, the great difficulty lies in this: you must first enable the government to control the governed; and in the next place oblige it to control itself. A dependence on the people is, no doubt, the primary control on the government; but experience has taught mankind the necessity of auxiliary precautions.
And in Federalist No. 10:
AMONG the numerous advantages promised by a well constructed Union, none deserves to be more accurately developed than its tendency to break and control the violence of faction...

There are two methods of curing the mischiefs of faction: the one, by removing its causes; the other, by controlling its effects.

There are again two methods of removing the causes of faction: the one, by destroying the liberty which is essential to its existence; the other, by giving to every citizen the same opinions, the same passions, and the same interests.

It could never be more truly said than of the first remedy, that it was worse than the disease. Liberty is to faction what air is to fire, an aliment without which it instantly expires. But it could not be less folly to abolish liberty, which is essential to political life, because it nourishes faction, than it would be to wish the annihilation of air, which is essential to animal life, because it imparts to fire its destructive agency.

The second expedient is as impracticable as the first would be unwise. As long as the reason of man continues fallible, and he is at liberty to exercise it, different opinions will be formed....

The latent causes of faction are thus sown in the nature of man; and we see them everywhere brought into different degrees of activity, according to the different circumstances of civil society. A zeal for different opinions concerning religion, concerning government, and many other points, as well of speculation as of practice; an attachment to different leaders ambitiously contending for pre-eminence and power; or to persons of other descriptions whose fortunes have been interesting to the human passions, have, in turn, divided mankind into parties, inflamed them with mutual animosity, and rendered them much more disposed to vex and oppress each other than to co-operate for their common good. So strong is this propensity of mankind to fall into mutual animosities, that where no substantial occasion presents itself, the most frivolous and fanciful distinctions have been sufficient to kindle their unfriendly passions and excite their most violent conflicts.

...It is in vain to say that enlightened statesmen will be able to adjust these clashing interests, and render them all subservient to the public good. Enlightened statesmen will not always be at the helm. Nor, in many cases, can such an adjustment be made at all without taking into view indirect and remote considerations, which will rarely prevail over the immediate interest which one party may find in disregarding the rights of another or the good of the whole.
Set against this view is another one with equally deep roots in conservative thinking: the primacy of culture. The story of human history is most emphatically not one in which all societies have provided equal blessings of freedom and progress to their people, and neither the structure of governments nor the variation in climates and natural resources alone can explain these variations. Rather, some cultures - especially the cultures of Western civilization and the Judeo-Christian religious tradition - have provided a superior platform on which to build stable democratic regimes, respect for individual rights and the rule of law, economic development and scientific progress. The proponents of culture argue that transplanting the fruits of Western culture and civilization into the soil of very different cultures will always be a fool's errand, or at any rate that the specific political and legal doctrines promoted by Islam (especially when combined with Arab culture) are inherently irreconcilable with democracy and other Western values.
One need not look far among the Founding Fathers to see the sentiment expressed that democracy itself was only as viable as the morals and, yes, faith of the people. Ben Franklin famously remarked at the close of the Constitutional Convention 225 years ago today that the Constitution had given Americans "[a] Republic, if you can keep it," and in his prepared message to his fellow delegates, warned that "I think a general Government necessary for us, and there is no form of Government but what may be a blessing to the people if well administered, and believe farther that this is likely to be well administered for a course of years, and can only end in Despotism, as other forms have done before it, when the people shall become so corrupted as to need despotic Government, being incapable of any other." George Washington thought that the religious morals of the people were indispensable to a functioning democracy:
Of all the dispositions and habits, which lead to political prosperity, Religion and Morality are indispensable supports. In vain would that man claim the tribute of Patriotism, who should labor to subvert these great pillars of human happiness, these firmest props of the duties of Men and Citizens. The mere Politician, equally with the pious man, ought to respect and to cherish them. A volume could not trace all their connexions with private and public felicity. Let it simply be asked, Where is the security for property, for reputation, for life, if the sense of religious obligation desert the oaths, which are the instruments of investigation in Courts of Justice? And let us with caution indulge the supposition, that morality can be maintained without religion. Whatever may be conceded to the influence of refined education on minds of peculiar structure, reason and experience both forbid us to expect, that national morality can prevail in exclusion of religious principle.It is substantially true, that virtue or morality is a necessary spring of popular government. The rule, indeed, extends with more or less force to every species of free government. Who, that is a sincere friend to it, can look with indifference upon attempts to shake the foundation of the fabric?
John Adams took a similar view:
[W]e have no government armed with power capable of contending with human passions unbridled by morality and religion. Avarice, ambition, revenge, or gallantry, would break the strongest cords of our Constitution as a whale goes through a net. Our Constitution was made only for a moral and religious people. It is wholly inadequate to the government of any other...
Islamic societies, of course, face no shortage of religious strictures, but the proponents of the primacy of culture stress that those strictures are different, and less congenial to the maintenance of self-government and respect for the individual. Alexis de Tocqueville, who viewed American culture, and specifically American civil society outside of government, as crucial to democracy in America, wrote:
The Americans combine the notions of Christianity and of liberty so intimately in their minds, that it is impossible to make them conceive the one without the other; and with them this conviction does not spring from that barren traditionary faith which seems to vegetate in the soul rather than to live....

Muhammad brought down from heaven and put into the Koran not religious doctrines only, but political maxims, criminal and civil laws, and scientific theories. The Gospels, on the other hand, deal only with the general relations between man and God and between man and man. Beyond that, they teach nothing and do not oblige people to believe anything. That alone, among a thousand reasons, is enough to show that Islam will not be able to hold its power long in ages of enlightenment and democracy...
Arguments over the dependence of democratic government on the morals and faith of the citizenry are, of course, familiar in our domestic policy debates as well. It should be no surprise that these tensions have played out in the foreign policy debates of the Bush era and its aftermath. George W. Bush was never the Wilsonian advocate of nation-building for its own sake that some of his loftier rhetoric inspired his critics to charge - our wars in Afghanistan and Iraq each started with a traditional casus belli and, as in the aftermath of World War II, turned attention to nation-building only in the aftermath of the defeat and deposition of the opposing regimes and conquest of their territory. But Bush did increasingly, over the course of his years in office, embrace the "neocon" view that replacing dictators with popular sovereignty should be a keystone of our approach to reforming the Muslim and Arab worlds in order to address the root causes of terrorism. At the risk of oversimplifying, the neocon view is more or less that that root cause is the dysfunction of Muslim and Arab societies and the need of tyrants to direct popular rage at that dysfunction outward. In this view, democratic systems of government are a safety valve that allow internal tensions to instead be channeled inward in a more productive and less violent manner.
One of the main critiques of Bush on the Right was always that he was unduly optimistic about the Muslim world and specifically whether the Muslim 'street' actually preferred regimes that promoted genocidal war against Israel and terrorism against the United States and Europe. Volumes have been written on the intractability of Islamic political doctrines and their connection to the ideology of the suicide bomber, the impossibility of peaceable coexistence with Israel, and Islam's irreconcilability with religious pluralism or any form of secular law. This critique has only accelerated without Bush at the helm. Many on the Right have given up on Afghanistan as incurably backward and treacherous (examples there and elsewhere - including last week in Libya - show Americans on the ground being betrayed by their own allies). I'm glossing here over some of the deeper debates about internal doctrinal debates within Islam as well as the role of Arab and other ethnic cultures in addition to the religious element.
In the case of North Africa, Mubarak was - as FDR would say - an SOB, but our SOB; Qaddafi had been deterred and contained effectively since surrendering his nuclear program after seeing what happened to Saddam. The regimes that replaced them are not of the most stable character, and in Egypt in particular, even President Obama has now blanched at calling the Muslim Brotherhood-run government an ally. There are substantial arguments made for the idea that winning hearts and minds is an inherently futile task.
As both a student of the Federalist Papers and a child of the Reagan era, I'm naturally optimistic about the attractiveness of the American-style system of government to the universal aspirations of all peoples, and the adaptability of such systems to improve the lives of all peoples even when imperfectly applied. The correct answer, however, likely lies in between - the fact that democracy is preferable in all places in the long run is not necessarily proof that it is the best answer in every place in the short run, not when balanced against the protection of American interests. But a vigorous national debate on the question seems, in this campaign season, a long way away.
On some foreign policy issues, the two candidates present a clear enough contrast. Romney, ever the Eisenhower-era Republican, prefers a stronger military and a more unapologetic defense of American interests and rights abroad than Obama. Obama has tended to put too much faith in his own personality cult and too much emphasis on having America wear the hair shirt, from arguing in 2007 that "I truly believe that the day I'm inaugurated, not only does the country look at itself differently, but the world looks at America differently" to his much-lauded speech to the Muslim world in Mubarak's Cairo back when he viewed Egypt as an ally. But six years after they announced their first presidential campaigns, neither candidate has really laid out a vision of how properly to balance the roles of human nature and culture in evaluating the merits of democratizing the region going forward. That will have to wait for another day.
September 13, 2012
WAR/POLITICS: Barack Obama's Passivity in Crisis
If there is one common theme about Barack Obama's leadership style in a crisis that runs throughout his time on the national stage and is evident yet again in his response to the attacks in Cairo and Benghazi, it is passivity. Obama has shown, time and again, that he prefers to sit back, keep his distance and see what other people do first before he says or does anything. This is not an entirely bad trait - smoking out what everyone else at the table is thinking is an effective way to play poker, and there are times when doing nothing or being a follower is the wiser course. It has certainly paid him political dividends in situations where his opponents overextended themselves. But what it also clearly demonstrates is that vigorous public leadership - getting out in front and rallying the public to take some action that was not already widely supported - is above his pay grade.
Read More »
September 5, 2012
WAR/POLITICS: No, President Obama Didn't Find Osama Bin Laden
RS: No, President Obama Didn't Find Osama bin Laden
With few other unquestionably popular accomplishments for this president to crow about, we should expect to hear a lot at the Democratic Convention the next two days about how President Obama authorized a Navy SEAL team to kill Osama bin Laden in Pakistan. Vice President Biden, who opposed the mission, has made it a favorite stump speech line: "Bin Laden is dead and General Motors is alive."
But signing off on killing bin Laden was a no-brainer; as anyone who remembers the past decade knows, the hard part was finding him. The Abbottabad raid was the culmination of many years of intelligence-gathering. And for all the chest-thumping by Obama and Biden, virtually none of that intelligence-gathering resulted from policy decisions that originated with the Obama Administration. To the contrary, several were harshly criticized by Obama and his allies, and some have been discontinued by Obama.
Read More »
May 21, 2012
WAR: Barack Obama Will Not Defeat The Taliban
We have reached an endpoint of sorts in the decade-long Afghanistan War. President Obama will not keep U.S. troops in Afghanistan to defeat the Taliban and force them to accept terms of any kind. Have we lost the war? Should we have left years ago, or never gone in? That depends on your view of what we were fighting for and about in the first place.
I. Lowering The Bar
The New York Times summarizes the lowered expectations Obama is pushing to be able to declare a successful withdrawal:
Gone is the much greater expectation that NATO will leave behind a cohesive central government with real influence beyond Kabul and a handful of other population centers. Gone is the assumption that Helmand Province, Kandahar and the rest of the heavily contested south - where the bulk of the 2010 influx of troops was sent - will remain entirely in the control of the central government once that area is transferred to Afghanistan's fledgling national security forces.

...President Obama's national security adviser, Thomas E. Donilon, described a hoped-for outcome in Afghanistan that was far less ambitious than what American officials once envisioned.

"The goal is to have an Afghanistan again that has a degree of stability such that forces like Al Qaeda and associated groups cannot have safe haven unimpeded, which could threaten the region and threaten U.S. and other interests in the world," Mr. Donilon said.
Nowhere on this list is the defeat of the Taliban, which - seeing this coming - gave up on peace talks months ago:
While Kandahar and other population centers in the south have seen a decrease in Taliban attacks since the surge forces arrived, insurgent attacks have increased in less populated southern areas, military officials report. The heads of the Senate and House intelligence committees, appearing on CNN's "State of the Union" program two weeks ago, and reporting on a recent trip to Afghanistan, said the Taliban were gaining ground, something that is bound to accelerate once the NATO troops give way to Afghan-led forces.

"I think we'd both say that what we found is that the Taliban is stronger," Senator Dianne Feinstein, Democrat of California, said, seated next to Representative Mike Rogers, Republican of Michigan.
As Dan Spencer noted yesterday, this is a distinct change of tune from 2008, when then-candidate Obama described Afghanistan as "a war that we have to win" and 2009, when President Obama declared:
This is not a war of choice. This is a war of necessity. Those who attacked America on 9/11 are plotting to do so again. If left unchecked, the Taliban insurgency will mean an even larger safe haven from which Al Qaida would plot to kill more Americans.

So this is not only a war worth fighting; this is a - this is fundamental to the defense of our people.
But despite the President's bold words, the Administration never did set a clear definition of victory in Afghanistan. Specifically, while the State Department designated the Pakistani Taliban a terrorist group, it resisted requests by even Democratic Senators to designate the Afghan Taliban as a terrorist group, apparently - at the time - due to an unwillingness to foreclose a negotiated resolution that would bring the Taliban back into the political process. This was not a new problem (the State Department had likewise refused to designate the Taliban as a terrorist group during the Bush Administration even in 2001) but at a time when the nation was ramping up its military commitment to the war in Afghanistan, the broader refusal to define an enemy to be defeated (the essential element of any military action) left the war effort directionless and increasingly difficult to justify to a war-weary public. And now, by withdrawing unilaterally without using the leverage of our arms to force a negotiated resolution on favorable terms, we are essentially washing our hands of the fight against the Taliban.
Read More »
May 1, 2012
WAR: With The Death of Osama bin Laden, We're All Hawks Now
One year ago today, a Navy SEAL team killed Osama bin Laden in Pakistan, the culmination of many years of intelligence-gathering. The operation was personally authorized by President Obama, over the objections of Vice President Joe Biden. While national security leaders had, properly, publicly downplayed the importance of getting bin Laden - it was more important to focus on dismantling the operational network of Al Qaeda and similar groups, and overemphasis on one man hiding in isolation would give the fugitive bin Laden an unnecessary propaganda victory - it was nonetheless a significant longstanding priority of three Administrations to get him, and a great day for America when he was killed. The Obama campaign, recognizing that there is broad bipartisan agreement on this point among voters, has done everything possible to capitalize politically on the President's role.
There are three real lessons to be drawn a year later:
1. In the big picture, we're all national security hawks now.
2. As a matter of policy specifics, the hawks won and the anti-war movement lost every round.
3. As a matter of partisan politics, the side that loses the debate over the death of bin Laden will be the side that overplays its hand the worst.
Read More »
February 9, 2012
BLOG: Links 2/9/12
I should do roundups like this more often of the stuff I do on Twitter.
-Jose Reyes' hair sells for $10,200 in charity auction. The hair will play SS for the Mets.
-I largely agree with Victoria and with John McCain about Syria; the US has much stronger case for taking sides in Syria than it did in Libya.
-Looking back at the sad death of Ron Luciano.
-The one thing that's really booming in this economy - despite the best efforts of liberal activists and the Obama Administration to the contrary - is domestic oil and gas production. Frack, baby, frack!
-Science fail: an Oklahoma state Senator is apparently unaware that baby-making requires both a sperm & an egg.
-Yeah, sure, and being against Nazis is just what Elie Wiesel does to feel young & virile again. It is true that older people overestimate recurrence of the troubles of their youth. Ascribing this to "testosterone" is juvenile.
-Yet another "better Romney argument than Romney is making" column, this one with good ideas from Jim Pethokoukis. Call it a Prospectus for America.
-Dan Abrams debunks some of the myths around Citizens United.
-Then: "core symbol of right-wing radicalism" Now: Democratic mainstream. We always knew a lot of the anti-war stuff was just partisanship. Of course, unlike Greenwald, I regard this as a good thing for the country.
-Elvis Andrus focused on getting better. This seems like a unique goal to have.
-It's not even remotely inconsistent for Mitt Romney to profit from something while saying it should not be compulsory.
-John Edwards' 2008 presidential campaign is still spending money, even though it's in debt to taxpayers.
-The media's blind spot on religious liberty.
-I'd forgotten that, for idiosyncratic reasons, Reagan actually won the popular vote in the GOP primaries in 1968.
-The Wilpons try to get the Supreme Court interested in reversing a decision in the Madoff litigation.
January 12, 2012
HISTORY/WAR: Iran 1953
Amir Taheri brings some perspective to the myths surrounding the CIA's involvement in Iran in 1953, one of the talking points most cherished by Communists, Islamists and Chomskyites these past several decades (all of whom use basically the same propaganda script), and most recently Ron Paul and his acolytes. One of the key points is the extent to which Mohammed Mossadeq precipitated the crisis - much like the crisis a few years back in Honduras - by taking a variety of extralegal steps that presented a grave threat to the existing legitimate government of Iran.
December 19, 2011
WAR: The Kim Is Dead
If you ever wondered who would be depraved enough to stick up for Kim Jong Il, your answer would be the U.N.'s World Health Organization. Because, of course, North Korea has "universal health care."
November 23, 2011
WAR: Escalation in Syria
CBS News has the details - the State Department is now urging all Americans to leave Syria while they can, following the US Ambassador being pulled over concerns for his safety. I'll get back to this in more detail when I have more time to write (I should reach the other end of a particularly intense hearing after next Tuesday), but while it may not be the largest threat to the US (those would be Iran and, in its own ways, Pakistan), the Assad regime in Syria is now atop the list of threats we should be dealing with in the short term; the regime cannot be moderated in its current form, and can be brought down with the application of sufficient pressure. Even the current Administration seems to be coming to accept that the decades-old status quo in Syria is no longer sustainable.
The Assads are a nasty piece of work; the old man was vicious, and his son is too cowardly to stray from his father's path. I've recently been reading Don Rumsfeld's autobiography, and he actually starts the book not with either of his stormy tenures as Defense Sectretary, nor his time as a Congressman or White House Chief of Staff, but with his experience as Middle East envoy for President Reagan during the Lebanon crisis of 1983-84. Rumsfeld notes rather ruefully that when the US was leaning towards its ultimate decision to withdraw from Lebanon, he had to sit through having Saddam Hussein tell him that this would only encourage Syrian aggression, and that it was - as Rumsfeld puts it - quite an experience to be lectured by Saddam Hussein, much less when Saddam was probably right. A quarter century after Syrian aggression drew us into Lebanon at the cost of more than 200 US Marines, our business with the Assad regime remains unfinished. It's time to close that chapter.
September 11, 2011
WAR: Remember
August 3, 2011
BUSINESS: Negotiating Through The Media
There are many species of bad journalism, most of which involve too much opinion by the writer, but sometimes the opposite is true and a writer gives you the apparent facts without the context needed to make sense of them. Let me use an article from the NY Times about 30 Rock to illustrate a common type of bad journalism that I find to be equally amusing and annoying: reporting negotiating positions without bothering to explain to the reader to take negotiating positions with a grain of salt, let alone how to interpret statements made in the course of negotiations. This has been a common thread in scores of articles these past few months about - among other topics - the debt ceiling negotiations, the Libya war, the perpetual Israel-Palestine 'peace process,' the NFL and NBA labor negotiations, the Mets' legal dispute with the Madoff trustee and other business machinations and their efforts to re-sign Jose Reyes, and the legal imbroglio surrounding the Dodgers. I've read more articles on all these topics than I could count that failed to give the reader the guidance to put the parties' statements in the context of the underlying negotiating dynamics.
The Times tells us, first, that Alec Baldwin has said he's leaving 30 Rock after next season, a departure that of course would be a terrible blow to a show built around the tensions between his (awesome) character, Jack Donaghy, and Tina Fey's Liz Lemon. It may well be true that Baldwin sincerely has other things on his mind, maybe even a run for public office, and/or that he's feeling he's done all he could with the character. But it's at least equally likely that he could be persuaded to stay on if NBC offers money or other contractual concessions to make it worth his while.
Then we get the response from NBC brass and from Lorne Michaels, the show's executive producer:
Executives from the show and NBC aren't sure, but they made it clear in interviews here this week that his departure would not mean an automatic end to the award-winning comedy.

NBC's new entertainment chairman, Bob Greenblatt, said: "I'd love nothing more than to have Alec for the duration of the show. That's my goal. Let's see what we get."

NBC's interest in keeping "30 Rock" around for at least one more year after the coming season can be explained by the need for more episodes to enhance the show's resale value in syndication.

The executive producer of "30 Rock," Lorne Michaels, was more definitive about a future for the comedy, even if Mr. Baldwin turns down all blandishments to continue. "I would hope he would want to go on," Mr. Michaels said on Monday. "But we're going to keep doing the show."
Again: I don't doubt that NBC would very much like to extend the show's run one extra season for syndication purposes; many a sitcom past has been kept on past its proverbial shark-jumping point for that reason. If 30 Rock is still making money at that point, the network would probably try to soldier on without Baldwin. And Lorne Michaels has never been a guy who thought any of his cast members were indispensable (to put it mildly). But this all smacks strongly of a negotiating posture: the network and Michaels are doing interviews here precisely to send Baldwin the message that he's not holding all the cards. And the reporter, Bill Carter, doesn't breathe a word of that, probably because he knows full well why they are giving him these interviews.
Of course, Greenblatt and Michaels have their own competing agendas:
Mr. Greenblatt did open the door to a possible disagreement with Mr. Michaels over the re-entry of "30 Rock" onto NBC's schedule. The show's sixth-season premiere has been postponed until midseason because of the pregnancy of its star, Tina Fey.

Asked if "30 Rock" was ensured a spot back on NBC's successful Thursday night comedy lineup, Mr. Greenblatt said, "That is a good question, and I really don't have an answer for it." He added, "Nothing's written in stone."

But as far as Mr. Michaels is concerned, it is. "The show will be back on Thursdays," he said confidently.
Of course, if Baldwin's future with the show is in doubt, that's one reason the network would not want to commit valuable Thursday night prime-time space, plus Greenblatt is taking charge of a fourth-place network and probably should keep his options open. But NBC has to keep Michaels happy, too; as the creator of Saturday Night Live, he remains a vital part of the network's brand image. Michaels' certainty here is obviously intended to send an unsubtle message that he will not be a happy camper if the network moves his prime-time baby out of its Thursday night sinecure.
I don't mean to pick on Carter, who in this article has at least offered us enough quotes from each of the participants that a skeptical reader can piece together what is really being said here; that's not always the case with this sort of journalism. But in general, reporters aren't doing their jobs if they don't report how someone involved in negotiations could stand to gain from taking a particular position in public, and worse still if they straight-facedly claim that someone will never make a particular concession (e.g., Jose Reyes won't talk about a new contract during the season), when in fact they might well do so for the right price. The dynamics of negotiations and how they are handled through the media can differ across situations, but there are a finite number of basic underlying approaches to negotiating, and they crop up across many different fields of endeavor.
Consider the debt ceiling debate - surely many Republicans would have preferred to pass 'cut, cap and balance,' and some were genuinely opposed to raising the debt ceiling at all. But for many people involved in the fight, pushing for the ideal policy, even if it was the policy they wanted, was also a matter of getting leverage to extract a better deal when the time came to compromise. Similarly, many Republicans sincerely opposed any deal that would raise any taxes at all; others may have been willing to trade some revenue-raisers for something better, but found it convenient to stay in line with the ATR pledge against tax hikes as a posture unless and until that better offer materialized. None of this is insincere; it's just good bargaining.
Learn to look for the signs of negotiating postures between the lines of news articles, and they will surface again and again in every section of the paper.
May 26, 2011
WAR: "Tilting Towards Hamas"
House Democrats none too happy with Obama's approach to Israel's borders.
May 5, 2011
WAR: The Goatherd
One of the more notorious examples of the hysterical overreaction of critics overcome by their hatred of George W. Bush was their harping on him taking a few minutes to finish reading a children's book (The Pet Goat) to a classroom full of second-graders on the fateful morning of September 11 after getting the first news of the day's terror attacks. But if you've ever had children, you may appreciate TIME Magazine's look back at that incident through the eyes of some of the kids in that classroom - then 7 year olds, now teenagers - who were glad for Bush's calming presence in reading to them on that most insane of mornings.
As Ace notes, while Bush was pilloried for waiting in that classroom for seven minutes while his security detail got in place to get him moving, Obama has been hailed as a model of swift deciveness for concluding in just sixteen hours to go forward with the operation against bin Laden. Like Ace, I'm not going to quibble over Obama taking some time to make up his mind on a major decision - you can't argue with the results, and 16 hours isn't like his months of indecision on the Afghan surge or weeks of agonizing while the Libyan resistance got routed - but the people who made fun of Bush for seven minutes of reading to some kids can't very well expect to be taken seriously when they now parade Obama as a paragon of decisive action.
May 3, 2011
WAR/POLITICS: Podcasting on Bin Laden
I dropped by Coffee and Markets to talk about 9/11 and the takedown of bin Laden. A few of the points I was making came out a bit awkwardly, but it was a fun show.
My voice always sounds better in my head than it does on radio, where I come out sounding way too much like Kermit the Frog.
WAR/POLITICS: Inconvenient Facts About The Takedown of Osama bin Laden
One good rule of thumb if you are arguing politics - or practicing law, as I do - is that if your argument requires you to prove that something never happens or somebody does nothing good or right, you have started off with two strikes against you. Never is a hard thing to prove and an easy one to disprove. In the real world, bad ideas work sometimes, bad people do good things sometimes, brilliant plans fail sometimes, and time and chance happen to us all. This is, in fact, why the wise conservative recognizes the wisdom of crowds and the benefit of tradition: things must be tried many times by many people to see what works most, and what works in one situation may not work in another. Thus, while we can fairly debate the respective amount of credit given to President Obama and his senior advisors for taking out Osama bin Laden, there is no useful cause served in arguing that the Administration should get no credit. Many national leaders far worse than Obama have done something right in office. In the long run, Obama's political success will stand or fall on his record as a whole.
A related caution is that the early news reports of almost anything are liable to be wrong, especially in wartime. I took great pleasure in the report offered by Deputy National Security Advisor John Brennan that Osama bin Laden had died using one of his wives as a shield, but we are still seeing questions raised by some anonymous sources over the accuracy of Brennan's statements. Even if Brennan's account holds up, it may not be the last thing reported by the media regarding bin Laden's death that turns out not to be true.
With those two cautions in mind, we must pity the dilemma of the anti-war Left in facing the enormously popular and inarguably successful takedown of bin Laden.
To the mere Democratic partisan, there is no real conflict: as long as people like the results achieved under President Obama, his party wins. But the anti-war Left spent most of the Bush years shrieking to high heaven about Bush shredding the Constitution, staining the integrity of the nation, yadda yadda yadda. Everything he did in pursuing the War on Terror had to be the WORST THING EVER, and every effort made to argue that you were beyond the pale of civilization if you approved of the Iraq War, the detention of unlawful combatants at Guantanamo Bay or various secret CIA facilities, the use of "enhanced" coercive interrogation techniques (or for that matter any interrogation outside the Geneva Convention's name-rank-serial number questioning of traditional POWs), or the "assassination" of terrorists. This is the politics of outrage, the idea that you win arguments by being the angriest man in the room, that rather than argue that policies are not worth the costs and tradeoffs that come with every successful policy, they were inarguably wrong in every particular.
Consider the waterboarding debate. As it turns out, the CIA only waterboarded three men (Khalid Sheikh Mohammed, Abu Zubaydah and Abd al-Rahim al-Nashiri), leading to the question of why the Left made such a colossal stink about it in the first place. Certainly, given those facts, nobody on the Right has argued that waterboarding or any other form of coercive interrogation should be the only or even the first recourse in interrogation (or even that they be used at all with criminal defendants or legitimate prisoners of war) - the argument is simply that these are sometimes-useful tools in an interrogator's toolkit and that, in some extreme hard cases, it can be justifiable to use those tools against the very worst hard-core senior terrorist leaders. But critics of waterboarding have mostly long since painted themselves into the corner of insisting that the tradeoffs involved don't need to be debated, because coercive interrogation never yields any information of any use in any situation.
This is poor ground to make a stand on.
Initial reports on the extensive detective work that led to cornering bin Laden have indicated a couple of things that are terribly inconvenient for these arguments. First, it appears that the initial lead that allowed bin Laden to be tracked down was the name of his courier (he used one or more couriers so he could stay off cell phones and the internet, a lesson he learned after a criminal trial revealed that our intelligence services were tracking him by cell phone), and that the nom de guerre of the courier was provided by Khalid Sheikh Mohammed and Abu Faraj al-Libi to CIA interrogators. Both men had been held at precisely the sorts of "secret prisons" the Left denounced, and both subjected to coercive interrogation; in KSM's case he was one of the three men waterboarded. The Left, being unable to accept even the possibility that waterboarding might have contributed anything ever to anyone, has sprung into full damage-control mode, but inadvertently made many of conservatives' points for us. For example, ThinkProgress apparently thinks it is helping the cause by quoting Don Rumsfeld on the key leads coming from "normal interrogation tactics" at Guantanamo. But of course, if you spent years arguing that Guantanamo should be shuttered and all detainees subjected to the Geneva Conventions and tried in civilian courts, accepting this premise destroys your entire argument. Spencer Ackerman makes a lengthier effort to distance the information given by KSM and al-Libi to CIA interrogators:
Khalid Shaikh Mohammed was captured in Pakistan in 2003, with al-Libbi following suit in 2005. A U.S. official tells the Associated Press reports that Mohammed gave up the courier's nom de guerre, Abu Ahmed al-Kuwaiti, while in one of the CIA's brutal "black site" prisons. As Marcy Wheeler notes, that's not the same thing as saying the 183 waterboarding sessions Mohammed received led interrogators to the nom de guerre. But let's be charitable to them and presume it did. According to the Washington Post, al-Libbi confirmed the alias as well.

From what we know so far, that's about all waterboarding yielded for the hunt for al-Kuwaiti.

The senior administration official told reporters on Sunday that "for years, we were unable to identify his true name or his location." It took until "four years ago" - 2007, then - for intelligence officials to learn al-Kuwaiti's real name. By then, President Bush had ceased waterboarding and shuttered the black sites, moving the detainees within them, including Mohammed and al-Libbi, to Guantanamo Bay. In a Monday interview, Donald Rumsfeld said "normal" interrogation techniques were used at Gitmo on those detainees.
Once again, Ackerman has to concede basically every other piece of the Left's argument - against GTMO, against CIA interrogation, against secret CIA prisons - in order to protect the Holy Grail of arguing that waterboarding never, ever, ever works. What he's left with is the contention that when a guy confesses to the good cop, that means the bad cop was not a factor in anything that followed (the phrase "fruit of the poisonous tree" may ring a bell to some lawyers). And oh, yeah, those two guys gave up the lead that started it all.
It gets worse for Ackerman's side:
It took more traditional sleuthing to get al-Kuwaiti's real name, according to the Times. That meant putting more operatives on the ground in Afghanistan and Pakistan to track him, yielding a partial name. Once they had that, they unleashed "one of their greatest investigative tools": the National Security Agency's surveillance net. The NSA monitored email and phone traffic until they had his full name: Shaikh Abu Ahmed.

Last summer, the Associated Press reports, al-Kuwaiti/Ahmed made a fatal mistake: he called someone under NSA surveillance. After showing up on the grid, CIA operatives on the ground were able to hunt him.
You will note the absence of any reference to the NSA getting a search warrant for this. Once again, after all the huffing and puffing and lawsuits about NSA surveillance, it turns out that it, too, played a part in tracking down Public Enemy #1.
Are we done yet? No, we're not. Thankfully, due perhaps to being off the internet grid, bin Laden wasn't tipped off to the fact that we were on his trail by the fact that WikiLeaks had disclosed files showing we had tracked the courier by name to Abbottabad. But from WikiLeaks' files we learn something else very interesting:
The file suggests that the courier's identity was provided to the US by another key source, the al-Qaida facilitator Hassan Ghul, who was captured in Iraq in 2004 and interrogated by the CIA. Ghul was never sent to Guantanamo but was believed to have been taken to a prison in Pakistan.

He told the Americans that al-Kuwaiti travelled with bin Laden. The file states:

"Al-Kuwaiti was seen in Tora Bora and it is possible al-Kuwaiti was one of the individuals [al-Qahtani] reported accompanying UBL [bin Laden] in Tora Bora prior to UBL's disappearance."

The picture that emerges from al-Qahtani's Guantanamo file supports statements given in the last 24 hours by US officials, who named Ghul as the "linchpin" in the intelligence operation to find bin Laden.
So much for the idea that the Iraq War yielded us no benefits in the hunt for bin Laden.
Is all of this the last word on how bin Laden was tracked down? Of course not. As I said at the outset, we are likely to learn a good deal more, and perhaps unlearn some things that have already been reported. But that's why it's not a good idea to make arguments that only work if the other side is 100% wrong about everything. It's why Attorney General Holder professes himself agnostic as to whether "enhanced" interrogation contributed anything to getting bin Laden and Press Secretary Carney won't answer the same question. The American people seem to know better; while the first poll on the subject gives good marks to President Obama for handling bin Laden, his approval rating tops out at a bump up to 56%, 51% (including more than a third of Democrats) also say that President Bush deserves some credit as well. Certainly the facts as we know them right now support the conclusion that you can't separate the capture of bin Laden from the multifaceted Bush approach to counterterrorism that produced the witnesses and leads that let the intelligence and defense apparatus do its job in running the investigation - and Osama bin Laden - to ground.
May 2, 2011
WAR: Yub Nub
Note to regular readers: being short on time, I refer you to my Twitter feed for more of my thoughts on the death of Osama bin Laden.
From this:
To this:
Let joy be unconstrained! Justice has finally reched Osama bin Laden. Like Adolf Eichmann, bin Laden could run but he couldn't hide forever. Whatever your politics, credit should be shared first and foremost between (1) the CIA and other intelligence operatives for tracking down bin Laden and (2) the Joint Special Operations Command troops for carrying out an extremely hazardous mission to take him out.
But moving on to the politics and the policymakers, bin Laden's death will no doubt provide a political victory to Barack Obama, who gave the order to have him taken out (after passing up a chance in March to drop massive bombs on his compound - a recognition that bin Laden's death is more important as a visible symbol than as an operational matter) - but make no mistake that it is also a policy victory for conservatives.
One:
Officials say CIA interrogators in secret overseas prisons developed the first strands of information that ultimately led to the killing of Osama bin Laden.

Current and former U.S. officials say that Khalid Sheikh Mohammed, the mastermind of the Sept. 11, 2001 terrorist attacks, provided the nom de guerre of one of bin Laden's most trusted aides. The CIA got similar information from Mohammed's successor, Abu Faraj al-Libi. Both were subjected to harsh interrogation tactics inside CIA prisons in Poland and Romania.
More blow-by-blow here and here on how the initial interrogation strands developed during the Bush Administration led ultimately to yesterday's raid (and reflect on Pakistan's complicity - bin Laden's compound in Abbottabad was built in 2005). Also note the report that "One woman was also killed after one of the targeted men tried to use her as a human shield during the raid." Bear in mind, bin Laden's guards were presumably Al Qaeda's most elite fighters. If your elite bodyguards' go-to move in a firefight is hiding behind a woman, maybe you should dial back the bravado a wee bit. [UPDATE: Apparently it was bin Laden himself cowering behind a woman. Of course.]
Of course, conservatives have always argued that a viable intelligence-gathering apparatus requires not only interrogation of detainees but the full range of intelligence tools: electronic surveillance, covert operations, payoffs to seedy sources and defectors, occasional sub rosa cooperation with nasty regimes, and of course maximizing the information we get from having troops on the ground in foreign lands. The Left has spent the past decade deriding each of these sources. But if you celebrate the killing of bin Laden, bear in mind what had to be done to get him.
Two: the raid was carried out by a JSOC team that clearly had no compunction about shooting bin Laden twice in the head. You will remember when Seymour Hersh and Keith Olbermann breathlessly described JSOC as "a covert executive assassination ring that reported directly to Vice President Dick Cheney's office". You're welcome.
Three: The Administration acted unilaterally in carrying out this mission. International institutions and alliances have their uses, but in the end, some things a nation has to do for itself.
Four: the reaction to bin Laden's death has, predictably, smoked out the same nasty impulses among our enemies that led Saddam's state-run media to laud the 9/11 attacks. Hamas and Egypt's Muslim Brotherhood have both condemned bin Laden's killing. No amount of whitewashing will change what these groups are. (More here on Hamas and the Palestinian Authority).
March 30, 2011
WAR: Ten Reflections On Libya
More here from Jon Stewart, who is also not buying Obama's rationales.
I had intended to write up a longer or at any rate more organized essay about Libya, but for now, here are my two cents:
1. I was open initially, at least in theory, to the U.S. arming the rebels and enforcing a no-fly zone over Libya, on the theory that we could tip the balance in favor of the rebels without the need to commit ground troops. I don't buy the theory that the U.S. has no stake in overthrowing Ghadafi* as a matter of national interest, as doing so may advance our broader strategic goal of changing the political structure of the Arab/Muslim world so as to break the status quo in which the only alternatives are (a) terror-sponsoring tyrannies and (b) tyrannies whose only credible opponents are Islamist terrorists. Probably the most glaring omission from the Administration's arguments in favor of this action is any sense that this is part of a coherent regional or other strategy - nor could it be, given the Administration's passivity in Egypt and its unwillingness to do anything to support opponents of the much more dangerous and hostile Iranian and Syrian regimes.
I don't regard regime change in Libya as a sufficiently compelling interest that I'd want to commit ground troops to such a project - nobody has argued that the U.S. had cause or interest in starting a war with Khadaffy, as opposed to joining one in progress - but you don't commit air assets unless you are willing to contemplate either ground forces to support them or just losing any pilots who get shot down.
2. I'm completely opposed to committing U.S. forces (air, ground, whatever) unless our goal is to destroy Quaddafi's regime and we are committed to see that through to the end. Bad as Kadafy is, he's been much more contained in recent years than Saddam ever was - among other things, surrendering his WMD programs to outside inspectors after seeing what George W. Bush did to Saddam - but if left in power after this, he will have much the same desire to make trouble for us that Saddam did after the first Gulf War. And more broadly, as I have explained before, the one indispensable prerequisite for using military force is defining who the enemy is and committing to defeat him. Doing less than that is worse than pointless. Unfortunately, Obama has been (depending how you interpret his oracular pronouncements) vague and/or contradictory on whether we are truly committed to eliminating Gaddafhi's regime.
3. My openness to a no-fly zone in Libya decreased dramatically when we sat by and did nothing for over two critical weeks while all the rebel-held cities other than Benghazi fell back into the regime's hands. Now, our arrival may be too little too late. Not only does toppling the regime without a major Allied military commitment look like a longer shot now, but specifically we gave the regime the time to move military assets into those cities. Air power is never more effective than against armored columns traveling in the open desert (Libya isn't the mountains of Bosnia or the Ho Chi Minh Trail), but the regime is much more entrenched now in those urban positions. Things can change quickly in an unstable situation, but unlike in Afghanistan and Iraq there's at least a significant chance right now that the regime we've bombed will still be standing a year from now, and what then?
In war, a questionable decision made swiftly is often better than a good one made too late. At least Sarah Palin, who supported a no-fly zone weeks before Obama, understood this. If anything, Obama's reliance on the humanitarian argument (Benghazi will be flattened) suggests that he was more inclined to back the rebels as their chances of victory diminished. I am left with the creeping suspicion that Obama isn't anti-war so much as he's uncomfortable with American victory.
4. We also went into this with the average citizen having no clue what kind of people the rebels are, and apparently with U.S. policymakers not knowing a whole lot more. It increasingly appears they may be linked with Al Qaeda and participating in more than the usual atrocities attendant to civil wars in the Arab/Muslim world. Ghadaffy may be a bad guy, but he's the devil we know, and the prospects for replacing him with something worse look even more problematic than they did in Egypt.
5. I'm fine with us working within NATO, but let's not pretend that that means any less U.S. commitment. Or that Obama's coalition is somehow superior to the multinational force in Iraq, which involved many more nations putting boots on the ground. As for going to Congress, there's interesting Constitutional debate around what powers the President has to act militarily without Congressional approval (almost nobody disputes that he has some) and what power Congress has to restrict his existing Article II powers by statute, but if the Iraq experience convinced me of anything, it's that Bush - and the mission - would have been in much worse shape in terms of popular support if he hadn't gone to Congress in advance.
6. I'm not opposed to considering humanitarian concerns - or access to oil, for that matter - as a reason to go to war (they were one of numerous reasons for the Iraq War), but I'm very uncomfortable with using it as the sole justification for a war, especially when we self-evidently are not applying the same standard across the globe. Principles are important, but in the real world you can rarely afford to enforce them consistently; wars are ultimately a matter of national interest, and you can't turn a principle into an interest just by calling it one. Nobody can possibly take seriously the idea that we are being entirely consistent here (we've watched many worse things unfold in sub-Saharan Africa).
7. This whole thing is going to cost a bunch of money. I generally pay little attention to financial cost in decisions about war and peace, on the grounds that if something is worth losing lives over, it's necessarily going to be worth spending money on as well. But if the calculus here is that knocking out the regime can be done on the cheap, it becomes more relevant to consider the dollars as well.
8. Yes: given that bombing Libya is a close call and depends on a lot of pragmatic factors, it does matter that I don't have any faith in the current Administration to carry out the fundamentals - i.e., defining the enemy and the objective - competently or in the best interests of the U.S.
9. Polls are showing at most 50% public support for this mission. That can't be good news for Obama if this doesn't wrap up quickly; the Iraq War and Vietnam both began with 80% public support (I've been reading Steven Hayward's Age of Reagan, and he cites among other things a May 1967 Gallup poll that found only 14% support for withdrawing from Vietnam, compared to 25% support for nuking North Vietnam). If the mission goes badly, Obama will be left with nearly no support.
10. At least having a Democratic president means that we don't have to listen to idiots arguing that the use of military force is illegitimate because neither the President, the Vice President nor the Secretary of State served in the military. That argument was never the province of remotely serious people anyway, let alone anyone who would use it consistently across partisan lines.
Read More »
February 11, 2011
WAR: Fall of the House of Mubarak
Today is a day for joy. Hosni Mubarak has stepped down immediately as President of Egypt. Following on the heels of the departure of Ben Ali in Tunisia, we are witnessing the hitherto unprecedented spectacle of the people of a Muslim Arab state rising up in protest, of their own initiative, and throwing off a remarkably well-entrenched dictator. We rejoice in the spectacle because we are Americans; it's who we are. We know our system, even in the worst of hands, remains the best in the world, and we want to see others share in those same blessings.
But after the initial wave of joy subsides, the Egyptian crisis is far from over, and there are some important lessons to be learned.
Read More »
October 18, 2010
WAR: Islam Fractures German Multiculturalism
German Chancellor Angela Merkel has just broken one of Europe's greatest taboos. But the truth may prove more dangerous than the lies that preceded it.
Europe has a decidedly love-hate relationship with racial, cultural and religious pluralism. On the one hand, Europeans have no choice but to deal - more than do Americans - with a continent with a multiplicity of languages, they love to lecture 'simplistic' Americans about tolerance, and moreso than in the U.S., there's a powerful taboo among the governing elite against even talking about cultural or social issues of any kind, let alone subjecting them to free public debate. On the other hand, there's thousands of years of history of racial, ethnic and religious animosities tearing the continent apart and leading to many of human history's worst atrocities. And with regard to specific case of Europe's relationship with the Islamic world, think location, location, location: even places we think of as far distant lands - Algeria, Libya, Syria - are geographically right on Europe's doorstep, and familiarity in Europe has often bred contempt, and worse. It was Europe that was invaded by Muslim imperialists pretty much continuously from the 700s (when Charles Martel stopped the Muslim advance into France at Poitiers) to the 1600s (when the Turks were stopped at the gates of Vienna in 1683); Spain spent 700 years under Islamic rule, parts of the Balkans even longer. It was also Europeans who launched the Crusades, beginning some 300 years after Poitiers. European nationalism is not the conservative, free-market, liberty-oriented variety we have in the United States, and really never has been; it tends to be statist, befitting its feudal origins, and in recent centuries it has lost the restraining or at least balancing force of Christianity, as the continent has become less Christian.
The elite consensus has been placed under exceptional strain in the past decade by two symbiotic trends: the declining birthrates of native Europeans, who reproduce barely more than pandas, requiring large-scale immigration of young workers to make Europe's welfare states even remotely sustainable; and the fact that those immigrants are predominantly Muslim and include large numbers of people who have no respect for pluralism of any kind. Put simply, Europe can't live without Muslim immigration, but at some point, if demographic trends continue and the immigrants don't drastically alter the extent of their cultural assimilation, it won't really be Europe anymore.
We are only now seeing quite how traumatized Europe was by the riots over the Danish Muhammad cartoons in late 2005 and early 2006, a watershed in a long series of events across the continent in which Europeans were faced with behavior by the Muslim minority (or in some cases, almost now a majority) - usually involving violence or threatened violence - utterly inconsistent with pluralism of any kind. (Indeed, one of the great untold stories of the past decade is the extent to which events after September 11 have eroded the benefit of the doubt given by the public in the U.S. and Europe alike to the idea that Islam in practice is a peaceful faith and leached the credibility of leaders like George W. Bush who labored long and hard to draw distinctions between Islam's majority and its terrorist minority.)
There is, of course, great debate to be had over issues of assimilation and cultural tension generally, and specifically over the extent to which Islam can or should be integrated into a pluralistic society in the way that Christianity, Judaism and other faiths have done in the West (albeit with always imperfect results). But the merits of that whole debate aside, what is newsworthy is that Europeans have started fighting back, and if history is any guide, there are real reasons to worry that the reaction will as bad as the problem. We've seen the early signs in France's ban on the burqa and German authorities closing the Hamburg mosque where the September 11 attackers met.
Chancellor Merkel has now broken the elite consensus of silence wide open:
Germany's attempt to create a multi-cultural society has failed completely, Chancellor Angela Merkel said at the weekend, calling on the country's immigrants to learn German and adopt Christian values.

Merkel weighed in for the first time in a blistering debate sparked by a central bank board member saying the country was being made "more stupid" by poorly educated and unproductive Muslim migrants.

"Multikulti", the concept that "we are now living side by side and are happy about it," does not work, Merkel told a meeting of younger members of her conservative Christian Democratic Union (CDU) party at Potsdam near Berlin.

"This approach has failed, totally," she said, adding that immigrants should integrate and adopt Germany's culture and values.

"We feel tied to Christian values. Those who don't accept them don't have a place here," said the chancellor.

"Subsidising immigrants" isn't sufficient, Germany has the right to "make demands" on them, she added, such as mastering the language of Goethe and abandoning practices such as forced marriages.
And there are signs that Merkel has public opinion on her side:
A recent study by the Friedrich Ebert Foundation think tank showed around one-third of Germans feel the country is being "over-run by foreigners" and the same percentage feel foreigners should be sent home when jobs are scarce.

Nearly 60 percent of the 2,411 people polled thought the around four million Muslims in Germany should have their religious practices "significantly curbed."

Far-right attitudes are found not only at the extremes of German society, but "to a worrying degree at the centre of society," the think tank said in its report.
It's easy to think today of European society as a static feature of the landscape that will ever be with us. But much of the continent was, little more than two decades ago, living under the yoke of tyranny. Stable government is a tenuous tradition in Southern Europe, we last had a significant coup attempt in France in 1958, and the last time we had religious war and something like genocide in Europe was in the mid-1990s. With demographic and fiscal crisis rising on the continent, we may yet be in for another time of turbulence in Europe. Germany, at the continent's cultural, geographic and financial center, will be a crucial test of how it weathers that storm.
September 11, 2010
WAR: Remember
September 9, 2010
WAR/POLITICS: A Little Class Goes A Long Way
He has his many faults, but a genuine thumbs-up to Joe Biden for a classy performance on Colbert, where he delivered hot dogs to returning soldiers and gave due credit to President Bush for his dedication to the troops and their mission in Iraq.
September 1, 2010
WAR/POLITICS: Turning The Page
I'd meant to work this into something larger on Obama's speech last night, but it's an interesting fact in its own right on how our politics have, in their natural course, mostly moved on from the Iraq War debate (for better and for worse): of the 77 Senators who voted to authorize the war back in October 2002, no more than 32 of them - 17 Republicans and 15 members of the Democratic caucus (i.e., including Lieberman) will still be in office come January (less if some fail to get re-elected, although Harry Reid's the only one of the 32 in much hot water; of course, Hillary and Biden have moved on to higher positions). 14 of the 23 who voted against the war could be back, although three of those are currently embattled (Feingold, Murray, and Boxer). Any number of major figures on our national scene now, including Barack Obama, Sarah Palin and Mitt Romney, had yet to win statewide office at the time.
That's reflective of a number of things, but most of all the changing of the guard as a lot of the Senate's longest-standing veterans have died or retired and the rate of turnover has been accelerating with big Democratic gains in 2006 & 2008 and likely big Republican gains this year. The GOP will be getting a very fresh start - by January, we'll have only 32 GOP Senators left who were elected before 2010 (and only 11 GOP Governors elected before 2010, including 2009-elected governors like Christie and McDonnell).
August 14, 2010
WAR: Obama Chooses Sides In Favor of the Ground Zero Mosque
Last night, as part of a Ramadan celebration, President Obama waded into the controversy over the Cordoba Initiative mosque within sight of Ground Zero. In so doing, he unambiguously chose sides with those who see this deliberate provocation as a positive good.
It is unsurprising, given what we already know about him, that President Obama would decline to support using government power to block the mosque project, and would decline to support withholding the various government favors needed to build it (although he carefully avoided mention of the State Department's employment of the mosque's Malaysian imam) - but he could have at a minimum used the opportunity to denounce in no uncertain terms what broad majorities of the public in and out of New York recognize: the fact that whatever the law says, the project itself is deeply and intentionally offensive. Especially when the president feels a matter is beyond his formal power, this is what the presidential bully pulpit is for. He has certainly not been shy in the past about speaking forcefully to denounce matters as provincial as a dispute between a professor and local cops in Cambridge. Instead, Obama offered only a tepid nod that failed to suggest he personally saw anything wrong with the selection of the Ground Zero location for a mosque:
Read More »
August 10, 2010
WAR: The Ground Zero Mosque, Common Decency and the War
The debate over the "Ground Zero Mosque" presents two separate questions:
(1) Whether the mosque is wrong and should be stopped.
(2) Whether some arm of the government should be the ones to stop it.
Tellingly, liberal defenders of the project have talked almost exclusively about the second point, and avoided the first.
While I joined wholeheartedly in the RedState editorial last week condemning the project and calling for a halt to it, I've been a bit agnostic on the second point myself. There are constitutional and statutory restrictions on what the government can or should do to interfere with the building of houses of worship, and those restrictions exist for good reasons, even when in a particular case the house of worship represents a deliberate provocation. Even without the government's involvement, the mosque project itself is indefensible on its merits, and can and should be subject to public criticism and shame and any other lawful private sanction that can be brought to bear against outrageous conduct (a point Ed Morrissey makes here).
But as we are now seeing, the government itself - including the Obama Administration - is more involved with the Cordoba Initiative behind the mosque than we had been led to believe, and its proponents are even more selective in their view of tolerance and dialogue. And one thing is very clear: this is not a strictly local issue in any sense. It is part of a crucial national debate.
Read More »
June 22, 2010
WAR/POLITICS: Not In Charge
President Obama should fire General Stanley McChrystal, the U.S. commander in Afghanistan, for a highly impolitic interview Gen. McChrystal gave to Rolling Stone magazine (of all places) mocking the Vice President and the U.S. Ambassador in Afghanistan, among others, and making evident his disdain for the Administration's civilian management of the war effort. Obama should fire him - but he's painted himself into a corner in which doing so would be damaging to him politically and to the nation's war effort. Let's review why.
When Barack Obama came into office, he had an Afghanistan problem. Obama had won crucial credibility with the anti-war Left, and thus the Democratic presidential nomination, by opposing (at times) the Iraq War. At the same time, he marketed himself as being serious about national security by touting his support for the war in Afghanistan. Coming into office, he needed to reassure the military, the Afghan government and other U.S. allies, and the existing domestic supporters of the Afghan war (many of whom were Republicans unenthused about supporting any Obama initiative) that he was really serious. Complicating matters, the Democrats had spent the prior several years building a narrative in which the Bush Administration had sinned by not listening to criticism from the brass, and in which military men like Gen. Eric Shinseki (now Secretary of Veterans Affairs) were all but sainted for publicly splitting with the Bush Administration's war management. Obama, having little credibility of his own on national security matters, could scarcely hope to survive a public battle with his own military leadership.
Obama got off to a rough start. First of all, he came to office with no executive experience, no national security experience (in the Senate he'd never bothered holding hearings on the subcommittee he chaired overseeing Afghanistan) and no military service record; his Vice President, while schooled in foreign affairs, was likewise a career legislator with no military service record, ditto his Secretary of State. He ended up with yet another legislator running the CIA after his first choice was seen by the Left as too tied to the intelligence community. To balance this team out (Presidents always lack something and need balance from their advisers, but Obama lacked more than most), he had to lean heavily on holdovers: he kept Bush's Defense Secretary, Robert Gates, and gave wide latitude to General David Petraeus, architect of the Iraq War surge that Obama, Biden and Clinton had opposed with varying levels of scorn. He also picked a military man (Gen. James Jones) as his National Security Advisor, although that has worked out poorly.
Then, as I detailed back in September, Obama backed off his original promises for more troops in Afghanistan and sacked the commander there, General David McKiernan, in May 2009 after McKiernan asked for more troops. McKiernan was replaced with General Stanley McChrystal, a blunt-spoken counterinsurgency specialist and ally of General Petraeus who had something of a track record - known to those around him - of speaking out of turn.
McChrystal quickly lived up to that reputation, with speeches and an assessment of the Afghan situation (leaked to the public) that increased the public heat on Obama to come up with more troops for the mission. McChrystal's actions at the time tiptoed up to the line of undermining the all-important chain of command, but they were also critical to moving the public and the President in support of the war effort. The President eventually gave in, delivering a substantial troop surge, albeit one with a good deal fewer forces than McKiernan or McChrystal had asked for and with a bunch of promises to his own supporters about withdrawal timetables.
Now, months later, McChrystal has plowed over that line, and done so for no such obviously good purposes, and with plenty of notice about what the article would look like. Military men in a theater of war are prone to strong opinions, and it's hard to say that Vice President Biden and Ambassador Karl Eikenberry, among others, haven't earned Gen. McChrystal's contempt. But doing so in public is insubordination, plain and simple, and completely inconsistent with our tradition of a chain of command and civilian control of the military. A military man who wants to open both barrels in public against the political leadership has a time-honored way to do that: resign his commission and enter politics. As Harry Truman understood when he fired Douglas MacArthur - then a national hero - at great political cost, a president who doesn't show the generals who is boss is no longer running anything. That's bad for civilian-military relations and bad for the president's and the nation's credibility, as subordinates learn they can get away with more and allies and enemies wonder who they should listen to. While it speaks well of Gen. McChrystal that the Afghan government is publicly backing him, a president who lets foreign governments, even key allies, have any say in picking his own military officers has lost face he can't recover.
So, to preserve his own credibility and authority and secure the chain of command, Obama must fire General McChrystal. But doing so isn't so easy. As Dan Foster notes, the conclusion of the prior dust-up over troop strength showed that much of the public's trust in Obama was based on the credibility of McChrystal's recommendations. The champions of Gen. Shinseki will look - rightly - like contemptible hypocrites for sacking a distinguished commander for saying what he thinks. The troops in the field, always prone to regard civilian meddling as foolhardy, may regard the firing of a blunt commander - barely a year after the last commander was sacked after disagreeing with the White House - as a sign that the civilian leadership can't take some hurt feelings. Obama is also simultaneously cruising for a divisive showdown over ending Don't Ask, Don't Tell, a change that is sure to be opposed in at least some corners of the military. More significantly, in the short run, McChrystal's experience and expertise may be hard to replace overnight.
And worst of all for Obama, a credible declare-victory-and-begin-to-draw-down scenario, as was attained by the success of the surge in Iraq by mid-2008, is not on the horizon:
Underlying everything is a far bigger problem. Obama's strategy of shifting the military's focus - and 30,000 troops - from Iraq to Afghanistan hasn't yet yielded a major breakthrough.

The disaster in the Gulf has obscured a steadily increasing drumbeat of bad news and ill omens on Afghanistan. After mixed results in the campaign to re-take Marja, the Pentagon was forced to delay a critical summer offensive in Kandahar, the cradle of the Afghan Taliban insurgency. Earlier this year simmering tensions between the administration and Afghan President Hamid Karzai broke into the open with U.S. officials sharply criticizing Karzai on issues ranging from corruption and nepotism to the fitness of the country's fighting forces to electoral reform - set against the backdrop of a resurgent Taliban.

That lack of tangible success seems to be splitting official Washington, slowly but inexorably, into hawks and doves camps, with Gates bearing the flag for those who favor a relatively open-ended large-scale commitment of troops with Vice President Joe Biden and others pushing for a far more scaled down approach and Obama himself somewhere in the middle.

People close to Obama say the president recognizes the crisis isn't just about any one general, but recalibrating policy after a delay of the summer offensive in Kandahar and harmonizing a fractious team of military and civilian advisers.
Whether Obama chooses to start abandoning the war effort or again to face down calls from his own base to do so, he will need the credible backing of trusted military leaders - and shoving out the architect of the current plan (who may well respond by issuing blunter critiques from the outside if he's pushed out) and bringing in a third commander in Afghanistan in 14 months is no way to win confidence from the public, the military or our allies.
These are tough decisions, and precisely why the presidency is not suited for on-the-job training for people who have never run anything before, or for politicians like President Obama who have built up no basis for trusting them on critical issues of national security. Obama has been walking a very narrow tightrope on Afghanistan, supported largely by the generals. He may be about to fall off.
June 15, 2010
WAR: Not There. Anywhere But There.
John Hawkins has a good summary of the reasons why a mosque near Ground Zero would be a bad idea.
June 1, 2010
WAR: The Face of Sanctions
News came Monday that the Israeli navy had boarded a flotilla of ships seeking to run Israel's blockade of Gaza, setting off an incident that ended with the Israelis shooting a number of people on board the ship. The immediate controversy is over what happened on board: the Israelis say they were attacked upon boarding by assailants wielding knives and clubs. Who you believe depends in large part where your sympathies lie in the longstanding struggle between Israel and its neighbors. But at bottom, incidents like Monday's are the inevitable results of a policy of sanctions and the blockade required to enforce them. And advocates of such policies who claim that they are preferable to more openly aggressive means of dealing with security threats need to come to grips with that fact.
Read More »
May 10, 2010
WAR: BREAKING: Mullah Omar Captured?
That's what best-selling novelist Brad Thor is reporting over at Big Government:
Through key intelligence sources in Afghanistan and Pakistan, I have just learned that reclusive Taliban leader and top Osama bin Laden ally, Mullah Omar has been taken into custody.
If Thor's sources pan out, this is excellent news, and a moment for real vindication for everyone - from the military brass to Republican leaders and conservative commentators to, yes, President Obama - who argued for pressing on for victory in Afghanistan and not abandoning the region to the Taliban. Of course, I'm guessing that if Mullah Omar has been held for some time now by Pakistani authorities without public disclosure of that fact, he's probably been under questioning. Without being read any Miranda rights by the Pakistani government, one assumes. But doubtless we'll learn more about what has happened and when, in due time.
April 30, 2010
WAR: Afraid to Speak
Excellent column from Ross Douthat on Sunday on South Park and censorship in fear of Islamist violence.
April 20, 2010
WAR: Socialism Plus Racial Resentment Equals Ruin
John Noonan at the Weekly Standard has a long, sad look at the vibrant nation Robert Mugabe inherited and how he ruined Zimbabwe in three decades in office. As Noonan notes, Mugabe's reign wasn't always all bad, and the nation still prospered in his first decade in office, but the poison of Maoism and racial resentment was there from the beginning, and grew worse over time, as "the jewel of Africa" fell to a place so ruined that life expectancy dropped nearly in half, unemployment reached 95% and the government was powerless to prevent an outbreak of cholera. One wonders how many of Mugabe's left-wing champions, like Jimmy Carter, would rather live the life of a black Zimbabwean in 2010 than a black Rhodesian in 1980. (On the other hand, the fate of Zimbabwe gives one a renewed appreciation, by contrast, for Nelson Mandela; Mandela has his own checkered ideological history, and like many national heroes his eventual presidency was not without its stumbles, but he successfully set aside the bitterness of his long imprisonment, steered clear of most of Mugabe's sins, and left when it was his time to go).
WAR: Good Riddance
Thomas Joscelyn on the late, unlamented al Qaeda in Iraq leader Abu Ayyub al Masri, killed by Iraqi security forces - and how an Al Qaeda jihadist and terrorist, veteran of Egyptian Islamic Jihad and associate of Zawahiri, came to be in Iraq in the spring of 2002, before the 2003, invasion in the first place.
BLOG: Quick Links 4/20/10
*The Mets have had some questionable decisions already this year. We saw Fernando Tatis try to score on a wild pitch with two outs, the bases loaded, down 3 and David Wright at the plate against a pitcher having trouble throwing strikes. We saw Jerry Manuel pinch run Tatis for Mike Jacobs and then have to use Alex Cora to pinch hit in the same inning. We saw Manuel play for one run on the road with Joe Mather pitching and Jose Reyes on first base, asking Luis Castillo to bunt before Mather had proven the ability to get anybody out. But perhaps none worse than Manuel on Saturday having K-Rod staying warmed up for 12 innings and possibly as many as 125 pitches in the bullpen before coming in tired to blow the save. Let's hope that doesn't linger. That's why you use the closer as soon as you hit extra innings on the road.
*Craig Calcaterra looks at the curious suspension of Ednison Volquez.
*Joe Posnanski's all-time NBA top 10. His mini-essays on Wilt, Kareem and Jordan are all spot-on, and in Jordan's case reminded me of his obvious, though smiling, irritation earlier this year when Jay Leno asked if he could still dunk. This, about Wilt, is an excellent point:
You know, if you think about Wilt Chamberlain's career - it really is staggering to think that he has through the years been labeled as a guy who did not win enough. I mean, Jim Kelly or Dan Marino or Charles Barkley or Barry Bonds - fair or unfair, it is true they didn't win championships. Chamberlain won TWO. What's more, he led his team to the Finals four other times. What's more than that, his teams were beaten by the Celtics six times in those years, and while so many would like to make that a Russell vs. Chamberlain thing, the truth is those Celtics teams had 10 Hall of Famers. TEN HALL OF FAMERS! Two starting lineups of Hall of Famers. Those teams at various times had Havlicek and Sam Jones and Bob Cousy and Bill Sharman and Tommy Heinsohn and K.C. Jones and so on and so on ... all in addition to Russell. They also were coached by Red Auerbach and Bill Russell.

To believe that Wilt Chamberlain - with the help of a Hal Greer here or a Tom Meschery or Paul Arizin there, guided by an Alex Hannum or Dolph Schayes - somehow SHOULD have beaten those Celtics teams is to believe that there has never been a more dominant presence in basketball than Wilt.
*Ronald Reagan and James Dean, together on film.
April 19, 2010
WAR: Strangling North Korea
Joshua Stanton looks at the current crisis in Korea and what options South Korea may have short of war, which for a variety of reasons (some strategic, some more obvious) isn't really the best answer:
President Lee still has options.

First, he can stop feeding the beast - he can cut off South Korean economic aid to the North. For cosmetic purposes, he can offer to resume aid if Kim Jong Il cooperates fully with the investigation and personally apologizes to the sailors' families (don't worry; he won't). Lee can stop importing goods from North Korea and cut this flow of hard currency. The other main conduits of South Korean hard currency for Kim Jong Il include the Kumgang Tourist Project, whose property the North has just begun to confiscate anyway, and the Kaesong Industrial Park, which has fallen victim to North Korean political meddling and clearly won't ever become a profitable export manufacturing center now. Lee can also order his banks to take a more aggressive approach to enforcing the financial provisions of U.N. Security Council Resolution 1874. Politically, he should increase his government's support for a community of 17,000-plus North Korean defectors who are leading efforts to broadcast independent news back into their homeland, news that seems to have attracted a significant following in North Korea. He can increase the number of defectors his government admits, and do more diplomatically to force China to let would-be defectors in China travel to South Korea safely. He might even permit defectors to establish a North Korean transitional government-in-exile on his country's soil; after all, with proper education and training, those defectors could be a key part of President Lee's strategy to re-stabilize post-Kim Jong Il North Korea if, as seems increasingly likely, the Kim Dynasty ceases to exist within the next five years.
Stanton's piece got me thinking about a broader point. As a general matter, I'm not much convinced by the power of persuasion or the suasion of law in international affairs. And I don't believe that diplomacy is ever the answer to cause anything to happen; at best, diplomats exist to prevent things from happening, and to work out the endgame once sufficient force has been used or threatened.
War is the use of force, but it's not the only type, and during the Cold War we eventually got good at finding ways short of open war (including proxy wars as well as other tactics not involving military force) to impose costs on our adversaries for purposes of retaliation and deterrence. One of my ongoing concerns in the two decades since the Cold War is that as a nation, we seem to lack the will or the creativity to find meaningful ways to put pressure on misbehaving states short of bombing or invading them, which naturally means you end up resorting to force in the absence of meaningful alternatives. In some cases, it inevitably has to come to that anyway, but you'd like to keep those to a minimum. Economic sanctions regimes, for example, have proven all but impossible to enforce been riddled with corruption. Unlike the U.S. - and more like the U.S. relationship with Cuba - South Korea may actually have the leverage to use economic muscle in a way that has some real impact on the North without unduly harming its own economy (Stanton thinks so). But in the usual course - even recognizing that the best means of leverage against hostile governments sometimes happen far out of public view - too often we seem to lack the (for lack of a better word) deviousness to make tyrants awake every morning wondering what we will do to them.
April 6, 2010
WAR/POLITICS: Quick Links 4/6/10
*Streiff looks at the disingenuous uproar over a cameraman and reporter affiliated with Reuters who were embedded with insurgents during a firefight in Bagdad in 2007 and got killed in an American helicopter attack on the insurgents
Bill Roggio has more here. I've written frequently about the idiocy of the left-wing "chicken hawk" argument - i.e., that only people who have served in the military can advocate for war, while anybody can advocate against it - but on stories like this, that involve not the security of the nation writ large but rather the nitty-gritty of how rules of engagement are put into practice during combat - it really is a very bad idea to have people with no military background jumping to conclusions just from watching a video and adding in a huge presumption that the U.S. military is always in the wrong.
Left-wingers have attempted to spin the belated release of the video as some sort of "cover-up," but as you can see from the Washington Post report at the time that streiff quotes, the basic facts were never concealed, and if the video - taken out of context - would be propaganda for the enemy, I see no reason why the military ought to have an obligation to publicize it. We don't have real-time reporting of all military and intelligence activities on C-SPAN (yet) for a reason.
UPDATE: Rusty at the Jawa Report examines the evidence showing, unsurprisingly, that left-wing blogs are flatly misrepresenting the evidence by claiming that the Apache attack at issue did not target armed men.
SECOND UPDATE: The WaPo reporter on hand sees nothing the military could have done differently:
"An operation took place. And it was an operation with merit because it was preceded by soldiers just getting banged up all over the place and they had to do something about it. ... The operation was planned thoroughly for days and days and out they went. ...

"Here came some guys walking down the street -- one with a (rocket) launcher; one, at least one, with an AK(-47). And in the middle of them were two guys, one of whom had something long (a camera) hanging around his neck. And there was no word to the soldiers that journalists were going to be there.
*Rudy Giuliani on the insanity of Obama's adherence to nuclear freeze movement thinking circa 1983 (which, if you'll recall, is Obama's longstanding posture, going all the way back to a 1983 college newspaper piece he wrote in which he viewed the Nuclear Freeze movement as insufficiently ambitious). Here's Rudy:
"The president doesn't understand the concept of leverage," Giuliani continues. "He's taken away our military option and it looks like he would prevent Israel from using a military option. He also hasn't gotten Russia or China to agree. With Russia, he should have made them put their cards on the table. Instead, like with the missile shield, he gave up and got nothing for it. He negotiated against himself. That is like reducing the price of your house before you get an offer."

"Leverage means the other guy has to be afraid of you," says Giuliani, a former associate attorney general. "I worked for a president, Ronald Reagan, who understood that brilliantly, and that's how he won the Cold War. You need to appear to be unpredictable. [Reagan's] State Department understood that you need to create pressure, to create something they're afraid of. Tell me where Obama has done that."
Conservatives like to joke that Obama would be tougher on our enemies if he'd pretend they were Republicans, but of course this equally describes one reason why he's been unsuccessful in getting Republicans to support his domestic initiatives: he's given the GOP no downside to opposing him. Meanwhile, Charles Krauthammer looks at some (but not all; he doesn't even get to Israel) of Obama's mistreatment of U.S. allies. An open question is whether Obama thinks we shouldn't have allies, or just have the wrong ones.
*The Cinderella story of Butler's basketball team brings back thoughts of Mitch Daniels' Butler commencement speech in 2009, reflecting among other things on his youth as a Butler hoops fan and "the Butler Way"; it's one of the best political speeches of recent years, all the moreso because at the time he wasn't expecting to run for office again (as of now, Daniels appears to be at least thinking of running for President in 2012). Tony Lee at the Atlantic expands on the "Butler Way" theme and how it fits with Daniels.
*Mark Bowden's profile of General Petraeus is compelling and a must-read.
*Jim Geraghty catches a hilarious example of pop culture/historical ignorance from Katrina vanden Heuvel.
February 22, 2010
WAR: V-I Day
Your must-read of the day: David Bellavia on the end of Operation Iraqi Freedom. Read, and take a moment of silence for Bellavia's friends and all the others who sacrificed for this moment.
January 11, 2010
WAR: The Continuing Burden of Imperial Communism
Useful backgrounder on how and to what extent the Soviets brutalized Afghanistan. It's amazing how many of the pathologies that linger in the world even today have their roots in the foreign adventures, weapons programs and propaganda of Nazi Germany and Soviet Russia.
January 8, 2010
POLITICS/WAR: Quick Links 1/8/10
Two lines of the day:
Jonah Goldberg: "the GOP's troubles over the last decade have a lot to do with the fact that Americans didn't stop liking what the Republican Party is supposed to deliver. They stopped liking what the GOP actually delivered." Also: "For too long Republicans confused supporting big business with supporting free markets, when big business is often the biggest impediment to fair competition."
Steven Green: "A man does not set fire to his penis for a job he expects to botch."
Finally, this chart from Paul Krugman is interesting and noteworthy (Krugman can occasionally be sane and not wholly dishonest when he sticks to his knitting and writes straight economics rather than partisan politics). I don't buy entirely his conclusion that "the CRE bubble ... gives the lie both to those who blame Fannie/Freddie/Community Reinvestment for the housing bubble, and those who blame predatory lending" - as some of his commenters properly note, the chart reinforces the argument that commercial real estate values are driven at least in part by residential real estate values, even in communities where relatively hard zoning laws make the two types of land non-fungible - but it's an important point nonetheless to understand that the housing bubble was not solely about housing markets and housing-credit policy.
December 30, 2009
WAR: No B+ For Obama
The New York Daily News under the management of Mort Zuckerman is a fairly reliable weathervane of a particular stripe of moderate, Northeastern Democrat opinion, broadly liberal in inclination but more cold-eyed and hawkish when it comes to crime, national security, and in particular the threat of Islamic extremism to the U.S. and Israel - your basic Ed Koch-type Democrat (this is not an exclusively Jewish phenomenon, although in New York that's who the leading voices are). Typically, the News gave fawning and totally excessive coverage of every historic move of the historic new historic presidency of Barack Obama during the high watermark of his Administration, from November 2008 through late January 2009; at one point either Obama or his wife was on the front page every day for more than three weeks.
So, it's significant - in the way moderate-conservative outlets' turning on George W. Bush between mid-2005 and early 2006 was significant - that the News today has a blisteringly harsh assessment of Obama's sluggish public response to the attempted destruction of a U.S.-bound flight by a fanatic wearing bomb-laden underwear apparently designed by Al Qaeda bomb-makers in Yemen, especially given the revelation that U.S. intelligence had been warned by the Nigerian bomb-wearer's father that he was in cahoots with Islamist extremists. The News' assessment, which was featured with the front page headline "Get a Grip":
The moment demanded inspiring, decisive presidential leadership.

America waited four days for a glimmer.

President Obama's initial response Monday was too long in coming, too cool in delivery and too removed from the extreme gravity of the plot....

Before his first remarks on Monday, Obama had left a vacuum, and into that 76-hour empty space rushed Homeland Security Secretary Janet Napolitano, whose ineptitude made a mockery of her position and threw millions of fliers into continuing states of confusion.

What the public was left with was a never-to-be-repeated case study in crisis mismanagement. It's time to get a grip, Mr. President.
Napolitano's "the system worked" comment is perhaps the perfect symbol of this tone-deaf response, given that this particular attack was essentially thwarted by the passengers, not by the government. This is, of course, in contrast to how swift and vivid Obama's statements can be when he wants to make partisan hay from the news, as with his same-day statement declaring himself "shocked and outraged" at the murder of abortion doctor George Tiller. The News' assessment of the substance of Obama's response is no cheerier:
Obama's description of Abdulmutallab as an "isolated extremist" was remarkable and disturbing. This radicalized young Nigerian is nothing of the sort. He operated, in fact, as an Al Qaeda-recruited, Al Qaeda-supplied, Al Qaeda-directed foot soldier - as, to put it directly, an enemy combatant, and not as the criminal "suspect" of Obama's description.

In similarly distant fashion, the President ordered up a "review" of how Abdulmutallab smuggled explosives onto the jet and a "review" of how he slipped through the government's various terror watch lists despite signals of clear and present danger.
The Telegraph has a more detailed rundown of how the intelligence on Umar Farouk Abdulmutallab didn't prevent him from boarding the plane with a bomb in his pants, and how Obama's response continues a disturbing pattern:
There has been a pattern developing with the Obama administration trying to minimise terrorist attacks. We saw it with Abdul Hakim Mujahid Muhammad, a Muslim convert who murdered a US Army recruit in Little Rock, Arkansas in June. We saw it with Major Nidal Malik Hassan, a Muslim with Palestinian roots who slaughtered 13 at Fort Hood, Texas last month. In both cases, there were Yemen connections. Obama began to take the same approach with Umar Farouk Abdulmutallab.
As the News notes, the security problems that led to this attack include laxity at the TSA and a too-easy hand in releasing Gitmo detainees (such as the Yemeni bomb-makers who were released to a Saudi "art therapy" program), both of which have roots in the Bush Administration's periodic capitulations to political correctness and (in the TSA's case) the disastrous "leadership" of Norman Mineta. But the News also notes that Obama can't well avoid responsibility for Bush policies he inherited and chose to expand, rather than repair. He's particularly put on the spot by liberal California Democrat Dianne Feinstein's call for a halt to releases of further GTMO detainees to Yemen.
There will be no B+ for this effort.
December 10, 2009
HISTORY: Teddy Roosevelt on the Nobel Peace Prize and the Use of Force
Our second history lesson of the day: on the occasion of Barack Obama's acceptance of the honor, it is worth looking back to a little history. Theodore Roosevelt, the first sitting President awarded the Nobel Peace Prize, did not attend the ceremony, but sent a telegram. But TR gave a Nobel lecture in 1910 - two years after leaving office, four years after winning the prize for mediating the end of the Russo-Japanese War, and four years before the world was plunged into The Great War - and his observations on peace are worth recalling, even as he was (at the time) optimistic about the possibilities for then-nascent international institutions:
In any community of any size the authority of the courts rests upon actual or potential force: on the existence of a police, or on the knowledge that the able-bodied men of the country are both ready and willing to see that the decrees of judicial and legislative bodies are put into effect. In new and wild communities where there is violence, an honest man must protect himself; and until other means of securing his safety are devised, it is both foolish and wicked to persuade him to surrender his arms while the men who are dangerous to the community retain theirs. He should not renounce the right to protect himself by his own efforts until the community is so organized that it can effectively relieve the individual of the duty of putting down violence. So it is with nations. Each nation must keep well prepared to defend itself until the establishment of some form of international police power, competent and willing to prevent violence as between nations. As things are now, such power to command peace throughout the world could best be assured by some combination between those great nations which sincerely desire peace and have no thought themselves of committing aggressions.
And so it is today; sometimes those combinations act through international institutions like the UN, sometimes they don't - and the day is not on the horizon when we could trust such institutions with police powers of their own. Those of us who love peace, therefore, must continue to heed Roosevelt's caution at how it is maintained.
Read More »
December 2, 2009
WAR: Rumsfeld to Obama: What Troop Requests?
One line in President Obama's orgy of blame-Bush-for-everything speech last night has prompted former Defense Secretary Don Rumsfeld, who managed the Afghan war for five years, to call for the President to back up his assertions. Secretary Rumsfeld's statement, issued in a press release this morning, called for an investigation of a certain 21 words in Obama's speech:
"In his speech to the nation last night, President Obama claimed that 'Commanders in Afghanistan repeatedly asked for support to deal with the reemergence of the Taliban, but these reinforcements did not arrive.' Such a bald misstatement, at least as it pertains to the period I served as Secretary of Defense, deserves a response."

"I am not aware of a single request of that nature between 2001 and 2006. If any such requests occurred, 'repeated' or not, the White House should promptly make them public. The President's assertion does a disservice to the truth and, in particular, to the thousands of men and women in uniform who have fought, served and sacrificed in Afghanistan."

"In the interest of better understanding the President's announcement last night, I suggest that the Congress review the President's assertion in the forthcoming debate and determine exactly what requests were made, who made them, and where and why in the chain of command they were denied."
The Administration responded by backing away:
Robert Gibbs cheerfully responded to Donald Rumsfeld's denial that he'd denied troops to Afghanistan with, first, a clarification that Obama had been talking about the post-Rumsfeld era of 2008.

..."I will let Secretary Rumsfeld explain" whether the war in Afghanistan "was sufficiently resourced during his tenure" ... and how he thinks "history will judge whether they were or were not sufficient," Gibbs said.

Gibbs quipped: "You go to war with the secretary of Defense that you have."
Or, in the case of the Obama Administration, you go to war with the very same secretary of Defense - Robert Gates, the man who held the job in 2008 - that you just threw under the Obamabus. If you recall, Gates himself had testified in November 2008 (after the election) that he expected an additional 30,000 troops to be sent, but the incoming Administration put off its follow-through on that promise until March, and cut Gates' proposal nearly in half.
21 words don't say what they used to, do they?
Gibbs' back-and-forth with Jake Tapper below the fold.
Read More »
November 25, 2009
WAR: Passage To Asia
Christopher Badeaux at the New Ledger looks at Obama's trip to Asia and what it says about the goals, if any, of his foreign policy.
November 24, 2009
WAR/LAW: Ignorance of History
Ed Morrissey has some fun with an article contending that if trials were good enough for the Nazis, they should be good enough for Al Qaeda - but completely ignoring the fact that the Nuremberg trials were military commissions without the full panoply of criminal procedures available today in federal court.
November 23, 2009
WAR/LAW: Everyone Is A Critic
Want an illustration of problems faced by putting terrorists on trial that don't arise in military commissions or in ordinary criminal prosecutions? Try this:
A legal team is going to New York to prevent the use of evidence provided by Germany in seeking a death penalty. Berlin wants to ensure that promises made by the US are kept if the suspects are found guilty.

A team of observers from the German government is going to New York to oversee the trial of five suspects accused of orchestrating the September 11 terrorist attacks in the United States, the news magazine Der Spiegel reported on Saturday.

The federal trial of the suspect Khalid Sheikh Mohammed and his four co-defendants was announced on November 13 by the US Justice Department. The government also asserted that it intends to seek the death penalty if the accused are found guilty.

Germany, which does not have a death penalty, provided evidence for the trial on the condition that it could not be used to support a death sentence. Several members of the al Qaeda cell that planned and executed the attacks of September 11 were previously based in the northern German city of Hamburg.

"In this case we will observe very closely that the given assurances are kept," Justice Minister Sabine Leutheusser-Schnarrenberger said.
Now, we can certainly tell the Germans to mind their own damn business, but since the entire point of this exercise is good PR with the "international community," that's not going to advance the purpose of the trial.
November 20, 2009
BLOG: Quick Links 11/20/09
*Lots of interesting stuff out there on Sarah Palin and her book tour. the Daily Beast looks at how Palin's book and tour are a one-woman economic stimulus package. Obama's organization wants a part of that action too: Organizing for America says Palin's book tour is "dangerous," so please give them $5. As liberal writer Ezra Klein notes of the Palin coverage:
Liberal sites need traffic just like conservative sites, and the mainstream media needs traffic more than both. And Palin draws traffic. This is actually pretty good revenge for a politician who hates the media. The press had a good time showing Palin to be a superficial creature who relied more on style than on substance, and in getting the media to drop everything and focus on her book tour, she's proving that they're much the same.
Amazingly, two positive Palin pieces at Salon, and neither of them written by Camille Paglia: a favorable review of her book and a look at what she means and why she's not going away as a public figure.
And witness the McCain campaign's crack rapid-response team in action: more than a year after the election, the NY Times finally gets to talk to the stylist who bought the Palin family's clothes, and admits that Palin had nothing to do with the money that was spent.
*Mitt Romney takes apart how Obama's inexperience has led to his failure to set clear priorities and resulting lack of focus on the war and the economy while he pursues as-yet-unfinished health care and cap and trade bills and failed efforts to salvage the campaigns of Jon Corzine and Creigh Deeds. It's a mark of how inexperienced and incompetent Obama is that he can be lectured credibly on these points by a 1-term governor like Romney and a half-term governor like Palin. Michael Gerson looks in more detail at the mess that is Obama's decision-making process in Afghanistan.
*Another glorious victory for the stimulus:
The Southwest Georgia Community Action Council, after receiving about $1.3 million in funding from The American Recovery and Reinvestment Act, reported creating or saving 935 jobs in their Head Start preschool program that only employs 508 people.
*Byron York looks at why Eric Holder is refusing to disclose how many Justice Department lawyers have previously represented the other side in the war.
*Patterico, as usual, is a man not to tangle with, and he remorselessly dismantles an LA Times columnist over the latest Breitbart ACORN videos. It's a facepalm with egg and crow!
*Jonathan Karl notices a $100 million payoff to Louisiana in the Senate healthcare bill to buy Mary Landrieu's vote. John Conyers, in griping about Obama's posture on the House bill, speaks about "the Barack Obama that I first met, who was an ardent single-payer enthusiast himself."
*Michael Rosen looks at Al Franken's so-called "anti-rape" bill that would preclude arbitration of sexual harrassment and various negligence-based employment claims. As Rosen notes, given that the law already bars arbitration of claims arising from rape, whereas the things it would actually change are much less dramatic, it is flatly false to describe opposition to the bill as being "pro-rape" - but then, that's pretty much Franken's M.O.
November 19, 2009
WAR: Dear Fred Thompson: Let's Not Do This Again
I have a lot of respect for Fred Thompson, and in this particular case I think his point is precisely correct on the merits, but there are just some things that opponents of the President shouldn't say during wartime, and maybe it's just bad phrasing or just being provocative, but this is one of them:
Read More »
WAR/LAW: Gee, I Had Not Thought of That
Lindsey Graham exposes the extent to which Attorney General Holder simply doesn't have a well-thought-out plan for how to handle interrogations of captured enemy combatants in a way that makes a rational distinction between those who should be given Miranda and other warnings in preparation for civilian prosecution, and those who should not. It's impossible for anybody involved in battlefield detentions to watch this video and come away with any sort of guidance from the nation's chief law enforcement officer. As a number of people have pointed out, whatever this is, it isn't the rule of law.
UPDATE: And Leahy doesn't even think there's any value in interrogating bin Laden.
November 18, 2009
BLOG: Big Media, and Hegemon
The second of my posts to get picked up at CBS News is up, this one the item on the polls on the terror trials.
Also, we're ramping up a new foreign policy blog, "Hegemon," over at the New Ledger. Not much content yet, but my first post is up, on whether it matters if the President has friends among foreign leaders or not.
November 17, 2009
WAR: The Governor Dissents
Add New York Governor David Paterson - surely, no right-winger - to the list of critics of trying Khalid Sheikh Muhammad in Manhattan, and he adds an additional concern, that the expense and additional security will interfere with the endlessly-delayed plans to rebuild on the Ground Zero site:
"This is not a decision that I would have made. I think terrorism isn't just attack, it's anxiety and I think you feel the anxiety and frustration of New Yorkers who took the bullet for the rest of the country," he said.

Paterson's comments break with Democrats, who generally support the President's decision.

"Our country was attacked on its own soil on September 11, 2001 and New York was very much the epicenter of that attack. Over 2,700 lives were lost," he said. "It's very painful. We're still having trouble getting over it. We still have been unable to rebuild that site and having those terrorists so close to the attack is gonna be an encumbrance on all New Yorkers."
H/T James Taranto, who wonders why we're just hearing all this now if the White House warned Paterson six months ago.
WAR/LAW/POLITICS: The Public's Not Buying The Trial
Here in New York, the Obama Administration's decision to try Khalid Sheikh Mohammed and other Al Qaeda terrorists in the civilian justice system in downtown Manhattan has garnered plenty of well-earned criticism, including from New York's leading anti-terrorism experts like Rudy Giuliani, Michael Mukasey (who handled the blind sheikh trial as a district judge before becoming President Bush's third Attorney General) and Andrew McCarthy (who was one of the prosecutors), and Long Island Congressman Peter King. And not just from the Right; even arch-liberals like Daily News sportswriter Mike Lupica have weighed in against the decision. Now the people are being heard from, and while the polls as usual show some diversity of opinion, the public is deeply skeptical of this enterprise even before it gets underway, let alone after what promises to be many months of grandstanding by the terrorists, gridlock in lower Manhattan, possible setbacks in the prosecution and the hemmhoraging of scarce resources on the trial(s) (as my retired-NYPD dad put it: "there's going to be plenty of overtime for the cops.").
The critics' bases for opposing a trial are numerous, and several of them are reviewed by Erick here. And the polls now show those criticisms are shared by a majority of the nation's voters and a significant minority even in liberal New York City, with the rest uncertain.
To quickly summarize the case against the trials:
Read More »
November 13, 2009
WAR: The Khalid Sheikh Mohammed Lower Manhattan Reunion Tour
Pardon me if I am seeing red this morning:
Khalid Sheikh Mohammed, alleged mastermind of the Sept. 11, 2001, terrorist attacks, and four others accused in the attacks will be put on criminal trial in New York, Attorney General Eric Holder is expected to announce later Friday.
WHAT IN THE HELL IS WRONG WITH THESE PEOPLE?
So, Barack Obama will be staging his own New York production of Chicago, with Khalid Sheikh Mohammed as Roxy Hart ("You had it coming, you had it coming, you only have yourselves to blame...." ). We will be treated to months upon months of front page headlines giving a platform to this lunatic war criminal. The courthouses and City office buildings in lower Manhattan (City Hall, the state courts, the immigration offices, the Court of International Trade, the US Attorney's Office, the DA's office, and the main city office building that does marriage licenses and the like are all within about a two-block radius of the federal courthouses and the Metropolitan Correctional Center) will be snarled with massive security, as if lower Manhattan needs more traffic and more armed men. We'll have to have pretrial hearings on the inevitable countless motions about how KSM was apprehended and the evidence against him collected, undoubtedly to the detriment of vital sources of intelligence, like when we lost the ability to track Osama bin Laden by cellphone after our tracing of his calls was revealed by a prosecution under the DOJ Criminal Division then headed by...Eric Holder. And that's even before he starts in on the sob stories about being waterboarded. I'm not seriously concerned that KSM stands any chance of being acquitted, but a hung jury? It only takes one person with extreme political or religious views, one juror who just can't abide the death penalty (even assuming Obama's DOJ pursues it). Just imagine the controversy, if there are Muslims in the jury pool, over what questions prosecutors are permitted to ask them and whether they can be challenged. And of course, it sends the message to our enemies that there's nothing you can do to us that will get you sent through a process rougher than the one we used on Michael Vick or Martha Stewart.
I know I have spoken and written many rough things about Obama, but as Michael Moore would say, most New Yorkers voted for the man - why is he doing this to us?
It's impossible, really, to caricature this White House; even Josiah Bartlett didn't run through this many liberal stereotypes in his first season. Obama needs new writers. Blow up the World Trade Center and kill 3,000 Americans? Jail! Don't buy health insurance? Jail! Win the Nobel Prize for doing jack squat. Travel to Copenhagen to beg and grovel unsuccessfully for the Olympics, and pledge to go visit Hiroshima and Nagasaki, but blow off traveling to Berlin to commemorate the victory of freedom over Communism (then give a tepid speech on the subject that refuses to acknowledge Ronald Reagan). Commemorate the 70th anniversary of the Soviet invasion of Poland by unilaterally abandoning missile defense installations in Poland. Insult and disdain one faithful ally after another - Britain, India, Israel, Poland, Colombia, you name it - and cozy up to our enemies, with nothing to show for it - nothing to show for anything he's done in foreign affairs. All but ignore democratic protests in Iran while supporting an illegal effort by Honduras' president to stay on beyond the end of his term. Suddenly complain about corruption and electoral fraud in Afghanistan, while seeking the favor of Hugo Chavez and Mahmoud Ahmadenijad and Vladimir Putin - heck, Obama endorsed half a dozen people in Chicago more corrupt than Hamid Karzai. On and on and on we go, with President Apology constantly straining to run down his country's record and talk up the propagandized view of history of its enemies. He's taken more time to "evaluate" General McChrystal's recommendations about Afghan policy than it took George W. Bush to invade Afghanistan and capture Kabul after September 11. It would be funny if it wasn't tragically stupid and bound to get people killed. There is no mistake of our past that Obama is unwilling to remake.
If there's an upside to all this, after months of watching KSM up close, even liberal New Yorkers may be ready to give Dick Cheney a medal.
November 10, 2009
WAR: Don't Ask
Ace looks at one of the obvious lessons from the Fort Hood massacre. Now, there are inevitably a few people calling for a blanket ban on Muslims in the military (indeed, Dr. Hasan was one of them), and for a variety of reasons that should be obvious, that's going too far. The harder question is, should the military be acting more aggressively to root out servicemembers with jihadist sympathies before this sort of thing recurs, and what steps it should be taking to conduct such investigations.
But the easy question is what should be done when the evidence is open and obvious that a member of the military sympathizes with the nation's sworn enemies rather than his own country. That's exactly what was present here, and a climate of politically correct fear seems to have inhibited anybody from doing anything about it.
November 6, 2009
WAR: There Is A History Here
Streiff has a must-read post putting the Fort Hood shootings in their historical context within the U.S. military: "[w]hat has happened in the past 6 years is that assurance that the men in uniform were if not loyal Americans at least loyal to their comrades has been shattered."
WAR: A Man of Indeterminate Religion
I'll hopefully have more at another juncture on the Fort Hood shootings and what they do and don't mean. But for now, it's enough to observe some of the more absurd examples of media efforts to avoid discussing not only the shooter's Muslim religion but - of greater significance when the two are taken together - the extensive record of red flags regarding his jihadist and anti-American, anti-US military sympathies. David Forsmark looks at the typically ludicrous coverage ladled out by Keith Olbermann and others at MSNBC, while Patterico catches the LA Times trying to conceal its initial effort at hiding the facts from its readers.
Meanwhile, via Allahpundit, note efforts like this one from BradBlog, and this segment on the Rachel Maddow show, to blame conservatives for a death of a federal worker in Kentucky that authorities now believe was a suicide. Note how Maddow, despite obviously not having all the facts, immediately speculated that this was "a crime related to anti-government sentiment" and trying to draw inferences from the federal government's behavior to support that argument.
November 5, 2009
WAR/POLITICS: Absurdity
I'm so accustomed to interviews with German magazine Der Spiegel producing anti-American quotes from American politicians and entertainers that it's a breath of fresh air to read this marvelous interview with Charles Krauthammer, especially at the obviously staggered reaction of the interviewer. The parts dealing with Obama's foreign policy are the best parts of the interview.
I'm not sure, however, I quite agree with this:
The analogy I give is that in America we play the game between the 40-yard lines, in Europe you go all the way from goal line to goal line. You have communist parties, you have fascist parties, we don't have that, we have very centrist parties.
That's true to some extent, especially as far as comparing the governing center of each of the two U.S. parties to the overall European landscape. But the governing coalitions in European politics differ far less from each other than the Democrats and the Republicans do. Margaret Thatcher notwithstanding, Reaganite conservatives are a rarity in Europe, where the conservatives are largely socialist and the fascists are (as fascists generally are) even more socialist. That remains true even today, as the prevailing trend in many European countries is to the right of the current leadership in the U.S.
I love that Krauthammer mentions perhaps my favorite elected Republican, Paul Ryan, as a presidential candidate, but realistically Ryan's still young, and if it's ever possible to win the White House from Congress (Obama proved that perhaps the only way a Senator gets elected is by running against another Senator who's been in the Senate longer), 2012 doesn't look like that year.
Also, Krauthammer's analogy of Bush to Truman, while by no means original, is better-argued than I've generally seen it:
I think Bush actually handled the Iraq War better than Truman handled the Korean War. For one thing, the number of losses is about one-tenth. Secondly, he made the right decision with the surge. Thirdly, if Iraq turns out well, meaning becomes a country fairly self-sufficient and fairly friendly to the West, it will have a more important effect on the West than having a non-communist South Korea. The Middle East is strategically a far more important region.

Bush's worst mistake was the conduct of the Iraq war in the middle years -- 2004-2006 -- and the attempt to win on the cheap, with a light footprint.

On the other hand, I think he did exactly the right thing after 9/11. Look at the Patriot Act, which revolutionized how we deal with domestic terrorism, passed within six weeks of 9/11 in the fury of the moment. Testimony to how well Bush got it right is that Democrats, who now control Congress and had been highly critical of it, are now after eight years reauthorizing it with almost no significant changes.

Afghanistan is more problematic. Our success in overthrowing the Taliban in 100 days was remarkable. It's one of the great military achievements of all time. On the other hand, holding Afghanistan is a lot harder than taking it, and to this day we are not sure how to do it. But the initial success in 2001-2002 did decimate and scatter al-Qaida. It is no accident that we have not suffered a second attack -- something no one who lived in Washington on Sept. 11 thought possible.

I'm sure he will be rehabilitated in the long term.

Clare Booth Luce once said that every president is remembered for one thing, and that's what Bush will be remembered for. He kept us safe.
November 3, 2009
POLITICS: Jim Moran and the "Taliban"
Arlington/Alexandria Democrat Jim Moran is always a reliable source of lunacy and foolishness; examples include blaming the Iraq War on Jews (Moran has an exhaustive rap sheet of anti-Semitism) and pushing to get Guantanamo detainees tried in his district over the objections of local Democrats.
Monday, at a Creigh Deeds rally, Moran was on hand to prove that there is no cause so lost that he won't contribute some crazy to it:
U.S. Rep. James P. Moran Jr. (D-Va.) likened the Republican ticket in Virginia this year to Afghanistan's radical Taliban movement in comments broadcast Sunday by WAMU radio.

At a get-out-the-vote rally in Fairfax County, Moran said: "I mean, if the Republicans were running in Afghanistan, they'd be running on the Taliban ticket as far as I can see."
Of course, when it comes to fighting the actual Taliban, Moran's position is a lot more, er, nuanced; it turns out that his view of the US military's presence in Afghanistan is closer to the Taliban's than to the GOP's:
Jim Moran, a Democratic member of the US congress, said "the majority of Democrats will continue to support President Obama, but that's not to say we're going to continue on the course in which we're going".

"Right now we need a better strategy ... It is clear that Afghanistan does not lend itself to a military victory, it's about economic development, it's about building civil society. The military presence clearly is a problem in itself," he said.

Still, he added that while Pelosi was right in saying there was "no appetite" for sending more US troops to Afghanistan, "there's no appetite for taking cod liver oil but sometimes you have a situation where you just have to grimace and swallow it".
When Bob McDonnell starts blasting the perfidious influence of the Jews, bemoaning the U.S. overthrow of Saddam and complaining that the US military presence in Afghanistan is a "problem," maybe it will be time to consider comparing him to the Taliban. In the meantime, maybe Jim Moran should stick to pushing around women and children and leave the Taliban-hunting business to people who are serious about it.
October 13, 2009
WAR: The Taliban Deal-Breaker
The major decision the Obama Administration continues to procrastinate is whether to continue the war against the Taliban in Afghanistan. Victory in Afghanistan was, as you will recall, one of Obama's main campaign themes - one he used to convince people that he wasn't the dyed-in-the-tie-dyes peacenik his left-wing record, background and positions on other issues suggested. Under President Bush, America's war aims in Afghanistan were fairly straightforward:
1. Drive the Taliban from power.
2. Destroy Al Qaeda's training and operations bases in the country, while killing or capturing as many of their personnel as possible.
3. Replace the Taliban with a government that was less repressive, viewed as legitimate by the Afghan people, and would not cooperate with Al Qaeda - a step that inherently involved preventing the revival of the Taliban itself, given its Islamist ideology and thorough integration with Al Qaeda.
Step One was accomplished swiftly in the fall of 2001, and Step Two proceeded apace at the same time; Al Qaeda's leadership was never wholly destroyed (its very top men appear to have fled to the Waziristan region of Pakistan), nor completely routed from the country, but its bases were destroyed and its ability to project power from Afghanistan to outside countries was essentially crippled.
Step Three was always the diciest as a long-term proposition; as I wrote in early 2003:
Long-term, we would like to establish a secure government in Afghanistan that will consolidate the victory over theocracy and prevent re-establishment of havens for terror. But if we fail in that aim, as we still may, the war will no more be a failure than it is a failure to weed your garden in spring and, the following year, discover new weeds.
We were never going to create an ideal liberal democracy in Afghanistan, given its combination of (among other things) tribal warlord culture, illiteracy and poverty, but without going into the whole 8-year blow-by-blow, the Karzai government has by and large held together in one form or another for 8 years as a mostly-willing ally against Al Qaeda and the Taliban. Recently, however, especially since Al Qaeda's activities in Iraq have been winding down, the Taliban has been gaining more of a foothold, requiring the U.S. to face a choice: step up its own presence, or stand down and allow the Taliban to take its best shot at regaining power.
Now, Obama is putting up trial balloons about giving up on the whole project and accepting the Taliban returning to power as a fait accompli before it has even become one (passively allowing conditions on the ground to worsen and then accept the results as inevitable is Obama's go-to foreign policy move). But Allahpundit asks one crucial question we need to put to the Taliban to test whether or not it's completely insane to do this:
Ask them to tell us where Osama, Zawahiri, Abu Yahya al-Libi, and the rest of the gang are hiding; if Omar and the Quetta Shura don't have that information instantly available, they should be able to get it pretty quickly. Then they pass it to the Pakistanis and the Pakistanis pass it to us and the rest is left to the generals and drone operators....And if the Taliban refuses his demand, whether for reasons of jihadist loyalty or Pashtun hospitality, then there's your proof that they can never, ever be trusted not to host AQ if we leave them alone in Afghanistan.
We know the answer to that, and presumably so does President Obama. Bill Roggio explains at length why this would never happen, detailing the loyalties and operational integration of Al Qaeda with the Taliban and noting the obvious fact that a U.S. bent on leaving Afghanistan has a lot less leverage than one bent on entering it:
Mullah Omar would not agree to turn over bin Laden [in September 2001] when he was faced with the prospect of imminent annihilation. Surely Omar will not part ways with the terror master now that his prospects for success are greater than they have been in years.
Now, I'm not 100% opposed in theory to allowing bad actors to become parts of the political process if necessary to end a civil war, for example. But this is not a civil war, as Roggio details (really, you need to read his whole strategic overview). It is - and here is the fundamental way in which Right and Left disagree on this - a zero-sum ideological battle in which a U.S. defeat at the hands of Islamist tyrants cannot possibly be viewed as anything but a catastrophic setback. And acceptance of a resurgent Taliban after 8 years of making war to prevent just that would be understood universally as a defeat. Roggio details how Al Qaeda, as it did in Iraq, plays the sort of role in the Afghan war that the Soviet Union did in Vietnam, treating the locals as its proxies in an effort to demonstrate the superiority of its ideological model over that of the U.S., while providing logistical and other support. Any political accomodation that gives state power to an ongoing Al Qaeda proxy and ideological soulmate is a direct threat to U.S. national security, and needs to be treated as such.
The Left, having largely abandoned its long-held pretense of supporting the war against the Taliban, is busy conjuring up excuses for why victory can't be an option. Some of these are longstanding (Afghanistan is poor and mountainous and disorganized), some more recently stressed (the Karzai government is corrupt, the recent election tainted by fraud - two interesting choices of criticism from supporters of a Chicago machine Democrat to run our own government), but if those weren't the excuses, there would be others. There are always others. The Left palpably ached for another Vietnam in Iraq, and despite a long, bloody and bitter war at great domestic political cost to the Right, in the end it didn't get one - instead of a repeat of the fall of Saigon at the hands of the jihad, an elected and relatively pro-American government still stands in Baghdad, and in one form or another looks likely to endure, even if its form and posture may change as the years go by. The same script is being rolled out in Afghanistan; it will be up to this White House to resist it even as it comes from Obama's own ideological soulmates.
Afghanistan is not Obama's war; it is America's, and those of us on the Right want it to succeed and will, by and large, support its aggressive prosecution under a Democratic president. But the corollary is that just as it's not his war alone to support, it's not his alone to abandon. Obama promised to see this fight through to the end. The Taliban won't do the things they'd need to do to switch sides; they remain committed to defeating us, and only America can stop them. Will Obama keep his promise? Or will he back down from Al Qaeda's unrepentant ally and protector, and treat them as just more guys from the neighborhood?
October 9, 2009
WAR: Because Kellogg and Briand Were Not Available
Today's announcement that Barack Obama was awarded the Nobel Peace Prize - having been nominated a grand total of 12 days into his presidency - officially places Obama and the Nobel Committee alike beyond parody. There's no stereotype of liberals they won't embody. Could you possibly come up with a storyline that more perfectly captures the whole idea of Obama - all talk and promises and of course self-congratulation, and nothing to show for it? At least they haven't (yet) renamed the prize after him, but I assume that future winners will be given a framed commemorative picture on black velvet of a shirtless Obama astride a unicorn. This is the most self-evidently ridiculous award since Rafael Palmeiro winning Gold Glove for season when he played only 28 games in the field. The ESPYs are now a more prestigious award than the Nobel Peace Prize.
I can't top Benjamin Kerstein's thoroughgoing vivisection of what this all says about Obama, but let me add a few thoughts of my own.
First, the contrast to last week's Olympic snub is telling. The Olympics would be something of concrete value to the country - small, localized, and dubious value, but at least Obama could have claimed to have brought home the bacon for someone other than himself. That, he couldn't do. But a cash prize payable personally to Obama, and a bunch of gassy generalities about "hope"? Sure thing! Even the international organizations seem to have figured out what Obama deserves and how to placate him when he gets nothing for his country.
Second, accepting the Nobel Peace Prize in his first year in office, like promising to roll back the seas, pledging a net reduction in federal spending, promising no tax hikes for 95% of the American public, and circulating those infamous graphs showing the unemployment rate if the stimulus package was passed (hint: it's much higher now than Obama's people said it would be without the stimulus) sets an awfully high bar that Obama is bound to regret setting, for he will inevitably and certainly fall short of it.
Third, even on the Left's own terms, it's hard to see what exactly Obama has produced. The war in Iraq has been winding down since before he was elected, but it's not over. The war in Afghanistan has gotten worse, and the U.S. presence there has escalated. Obama might decide to turn tail anyday now - earlier this week he gave a speech on terrorism that referenced Al Qaeda and multiple locations around the world but pointedly omitted mention of the Taliban or Afghanistan - but as of today, the anti-war movement has zilch to show there either. He hasn't brought an end to rendition, electronic surveillance or indefinite detention, or closed Guantanamo - simply making our policies in those areas more opaque and less effective doesn't count. He hasn't produced anything concrete on "climate change." The only concessions he's won have been from the United States, such as dropping missile defense in Eastern Europe in exchange for an unspecified "hey buddy, I owe you one" from Vladimir Putin. Even the statements of the Nobel Committee were basically an affirmation that he was being given it as a form of social promotion: we hope if we give you the prize, it'll encourage you to get more done.
Unsurprisingly, the most sycophantic reaction comes from Andrew Sullivan. Even Sullivan has to admit the award is "premature," but then goes on to gush that "this is thoroughly deserved" and
Americans ... haven't fully absorbed the turn-around in the world's view of America that Obama and the American people have accomplished.
As usual with such statements, Sullivan bypasses evidence and declines to specify who he means by "the world" - Putin? Hugo Chavez? Al Qaeda? The man on the street in Beijing, who has no political voice? - or what sort of results one would expect to see, if in fact "the world" was more favorably disposed towards the United States. Sullivan then ejaculates:
I hope more see both the peaceful intentions and the steely resolve of this man to persevere.
I'm at a loss to think of even a fictional, hypothetical example of Obama displaying "steely resolve," but whatever gets you through the night, I guess.
This president has done a huge amount to bring race relations in this country to a different place...[the "far right"] know he threatens their politics of division and rule.
Leaving aside what any of that has to do with world peace (Bishop Tutu, he's not), what place would that be? Henry Louis Gates certainly didn't seem to think so. I doubt very much that we're going to see anybody arguing from the Left that any issue of race relations has improved sufficiently under Obama so as to justify an end to race-conscious government policies or policies premised upon arguments about racial inequality. I can predict with 100% confidence that the Left will continue to spend far more time talking about race throughout Obama's presidency than the Right. All that has changed is the benefit to Obama himself of Obama getting elected.
He has also directly addressed the Muslim world, telling some hard truths, and played a small role in evoking a similar movement of hope and change in Iran, and finally told the Israelis to stop cutting their nose off to spite their face.
One could spend weeks unpacking the untruths in this single sentence, a masterpiece of dishonesty and self-deception for which I can only tip my cap to Sullivan. The Cairo speech was, as I have previously discussed, full of at best half-truths and appalling moral equivalencies, Obama's response on Iran was far later and more muted than similar statements on Iranian liberty by his predecessor (and the Iran crisis undercut the whole point of his Cairo speech)...but yes, I'll give him "credit" for disagreeing with the Israeli people and their elected leaders as to matters of Israeli national security. Everybody loves to have Obama lecture them on how he knows best. Oh, and I guess the Israelis aren't part of "the world."
[W]e were facing a spiral of conflict that, unchecked, could have taken the world to the abyss. I see this prize as an endorsement of his extraordinary reorientation of world politics, and as an encouragement to see it through....[T]his is an attempt to tell us: look up for a moment, see how far we've come in pivoting away from global conflict, and give this man a break for his efforts and the massive burden he now bears.

And, in the darkness that still threatens, know hope.
This is hyperbole not on stilts but aloft in a zeppelin, and one can only extend best wishes that Sullivan survives the altitude. And as usual with Obama, it measures his accomplishments entirely by positing an unknowable "but for" world of unimaginable horror, then simply assuming that everything that didn't happen is a positive accomplishment. He's being lauded here for peace "created or saved," the alternative to which is unprovable - the very definition of a faith-based standard of accomplishment. And even on these grounds, Sullivan can't begin to specify what concrete thing Obama has done or will do, since that would open him to having to move his goalposts when reality intrudes in his castles in the air.
Today, we saw the real fruition of Barack Obama's international ambitions. He delivered the one thing he's really good at: accolades and money for Barack Obama.
October 2, 2009
POLITICS: Nolympics
So, as you've probably seen, Chicago was eliminated in the first round of bidding for the 2016 Summer Olympics, despite (I assume despite) President Obama's personal lobbying for the Games.
Now, as a New Yorker, I really would not want the Olympics anywhere near my city, and the Olympics don't exactly have a grand history of making money for the host city (ask Montreal) or necessarily good press (ask Munich), but I take at face value for the moment that Chicagoans really wanted this one and felt it would be good for the city. Certainly great effort and expense was put into the bid, and many hopes seemed to be riding on it.
I'd questioned Obama's priorities in making the trip, but now he has a much bigger problem. It's one thing for the President to make a phone call or two to lend a subtle hand to this sort of effort; that would have been fine with me. But by the President and First Lady both making personal appearances and elevating this to the top news story of the day and a test of personal and national prestige, Obama stood a significant chance of being humiliated, and doing so for what is hard to describe as a critical national interest. Most of us on the Right assumed, whatever we thought of the trip, that Obama would never be fool enough to make it if he didn't already have deals done to get this in the bag for Chicago. Apparently, we overestimated him.
This is why you don't publicly stake your prestige on something that's not (1) hugely important (2) a done deal or (3) ideally, both. All presidents suffer defeats and embarrassments, but you generally don't walk right into one on an issue of purely local importance to your home city. Obama's and the nation's standing in the world can't help but be chipped away by this; the next time he goes jetting off to a summit or some other international event, people won't be so quick to assume that he has all figured out in advance how he's going to get what he wants. That aura, that mystique is a thing of value that the President is supposed to husband carefully for when the nation really needs it. Bush was impotent by the end of his presidency because he'd burned that up, but he had it for the better part of five years. Obama's losing it already.
What a waste.
October 1, 2009
WAR: You, Sir, Are No Gordon Brown
Noted right-winger David Corn, on the White House's refusal to match the British commitment on Afghanistan:
It was a simple query: Would Obama also say that the United States will hang tough until the job is done? The press secretary, though, fended it off. And later in the briefing, he commented, "We cannot stay there forever." That is not the Rasmussen position. That means the leaders of the two key forces in Afghanistan cannot agree on their respective dedication to the mission.
Read the whole thing.
September 30, 2009
WAR: Do You Know Me?
See, the problem with President Obama doing things like jetting off to Copenhagen to lobby for the Olympics - besides the fact that it's kind of degrading for the President to wade personally into that sort of thing - is the things he isn't doing. Now, I don't think the president has to personally do everything; a major part of the job is making decisions and delegating their implementation. Bill Clinton once remarked that the worst mistakes he made as president were all when he was tired. I prefer a president who gets a good night's sleep, gets some exercise and takes vacations to clear his head, etc; it's more important for the head of state to have good judgment and perspective than to be showy about being a workaholic.
But some parts of the job you shouldn't blow off, especially when they involve making the most serious sorts of decisions, and when you then end up procrastinating those decisions on the grounds that you need more time to figure out what to do, as witness this NY Times report about him finally preparing for a videoconference with our commander in Afghanistan today:
General McChrystal has not spoken with Mr. Obama since submitting his grim assessment of the war a month ago and has spoken with him only once in the 100 days since he took command of all American and NATO forces in Afghanistan. The lack of direct communication has generated criticism and fueled suspicions of strains between the White House and Kabul.

Mr. Obama's predecessor, George W. Bush, made a point of speaking with his Iraq commander roughly once a week at the height of the war there, a habit that forged a close working relationship between them even if it effectively bypassed the normal chain of command. Mr. Obama's aides said he relied on General McChrystal's advice but did not feel the need to duplicate Mr. Bush's personal engagement with battlefield generals.
Note the distinction here between the actual George W. Bush and the disengaged Bush of myth, who was supposedly uninterested in listening to his commanders in the field. But that's neither here nor there. The point is, while Obama certainly gets briefings from his senior national security people and written reports from the field, there's still a lot to be said for regular communication with the man on the ground, if you think an active war is a priority. Gordon Brown, no right-winger by any standard, doesn't sound like he's as flummoxed as Obama:
When asked on Sky News if he was prepared to commit more British troops, Brown said "we will do whatever is necessary."
Obama's delay in making up his mind about McChrystal's recommendations is a direct consequence of not keeping his finger more firmly on the pulse of the situation. Somehow, there is time for the head of the SEIU to visit the White House weekly, apparently including regular face time with the President, but not for the head of the military operation in Afghanistan. A curious set of priorities indeed.
September 28, 2009
WAR: Not Now
Benjamin Kerstein explains why the internal politics of the Netanyahu government make it unlikely that Israel will launch a strike on Iran's nuclear program while the issue is in the news.
There are not a lot of good options for dealing with the Iranian nuclear program, and haven't been for the past decade. I still believe that the real weapon of mass destruction in Iran, as in Syria, North Korea and Saddam-era Iraq, is the tyranny itself and not the tools it possesses. That said, short of an invasion - which remains a bad option for reasons I've discussed before - regime change in Iran is likely to take time, and Israel in particular may not have that luxury, which is why at a minimum it makes sense for the Irsaelis to take the military-strike option very seriously.
September 25, 2009
WAR: Scrubbed
Goldfarb looks further at what the Administration has been telling the generals about troop requests in Afghanistan. Nothing terribly dramatic here, but it pieces together with everything else we've been seeing lately about the mounting tension between the military commanders and the Administration.
September 24, 2009
WAR: Engaging in Afghanistan
Ralph Peters looks at the rules of engagement in Afghanistan and blasts the military leadership for accepting/promulgating them. Also via Uncle Jimbo at Ace, who notes that Peters is characteristically somewhat overwrought here, but worth the read nonetheless.
WAR: The Bad Ally
The UK media is about out of patience with President Obama's evident distaste for the British:
[T]he Prime Minister was forced to dash through the kitchens of the UN in New York to secure a few minutes "face time" with President Obama after five requests for a sit-down meeting were rejected by the White House.

What are we to make of this? This country has proved, through the bravery of men like Acting Sgt Lockett, America's staunchest ally in Afghanistan. In return, the American President treats the British Prime Minister with casual contempt. The President's graceless behaviour is unforgivable. As most members of the Cabinet would confirm, it's not a barrel of laughs having to sit down for a chat with Gordon Brown. But that's not the point. Mr Obama owes this country a great deal for its unflinching commitment to the American-led war in Afghanistan but seems incapable of acknowledging the fact. You might have thought that after the shambles of Mr Brown's first visit to the Obama White House - when there was no joint press conference and the President's "gift" to the Prime Minister was a boxed DVD set - lessons would have been learned. Apparently not. Admittedly, part of the problem was Downing Street's over-anxiety to secure a face-to-face meeting for domestic political purposes but the White House should still have been more obliging. Mr Obama's churlishness is fresh evidence that the US/UK special relationship is a one-way street.
Of course, neither Brown nor Tony Blair had this sort of problem prior to January 20. Maybe we should look into why our bilateral diplomacy was run so much better before that date.
September 23, 2009
WAR: Closing Ranks
Looks like the military leadership is unanimous - General Petraeus and Joint Chiefs Chairman Admiral Mullen have both backed Gen. McChrystal's recommendation for more troops in Afghanistan.
WAR: Standing Down
Following up on yesterday's item, it looks like both sides have now stood down in the showdown between Gen. McChrystal, the NATO commander in Afghanistan, and the Obama Administration: McChrystal is no longer threatening to resign, and will be permitted to submit his request for additional troops by the end of the week. The White House had been put in an impossible position on this: the whole point of telling him not to make the request was so they could claim it had never been denied, but once the publicity blew up over McChrystal's threat, there was no longer any purpose served by refusing to let him make the request. Which now means that if the White House wants to overrule the military command, it has to do so expressly.
UPDATE: Note also that the report says that McChrystal will explain his reasoning to Congress. Which will put the screws to the Administration to say no. It's always been very rough sledding to argue against a uniformed officer testifying on the Hill.
Meanwhile, Bill Roggio looks at the renewed Pakistani offensive in Waziristan. As usual my expectations for the Pakistani military are pretty low, but it's better than nothing.
September 22, 2009
WAR: General McChrystal to Obama: More Troops Or I Quit!
If you are old enough to remember the George W. Bush Administration and the 2004 and 2008 presidential campaigns, you will recall that a favorite theme of critics of Bush's war management was that Bush hadn't listened to Army brass asking for more troops in Iraq and/or Afghanistan. In particular, the Democrats practically made a secular saint of General Eric Shinseki, who supposedly was fired for delivering this message. (The truth is rather different, but the media has been printing the legend for so long it's hardly worth the candle at this late date to argue the point). Gen. Shinseki even ended up being given a Cabinet post in the Obama Administration for little other reason than as a symbol that Obama would break from his predecessor by following his subordinates' recommendations.
Well, as we so often have reason to say of Obama's campaign rhetoric, that was then and this is now. And we are learning that listening to requests from his commanders for more troops is not Obama's strong suit as Commander-in-Chief.
First, Obama scaled back the U.S. troop commitment. Obama during the campaign had promised more troops for Afghanistan, where the U.S. had approximately 36,000 troops and was relying heavily on training the Afghan military to supplement U.S. and NATO forces. In November 2008, Defense Secretary Robert Gates had indicated that some 30,000 troops would be sent to Afghanistan, and the 30,000 figure was requested by General David McKiernan, the U.S. commander in Afghanistan (he reports to General David Petraeus). Instead, Obama reduced the force to some 17,000 additional U.S. counterinsurgency troops - barely more than half what General McKiernan had requested - plus an additional 7,000 troops for other functions. But Obama's national security advisor, General James Jones, bluntly warned the military brass that further requests for more troops would upset the White House:
Now suppose you're the president, Jones told them, and the requests come into the White House for yet more force. How do you think Obama might look at this? Jones asked, casting his eyes around the colonels. How do you think he might feel?

Jones let the question hang in the air-conditioned, fluorescent-lighted room. Nicholson and the colonels said nothing.

Well, Jones went on, after all those additional troops, 17,000 plus 4,000 more, if there were new requests for force now, the president would quite likely have "a Whiskey Tango Foxtrot moment." Everyone in the room caught the phonetic reference to WTF - which in the military and elsewhere means "What the [expletive]?"
Obama, despite overruling his commander's request for more troops, trumpeted this as a step towards fully supporting the mission in Afghanistan:
"This increase is necessary to stabilize a deteriorating situation in Afghanistan, which has not received the strategic attention, direction and resources it urgently requires," Obama said.
In a major address on August 17 (Obama gives a "major address" a few times a week) to the VFW, Obama underlined this commitment and the centrality of the Afghan theater:
By moving forward in Iraq, we're able to refocus on the war against al Qaeda and its extremist allies in Afghanistan and Pakistan. That's why I announced a new, comprehensive strategy in March -- a strategy that recognizes that al Qaeda and its allies had moved their base from the remote, tribal areas -- to the remote, tribal areas of Pakistan. This strategy acknowledges that military power alone will not win this war -- that we also need diplomacy and development and good governance. And our new strategy has a clear mission and defined goals: to disrupt, dismantle, and defeat al Qaeda and its extremist allies.

In the months since, we have begun to put this comprehensive strategy into action. And in recent weeks, we've seen our troops do their part. They've gone into new areas -- taking the fight to the Taliban in villages and towns where residents have been terrorized for years. They're adapting new tactics, knowing that it's not enough to kill extremists and terrorists; we also need to protect the Afghan people and improve their daily lives. And today, our troops are helping to secure polling places for this week's election so that Afghans can choose the future that they want.

Now, these new efforts have not been without a price. The fighting has been fierce. More Americans have given their lives. And as always, the thoughts and prayers of every American are with those who make the ultimate sacrifice in our defense.

As I said when I announced this strategy, there will be more difficult days ahead. The insurgency in Afghanistan didn't just happen overnight and we won't defeat it overnight. This will not be quick, nor easy. But we must never forget: This is not a war of choice. This is a war of necessity. Those who attacked America on 9/11 are plotting to do so again. If left unchecked, the Taliban insurgency will mean an even larger safe haven from which al Qaeda would plot to kill more Americans. So this is not only a war worth fighting. This is a -- this is fundamental to the defense of our people.

And going forward, we will constantly adapt to new tactics to stay ahead of the enemy and give our troops the tools and equipment they need to succeed. And at every step of the way, we will assess our efforts to defeat al Qaeda and its extremist allies, and to help the Afghan and Pakistani people build the future that they seek.
As for McKiernan, he was unceremoniously sacked in May, replaced by General Stanley McChrystal, who had worked for Gen. Petraeus in carrying out the counterinsurgency "surge" in Iraq. Was McKiernan being punished for requesting more troops than Obama was willing to provide? Was his replacement a power play by Gen. Petraeus to put his own man in charge? From an outsider's remove, we can't know, we can only look at what happened next.
And what happened was that on August 30, Gen. McChrystal delivered a similar message to that of his predecessor: the latest renewed Taliban offensive requires more American troops to prevent a Taliban victory in the war the Taliban started with us on September 11, 2001:
The top U.S. and NATO commander in Afghanistan warns in an urgent, confidential assessment of the war that he needs more forces within the next year and bluntly states that without them, the eight-year conflict "will likely result in failure," according to a copy of the 66-page document obtained by The Washington Post.

Gen. Stanley A. McChrystal says emphatically: "Failure to gain the initiative and reverse insurgent momentum in the near-term (next 12 months) - while Afghan security capacity matures - risks an outcome where defeating the insurgency is no longer possible."
At the liberal Atlantic, D.B. Grady finds McChrystal's message "unambiguous" (H/T):
Some Afghans took us seriously. And the value of an American promise is now being weighed. If we run out the clock, if we rescind our commitment, regardless of president or party or poll, the world will be watching and they, too, will take away "lessons learned."

The McChrystal assessment is an echo of Winston Churchill's message to President Roosevelt. "Give us the tools and we will finish the job."

This is President Obama's FDR moment.
General Petraeus, for his part, took to the London Times on Friday to echo McChrystal's assessment of the situation and the importance of the mission:
General Stan McChrystal, the Commander of Nato's International Security Assistance Force, who has spent most of his career since 9/11 leading the US's most elite counterterrorist element, the Joint Special Operations Command, is employing a comprehensive, counterinsurgency campaign. He is the first to recognise not just the extraordinary capabilities but also the limitations of counterterrorism forces in Afghanistan.

In addition to our military operations we are helping the Afghan Government to combat the corruption that has undermined the legitimacy of certain Afghan institutions. We are also working hard to accelerate the development of the Afghan security forces. And we are working to disrupt narcotics trafficking by promoting agricultural alternatives and developing the infrastructure to help Afghan farmers to get their products to market.

But we need to be realistic in recognising that the campaign will require a sustained, substantial commitment. Many tough tasks loom before us - including resolution of the way ahead after the recent election, which obviously has been marred by allegations of fraud. The challenges in Afghanistan clearly are significant. But the stakes are high. And, while the situation unquestionably is, as General McChrystal has observed, serious, the mission is, as he has affirmed, still doable.
So, is the Obama Administration keeping its promise to listen to the brass? Word came down yesterday that the White House has indeed had the predicted "WTF" moment, and the Administration is pushing McChrystal to shut up and back off:
The Pentagon has told its top commander in Afghanistan to delay submitting his request for additional troops, defense officials say, amid signs that the Obama administration is rethinking its strategy for combating a resurgent Taliban
.
+++
Military officials familiar with the matter say [McChrystal's] report lays out several options, including one that seeks roughly 40,000 reinforcements, which would push the U.S. military presence in Afghanistan to more than 100,000 for the first time.

But the commander has been told to delay submitting the troop request to the Pentagon at the direction of Defense Secretary Robert M. Gates and other top civilian officials, according to defense officials.

The administration's call for a further strategic review - which official said could take weeks - comes as military commanders in the field say the campaign is running out of time and U.S. congressional and public support for the war is flagging.
The military commanders are reportedly distressed at this foot-dragging and wondering if Obama is really committed to victory as he claims. A split is widening between them and the civilian leadership, while John Kerry - who was so certain five years ago what had to be done in Afghanistan - now says we need time to figure out what's going on in a war that's now entering its ninth year.
In fact, so deep is the split that word is circulating that General McChrystal is threatening to resign if he doesn't get the troops he feels he needs. H/T. Which, if it came to pass, would mean having to pick a third NATO commander for Afghanistan in Obama's first year as Commander-in-Chief. Even House Democratic leadership is alarmed enough to want to hear McChrystal tell his side of the story:
House Majority Leader Steny Hoyer (D-Md.) is backing Republican calls for Gen. Stanley McChrystal, the ground commander in Afghanistan, to testify before Congress about troop increases and strategy shifts in the war.

"I think it would be useful at some point in time for Gen. McChrystal to share with Congress, both the Senate and the House, his views and proposals," Hoyer told reporters Tuesday morning.
Who is right? It is true, as Churchill Clemenceau once said, that war is too important to be left to the generals. It is also true, as wartime leaders have known since time immemorial, that generals always want more troops, the troops always want more equipment, and both always want more weapons. Civilian leadership can't blindly follow; it has to lead. And in fact, in Afghanistan as in Iraq, there are always competing considerations between adding more troops to increase our capabilities, and keeping a lighter footprint to avoid antagonizing the locals and to allow the indigenous military to shoulder some responsibilities. The critics on the Left - Obama and Kerry included - never, ever gave a moment's thought to these considerations in criticizing the Bush Administration.
But in Barack Obama we have not only a president who came to office pledging to pay more attention to his military leaders, and not only one who keeps insisting that the mission in Afghanistan is one of urgent importance to U.S. national security, but also a man with absolutely zero prior experience as an executive, no military service record, and zero experience with national security issues. One might reasonably expect him to permit an open exchange of views by his commanders and to give very, very serious weight to their opinions, rather than telling people to withdraw recommendations and running through generals like George Steinbrenner through managers. Instead, it looks as if the only reaction a serious person can have to watching Obama's management of the military is Whiskey Tango Foxtrot.
September 20, 2009
BLOG: Quick Links 9/20/09
*You know who quietly helped his Hall of Fame case this season? Bobby Abreu. Stayed healthy for a winning team, close to .300 average, .400 OBP and 30 steals, on the verge of his 7th straight 100-RBI season.
*Obama points out to David Paterson that he's already dead. Apparently redistricting trumps racial solidarity (so much for Paterson's effort to argue that all criticisms of him were racist, an argument that was especially dangerous to Obama due to Paterson's effort to equate himself with Obama; Obama has enough problems of his own without carrying Paterson as baggage). Of course, with only one GOP-held Congressional seat and few others even potentially competitive, redistricting isn't as big a deal as it will be in California, Texas, Illinois or Florida, but it's still a priority for the White House to bigfoot governors' races.
*Kaus waits for the next shoe to drop from Breitbart.
*Excellent post by Ace on right-wing rhetoric.
*Ben Domenech notes that Salon's polling shows that Obama had an 85% approval rating among Hispanics the week before the Sotomayor nomination, but 68% after her confirmation. So much for that battle damaging the GOP.
*Michael van der Galien looks at how Afghanistan has replaced Iraq as the anti-war Left's next target, with the declining salience of Iraq and the departure of President Bush dispensing with the need to pretend to be in favor of pressing on with the war that was started when America was attacked from Afghan territory by terrorists who were essentially indistringuishable from the Taliban. This was entirely predictable to anyone familiar with the Left, but it has nonetheless been more depressing than amusing to watch the turn in particular among the leading left-wing bloggers.
September 11, 2009
WAR: Remember, After Eight Years
Where have we come, 8 years later?
We haven't had a significant followup attack in the US or on US interests abroad, outside of the active war zones; there have been other terrorist attacks, some only tenuously connected (anthrax), some copycat (the DC snipers, the LAX shooting), but the enemy has been unable to organize anything against us, having to settle for attacking US allies (London, Madrid, Bali). That's partly luck, partly the result of vigilant new policies instituted by the Bush Administration, and partly the result of going on the offensive overseas - killing scores of jihadist fanatics, disrupting or beseiging safe havens, drawing the enemy's attention to Afghanistan and Iraq instead of New York and DC.
But we seem to be unlearning too many of those lessons. As I have stressed many times before, I don't blame the Clinton Administration, at least not significantly more than the rest of our political culture, for its disastrously misguided anti-terror policies, but we need to learn from the mistakes of the 1990s. The Bush Administration learned those lessons; Obama's team, especially his Clinton Administration retread Attorney General, seem dedicated to unlearning too many of them, focusing their efforts on prosecuting the intelligence community and dismantling many of the tools needed to continue keeping us safe, while the President himself uses the occasion of a major speech two days before this anniversary to complain about the money spent on the wars in Afghanistan and Iraq, the former of which he claims to support. But what can you say about a man whose reaction to attacks planned by wealthy, educated Saudi religious fanatics was this:
We must also engage, however, in the more difficult task of understanding the sources of such madness. The essence of this tragedy, it seems to me, derives from a fundamental absence of empathy on the part of the attackers: an inability to imagine, or connect with, the humanity and suffering of others. Such a failure of empathy, such numbness to the pain of a child or the desperation of a parent, is not innate; nor, history tells us, is it unique to a particular culture, religion, or ethnicity. It may find expression in a particular brand of violence, and may be channeled by particular demagogues or fanatics. Most often, though, it grows out of a climate of poverty and ignorance, helplessness and despair.
(The latter would be less offensive if he wasn't so opposed to actually doing something about the tyrannies that keep the Muslim and Arab worlds in the state they are in). I give Obama some credit for maturity - he has left in place a number of controversial Bush initiatives in areas such as electronic surveillance and hasn't totally cut off existing policies on detention and rendition (although his use of rendition in an antitrust case was an unusual tactic), and while he has cut back on the troops he promised for Afghanistan, he hasn't yet abandoned the fight against the Taliban, as many of his allies on the Left are urging. But the overall record hardly inspires confidence that the next four years will be as secure as the past 8.
On the downside, while we've captured or killed many of the key 9/11 plotters (some of whom, like Khalid Sheikh Mohammed, have become perverse poster boys for the Left's campaign against intelligence-gathering), Osama bin Laden has never been captured, and it is believed that he is as likely as not still alive and traveling about the Waziristan region of Pakistan. If you'd asked me 8 years ago if I'd trade no more attacks for no bin Laden, I'd have taken that trade, but of course I still await the day we have his head on a pole (ideally, literally, though I'd prefer burning him at the stake). That's unfinished business, even if his operational usefulness to his movement is severely limited by his need to keep running and hiding and avoiding all modern forms of communication.
When will the war end? Aside from getting bin Laden and other top fugitives, the fight will continue as long as there are organized terrorist groups targeting the US. We can never totally stamp out individual fanatics, but organized groups with international reach are the core enemy. And of course, those groups can't be wholly rooted out unless and until the tyrannies that support and harbor them and spread their propaganda remain. Those are the terms on which we have been forced to fight; they are the conditions required for victory.
As long as we remember why and how the fight began, we must remain committed, as a nation, to seeing it through to victory. And so we remember.
August 29, 2009
WAR: Lessons Unlearned
Matt Yglesias thinks it would be more "environmentally conscious" to surround the Pentagon with "office buildings featuring underground parking garages."
Is it really necessary, 16 years after the first World Trade Center bombing, to explain why underground parking garages at the Pentagon might be a bad idea?
August 19, 2009
WAR: Legitimacy
Anne Appelbaum has a fine nutshell summary of why democracy promotion remains a key priority in Afghanistan, for much the same reason as in Iraq:
We are not trying to create some kind of Jeffersonian idyll in the rugged heart of Central Asia, after all, but an Afghan government that is recognized as legitimate by the majority of Afghans -- a government that can therefore prevent the country from turning back into a haven for terrorist training camps. If there were someone acceptable to all factions, we might presumably consider helping the Afghans restore the monarchy. For that matter, if the Afghans were willing to accept an appointed American puppet, we might, I suspect, consider that, too, at this point. But there isn't, and they won't. Which means that democratic elections -- which the majority of Afghans support -- are the only means of establishing any Afghan government's legitimacy. It isn't that we are setting the bar "too high" by holding elections in Afghanistan; it's that we don't have anything better to offer.

And that is why the Taliban is trying to scare Afghanistan's voters. It won't be able to stop the elections altogether, and it won't be able to shut down all the polling stations. But that isn't the Taliban's intent: Its goal is to make the elections appear illegitimate, so that doubts about the president's right to rule will haunt the winner throughout his term of office. If it can lower the turnout dramatically in the southern part of the country; if it can intimidate women and prevent them from voting; if it can cast a shadow over the fairness of the counting; above all, if it can convince Afghans that the election was inconclusive, it will have achieved a great deal.
Read the whole thing.
July 20, 2009
WAR: No Friend Of Mine
Christopher Badeaux at TNL looks at the Obama Administration's coldness towards India - one of the most important of the many bilateral relationships that grew and thrived under President Bush - and how it fits into the Administration's foreign policy:
[P]roblem states get deference, offers of dialogue, pushes for American recognition in those all-important international fora, and not infrequently, large gobs of American money. They also get American rhetorical help with states that can make problems worse. If you've been paying attention lately, you know that usually means India and Israel.

President Bush was known, in some circles, for rhetorically linking Israel and India, and with good reason: Both are functioning democracies with enemies and potential enemies all around; both are nuclear powers; both face threats from explicitly Muslim powers and Islamic terrorism; both are - especially with attention to the latter by two American presidents - allies or potential allies abroad; and both can serve as useful counterweights to unfriendly, rising regional hegemons, like, say, Iran and China. Unfortunately, they make what the Obama Administration perceives as problems worse.
Read the whole thing.
June 22, 2009
WAR: Wrong Way Rules of Engagement
As a general matter, while I write a fair amount about national security strategy, I'm usually hesitant to wade into military tactics, a subject best left to the professionals. Even among those who know their stuff, military tactical decisions often involve difficult tradeoffs on which reasonable people can and do disagree, plus people who lack a military background (as I do) often make hilarious mistakes when attempting to lay out the facts of such stories, let alone dissect them, without running them by someone who knows their stuff. I'd prefer to avoid the kind of armchair generalship we had among so many on the Left during the Bush years who were hair-trigger quick to accuse U.S. tactical decisions of being (1) incompetent or (2) atrocities.
All that being said, I find myself utterly baffled by this report from the Associated Press on comments made by and on behalf of the new commanding officer in Afghanistan, Gen. Stanley McChrystal, and his spokesman, Rear Adm. Greg Smith, and of course I have to wonder if the order comes from McChrystal or originates higher up the chain of command from the political branches:
Read More »
June 19, 2009
WAR: The Biggest Domino
I know it's redundant to tell people to read Krauthammer - really, you are doing Friday wrong if you don't read his column every week - but he boils down the essential stakes in Iran neatly, and reminds us that this isn't just about Ahmadenijad vs Mousavi. Samples:
[T]his incipient revolution is no longer about the election. Obama totally misses the point. The election allowed the political space and provided the spark for the eruption of anti-regime fervor that has been simmering for years and awaiting its moment. But people aren't dying in the street because they want a recount of hanging chads in suburban Isfahan. They want to bring down the tyrannical, misogynist, corrupt theocracy that has imposed itself with the very baton-wielding goons that today attack the demonstrators.
As Bill Clinton might put it: it's the mullahs, stupid. Krauthammer, as always, looks at this from the broader perspective of regional/global strategic dynamics. The stakes, if the regime falls:
Imagine the repercussions. It would mark a decisive blow to Islamist radicalism, of which Iran today is not just standard-bearer and model, but financier and arms supplier. It would do to Islamism what the collapse of the Soviet Union did to communism -- leave it forever spent and discredited.

In the region, it would launch a second Arab spring. The first in 2005 -- the expulsion of Syria from Lebanon, the first elections in Iraq and early liberalization in the Gulf states and Egypt -- was aborted by a fierce counterattack from the forces of repression and reaction, led and funded by Iran.

Now, with Hezbollah having lost elections in Lebanon and with Iraq establishing the institutions of a young democracy, the fall of the Islamist dictatorship in Iran would have an electric and contagious effect. The exception -- Iraq and Lebanon -- becomes the rule. Democracy becomes the wave. Syria becomes isolated; Hezbollah and Hamas, patronless. The entire trajectory of the region is reversed.

All hangs in the balance.
Krauthammer does oversimplify a bit; there are forces in Saudi Arabia and Pakistan that are also crucial to the counterrevolution against democratizing and liberalizing the region. But in neither of those states do the reactionaries have full control of the government the way they do in Iran (internal Saudi and Pakistani politics being deeply Byzantine), and changing the Iranian regime would put those forces in a much weaker position within their own states in the same way it would isolate Syria.
As Krauthammer notes, and as I discussed yesterday, Obama is on the wrong side of this - not in the Ahmadenijad vs Mousavi dispute, on which he's properly neutral, but on the broader people vs mullahs battle, in which his tepid responses and olive branches to the mullahs are effectively placing him on the side of the billy clubs. The House just voted 405-1 to "condemn" repression in Iran and stand with the dissidents; only Ron Paul, who votes against these things as a matter of course, sided with the mullahs and the White House.
June 18, 2009
WAR: Say Goodbye To Cairo
The Obama Administration's response to protests against the Iranian regime's contempt for even its own thin facade of democracy has been markedly muted and tentative; even the French Government has spoken out more clearly against the fraudulence of the presidential election and the mullahs' suppression of the Iranian people than has President Obama. One conclusion we can draw from Obama's failure to offer support for the Iranian people against their theocrat masters is that it eviscerates the entire point of his Cairo speech to the 'Muslim world'.
Read More »
June 17, 2009
WAR: Put Not Your Faith In Princes
Why theocracy doesn't function well in a crisis.
June 13, 2009
WAR: In Praise of Chaos In Iran
Iran, we are told, is on the edge of, if not sliding immediately into, chaos. Both sides of the presidential election have claimed not only victory but landslide victory, and as happens in such cases in states that are not genuine democracies, the candidate who is out of power has apparently found himself under arrest, and the population is edging from restive to explosive. The usual voices of the status quo will undoubtedly tell us that America needs to be worried about this. But while chaos in Iran is not without risk, it is greatly to be encouraged.
First, Iran has been a thorn in the side of the United States, both in Iraq and more broadly around the region, and as often as not it has meddled in our and others' affairs without cost. There are few principles of international relations more critical than always giving the other guy a downside for making trouble. The disputed election makes the Iranian regime vulnerable; it is precisely at such moments of vulnerability that the regime can be made to suffer the downside of making us an enemy.
Second, the Iranian regime is bad for the Iranian people. Anything we can do to improve the chances of eliminating that regime improves the odds of cracking open Iranian society for the better. Violence is, unfortunately, the rule rather than the exception in revolutions, but freedom often isn't free - and as we have seen in recent decades, a surprising number of brutal but brittle regimes have crumpled in the face of popular uprising when they lost the will to stage their own Tianamen Square moment. There is only one way to find out; if the Iranian people are ready to take the chance, we should do whatever we can in our power to encourage them.
Third, a weak and inward-facing Iranian regime will be a lesser threat to continue pursuing its nuclear program and other forms of mischief, and may even provide opportunities for well-funded intelligence operations to take advantage of an unstable situation to further weaken Iranian capabilities.
Fourth, Iran has long stood as a propaganda victory for the Islamists, proof of a sort that an Islamic revolutionary state could stand against the West. That victory has inspired even Sunni Islamists who otherwise have little in common with Shi'ite Iran. The collapse or weakening of the regime at the hands of popular unrest would further demonstrate the dead end that is the radical Islamic political project.
America today has a great opportunity to make trouble for a hostile government while at the same time potentially lending an opportunity for freedom to its oppressed people. We should use whatever resources are at our disposal to make the best of that chance.
June 11, 2009
WAR: The Moderate
Goldfarb looks at some samples of the rhetoric of Mir Hossein Mousavi Khameneh, Ahmadenijad's opponent in the Iranian election. Whether he's a "moderate" depends on what you think this is moderate compared to:
In 1988, Reuters reported on a radio address by Mousavi to the Iranian people:

In a Foreign Ministry statement read on Tehran radio today, Iran said that Israel should be annihilated and that implicit recognition of it by the Palestine Liberation Organisation ignored the inalienable rights of the Muslim Palestinan people.

The statement said that the only way to achieve Palestinian rights was continuation of all-out popular struggles against Israel.

Iranian Prime Minister Mir-Hossein Mousavi yesterday called Israel a "cancerous tumour" and said the Palestinian move to accept UN Resolution 242 would anger Muslim revolutionaries.

In 1989, Mousavi called for Salman Rushdie to be killed. The Times (London) reported that "Mr Mir-Hossein Mousavi, the Prime Minister, said the Ayatollah Khomeini's order that Mr Rushdie should be killed 'will undoubtedly be carried out and the person who has become a tool of Zionists against Islam and brazenly attacked it and the Prophet will be punished', according to Tehran Radio." And in that same year, the Washington Post described Mousavi as a "leading hardliner," with links to regime attempts to assassinate political opponents in exile.
Read the whole thing. Ahmadenijad is unusually belligerent and unhinged even by Iranian standards, and so removing him can only be a good thing, but the reality is that the real power in Iran continues to lie with the very much unelected religious and security establishment; the mullahs control the selection of candidates and the scope of their authority, which is limited. A new front man won't change that. And the fact that Iranian "moderates" all end up saying about 95% of the same stuff as the "extremists" just illustrates the fact that the problems with the Iranian regime run far deeper than any one man.
WAR/LAW: Living Down to the Stereotype
Must-read on Obama Administration's decision to give Miranda warnings to captured jihadists. Like so many things Obama has done, this one was derided as a straw man when Sarah Palin claimed last year that he would do it.
June 9, 2009
WAR: The Eastern Goalpost?
North Korea's escalating provocations since the Taepodong rocket launch in April offer an early test of President Obama's foreign policy. But before we can judge whether Obama's policy is a success - or, for that matter, the policies of his predecessors - we need to define the realistic parameters for success in dealing with Pyongyang's Stalinist regime. I would propose a number of possible benchmarks or victory conditions one could use, but it's easier said than done to pick what a realistic goal should be. Here are the choices:
1. Total victory: the elimination of the North Korean regime (whether or not accompanied by reunification of the Korean peninsula) and/or the complete and permanent removal of the conventional, nuclear and proliferation threats posed by the regime. This strikes me as an unrealistic goal, although of course removal of the regime should remain our long-term ambition.
2. Nuclear disarmament: leaving North Korea as is, except without nuclear weapons. This has been the main stated goal of the last two administrations, at which both obviously failed, and seems to be the main stated goal of Obama as well. Expect more failure, especially after Obama's grandiose renunciation in Cairo of the right to interfere with any nation's nuclear ambitions.
3. Conventional containment: preventing the North Korean regime from initiating direct hostilities with its neighbors. By this benchmark, both the Clinton and Bush Administrations can claim success by virtue of doing lots of jaw-jaw instead of war-war with Pyongyang.
4. Total containment: not just conventional containment but preventing North Korea from sharing nuclear secrets or materials or other assets with terrorists or other rogue regimes. To me, this is the highest priority, even higher than nuclear disarmament. We lack adequate public information to judge the success of the Bush team on this score, and will lack it with Obama as well unless and until we get the ultimate bad news. That doesn't mean we know nothing, just that the public will remain in the dark about many key facts. (Broadly speaking, the movement away from open war to terrorism and proliferation as the main threats presents an ongoing problem for voters in evaluating the real successes and failures of our leadership, which to succeed must do so in secret, and which of needs must often take action on the basis of state secrets).
5. Internal reform or relief: changing the repressive nature of the North Korean regime and/or providing humanitarian relief to the population it brutalizes. A noble objective, but not likely to drive our policy when bigger stakes are in play.
6. Engagement: treating talks with the North Koreans as an end in themself. This has certainly seemed, at times, as if it was the State Department's only objective under the past three Administrations.
7. Regional Politics: under this view, the larger issue is the struggle for power with China, so our principal goal should be to make Pyongyang a bigger headache for the Chinese than it is for us. There is little evidence that Obama or his team even think in those terms, and so little reason to believe they could succeed. To be fair, Bush's record in this regard with China was spotty at best, and in his second term he largely gave up.
8. Credibility: under this view, the end state is less important than using the standoff with Pyongyang to demonstrate that America stands by its regional allies and is not easily messed with, and that we will not simply give away concessions without getting something concrete in exchange. By this standard, Obama also seems likely to repeat the abject failures of Clinton and Bush in maintaining U.S. credibility in dealing with North Korea.
The question of what reasonable objectives we might set for our North Korea policy is one on which reasonable minds can differ. The short answer is that, given its methods and worldview, the Obama Administration is likely to succeed in its dealings with North Korea only if it sets low expectations that can be met by maintaining the visible status quo modified by cosmetic accomplishments.
June 4, 2009
WAR/POLITICS: Don't Know Much About Arithmetic
Noah Pollak notes of President Obama's claim that "if you actually took the number of Muslim Americans, we'd be one of the largest Muslim countries in the world":
Obama is right - we're one of the largest, only outranked by Indonesia, Pakistan, India, Bangladesh, Turkey, Egypt, Nigeria, Iran, Algeria, Morocco, Afghanistan, Saudi Arabia, Sudan, Iraq, Uzbekistan, Ethiopia, Russia, Yemen, China, Syria, Malaysia, Tanzania, Mali, Niger, Senegal, Tunisia, Somalia, Guinea, Azerbaijan, Burkina Faso, Kazakhstan, Tajikistan, Cote d'Ivoire, Congo, Libya, Jordan, Chad, Turkemenistan, Philippines, France, Kyrgyzstan, Uganda, Mozambique, Sierra Leone, Ghana, Cameroon, Thailand, Mauritania, Germany, Oman, Albania, Malawi, Kenya, Eritrea, Serbia and Montenegro, Lebanon, Kuwait, the UAE, and…well, at some point here you get to the United States, which has (estimates vary) around 1-3 million Muslims.
May 29, 2009
WAR: Fear and Responsibility: A Response To Glenn Greenwald
So Glenn Greenwald, responding to a post of mine on Twitter in his column at Salon, refers to me as a "right-wing warrior-blogger". If I was unfamiliar with Greenwald's work, I might think perhaps that he had confused me with one of RedState's resident warriors, Jeff Emanuel or streiff or Caleb Howe; I'm a lawyer, not a warrior, and the closest I have been to a war zone was the day terrorists flew an airplane into my office, an experience I'm not in any hurry to relive or to see anyone else subjected to.
As it happens, this is of a piece with the typical Greenwald style:
Right-wing super-tough-guy warriors project some frightened, adolescent, neurotic fantasy onto the world -- either because they are really petrified by it or because they want others to be.
I won't call this an argument, in the sense of being a connected series of statements intended to establish a definite proposition; it's just shtick. Rather than bother trying to persuade, Greenwald is content to pander to his simple-minded audience's desire to see his adversaries insulted. And the choice of the "fear" taunt is tied to one of the lingering obsessions in Greenwald's writing, his fixation on masculinity.
But let's take up the ad hominem on its terms, not so much to defend myself as to explain why people like me do not think like people like Greenwald. Is it irrational or somehow unmanly of me to "fear" that terrorists could cause harm if brought into this country? Would I be better to adopt Greenwald's pose that terrorism is a "frightened, adolescent, neurotic fantasy"? Let me put it this way. First, I think I have, personally, a very rational basis for considering veterans of Al Qaeda training camps to be dangerous people. But you don't need to have been personally affected by the September 11 attacks to want to prevent terrorists from causing physical harm to yourself or others. To keep this on a personal level, I have a home in a community, New York City, which happens to be Al Qaeda's top target. I feel a special sense of attachment to and responsibility for the community I live in, and wish to see it protected (they even used to have a word for this feeling, it began with "p"). It's easy for Greenwald to be cavalier about terrorist threats to the United States, since last I heard, he does not live here; he's been living in Brazil for years. I also have a family, a wife and children. And it's true: no man, no matter how brave or cowardly, can know true fear until he has responsibility for the lives of his children. Greenwald, so far as I know, has no wife to worry about and no offspring other than the multiple internet personalities he created to sing his own praises. If we must humor Greenwald's dreary obsession with masculinity, perhaps he could learn something: what manhood is really about is using what strength we have to protect those entrusted to our care. And the first obligation of a man since time immemorial is also the first obligation we entrust to our government: to protect and defend against physical threats, especially from those who mean us and ours harm. Worrying about those threats is a sign of responsibility.
Let us proceed then to the merits of the argument.
Read More »
May 22, 2009
WAR: Joe Biden Doesn't Know What's In The Box But He Can't Resist Opening It
Ah, what would we do without Joe Biden?
So will Obama fulfill his vow - announced amid great fanfare in an executive order on day two of his presidency - to close the facility by January 2010? "I think so," Biden responded, according to Newsweek's Holly Bailey.

So perhaps he will. Or perhaps not. We'll see.

Biden continued: "But, look, what the president said is that this is going to be hard. It's like opening Pandora's Box. We don't know what's inside the box."

He also said that "to the best of my knowledge" the number of prisoners "who are a real danger who are not able to returned or tried" has "not been established" by the Obama administration.

So he basically just confirmed his predecessor Dick Cheney's analysis that the decision was taken "with little deliberation, and no plan".
You know, we could just try not opening the box. That's the problem with throwing away things that already work just to score PR points. What could go wrong? Only one way to find out, after all!
I hadn't heard Wanda Sykes' joke about Biden but it's a keeper, and unlike most of her routine that night, both funny and true:
"God forbid that Joe Biden falls into the hands of terrorists....We're done. Oh, they won't even have to torture him. All they have to do is go, 'How's it going, Joe?'"
Mary Katherine Ham suggests a Moynihan line Biden might want to keep handy. On a daily basis, in fact.
May 14, 2009
WAR: Lebanon and Hezbollah, Syria and Al Qaeda
Michael Totten warns that the ever-shifting landscape of Lebanese coalition politics could lead to a Hezbollah victory in June's elections. And Bill Roggio reports that the Treasury has officially designated a senior Al Qaeda leader in Syria as a terrorist subject to asset freezes and other sanctions, which of course will come as news to those who insist that Al Qaeda exists only in Afghanistan and Pakistan:
Shammari, who is better known as Abu Khalaf, is known to recruit suicide bombers from North Africa and aids in setting up their travel arrangements into Syria and ultimately Iraq. "The facilitator recruited a few suicide bombers, who attempted to travel to Iraq," the Treasury press release stated.

Khalaf also helped al Qaeda suicide bombers based in the Persian Gulf region travel to the Levant to conduct suicide attacks.
Roggio notes that stopping Al Qaeda infiltration into Iraq from Syria was one of the major elements in progress in Iraq over 2007-08:
Syria has long supported or looked the other way as al Qaeda and Sunni insurgents used the country as a transit point and safe haven for fighters entering western Iraq. More than 90 percent of the suicide bombers who have entered Iraq since the insurgency began in 2003 have been estimated to have entered Iraq via Syria.

Al Qaeda's Syrian network is thought to have suffered a setback as the US implemented a counterinsurgency program in 2007 and a covert operation in Syria 2008 targeted and killed a senior member of al Qaeda facilitation network. An estimated 120 plus foreign fighters are thought to have entered Iraq from Syria a month at its peak in 2007. The number is now estimated in the single digits, but there is concern that the Syrian network is being rejuvenated, according to a report in The Washington Post.
Needless to say, the U.S. needs to be keeping the pressure on to prevent a revival. As I've long argued, we don't need to stay in Iraq forever to help the Iraqis keep the lid on their own people, but as long as foreign enemies are sending people across the borders to try to destabilize the country, it's still very much America's business to stop them. As both sides recognize, a reasonably stable, democratic Iraq is a major strategic and propaganda victory for the United States, while the opposite is a major strategic and propaganda victory for Al Qaeda. We've come a very long way towards our goal, but the job is not done yet.

WAR: Maybe Running A Country Is Harder Than Making Promises
Leon Wolf says basically what I was going to say about the latest Guantanamo reversal from the Obama Administration:
[D]espite the fact that Obama promised, even immediately after inauguration, that closing GTMO would be one of his Administration's first priorities, it is clear that Obama still does not have the foggiest idea what to do about it. He appears to be more or less committed to actually closing the physical facility in Guantanamo bay (in order to give the appearance of keeping his campaign promise), but he has realized that the thing which made GTMO most objectionable to his most dedicated supporters, i.e., indefinite detention away from communication with the outside world, is necessary to the security of this country. So what does he do now? The answer is evident: he has no clue.
Ah, the burdens of adulthood. Read the whole thing.
May 13, 2009
WAR: "Do What You Have To Do"
From 2004 - my, how tunes change:
May 7, 2009
WAR/POLITICS: Democratic Spin on GTMO Stupid Even By Standards of Democratic Spin
Goldfarb notes this hilarious attempt to claim that Republicans opposed to moving detainees from Guantanamo into their districts are - wait for it - insulting America's corrections officers:
ON GUANTANAMO, GOP DISPARAGES MEN AND WOMEN WHO KEEP OUR COMMUNITIES SAFE

Why do Republicans think that Americans can't do their jobs?

Today, John Boehner and the Republican House leadership are introducing legislation to keep Guantanamo detainees from being transferred to facilities in the United States. They claim that this serves American security. But the reality is that our criminal justice system has a long history of holding hardened terrorists successfully, including the perpetrator of the first World Trade Center attacks, numerous 9/11 conspirators, the Shoe Bomber and Timothy McVeigh. The men and women who serve their country by working at these facilities are ready and eager to do their jobs - and they have the confidence of the communities that depend economically on prison facilities. But John Boehner, Mitch McConnell and other Republicans in Congress continue to claim that the men and women who run our prisons and help keep America safe can't do their jobs.
Let's review the varieties of stupid here.
1. This statement assumes that 100% of the detainees will continue to remain locked up, and of course if you believe that, why not just improve the prison they are in? In fact, the whole point of this exercise is to release some detainees entirely and send others into the criminal justice system, where they may be acquitted or have cases dropped against them, in many cases because of how evidence was gathered against them under wartime or battlefield conditions.
2. The Democrats presume to speak for all prison guards as being thrilled to take these guys on. I am guessing that's not the case. Ask Louis Pepe. Ask why our allies are balking at taking them. Ask the people of Alexandria, Virginia what additional precautions had to be taken just to hold one of them.
3. I love the line about "communities that depend economically on prison facilities" - leave it to the Democrats to look at holding jihadists as a jobs program.
4. Does anybody but Democratic politicians actually believe that jihadists are no more dangerous than your usual criminal? Hmmm, we have prisoners who are willing to engage in suicide attacks, believe they will go to eternal paradise if they die killing infidels, specifically hate the U.S. government, and are connected to international organizations with money and weapons. You don't think they are a greater security risk than your typical prisoner, even in maximum security? Really?
May 5, 2009
WAR/POLITICS: Over-Oversight
Daffyd on the meddling, incompetence, leaks and excessive partisanship of the Congressional Intelligence committees. We're closing in on the day when Democrats will demand 24/7 live C-SPAN coverage of the CIA.
April 27, 2009
WAR/POLITICS: The Inverted Conscience of Barack Obama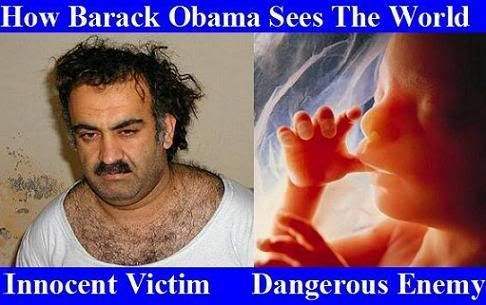 Next time the United States captures some hardened, mass-murdering terrorists, the CIA should tell President Obama that we captured some unborn children, and he'll let them do whatever they want.
Read More »
April 23, 2009
WAR/POLITICS: Nancy Pelosi Was Briefed On Waterboarding But Didn't Inhale
One of the occupational hazards of partisan politics is attacking the other side for something people on your own side knew about or participated in. Of course, that's politics; but it becomes a serious problem when you raise the rhetorical temperature to the point of calling your political opponents war criminals ... and it turns out your own people knew about the "war crimes" and didn't see anything wrong with them at the time, or at least didn't act as if they did. It's a pretty clear sign that they don't believe it now, either - but try telling that to the people who have bought the "war criminal" bill of goods and now find out that you did what they consider the equivalent of sitting in camp construction meetings with Himmler and not making a peep.
So we find that House Speaker Nancy Pelosi, despite her angry denials, has to face up to having been briefed back in 2002 on the CIA's 'enhanced' coercive interrogation techniques:
In September 2002, four members of Congress met in secret for a first look at a unique CIA program designed to wring vital information from reticent terrorism suspects in U.S. custody. For more than an hour, the bipartisan group, which included current House Speaker Nancy Pelosi (D-Calif.), was given a virtual tour of the CIA's overseas detention sites and the harsh techniques interrogators had devised to try to make their prisoners talk.

Among the techniques described, said two officials present, was waterboarding, a practice that years later would be condemned as torture by Democrats and some Republicans on Capitol Hill. But on that day, no objections were raised. Instead, at least two lawmakers in the room asked the CIA to push harder, two U.S. officials said.
Pelosi's laughable defense is now to admit that she was briefed on the Bush Administration having obtained Office of Legal Counsel memos on waterboarding but she thought they got those memos but didn't actually intend to use them:
Pelosi denied these claims. "We were not -- I repeat -- were not told that waterboarding or any of these other enhanced interrogation methods were used. What they did tell us is that they had . . . the Office of Legal Counsel opinions [and] that they could be used, but not that they would," she said.

She said some officials, such as Goss, who went on to become CIA director, argued the lawmakers should have known the waterboarding would be used because they were told it was a legal practice. But she said they had no way of knowing that for certain...
Yes, I guess George W. Bush was ordering up OLC memos as an intellectual exercise, so he could kick back and read some dense legal reasoning to unwind at the end of a long day of not using the anti-terrorism tools at his disposal on captured Al Qaeda leaders. That's credible, right?
Pelosi's other tactic is to claim that she was sworn to secrecy so she couldn't do anything anyway:
[T]hey were then forbidden from talking about what they had learned so they could not work to outlaw the practice.

She summed up the briefings this way: "This is what they're doing. That's all they do. They don't come in to consult. They come in to notify. They come in to notify. And you can't -- you can't change what they're doing unless you can act as a committee or as a class. You can't change what they're doing."
Uh, didn't she just say they were briefing her on what they were not doing?
Now, when Congressional leaders are sworn to secrecy for national security purposes, they better have a very good reason for breaking that pledge. But when they learn about something that the Executive Branch is doing, claims is legal but ought to be made explicitly illegal, can the Speaker of the House be powerless to introduce legislation stopping it? Is our Congress that powerless if it thinks that tyranny or torture is actually afoot? As it happens, the Framers of the Constitution, being far wiser and more courageous than Nancy Pelosi, already thought of this problem and thoughtfully even gave her explicit instructions that in such a situation she could speak out without fear of prosecution. It's right there in Article I of the Constitution (Joe Biden, if you're reading this - that's the one that deals with Congress):
Section 6. The Senators and Representatives shall receive a compensation for their services, to be ascertained by law, and paid out of the treasury of the United States. They shall in all cases, except treason, felony and breach of the peace, be privileged from arrest during their attendance at the session of their respective Houses, and in going to and returning from the same; and for any speech or debate in either House, they shall not be questioned in any other place.
Under the Speech and Debate Clause, if Speaker Pelosi was told that the Executive Branch was committing war crimes, she has an absolute constitutional privilege to speak about that on the floor of the House, as well as to introduce legislation to stop it.
Unless, of course, it wasn't really a war crime at all. Unless, of course, it would have been too politically risky in 2002 to come out against a hard line on interrogation of terrorists.
There is deep foolishness of many kinds in the desire to criminalize the Bush Administration's efforts to protect the nation. The more Speaker Pelosi and her party insist that waterboarding is a war crime, the more they have to distort the evidence to fit their narrative, the harder it is to justify their own acquiescence, their actions that spoke louder than words when they learned what was being done to keep the nation safe. And the harder it will be for those who watched them nod their heads one day and turn Inquisitor the next to do their jobs with the same zeal. Back when the real Nazis stalked the land, there were indeed people who sat down and tried to do business with them, and they almost brought the West to ruin; but even in the direst and darkest hour, when he had been called upon to replace those people after years of enduring their mockery, Winston Churchill gave a warning that today's Democrats would have been wiser to heed:
Read More »
April 22, 2009
LAW/POLITICS: Uh, Pandora, Shut That Lid...
Christopher Badeaux continues his look at the dangers unleashed by threatening to impeach a federal judge over legal advice given prior to taking the bench. As he notes, Democrats proposing these sorts of things plainly are not planning for the possibility that Republicans might ever retake control of any branch of government.
April 21, 2009
WAR/POLITICS: The Other Half of the Story
Drew M at Ace notes that Dick Cheney's demand that the Obama Administration release all intelligence gathered from the interrogation techniques detailed in the memos it recently released places Obama in a bind:
Will Obama do it and risk people thinking, "maybe this wasn't such a bad idea after all". If they don't do it, then the argument becomes, "there must be something so valuable they can't talk about it". Which again means, it worked.
(H/T) If critics of coercive interrogation were honest, of course, they'd welcome the release and the chance to argue that even interrogation methods that get results are not worth the moral lines we have to cross to get there. And in fact, many of us on the conservative side would agree with that in principle; we just disagree on where you draw the line that says that certain forms of coercion constitute torture, and think that, for example, exposing a man to a caterpillar or bouncing him off a fake flexible wall doesn't get there.
But of course, most of the voices shrieking "torture" not only refuse to define where they draw the line - and denounce anyone who tries, to the point of cheering on prosecutions of lawyers for making the effort - but insist on living in a fantasy world where there are never any tradeoffs. They look at interrogators saying that less coercive methods of questioning are often the best (true), and that individuals acting under coercion or torture may provide false information (also true, but of course true as well of any method of interrogating terrorists or criminals) and conclude from this that coercive techniques never, ever work, never, ever provide useful information, and are always the least effective method.
It's the cheap, easy way out of a moral debate as old as war itself. Now, if there really is intelligence that's still too valuable to disclose, just say that and I won't question it; but otherwise, if you are going to argue that coercive interrogation is 100% ineffective, you should not fear disclosure of its fruits.
SPORTS/WAR: Carrying The Weight
April 17, 2009
WAR: Obama National Intelligence Director Declares Terrorist Threat Over
What was more interesting was the accompanying statement by the Director of National Intelligence, Dennis Blair, trying to justify Obama's decision--or at least put it "into perspective." The perspective, the context, is that in the months after 9/11, "we did not have a clear understanding of the enemy we were dealing with, and our every effort was focused on preventing further attacks that would kill more Americans. It was during these months that the CIA was struggling to obtain critical information from captured al Qaida leaders, and requested permission to use harsher interrogation methods. The OLC memos make clear that senior legal officials judged the harsher methods to be legal."

Blair continues: "Those methods, read on a bright, sunny, safe day in April 2009, appear graphic and disturbing. As the President has made clear, and as both CIA Director Panetta and I have stated, we will not use those techniques in the future. But we will absolutely defend those who relied on these memos and those guidelines."

So: We were once in danger. Now we live in "a bright, sunny, safe day in April 2009." Now, in April 2009, Obama's Director of National Intelligence seems to be saying, we're safe.
Yes, September 11 was a bright, sunny day too - and too many of us thought we were safe then as well. Now, it's true that in the rapid, multifaceted mobilization against terrorism that took place in late 2001 and early 2002, there were a vast number of decisions made quickly on the basis of incomplete information; it's only natural that as the anti-terror effort has become part of the permanent institutions of government, there would be some rethinking of which of those emergency measures to make permanent and which to put back on the shelf. Maybe exposing detainees to caterpillars or pushing them against a "fake, flexible wall" or "Grasping the individual with both hands, one hand on each side of the collar opening, in a controlled and quick motion" are horrors beyond our imagining these days - as opposed to things most of us would associate with grammar school - but it's far more frightening to me to hear the DNI telling us that we're too safe these days to worry anymore about the need to get intelligence quickly out of captured terrorists.
April 14, 2009
WAR/LAW: Should The Surviving Somali Pirate Be Tried...In Juvenile Court?
It's so hard to do satire these days, because the truth is so often beyond parody. The last of the heavily-armed pirates who stormed the Maersk Alabama, held a paralyzed U.S. Navy at bay for three days and repeatedly threatened to execute their hostage unless they were paid millions in ransom may well be tried in the United States for piracy. This is probably the right call, since this is piracy against American ships, although really it would have been better if all the pirates had been killed on the spot. Where this gets bizarre is the suggestion that an act of piracy on the high seas should be treated as a juvenile crime because the pirates reportedly were somewhere between age 16 and 20:
Read More »
April 8, 2009
POLITICS: Sovereign What?
The lawyers here will find this endlessly amusing. Yes, to Olbermann, Turley and Greenwald, a foundational legal concept that's been black-letter law for the entire duration of American jurisprudence, and is recognized in just about every jurisdiction on the planet, is somehow a novel and frightening expansion of executive power. Olbermann at least is not a lawyer, but how the other two passed the bar exam escapes me.
March 25, 2009
WAR: Alexandria, Virginia Can't Handle The Truth
Northern Virginia is pretty much the classic example of an upscale suburban area that has gone much bluer in the past 4 years, and exactly the sort of place where it has been fashionable to be horrified by the detention without trial of enemy combatants at Guantanamo Bay...without giving a second thought to what you would do with those detainees if you closed the place. As long as George W. Bush was president, it was safe and easy to complain about Gitmo without facing those realities.
That was then; Bush is gone now, and with his successor actually entertaining the daft notion of bringing detainees stateside for trials in our criminal justice system, an idea long championed by Congressman Jim Moran of Virginia's 8th District (which includes Arlington and Alexandria, "the heart of Northern Virginia") suddenly the residents of Alexandria are awakening to the problem:
Read More »
March 13, 2009
WAR: Now That Is A Flashlight
You know, I'm not a gun guy. Never owned one, never fired one, probably never will. But I have to tell you, I could not resist the immediate gut reaction to this video of, I want one of these:
March 7, 2009
WAR/POLITICS: Harder Than It Looks
McQ looks at the latest sample of the scathing UK press coverage of Obama's unreadiness for the business of meeting a foreign head of state. Details of how Obama managed to botch nearly every aspect of what ought to have been a routine goodwill visit with Gordon Brown, resulting in Brown's humiliation and a surge of bad British press, here, here, and here. Plus, his State Department can't read Russian.
On the upside, maybe I didn't read the news enough today, but it's almost midnight and I haven't seen an Obama appointee withdraw today.
March 5, 2009
POLITICS/WAR: Democrats May Live To Regret Instituting Witch-Hunting "Truth Commissions" To Follow Elections
Democrats have a long history of constructing their own petards on which to be later hoisted, due to their inability to consider the consequences of their actions beyond immediate partisan advantage. For a classic example of this process at work, look no further than the current proposal for a banana republic-style "Truth Commission" to conduct show trials of the outgoing Administration for the offenses of (1) acting aggressively to protect national security and then (2) losing an election.
The partisan nature of the enterprise is obvious: proponents are calling for a commission whose mandate is expressly limited to investigating Republicans, and control over which will presumably remain with the Democratic majority in Congress. (Not that a commission witch-hunting national security professionals in Democratic Administrations would be a good thing either, unless your goal is to drive good people from the field and make the ones who remain too timid to take action when the nation's security is at risk).
Thomas Jefferson, the first Democratic president and the first president to take office after a change in partisan control, did not bring up John Adams on charges for having passed the Alien and Sedition Acts; Jefferson simply removed the offending policy and cleared those who had been wrongly convicted. Our history, and our tradition of peaceful transfers of power, might have been very different if Jefferson had handed Adams over to Napoleon on the grounds that Adams had abused civil liberties in the Quasi War with France.
David Rivkin, in his testimony yesterday, pointed out that building such commissions as partisan weapons can in the long run have the same wholly forseeable yet unforseen blowback for Democrats as their creation of the Independent Counsel statute did, and then some:
Read More »
March 3, 2009
POLITICS: Dirt-Digging We Can Believe In
One of the more laughable notions during the campaign was Obama's claim to represent some sort of "new politics"; one of the sillier fictions of the last several years was that Democrats were less prone to dirty tricks and bending the apparatus of government to narrow partisan interests than Republicans. But of course, in any election season there are people eager to lie to themselves and be lied to. Young voters in particular seemed especially, cloyingly eager to swallow this particular nonsense. Worse yet, people like David Brooks (see here and here and here), who in a sane world should have known better, talked themselves into ignoring the warning signs that were written all over Obama's record and career that he's never been anything but a front man for bareknuckles Chicago machine politics that runs on patronage, favor-trading and dirt and never, ever places any value above partisan entrenchment and the enrichment of its supporters.
The saga of Shauna Daly is yet another in a seemingly endless series of proofs of this over the first six weeks of united Democratic governance. In late January, Daly was hired as "White House counsel research director". Daly is 29 and has no experience relevant to the job, having worked for the DNC and a number of Democratic campaigns, including Obama's:
Miss Daly holds no law degree and doesn't list any legal training on her resume.

Her sole experience has been as an opposition researcher for Democratic political campaigns: She helped dig up dirt on rivals, or on her own nominee to prepare for attacks.
Daly apparently got the job through the influence of a man who has made a career of flacking for the Daley machine and, apparently, masterminding leaks of divorce files that crippled Obama's political opponents:
David Axelrod, a senior White House adviser to President Obama, had a hand in bringing Miss Daly to the campaign, and is thought to have been instrumental in bringing her to the White House.
A month later, she was back at the DNC:
Shauna Daly, 29, will be the DNC's research director, returning to the fast-paced realm of bare-knuckles politics that associates said suits her best.
Given that the White House counsel's office deals in privileged legal advice to the president, including on sensitive issues of national security, there are reasons to be concerned that Daly has used her brief tenure in the office for gathering information that was never supposed to be used for partisan purposes:
Daly did not waste her time in an office that had reams of Bush Administration documents related to such things as the firings of U.S. Attorneys, the use and internal debate over the USA PATRIOT Act, FISA, and the Scooter Libby and Karl Rove investigations, among others.

"She saw everything, and who knows what she was able to scan and pull out on data sticks," says a Senate Republican Judiciary Committee staffer. "We'll find out soon enough when we see what the DNC is putting out during [Sen. Patrick] Leahy's 'truth committee' hearings."
+++
"She realized that she could do more with all the material she saw outside of the building than inside, where she'd be bound by the rules and legalities of the White House Counsel's Office. Now she isn't," says a DNC staffer who works in the communications field. "She's good at what she does; her time at the White House means we've got a mother load of material that will have Republicans scrambling. At least that's what we hope."
That view would explain what Daly was doing if she had neither training nor assigned official duties:
Daly, according to White House staff, was often in her office early and one of the last to leave the Old Executive Office Building, which does not jibe with official White House claims that Daly was not doing much in the office, which was one reason for her leaving.
And coincidentally, shortly after her departure, we have Attorney General Holder - a man who was notorious during the Clinton years for subverting things like DOJ's pardon process to narrow partisan ends - dumping previously privileged or classified legal advice on the war on terror into the public domain, wholly without regard to the precedent this sets for the president's future ability to get such advice, and all for short-term partisan advantage.
No, you should not be surprised at any of this.
February 25, 2009
WAR: Has Obama's Election Made "Abuses" At GTMO Worse?
Now, there are two ways to read a report like this one:
Abuse of prisoners at Guantanamo Bay has worsened sharply since President Barack Obama took office as prison guards "get their kicks in" before the camp is closed, according to a lawyer who represents detainees.

Abuses began to pick up in December after Obama was elected, human rights lawyer Ahmed Ghappour told Reuters. He cited beatings, the dislocation of limbs, spraying of pepper spray into closed cells, applying pepper spray to toilet paper and over-forcefeeding detainees who are on hunger strike.
+++
"According to my clients, there has been a ramping up in abuse since President Obama was inaugurated," said Ghappour, a British-American lawyer with Reprieve, a legal charity that represents 31 detainees at Guantanamo.
Read More »
February 5, 2009
WAR: The Other Side
It is sometimes useful to be reminded of the true depths of the depravity of our enemies. Americans may have to do ugly, unpleasant and unpopular things at times to defend our nation, but efforts at moral equivalence have to first explain situations like this one. (H/T).
February 3, 2009
WAR: China
Another excellent essay over at The New Ledger; I would especially recommend the section on what's going on inside China these days.
January 23, 2009
WAR/HISTORY: Remembering Paris
The peace we seek in the world is not the flimsy peace which is merely an interlude between wars, but a peace which can endure for generations to come.

It is important that we understand both the necessity and the limitations of America's role in maintaining that peace.

Unless we in America work to preserve the peace, there will be no peace.

Unless we in America work to preserve freedom, there will be no freedom.

But let us clearly understand the new nature of America's role, as a result of the new policies we have adopted over these past four years.

We shall respect our treaty commitments.

We shall support vigorously the principle that no country has the right to impose its will or rule on another by force.

We shall continue, in this era of negotiation, to work for the limitation of nuclear arms, and to reduce the danger of confrontation between the great powers.

We shall do our share in defending peace and freedom in the world. But we shall expect others to do their share.

The time has passed when America will make every other nation's conflict our own, or make every other nation's future our responsibility, or presume to tell the people of other nations how to manage their own affairs.

Just as we respect the right of each nation to determine its own future, we also recognize the responsibility of each nation to secure its own future.

Just as America's role is indispensable in preserving the world's peace, so is each nation's role indispensable in preserving its own peace.

Together with the rest of the world, let us resolve to move forward from the beginnings we have made. Let us continue to bring down the walls of hostility which have divided the world for too long, and to build in their place bridges of understanding--so that despite profound differences between systems of government, the people of the world can be friends.
Read More »
January 21, 2009
WAR: Metaphor Overdose
"Former French President Chirac hospitalised after mauling by his clinically depressed poodle"
Tough day for the Al D'Amato of Europe.
January 18, 2009
WAR/POLITICS: Vetting Not Included
One hopes the new Administration's homeland security policy will be less porous than its inauguration invite list:
One of the religious leaders invited to address Barack Obama's inaugural prayer service Wednesday heads an Islamic group named by federal prosecutors as a co-conspirator in a terrorism-fundraising trial in Texas.

Ingrid Mattson, president of the Islamic Society of North America, is scheduled to join Christian ministers and Jewish rabbis offering prayers for the new president and his family during a service at the National Cathedral in Washington, organizers announced Friday.

Mattson's group calls itself "the largest Muslim umbrella organization" in North America. However, in May 2007, federal prosecutors included ISNA on a list of nearly 300 co-conspirators filed in a criminal case charging that the Holy Land Foundation of Richardson, Texas, funneled more than $12 million to Hamas.

The U.S. government designated Hamas as a terrorist group in 1995.

A trial in Dallas in 2007 for the foundation and five of its leaders ended with acquittals and mistrials. However, Holy Land and the five officials were convicted of all 108 charges in a second trial last year.
More background on Mattson herself here and here.
There are two possibilities here. One is that the Obama people simply didn't check out Ms. Mattson's background, which seems doubly implausible given that she spoke at the Convention in August. The other is that they have deliberately taken sides against DOJ's view of the Holy Land case (that's surely how the targets of that investigation will view the invitation - as a vindication that their activities are no longer frowned upon), and implicitly against the broader project of Justice's efforts to shut down the laundering of funds through Islamic charity groups inside the U.S. That's a very dangerous signal indeed.
January 15, 2009
WAR: Out of Bluff
McQ rounds up commentary from Armed Liberal and Spencer Ackerman on how the ascension of Obama to the presidency means anti-Iraq-War left-wingers (Obama included) are going to have to put up or shut up on choosing between their natural anti-war inclinations and their rhetoric about how important Afghanistan is.
This is part of a broader phenomenon I've noted before in left/liberal political argumentation: the tendency to be hawkish about whoever the United States is not in immediate conflict with, and the subsequent tendency to back down when a conflict actually approaches. The Democratic shift from hawkishness on Iran in 2002-04 to dovishness on Iran in 2005-present (see here for one example) is one of the more glaring examples. (It's not actually limited to foreign policy, but that's another day's argument). For all the huffing and puffing about Saudi Arabia, for example, you can be sure the left would drop all its complaints about the Saudis in a nanosecond if the United States actually tried to confront them.
January 13, 2009
WAR: Weeds
Bill Roggio gives an overview of the resurgent conventional military strength of the Taliban and Al Qaeda in Western Pakistan.
December 16, 2008
WAR: Cheney Holds His Ground
After September 11, the United States awoke to a series of unpleasant realities: an enemy was at war with us, and had been for some years; that enemy was not a traditional nation-state, but a loose confederation of non-state-actors - with safe havens and support provided by foreign states, to be sure, but united by a common political/religious ideology rather than by a geographic base; the enemy worked both within and without our borders, and depended on stealth; and our government was institutionally unprepared to deal with an enemy of that nature and methods. The Bush Administration, from that day to this, has faced a long series of hard choices in prosecuting a war unlike the major wars of the past: how to conduct surveillance on the enemy, how to detain and interrogate captured enemies, how to get boots on the ground overseas, and how to remake our intelligence and law enforcement systems to handle the information gained by doing all these things.
One of the signal failures of the Bush second term, in particular, has been an undue timidity in defending the hard and difficult choices made - choices, in many cases, that Barack Obama will have little realistic option but to ratify if he's going to be serious about defending the country. Attorney General Muskasey has been one rare exception to this trend, but the Administration's last and strongest voice on national security remains Vice President Cheney. Kudos to the VP for standing up for the Administration's security policies in a recent interview with ABC News:
Read More »
December 5, 2008
WAR: A Very Mugabe Epidemic
There are still too many odious tyrants in the world, and not all of them started off as dictators - some, like Vladimir Putin, Hugo Chavez, and Robert Mugabe, started off as elected politicians and gradually strangled democracy and liberty in their countries. Of those, Mugabe is the furthest down the path, and the natural endpoint of his race-baiting and populist left-wing economics is now in view, as a catastrophic cholera epidemic has Mugabe appealing for international assistance even from his nemesis (Great Britain); like so many of Africa's disasters, the epidemic is the work of bad government, the direct result of Mugabe's efforts to stamp out the opposition Movement for Democratic Change (MDC) party:
The cholera epidemic has been caused by the collapse of the country's water and sewage systems since the ruling Zanu (PF) party removed control of those services from cities with MDC mayors three years ago and set up the inept Zimbabwe National Water Authority.
This atrocity has even left-leaning African leaders calling for Mugabe's ouster:
Yesterday, in unusually robust words for an African leader, Kenya's Prime Minister Raila Odinga called on African governments to work together to topple Mr Mugabe. "Power sharing is dead in Zimbabwe and will not work with a dictator who does not really believe in power sharing," said Mr Odinga, referring to the negotiations on forming a unity government with the opposition Movement for Democratic Change (MDC) that Mr Mugabe has strung out for nearly three months. "It's time for African governments to take decisive action to push him out of power."

Archbishop Desmond Tutu of South Africa expressed similar sentiments, openly calling for Mr Mugabe's removal. "If they say to him 'step down', and he refuses, they must do so militarily," he said.
That would be Nobel Peace Prize winner Archbishop Tutu calling for military force to remove Mugabe, if you're keeping score at home. Mugabe won't go quickly, and his end has been predicted before as his campaign against white farmers throttled his country's once-successful agricultural yield. But with the likes of Odinga and Archbishop Tutu ready to call for his head, he may finally be approaching the end of the line.
November 24, 2008
WAR: Troubles For Hugo
Hugo Chavez: not that popular. Of course, Venezuela's entire economy rests on the price of oil, and like other oil producers, he's going to be a lot shorter of money in the near future. Chavez, of course, has used the combination of oil money with brutality and chicanery towards the opposition and electoral processes to stay atop Venezuela. With the money that supplies the carrot less plentiful, expect more of the stick.
LAW/WAR: Searching For Terror
Attorney General Mukasey's fainting spell at his Federalist Society speech (and his heckling by a member of Washington's state Supreme Court) have obscured an excellent speech on the Bush Administration's approach to terrorism and the rule of law. It's worth pondering in light of recent judicial developments, including from the Second Circuit (the federal appeals court sitting in Manhattan with jurisdiction over New York, Connecticut and Vermont) this morning.
Read More »
WAR: The Wages of War
Eric Posner looks at the humanitarian benefits and costs of the Iraq War.
November 21, 2008
WAR: Anti-U.S. Protest In Iraq
Peaceful protest. Which says it all, really, about how Iraq has changed since the days of Saddam; the fact that this is Sadr's people doing what people in democracies do also tells us how far we've come in the last 2-3 years.
Next you know, they'll be taking the subway. Or sending aid to California. Or this:
More here and here (at pp. 4-6). Unfortunately, instead of giving America credit for what our troops (and our allies) have sacrificed to make this all possible, we will now hear four years of this:
Read More »
November 9, 2008
POLITICS/WAR: Joe Biden Was Right
...for the first time in decades, in fact, on foreign policy: within the first day after the election, Russia and Iran both rattled their sabers to start testing President-Elect Obama. And an Obama foreign policy adviser reacted immediately by backing down in the face of the Russian statement. (It will be good to have Obama start getting his advisers confirmed so we don't have to keep sifting through his hundreds of foreign policy and economic "advisers" trying to figure out which ones speak for him).
Welcome to the big leagues, Mr. Obama. The rest of us have been given no choice but to depend on you.
November 7, 2008
POLITICS: Where His Bread Is Buttered
Rahm Emanuel, Barack Obama's first and most important staff hire as Chief of Staff: on the wrong side of the credit crisis, but the right side for his own pocketbook. Shocking, I know. The good news about making his first pick a hyper-partisan Chicago pol with a scandalous financial past is that it does away with the whole "new politics" pretense right from the outset. Even the NYT notes that "Democrats are second-guessing one of his first and most important post-election decisions: Why is he asking Representative Rahm Emanuel - "Rahmbo," one of the capital's most in-your-face partisan actors - to be his chief of staff?" Obama will be coming for the GOP with the long knives, and Republicans will need to go into that with our eyes open. Washington never changes, after all; only the names change, and so far those aren't changing much either.
Then there's Rahm's plan for compulsory national service. And they said Republicans were the ones plotting to bring back the draft.
On the upside, Emanuel supported the Iraq War:
On Iraq, Emanuel has steered clear of the withdraw-now crowd, preferring to criticize Bush for military failures since the 2003 invasion. "The war never had to turn out this way," he told me at one of his campaign stops. In January 2005, when asked by Meet the Press's Tim Russert whether he would have voted to authorize the war-"knowing that there are no weapons of mass destruction"-Emanuel answered yes. (He didn't take office until after the vote.) "I still believe that getting rid of Saddam Hussein was the right thing to do, okay?" he added.
If that signals Obama sobering up on Iraq now that he actually has to govern, all to the good. The nation needs the Democrats to govern responsibly. It's not like the anti-war faction has anywhere else to go, after all.
November 3, 2008
WAR/POLITICS: The Missing Victory
There's been a strange silence lately in the Presidential election: silence about victory in Iraq.
Number of U.S. combat fatalities in Baghdad this October? Zero, for the first time in the war. It's part of a larger trend:
Thirteen deaths were reported during October, eight of them in combat. The figures exactly match those of last July and reflect a continuing downward trend that began around Sept. 2007. October 2007 saw 38 deaths reported (29 combat); in October 2006 there were 106 U.S. deaths (99 combat) and in October 2005 there were 96 (77 combat).
October 2008 was the best (or, more accurately, least-worst) month of the war so far:
U.S. deaths in Iraq fell in October to their lowest monthly level of the war, matching the record low of 13 fatalities suffered in July. Iraqi deaths fell to their lowest monthly levels of the year....The sharp drop in American fatalities in Iraq reflects the overall security improvements across the country following the Sunni revolt against al-Qaida and the rout suffered by Shiite extremists in fighting last spring in Basra and Baghdad.

But the decline also points to a shift in tactics by extremist groups, which U.S. commanders say are now focusing their attacks on Iraqi soldiers and police that are doing much of the fighting.

Iraqi government figures showed at least 364 Iraqis killed in October - including police, soldiers, civilians and militants.

Despite the sharp decline, the Iraqi death toll serves as a reminder that this remains a dangerous, unstable country despite the security gains, which U.S. military commanders repeatedly warn are fragile and reversible.
Read More »
September 11, 2008
POLITICS/WAR: Talking Points Memo Does Not Understand The NATO Charter
TPM's David Kurtz headlines an excerpt of Gov. Palin's interview with Charlie Gibson tonight "Palin Foreign Policy: War with Russia." Kurtz is working off an alarmist ABC News headline "EXCLUSIVE: GOV. SARAH PALIN WARNS WAR MAY BE NECESSARY IF RUSSIA INVADES ANOTHER COUNTRY"
Unfortunately for Kurtz's effort to make Gov. Palin into Dr. Strangelove, his post includes a direct quote from the interview:
Read More »
WAR: Seven Years On
It never ceases to amaze me that we've gone this long without a followup attack. Oh, there have been major followup attacks against non-U.S. targets (Bali, Madrid, London), and a few random, unaffiliated crackpots at home (the DC snipers, the LAX shooter), but Al Qaeda and similar groups have been limited, for seven years now, to attacks in active theaters of combat, and don't have much to show for pouring all their resources into those theaters.
At the same time, we still haven't caught bin Laden, and can't even be sure to this day whether he's still alive or not. If you'd told anybody seven years ago that we'd go this long without being hit again and without catching bin Laden and Zawahiri, they would not have believed you.
I'll just post this one item worth reading, for the day, from Tuesday's NY Sun: with Musharraf gone and no further need to pull our punches to prop him up, U.S. troops under the command of Gen. Petraeus have now reportedly escalated to daily incursions into Pakistani territory. As has been true of operations in Pakistan for years now, our government and media can't afford to give us the whole truth about what's going on there, to avoid an unnecessary or at least premature collision backlash among Pakistan's radical elements. But I do find it encouraging that with Gen. Petraeus assuming the broader command of CENTCOM, we are finally accelerating the pace of operations in Pakistan proper.
August 18, 2008
POLITICS: Obama's Revisionist History on Iraq And WMD
Here is Barack Obama in Sunday's Saddleback forum:
Warren: What's the most significant--let me ask it this way. What's the most gut-wrenching decision you ever had to make and how did you process that to come to that decision?
Obama: Well, you know, I think the opposition to the war in Iraq was as tough a decision as I've had to make. Not only because there were political consequences, but also because Saddam Hussein was a real bad person, and there was no doubt that he meant America ill. But I was firmly convinced at the time that we did not have strong evidence of weapons of mass destruction, and there were a lot of questions that, as I spoke to experts, kept on coming up. Do we know how the Shia and the Sunni and the Kurds are going to get along in a post-Saddam situation? What's our assessment as to how this will affect the battle against terrorists like al Qaeda? Have we finished the job in Afghanistan?
So I agonized over that.
Kevin Holtsberry has already discussed how Obama mischaracterizes his 2002 anti-war speech as an act of political courage when it was really pandering to his political base, and Taranto notes that Obama's speech itself shows no indication that he struggled with the decision or even considered supporters of the war to be acting in good faith. (I've discussed previously why Obama's speech also trafficked in anti-Semitism).
But there's another aspect of Obama's revisionism that bears noting: his claim today that he was skeptical about the international intelligence community consensus that Saddam had biological and chemical weapons programs and was proceeding apace to get nuclear weapons.
Read More »
July 28, 2008
POLITICS/WAR: How Do You Ask A Frenchman To Be The Last Man To Die For Tax Cuts In Pennsylvania?
The "peace dividend" comes to Afghanistan
Barack Obama is trying to sell his request for more European troops in Afghanistan as a budget-savings move:
Barack Obama said Friday that persuading NATO allies to contribute more troops to Afghanistan could lead to U.S. troops cuts and help improve the U.S. economy, with reduced military expenditure being diverted into tax cuts to help middle class families.
+++
Asked what message his traveling abroad three months before the election sent to Americans, Obama said getting commitments from the United States' partners would help address some of the domestic issues Americans are facing.
"If we have more NATO troops in Afghanistan, then that's potentially fewer American troops over the long term, which means we're spending fewer billions of dollars, which means we can invest those billions of dollars in making sure we're providing tax cuts to middle class families who are struggling with higher gas prices that will have an impact on our economy."
This is basically a replay of the early-90s Democratic theme that the declining Cold War defense budget should yield a "peace dividend" of expanded domestic spending; as it turns out, while defense cuts were needed, we still needed a military, and even in wartime the Bush Administration probably hasn't done enough to rebuild the size of the active armed forces. The last thing we need is a president who thinks that national security in an active theater of war is a prime target for penny-pinching. It's also a rehash of John Kerry's effort to turn Iraq into a domestic-spending issue. (Ironically, the same people making this argument screamed bloody murder when Paul Wolfowitz briefly floated the idea that the Iraqis themselves might be able to defray some of the costs of post-war reconstruction of their own country with their oil revenues).
Leave aside for now the fiction that Obama is going to pass a "middle class tax cut" (we all remember what happened to Bill Clinton's promise to do the same - it didn't last two weeks after the election). Obama thinks Americans will be happy to see somebody else spend blood and treasure in Afghanistan...but it doesn't seem to occur to him that Europeans are quite happy with the status quo precisely because they don't want to bear those burdens themselves.
A plea for more troops in Afghanistan was, as it happens, virtually the only concrete thing (and certainly the only one asking anything of his audience) in the warm drizzle of platitudes Obama delivered in Berlin. But he's shown no understanding of two basic facts. One, nations send their young men and women to war principally because of their own perceived interests and their own internal political dynamics. Obama, with the blithe confidence of a man accustomed to talking his way out of anything, seems to think that his silver tongue will be all it takes to shake more soldiers loose; this is a mirror image of the idea that somehow the U.S. would have some grander coalition of friendly nations if only we didn't have that meanie George W. Bush around, and it too is a rehash of the Kerry campaign. But Britain, Poland and Australia went to war in Iraq, and France, Germany and Turkey didn't, principally for reasons of their own leadership's perceptions of their national interests.
Even the New York Times recognizes that Obama can't just paper over these issues with 'just words':
Read More »
July 26, 2008
POLITICS/WAR: Chuck Hagel On Iraq: Forget 2007 and 2008, That's Ancient History Now
Don't Stop Thinking About Tomorrow
Chuck Hagel, fresh from his trip to Iraq to provide a patina of bipartisanship to Barack Obama, tips the hand of the Obama camp's inability to explain away Obama's terrible misjudgment in opposing the "surge":
"Quit talking about, 'Did the surge work or not work,' or, 'Did you vote for this or support this,'" Hagel said Thursday on a conference call with reporters.

"Get out of that. We're done with that. How are we going to project forward?" the Nebraska senator said. "What are we going to do for the next four years to protect the interest of America and our allies and restructure a new order in the world. ... That's what America needs to hear from these two candidates. And that's where I am."

Hagel, too, opposed the troop increase strategy, though he acknowledged Thursday it brought about positive changes. "When you flood the zone with superior American military firepower, and you put 30,000 of the world's best troops in a country, there's going to be a result there," Hagel said.
This is an amusing turn of events, given that for years now the Democrats - and anti-war Republicans like Hagel - have been eager to duck questions about Iraq's future by focusing on the decisions made in 2002-03 to go to war in the first place. Suddenly, a candidate like Obama who staked his claim to national security competence on a speech he gave in 2002 needs desperately to avoid talking about positions he took in 2007 and 2008. Hagel's remarks, in his capacity as a de facto Obama campaign surrogate, reflect that desperation. As does Obama's effort to spin the movement in the direction of a 2010 withdrawal date as somehow a vindication of his call for withdrawal by March 2008, a claim that Tony Blankley demolishes:
Read More »
July 23, 2008
POLITICS/WAR: Obama's Losing Bet On Defeat
Even after eight years in which every conceivable calumny has been hurled at President Bush, his advisers and his supporters, there are apparently some things you are not supposed to say in American politics, and John McCain has gone and said one of them:
This is a clear choice that the American people have. I had the courage and the judgment to say I would rather lose a political campaign than lose a war. It seems to me that Obama would rather lose a war in order to win a political campaign.
Mainstream media liberals like Joe Klein and Obama flacks like John Aravosis headed for the fainting couches at the suggestion that Obama was willing to lose the war in Iraq in order to win this election. But the facts are the facts, and they show beyond any doubt that Obama chose to pursue defeat in Iraq instead of a strategy that is leading us to victory:
1. Obama's public statements from 2004 through 2006 recognized that withdrawal from Iraq would lead to defeat and disaster.
2. In early 2007, when President Bush announced the "surge" strategy to try to win the war, leading Democrats - Obama included - publicly concluded that the war was lost and accordingly opposed the surge.
3. Obama went further and rolled out a plan to begin drawing down troops in May 2007, leading to a full withdrawal by March 2008. There was no pretense that this was to be a victorious withdrawal; Obama stated in his press release that "no amount of American soldiers can solve the political differences at the heart of somebody else's civil war" and that he was proposing to "reverse[] the President's dangerous and ill-conceived escalation of the Iraq war" and "bring a responsible end to this war and bring our troops home". The press release made no mention of victory or even honor.
4. Obama's opposition to the surge and calls for an immediate commencement of withdrawal proved popular with his supporters in the Democratic primary and helped him win the nomination of his party.
5. John McCain, by contrast, supported the surge on the grounds that it would lead to victory.
6. It is now obvious, and so broadly conceded that Klein paints it as beyond dispute, that the surge has succeeded and will lead to victory in Iraq.
7. Had we followed Obama's strategy instead of McCain's, it is equally clear that we would have lost the war, as the Iraqis could not have done it without us.
While Aravosis calls McCain's statement "a brutal lie," he does not take issue with any of those facts. Meanwhile, Ann Althouse delivers a devastating rebuke to Klein for his insistence that it is out of bounds to present America with the facts of Obama's choice and the necessary consequences of that choice:
Read More »
July 22, 2008
WAR: Srebrenica and The Price of Not Making War
On the occasion of the arrest of Radovan Karadzic, I thought it worthwhile to re-run a post I wrote in July 2005 on the tenth anniversary of Srebrenica. It remains a signal lesson in the danger of returning to the era when "nation building" and "peacekeeping" were considered not as supplements to war aims but as ends in themselves.
There is peace, and there is war. Srebrenica is a reminder that there is no halfway between the two. The Wall Street Journal remembered Srebrenica, on the tenth anniversary of the 1995 massacre:
Read More »
July 21, 2008
WAR/POLITICS: Are We There Yet? Victory in Iraq and the 2008 Election
"Events, dear boy, events."
--Former British PM Harold Macmillan on the greatest threat to any government's plans.
"In chaos there is opportunity"
--Variously attributed.
It's time for Republicans to decide: are we willing to stake the election on the proposition that we have won the war in Iraq?
I. Prelude: Early 2007
Way back at the beginning of 2007, at the beginning of the marathon primary race, the Republican frontrunner, John McCain, and the Democratic upstart, Barack Obama, committed themselves to their respective strategies for the Iraq War. McCain, a vocal supporter of the war and leader in the debate about the war as far back as 2002 - and, indeed, one of the leading voices on every public foreign policy controversy of the last two decades - stubbornly declared that he would "rather lose an election than lose a war," and committed the success of his campaign to the success of the "surge," the decision by President Bush after the 2006 elections to revamp his Iraq strategy with more troops and a freer hand for Gen. David Petraeus to pursue an aggressive counterinsurgency. The surge wasn't entirely McCain's idea, but McCain had been the most vocal advocate for years for a larger and more agressive troop presence, and with the President finally having taken his advice, he staked his political fortunes on a turnaround in Iraq.
Obama, by contrast, had blasted the Iraq War in an October 2002 speech, but had been cautiously distant from the war debate since then (as documented in this video and the McCain campaign briefing paper linked here, Obama's few public statements on the war between 2003 and 2006 indicated that he was opposed to a precipitous withdrawal); he could have chosen a more moderate position, but instead came out opposing the surge, saying in January 2007:
I am not persuaded that 20,000 additional troops in Iraq is going to solve the sectarian violence there. In fact, I think it will do the reverse. . . . [I] did not see anything . . . that provides evidence that an additional 15,000 to 20,000 more U.S. troops is going to make a significant dent in the sectarian violence that's taking place there.
Typically of Obama's approach to the primaries, he then went even further, calling for troop drawdowns beginning in May 2007 and the complete withdrawal of U.S. troops from Iraq by March 31, 2008. (His plan also called for a desperate effort at "regional diplomacy" with Iran and Syria, under an absurd 60-day deadline). Obama, in short, banked on the political unpopularity of the Iraq War - which had been a factor in the just-completed rout of the Congressional GOP in November 2006 - and staked his credibility on the proposition that the surge would fail and the U.S. should be leaving Iraq immediately.
II. State of Play: Spring 2007-Spring 2008
Politically, most of 2007 and the first half of 2008 were taken up with McCain and Obama fighting opponents within their own parties, although the GOP primary field didn't include anyone other than Ron Paul who challenged McCain head-on on Iraq, preferring to attack him on domestic issues. Nonetheless, McCain's political fortunes rose as evidence poured in that the surge was succeeding, winning him the respect of GOP voters who often disagreed with him on other issues.
Meanwhile, Obama used his newly unambiguous hostility to the Iraq War to seduce the anti-war Left and paint his opponent, Hillary Clinton, as insufficiently principled and lacking in judgment for not having opposed the war from the beginning. New facts on the ground in Iraq never really figured into the Democratic debate, since neither candidate could afford to alienate voters who saw the war as a bad decision and irretrievably lost.
Republicans, having lost most of the PR battles about the war's commencement, and given the unpopularity of President Bush, assumed that the best strategy for the fall campaign against Obama would be to look forward and draw contrasts with his plan - still on the shelf, but with only the dates changed - to begin a withdrawal from Iraq on a fixed timetable, with little regard for intervening developments on the ground and even less for the sentiments of an Iraqi democracy that Obama would have been just as happy to see never called into existence. McCain's own declared strategy was to continue keeping our commitment to Iraq open-ended, with no more specific timeframe than a general promise of McCain's goal to win the war by the end of his first term. Obama's campaign, recognizing the limits of running as a peacenik, seemed content to do a lot of the same, not avoiding the issue of the war's commencement but focusing less energy on 2002 and more on an egregious misquoting of McCain designed to make it sound as if he wanted 100 years of war in Iraq.
As late as the end of June 2008, the status quo held - McCain kept talking about doing whatever it takes to win, Obama about a fixed schedule for withdrawal to formalize defeat. But finally, the facts on the ground have started shifting dramatically enough to force the terms of the debate to change.
III. New Realities: July 2008
The first cracks in the lines of battle came just before the July 4 weekend, when Obama made statements suggesting that he was open to considering a more flexible approach to Iraq based on the facts on the ground. Conservatives generally took this as a disingenuous effort to blur the contrast with McCain's successful and facts-based approach, but Obama hastily called a second press conference on the same day to walk back his comments, leaving open again the possibility of a clear contrast.
What has happened since then is a snowballing of momentum, driven largely outside the control of the two candidates, by another candidate running in his own elections: Iraqi Prime Minister Nouri al-Maliki. As is often the case in countries defended under the U.S. umbrella - Germany, South Korea, the Philippines - Iraqi public opinion, as variously measured, has been decidedly ambivalent towards its U.S. protectors, and statements over the years by Maliki have reflected that - Iraqis would like the U.S. to leave, but have generally not felt that their leaders and institutions were ready to stand up and take the place of the Americans. Thus, Maliki has frequently spoken of wanting to end the large-scale U.S. presence (while engaging in back-and-forth negotiations with our government over a more limited presence in permanent bases), but he has never called for an immediate withdrawal, or even an immediate commencement of any long-term plan for withdrawal.
Now, however, that is beginning to shift. First, came the news that Maliki and President Bush have reached an initial agreement on the long-term withdrawal plan:
President Bush, who'd been opposed to any timetable for removing American forces from Iraq, reached an agreement with Iraqi Prime Minister Nouri al-Maliki to set a "general time horizon" for a withdrawal.
Next came the news from fiercely anti-war and anti-Bush German magazine Der Spiegel that Maliki appeared to have endorsed the 16-month timeframe now pushed by Obama. This was met with predictably fatuous commentary from the Democrats suggesting that somehow Obama had been right all along:
"It's a devastating blow to the McCain campaign - not just that Maliki moved to Obama's position but that Bush did as well," said Richard Holbrooke, a former United States ambassador to the United Nations for the Clinton administration.
Of course, it's nonsense to suggest that a withdrawal by, say, May 2010 is the same as a withdrawal by March 2008. In the business world or the sports world, being wrong by a margin of more than two years is called "being wrong." Only in politics can you get away with such a thing. It's also nonsense to say that Bush is listening to Obama when Bush only got to where he is now by doing the exact opposite of what Obama was telling him to do for the past year and a half. If someone tells you, "don't eat that sandwich," and you eat the sandwich, and you stop eating when there's no sandwich left, can he then say "you followed my advice! See, you are not eating the sandwich anymore"? Obama is just stealing the credit for other people who succeeded by ignoring him.
Moreover, subsequent news reports revealed that Maliki's statement had been mistranslated and/or baldly misquoted by Der Spiegel, as evidenced by the fact that even the New York Times now translated his statement as follows:
The following is a direct translation from the Arabic of Mr. Maliki's comments by The Times: "Obama's remarks that - if he takes office - in 16 months he would withdraw the forces, we think that this period could increase or decrease a little, but that it could be suitable to end the presence of the forces in Iraq."

He continued: "Who wants to exit in a quicker way has a better assessment of the situation in Iraq."
Patterico also notes that Der Spiegel initially qualified Maliki's remarks as saying "[a]ssuming that positive developments continue", a position wholly at odds with the 16-and-out timetable approach. Certainly Maliki is distancing himself now from Der Speigel's account, so even if it was accurately reported, no honest person can claim that it represents the position of Maliki's government. (More from Mark Impomeni here).
IV. McCain's Dilemma, McCain's Opportunity
A. The Right Policy
Where does this all leave McCain? Regardless of the flap over Der Spiegel, the fact remains that momentum for U.S. withdrawal from Iraq is suddenly building faster among the staunchest supporters of the war - specifically President Bush and Prime Minister Maliki - than anyone would have anticipated. A general but flexible "time horizon" is slightly less rigid than fixed timetables, but it's not actually a large difference; the large difference is the extent to which conditions on the ground are suitable for announcing such a schedule. All (but the diehard Barackheads) now agree that the conditions for a time frame for withdrawal were not in existence when Obama proposed his schedule in early 2007. In fact, Obama himself has effectively been forced to admit this, in this grudging passage in last Tuesday's speech:
It has been 18 months since President Bush announced the surge. As I have said many times, our troops have performed brilliantly in lowering the level of violence. General Petraeus has used new tactics to protect the Iraqi population. We have talked directly to Sunni tribes that used to be hostile to America, and supported their fight against al Qaeda. Shiite militias have generally respected a cease-fire. Those are the facts, and all Americans welcome them.
In other words, even if we really do start withdrawing troops, it will be on far better terms than if we had fled the field behind Obama's call for retreat last spring. But is it wise to do so?
Let's recall a few basics here. First, while the primary goal of the war in the first place was to remove Saddam's regime, a goal that many of us recognized would result in huge dislocations as Iraq sought new institutions to replace the regime, goal #1 of the post-invasion period has always been an Iraqi government that has popular legitimacy and the willingness and ability to defend its own territory against foreign jihadist groups like Al Qaeda and aggressive neighbors like Iran. The necessary corollary of that goal is that once the Iraqis were willing and able to do the job without our help, we would leave. McCain in 2004 took that view as well:
[In] a 2004 interview with McCain ...he responded to a question asking what he would do if "a so-called sovereign Iraqi government asks us to leave, even if we are unhappy about the security situation there" by saying, "If it was an elected government of Iraq ... I don't see how we could stay when our whole emphasis and policy has been based on turning the Iraqi government over to the Iraqi people."
Increasingly, Maliki is saying they will be willing. But when the time comes that they are ready to put that to the test, will they be able? It seems unavoidable that for our larger long-term project in the region to succeed, we have to step back and give them the chance to determine their own path, even if it's against our better judgment, just as we have stood by with only periodic and limited interference as the post-Communist and Communist-aligned states have gone their many different ways since 1989. The job will never be done in Iraq, any more than it is done today in Ukraine or Nicaragua.
Second, and relatedly, there were always two distinct lines of conservative criticism about setting timeables for withdrawal:
1. Iraq isn't ready for us to leave, so we can't start leaving.
2. As long as the enemy is strong enough to hit back or to go to ground for a while, we can't publicly announce when we will leave.
Realistically, both of these criticisms are based on the same factual assumption: that we have not yet vanquished the enemy. Nobody ever said timetables were a bad idea once you have cemented a victory. The question is whether we have sufficiently passed the point of no return where victory is inevitable regardless of what the enemy does, so that we can openly start drawing people down and trust that the Iraqis have the situation in hand without us. No serious person thought last spring that we could reach that point by now - but are we there yet?
I must be honest: I don't know. I would love to believe that we have; an unalloyed American victory in Iraq and the ability to get most of our troops out of there would be the greatest news we have had in a long time. But progress over the last several years has been frustratingly slow, often of the four-steps-forward-three-steps-back variety, and sometimes the other way around, and we've had false springs before - Al Qaeda in Iraq in particular has looked dead and vanquished at times, notably with the death of Zarqawi and rolling-up of his leadership cadre, only to regenerate itself. (Then again, the renewed vigor of the Taliban forces in Afghanistan of late would seem to support Hitchens' point - our enemy in both theaters is drawing from the same basic pool of jihadists, and more of them pouring into Afghanistan may indicate that they are finally giving up hope of beating us in Iraq as a futile drain on their efforts). Jeff Emanuel explained in detail last fall why the surge's progress was too fragile to survive a coalition withdrawal; it's an open question and not an easy one for Bush, McCain, Gen. Petraeus and the other serious adults to decide whether it's really a good decision to start announcing even a relatively flexible and open-ended withdrawal plan. If they don't feel that it is, it will at least be incumbent on them to make their case forcefully to Maliki for more patience.
B. The Right Politics
Republicans, saddled with the responsibility of actually carrying out policy, have not had the freedom the Democrats have had to press simple slogans of the moment, paint with broad-brush generalities, and advocate mutually inconsistent policies at different times. Combine that with the Bush Administration's congenital inability to do the hard work of defending its past decisions and explaining to the American people what was happening as it happened, and Republicans have missed many opportunities to bolster public support for the war, to the detriment of the party and, far more importantly, to the detriment of the war effort. The stakes remain high: we can't afford Obama's weak, misguided and uninformed leadership if we are to win the broader war. To beat Obama, we need to tell a clear, simple story that illustrates the contrast between McCain and Obama. Victory in Iraq is a tempting opportunity to do this...but is it a case that can fairly and honestly be made, or would it be dangerously premature?
If we really are facing a convergence on the future - if we're close enough to victory in Iraq that victory could now survive even an Obama presidency - then John McCain may truly have lived up to his mantra, losing an election while winning a war. But there's no reason why the party that has been solely responsible for setting our course in Iraq should suffer from the success of that endeavor. If McCain believes that he can make a responsible case that victory really is at hand, he should not hesitate to make it, and use it to drive home the point that with the nation still at war in Afghanistan and still threatened by radical Islamism in Iran and around the globe, the man whose strategy for finishing the job in Iraq should be trusted over the man who counseled retreat when it turned out we were one final surge from victory. Americans, after all, like winners, and don't so much like people who make losing bets with our lives and our money.
As a political strategy, declaring victory has its risks, not least that it will work only if McCain and Bush can stay on the same rhetorical page on this issue, and that it gives the enemy a say - events, dear boy, events. As a matter of national security strategy, though, it comes back to the same dilemma that Obama never need worry about and isn't qualified to judge anyway: actually doing the right thing to ensure that we win the war. Because if the nation needs to hear that American troops have much more work to do in Iraq, then perhaps the GOP will need to take its political lumps to do what is right, and let Obama take credit for whatever happens to be popular. The pundits can't answer that question for McCain and Bush (although they are doomed on both fronts if they come to different conclusions). They must face that decision themselves.
July 18, 2008
WAR: Robin Meade and the Hostages
News flash: three men held in captivity and isolation for several years decide they would like to talk to....a really attractive woman. The Observer finds this to be a puzzler worthy of an entire article:


Ms. Meade said she never did find out why the former detainees had decided to appear solely on her show.

"They indicated that they felt they could trust me, that they liked the way I conducted the show," said Ms. Meade. "But to be honest, I didn't say, 'Enough about you, what do you like about me?'"
Wonders never cease.
July 8, 2008
WAR/POLITICS: McCain on Obama on Iraq: "I hope that he will reach a position."
John McCain on Obama's recent wobbling on Iraq and Obama's concession that he would go to Iraq after McCain called him out on not visiting or meeting with our commander there:
Well, I think you know that I opposed the failed strategy of the Bush administration. I argued for the strategy that is succeeding. I have been to Iraq 8 times. I know the situation on the ground. I predicted we would succeed and we are succeeding. And, we are winning. That victory is fragile, it can be reversed. Sen. Obama opposed the surge. He said it would fail. He still is saying that it would fail. Now, last Thursday or Friday, it seemed for a while there he was agreeing with the surge, then maybe he's not. So, I'm glad he's going to Iraq for the second time. He hasn't been there in 900 days. I'm glad, for the first time, he's going to sit down with General Petraeus -- for the first time, a sit-down briefing, if you can believe that. And, I hope that he will reach a position. I don't know what position, because he's been all over the map, calling for immediate withdrawals, back in the primaries to now saying you know -- so it's hard to know. I hope that he'll go over there and get the kind of information he needs that he hasn't requested in the past...But, have no doubt what my position was when I called for additional troops, it was a very unpopular thing to do and many people said my campaign was dead and I said I'd rather lose a campaign then lose a war. He said it would fail, it has succeeded. [The] American people should take notice of that. So, I'll see what he has to say when he gets back from his visit to Iraq. And, I'm sure he'll be impressed with a sit down with one of the greatest generals that America has ever produced, General David Petraeus.
Of course, Obama has now apparently decided that the perception that he's a flip-flopper with no principles is an even more devastating demonstration of weakness than the perception that he would sell out our allies and abandon the mission in Iraq to pander to the anti-war left - really, it's just a choice of who he surrenders to first - so his surrogates are now claiming that it's a lie that Obama ever wavered in his commitment to abandon Iraq. Oceania was never, we repeat never, at war in Iraq! But in political campaigns, as in war, the enemy gets a say in your game plan, and McCain is unlikely to let Obama simultaneously escape responsibility for being wrong about the surge and for belatedly trying to escape the consequences of being wrong.
Read More »
WAR: Sad Story
Set aside for a moment the debates over phony suicide statistics and the other tropes of the anti-war movement - it's nonetheless clear that some of the casualties of war are men who are forever changed, in some cases fatally, by what they see and experience in battle. This is one such story, and a very sad one at that. RIP, Army Spc. Joseph Patrick Dwyer.
June 28, 2008
WAR: The Wrong War, The Wrong Place, The Wrong Strategy
Is being stretched thin, bled dry, demoralized and defeated in the war for hearts and minds of the Muslim world by the war in Iraq a recipe for losing the war on terror?
Strategy Page says that for Al Qaeda, it is. Via Vodkapundit. I must say I'm a little skeptical of the statistic that only 4% of the jihadists in Iraq have been foreign, however.
June 23, 2008
FOOTBALL/WAR: George Martin Still Rules
Martin has just finished his cross-country walk to raise money for September 11 responders.
June 20, 2008
WAR/POLITICS: Obama Retreats On FISA
I asked yesterday how Barack Obama, who opposed the FISA bill last time it came around and specifically opposed the telecom immunity provisions, would handle the compromise by which nearly the same bill has now passed the House and will return to the Senate with sufficient votes to pass. You will recall the emphatic nature of Obama's statement in opposition:
I strongly oppose retroactive immunity in the FISA bill.... No one should get a free pass to violate the basic civil liberties of the American people - not the President of the United States, and not the telecommunications companies that fell in line with his warrantless surveillance program. We have to make clear the lines that cannot be crossed.
Well, anyone who was observing this campaign to find out whether Obama has credibility when he draws that kind of line now has their answer: he folds like a cheap suit:
Read More »
June 19, 2008
WAR/POLITICS: BREAKING: FISA Deal
Jed Babbin reported the rumors this morning and explained why telecom immunity is a sticking point, and the WSJ is now reporting ($) that in the House, at least, a deal has finally been struck to move a 'compromise' FISA bill. You should read the whole thing; here's how the WSJ describes the telecom immunity provision:
The agreement would also pave the way for [telecom] companies ... to shed the nearly 40 lawsuits they face for allegedly participating in a prior version of the NSA program... To win immunity, they would have to pass review from a U.S. District Court.

...Critical to sealing the deal was a compromise that would grant conditional immunity to telecommunications companies for assistance they provided from September 2001 through January 2007. If the companies can show a federal district court judge "substantial evidence" they received a written request from the attorney general or head of an intelligence agency stating the president authorized the surveillance and determined it to be lawful, the cases against them will be dismissed.
UPDATE: The Politico has the story along with the text of the compromise bill. The House is scheduled to vote tomorrow.
Provisionally, this seems like a win for national security and a win for the GOP, and a defeat for the far Left, the 'netroots,' and the plaintiffs' bar. The bill, if passed, will institutionalize even under an Obama Administration surveillance that has previously been conducted only because President Bush ordered it. On the presidential level, the deal sounds like one that John McCain will happily fall in with, and vindicates his longstanding position that the President, regardless of what he can do, should go to Congress for authority on surveillance. And it puts Barack Obama in a tough spot: if Pelosi and Reid are marshalling their troops behind it (even though they both personally oppose the deal), and he opposes them, he will yet again be shown to be an extremist outside the mainstream of his own party; yet if he supports the deal, he will have flip-flopped on his prior votes against FISA bills that contained telecom immunity.
Read More »
WAR: Where The Girls Are
You may or may not believe in the theories propounded by Mark Steyn and others as to the powerful effects that demographic changes will have on the future of the world in general and the relative balance of power between Europe and the Muslim world in particular, but there's no denying that demographic trends are a powerful historical force that influences every other aspect of the world - quite simply, you can't look meaningfully at what the people want or are capable of doing until you know who the people are. A nation's people really are it's most important resource, without which all other resources, from capital to natural resources to strategic location, will lie fallow or fall to other hands.
There are a lot of different ways to slice the demographic data. Steyn often uses birthrates to explan the dramatic differences between growing populations in places like Yemen and rapidly aging and shrinking ones in the old Soviet Union and Western (especially southern) Europe. But while the birth rates are probably the best data point, I fear that some observers tend to write them off because they are trends, and trends after all can change.
Another way to look at the numbers, though, is that once a year is over, there's a fixed number of children born in a country, and while you can add more by immigration - which in many cases changes the fundamental nature of the population if done in numbers large enough to move the needle, trend-wise - and you can subtract for infant mortality or other calamities, basically you have a hard, fixed, historical number. Russia can increase it's 2009 birthrate but it can't change the number of children born in Russia in 2006 - and that number will be part of the baseline for future population growth or decline. Trends plus time equal history.
What follows is a look at some of those hard numbers.
Read More »
June 17, 2008
WAR/POLITICS: No, We Can't Beat The Terrorists?
Another Day, Another Obama Aide. Not The Richard Danzig Obama Knew?
No day is complete without an Obama aide doing something that Barack Obama will sooner or later have to disavow, and this time it's an old favorite variety: the foreign press quoting a national security adviser speaking the counsel of defeatism:


Richard Danzig, who served as Navy Secretary under President Clinton and is tipped to become National Security Adviser in an Obama White House, told a major foreign policy conference in Washington that the future of US strategy in the war on terrorism should follow a lesson from the pages of Winnie the Pooh, which can be shortened to: if it is causing you too much pain, try something else.

Mr Danzig told the Centre for New American Security: "Winnie the Pooh seems to me to be a fundamental text on national security."
+++
In a subtle break from Mr Bush's belief that the war on terror can be won, Mr Danzig, who is a Pentagon adviser on bioterrorism, warned that while the West can defeat individual terrorist groups and plots, it can never entirely remove the threat posed by nuclear proliferation or the prospect of bioterrorism.
Read More »
June 16, 2008
WAR/POLITICS: "I've Never Said That Troops Should Be Withdrawn"
He was against withdrawal before he was for it. H/T. This was April 2004. Note that by early 2007, Obama had moved in the direction of calling for precipitous withdrawal just as the Bush Administration was moving in the opposite direction, increasing our active troop presence....the facts went one way, the Democratic primary voters went the other, and that's where Obama followed. (If you are keeping score, this replaced the subdued, cautious Obama of 2004 with someone more like the Obama who in 2002 pandered to his audience by singling out the Jewish members of Bush's national security team for blame them for the war).
Judgment.
Fast forward to 2008, and is Obama willing to reconsider his position in light of changed facts on the ground? Even Bush, stubborn as he is, agreed to do that in late 2006, when he acceded to the "surge" and accompanying change in counterinsurgency tactics. But Obama refused to even visit Iraq, afraid of what he might learn there (he's taken a similar approach with his refusal to educate himself about Afghanistan). Until this:
So, now, caving to political pressure from McCain, Obama has had to agree to go visit Iraq and Afghanistan. And, in a modest concession to reality, he's now using improved conditions on the ground (as a result of the policy McCain championed and Obama opposed) to justify...continuing to argue for doing what the Democratic primary voters wanted. At the same time, he apparently had to engage in yet another round of Obama-and-his-advisers-disavow-each-other, as Obama today stressed his commitment to withdrawal to the Iraqi foreign minister after this report came out on Friday:
Iraqi Foreign Minister Hoshyar Zebari said that U.S. Democratic presidential candidate Barack Obama's campaign managers had reassured Baghdad that if Obama is elected he will not dramatically change Washington's policy towards Iraq and will take into account the opinions of the commanders in the field.

Zebari noted that this reassurance is important, in light of the widespread impression that Obama is expected to completely overturn current policy.
Whatever this is, it's not leadership.
June 12, 2008
POLITICS: Guantanamo and A Tale of Two Campaigns
As Chief Justice Roberts pointed out, the core issue in today's detainee decision is the struggle between the power of Congress and the power of the courts: it's not whether the U.S. has the right to detain enemy combatants, and not whether non-U.S. citizen detainees have access to legal process to challenge their detention, but simply whether Congress has a right to define and limit those procedures (as it did by statute in 2005 and 2006), or whether the Supreme Court has absolute authority to require that all procedural rules be determined by the district courts and reviewed by the Supreme Court. For this President and his successor, however, the bottom-line question remains what to do with enemy combatants: continue to hold them at Guantanamo or some similar facility subject to the new procedures, go back to Congress for yet another set of rules, or perhaps ship more detainees off to other countries to handle in their own way.
In a serious world, we'd expect presidential candidates to present competing visions of how to answer both sets of questions. But the responses of the McCain and Obama campaigns to today's decision shows that each is too busy struggling in their own ways with the politics of this issue to address it meaningfully.
Let's start by noting the fact that the two statutes struck down by the Court today were passed by the U.S. Senate, in which both candidates sit. The Detainee Treatment Act of 2005, a rider to military appropriations, among other things provided a set of procedures, and limited judicial review, for detainees challenging their enemy combatant status. It passed 90-9, with both McCain and Obama voting in favor. The Court today held "those procedures are not an adequate and effective substitute for habeas corpus." The Military Commissions Act of 2006 specifically precluded the DTA's procedures from being evaded by recourse to habeas corpus review, and eliminated the Supreme Court's jurisdiction over such cases; it passed 65-34, with McCain voting in favor and Obama voting against. The Court held today that the MCA "operates as an unconstitutional suspension of the writ."
How did the candidates respond to the decision? First, the McCain response, as related by Michael Goldfarb at the McCain Report (the excellent official campaign blog):
SEN. JOHN MCCAIN: It obviously concerns me. These are unlawful combatants, they are not American citizens, but -- and I think that we should pay attention to [Chief J]ustice Roberts' opinion in this decision -- but it is a decision the Supreme Court has made. Now we need to move forward. As you know, I always favored closing of Guantanamo Bay and I still think that we ought to do that.

McCain's position has always been that these people do not "deserve the protections of the kind of judicial process that a citizen of the United States would have." This is also the position of Chief Justice John Roberts, who dissented from today's ruling, noting that the process already in place included "the most generous set of procedural protections ever afforded aliens detained by this country as enemy combatants."
The rest of Goldfarb's post smacks Obama for voting against Roberts. You can tell that Goldfarb would like to go harder after the Court's decision, but the campaign and the candidate are constrained by McCain's own Gitmo-bashing, and so while McCain's response sides with Roberts and the statutes McCain voted for, it has to be somewhat muted on the pragmatic consequences of the decision because McCain isn't really clear on what he himself would do with those detainees.
Obama, meanwhile, is off in his own little world, unconstrained by the facts but therefore unwilling or unable to confront McCain over McCain's actual position:
Today's Supreme Court decision ensures that we can protect our nation and bring terrorists to justice, while also protecting our core values. The Court's decision is a rejection of the Bush Administration's attempt to create a legal black hole at Guantanamo - yet another failed policy supported by John McCain.
It's not clear what Obama means here. First, if the DTA's procedures are themselves "a legal black hole," and if he agrees with the Court that they are inadequate to satisfy due process, why on earth did Obama vote for them? Second, he's ripping McCain for "support" of Bush's Guantanamo policy, completely ignoring the fact that McCain has been calling for some time for shuttering the place. Third, if Obama means that McCain "supported" Bush's policy by voting for the DTA and the MCA, what about Obama's own vote for the DTA?
WAR/LAW: Unintended Consequences
I don't have nearly the time and space here to do justice to today's opinions on enemy combatants, starting with the decision in Boumediene v. Bush, extending habeas corpus to foreign nationals detained at Guantanamo (which I partially summarized over at RedState as it broke, before I had to stop to deal with a decision of the Court in which I was directly involved). I'd highly recommend the scathing dissents of Chief Justice Roberts, who explains why the Court should not have decided that the Congressionally enacted procedures provided to detainees were inadequate without either (1) seeing how those procedures worked in practice or (2) explaining in any detail how the procedures required by the Court would be different, and Justice Scalia, who explains why the Court got the basic question of the historical scope of habeas wrong and illustrates the lethal consequences of today's decision.
But I'd like to highlight two points from today's opinions that illustrate some unintended consequences, and why in the end they may not accomplish the results claimed for them. Specifically, today's decisions will hasten the process of handing off detainees to foreign governments while protracting rather than accelerating the legal process for determining the status of detainees.
The first comes from the Court's less-publicized unanimous decision today in Munaf v. Geren, which held that while habeas extends to U.S. citizens detained by the Multinational Force-Iraq, the