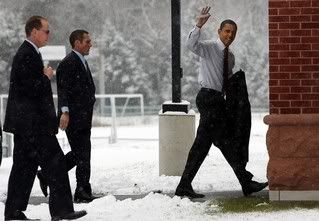 The state of Kentucky has, for the past six days, been under a state of emergency declared by Gov. Steve Beshear last Tuesday in the aftermath of heavy winter storms that knocked out power lines and is being followed by flooding as the snow melts. * On Saturday, the state finally called up the entire Kentucky National Guard, its largest mobilization in its history, and the storms have been blamed for at least 42 deaths across the region. * As many as 700,000 people were without power at one point, including nursing homes and shelters, and hundreds of thousands remain so. Some could be without power for weeks. As of Friday, things were getting worse in some places:
Some local officials are growing angry with what they say is a lack of help from the state and the Federal Emergency Management Agency. In Grayson County, about 80 miles southwest of Louisville, an emergency management official said the 25 National Guardsmen who have responded have no chain saws to clear fallen trees brought down by ice.
More here. FEMA is still in making-excuses mode:
Marty Hudak, spokesman for Obama FEMA director Nancy Ward, said emergency personnel can't get to the people living (and dying) in these dangerous disaster areas because it's, well, too dangerous to do so.
"We have plenty of folks ready to go, but there are some limitations with roads closed and icy conditions," she told the AP.
Where was President Obama? Not in Kentucky, that's for sure; Obama may have ripped DC residents for being wimps about the snow in a city whose Democrat-dominated government is famously unable to clear snow (while he himself cranks up the White House thermostat – hey, as David Axelrod notes, "He's from Hawaii, O.K.?…He likes it warm"), but he's been nowhere to be found in Kentucky. Instead, Sunday night he was having a Super Bowl party to schmooze lawmakers (guest list here). * Of course, Beshear, being a Democrat, has to do what he can to defend Obama, but the best he can come up with in terms of the president's personal involvement is that he made a phone call to Beshear. * As of this morning, Beshear was still pressing for Obama to declare a major disaster to speed up federal aid. Beshear has been visiting the affected areas, but the president is not at his side.
Obama's defenders may argue that the new Administration, having only been put in charge of FEMA ten days ago, can't be expected to renovate the agency overnight. That's a fair point, even though it overlooks those same defenders' focus on Mike Brown's personal performance during Katrina. But the best way to overcome any lassitude on the part of the agency is to get the president publicly out in front of the issue, and the best way to inoculate Obama against political damage is for him to show some personal concern. He doesn't seem to see it that way.
I noted among my ten lessons from the Bush Administration the importance of the president just physically being there in hard times. Bush's physical presence was important to New York in September 2001, when he visited Ground Zero three days after the September 11 attacks; his physical absence was felt in New Orleans in September 2005, when he did a floyover two days after Hurricane Katrina hit but didn't make an appearance on the ground until four days after the hurricane made landfall, by which time his presidency had been permanently damaged.
One of the easiest of all things for Barack Obama to learn from Bush's successes and failures, then, is the importance of just taking some time out of his schedule to deal with disasters. Even if the crisis at hand right out of the chute is not a huge one, a new chief executive can set a tone for his administration early on by showing how he's going to do things differently from his predecessor, as Rudy Giuliani did in New York:
The immediate task was to handle snowstorms that hit just as he took office. Every New Yorker with a historical memory knows that mishandling snowstorms, failing to sweep the streets of Queens, did in John Lindsay, became the symbol of his lassitude when it came to looking out for the average outer-borough homeowner. Aided by the fine Sanitation commissioner, Emily Lloyd, the new administration dodged that bullet. Then, immediately – something far more totemic.
Giuliani was just nine days into his mayoralty when a call came in to 911 reporting a holdup at 125th Street and Fifth Avenue. The dispatcher's call didn't mention it, and one wouldn't have noticed from the outside, but the third floor of the building housed Mosque No. 7 of the Nation of Islam. When the cops arrived, about a dozen members of the Fruit of Islam met the officers, blocked their entrance to the mosque, pushed officers back down the stairs, and took a gun and a police radio.
Dick Wolf himself could not have invented a more TV-ready scenario. Here was the new white mayor – …the man who had campaigned against Dinkins's capitulations to African-American rioters in Crown Heights and boisterous boycotters of the Korean deli on Church Avenue… – presented in almost his first week in office with the perfect dilemma: a racial melee that had the potential to turn into something far larger. The officers made no arrests – they feared a riot. They did work out a deal with the Muslim leaders by which they recovered the radio and gun.
Onto the scene came Al Sharpton and his then-consigliere, C. Vernon Mason, who denounced the police for conducting a "siege" against a place of worship. The story whipped its way through the papers for the next few days, building and building. Sharpton, Mason, and other black leaders kept up the vitriol on their end, demanding an audience. Giuliani and Police Commissioner William Bratton weren't exactly shrinking violets either, with Giuliani chiding Room 9 reporters for paying too much attention to Sharpton.
Behind the rhetoric, the mayor and police commissioner agreed to have meetings with the mosque's leaders. Things were, maybe, calming down. But when the NOI leaders showed up with Sharpton and Mason in tow, Giuliani and Bratton abruptly canceled the meetings. "I remember the moment very well," says Randy Mastro, the deputy mayor for operations at the time. "Rudy said, 'No, I'm not going to meet with Al Sharpton, and my police commissioner is not going to meet with Al Sharpton.'" The NOI leaders came back the next day. They got their meetings. Don Muhammad, a mosque leader, sounded placated. "We do not wish to be seen as persons disrespectful of the law," he told the Times.
In fact, Obama himself has made a major issue of attacking the prior Administration on its disaster response, even fabricating disasters to do so on the campaign trail:
When 12 people died in Kansas in May 2007 as a result of tornadoes, then-candidate Obama blamed the Iraq war for depleting the National Guard of needed resources to help the remaining victims.
"In case you missed it, this week, there was a tragedy in Kansas," Obama said. "Ten thousand people died – an entire town destroyed; turns out that the National Guard in Kansas only had 40 percent of its equipment and they are having to slow down the recovery process."
He even continued the attacks upon taking over the White House, as the new Whitehouse.gov website snidely declares:
"President Obama will keep the broken promises made by President Bush to rebuild New Orleans and the Gulf Coast. He and Vice President Biden will take steps to ensure that the federal government will never again allow such catastrophic failures in emergency planning and response to occur."
+++
The site also points out that Obama "visited thousands of Hurricane survivors in the Houston Convention Center and later took three more trips to the region" and worked with the Congressional Black Caucus to help rebuild in the aftermath of Katrina.
Obama should also remember how a botched response and cavalier attitude damaged his longtime political ally and patron, Mayor Richard Daley in Chicago; when a massive heat wave killed hundreds in Chicago in 1995, not only was the city scandalously unprepared, but Mayor Daley – like Obama in DC – made light of the heat in his public appearances. Obama, who launched his political career in Chicago that fall, should have learned something from Daley's unserious reaction.
One of the great advantages of the presidency, and one of its great responsibilities, is the personal presence of the president. If Obama learned anything from his predecessor, he should have gone to Kentucky.