December 30, 2009
POP CULTURE: Honoring The Boss
Last night on CBS they aired the annual Kennedy Center honors ceremony, which honors five major figures in arts and entertainment - this year, it was Bruce Springsteen, Robert De Niro, Mel Brooks, a jazz musician and an opera singer (no, I hadn't heard of either of them, although for most of the night I was convinced the jazz guy was Martin Landau). Politics aside* - and yes, it was hard to put aside the sense that Bruce was being honored at this time and in this venue in good part for his work for the Obama campaign - it was definitely a fitting tribute.
Jon Stewart opened with a funny and heartfelt monologue, using his trademark delivery to explain that "When you listen to Bruce's music, you aren't a loser. You are a character in an epic poem...about losers." And on a more serious note, Stewart cut to the center of Bruce's appeal: "He empties the tank every time." Which really is it; it's certainly the essence of Bruce's live show, but really it's true of his music as a whole: Bruce at his best has always been about giving everything you have to the things that matter, from music to love to the open road, and no matter the inevitable hardships along the way. It's that sense of total commitment that makes Springsteen such an emotionally compelling performer.
You can catch here Stewart's remarks and Sting's show-closing version of The Rising (Sting was apparently dressed for a night at the theater with Mr. Lincoln):
Sting isn't maybe the best voice for that song, but the climactic choruses of The Rising always give me the chills, and he does a solid job as the song goes along. Also performing: John Mellencamp did a serviceable if overly gravelly version of Born in the USA, switching back and forth between the acoustic version and the arena-rock version; Melissa Etheridge delivered a rocking version of Born to Run; blues-rocker Ben Harper and country singer Jennifer Nettles did an interesting duet take of I'm on Fire; and Eddie Vedder, who really is a more expressive and versatile singer than you'd guess from Pearl Jam's catalog (in which his vocals are always great but usually limited mostly to howling rock and brooding slow-rockers), sang a stirring version of City of Ruins (it was a little odd to pick two songs from The Rising and none from Darkness on the Edge of Town or The River, but perhaps it was just the luck of the draw).
By and large, it's been a banner decade for Springsteen between turning 50 in 1999 and 60 this year. He's toured regularly with the E Street Band since the reunion built around the release of the Tracks box set in 1999; Billboard Magazine tabbed him as the 4th highest-grossing touring act of the 2000s, behind U2, the Rolling Stones and Madonna, bringing in over $688 million from more than 400 shows before over 8.6 million fans, and the #3 tour of 2009, behind U2 and Madonna, covering 72 of those shows. He released an excellent live double album in 2001, and five studio albums - the Seeger Sessions record of folk standards and four original albums (The Rising, Devils & Dust, Magic and Working on a Dream). The Rising remains virtually alone in music, film, literature or any other art form as a successful post-September 11 effort to come to grips with even a part of that day's events. The Seeger Sessions record is really good (I highly recommend some of the additional tracks you can get on iTunes). The other three albums have been a bit half-baked in terms of quality, but each had several good songs on them; Working on a Dream is probably the strongest of the three. And Bruce isn't going gently; this fall at his last appearances at Giants Stadium he performed a good original song, Wrecking Ball, written for the stadium's demise:
Read More »
BASEBALL: Keeping The Wolf At Bay
So, Omar Minaya finally accomplished something this offseason besides acquiring Henry Blanco, RA Dickey and...I dunno, working on his Soduku game or something.
Regarding the Mets' signing of Jason Bay yesterday, let me start by getting this out of the way: I have a bad feeling that this is not going to work out well at all. I have no rational basis for that whatsoever - maybe it's just a hangover from George Foster and Bobby Bonilla (granted, both of whom had some good years with the Mets). But with that out of the way, let's look at this rationally.
Bay will be 31 next season, 34 when he finishes the fourth guaranteed season of the 4-year-$66 million deal (an average of $16.5 million per year), and 35 when the Mets will pay somewhere in the neighborhood of $14 million for a fifth year he can qualify for by meeting certain benchmarks (details are unclear, but it sounds like Bay will get the fifth year if he stays healthy). That's a lot of money, but for a team with the Mets' market, it shouldn't be a budget-buster.
What were the options? The Mets had no credible left fielder last year except when Gary Sheffield was hitting well, and you couldn't bring back Sheffield as a long-term solution. The Mets could have focused on a first baseman, but - more on this below - they presumably prefer to keep open the option of bringing back Carlos Delgado rather than a similarly risky left fielder. And rebuilding remains a non-option: Santana, Beltran and K-Rod are all going to be in their primes for only a few more years, so the team still needs to look to compete seriously no later than 2011.
With Hideki Matsui signed, Matt Holliday, Vlad Guerrero and Johnny Damon are the other choices on the free agent market (the Mets' minor league cupboard being thin, they would prefer a free agent to trading for, say, Adam Dunn). Guerrero remains a very dangerous hitter (.309/.373/.515, OPS+ of 130 the last three seasons), but he'll be 35 next season, has a history of back trouble, missed a third of the season in 2009 and his ability to play the field is questionable. Damon's 36, has no arm, is a less dangerous power threat (.285/.364/.449, 114 OPS+), and hit 17 of his 24 homers last year at home. Holliday is a better player than Bay: he's a year younger, more athletic, a significantly better glove, and as a hitter he comes out ahead over the last three seasons, .325/.403/.555 143 OPS+ to .267/.362/.493 121 OPS+, thanks in large part to Bay's crummy 2007 season (and in the raw numbers, to Coors Field). They're similarly durable - Bay's missed 35 games the last 3 years, Holliday 33. Holliday runs a bit more, but neither is a big base thief and Bay's a career 82.5% base thief to 76.9% for Holliday. Over their careers, Holliday's OPS+ is 133, Bay's is 131. Significantly, Bay's a career .278/.366/.532 hitter on the road, Holliday .284/.353/.454.
So, while Holliday is probably a better bet, his salary demands are outrageous - I'm seeing numbers thrown around like 8 years and $18 million a year. He's not that much better.
One difference between Bay and some of the Mets' less successful imports is that he won't be expected to be the star of the show - Wright, Reyes, Beltran, Santana and K-Rod all remain bigger names. And assuming Reyes is healthy, adding Bay's power-and-patience bat to Wright, Reyes, and Beltran immediately makes it more sensible to bring back Delgado to join with (ugh) Jeff Francouer to give you a series of power hitters in the middle of the order (I expect Francouer to revert to a middle-ground .280/.310/.470 type season this year, the value of which depends heavily on how many other guys in the lineup are on base).
As for Delgado, it appears he's had some offseason setbacks, so bringing him back may be a less certain proposition. But strategically, the Bay deal at least makes it a more sensible option to consider.
UPDATE: Rob Neyer looks at how the Bay signing is emblematic of the Mets' lack of a farm system and consequent reliance on veteran free agents (a problem they might have had less of if they hadn't dealt Bay for Steve Reed in 2002). All of that is true and very much Omar Minaya's fault - they allocation of too few resources to signing young talent is especially galling - but it doesn't really detract from the fact that if that's the fix you're in, signing Bay makes sense and rebuilding in the middle of the Beltran, Santana, K-Rod, Wright and Reyes contracts (not to mention the Castillo and Ollie Perez albatrosses) doesn't.
WAR: No B+ For Obama
The New York Daily News under the management of Mort Zuckerman is a fairly reliable weathervane of a particular stripe of moderate, Northeastern Democrat opinion, broadly liberal in inclination but more cold-eyed and hawkish when it comes to crime, national security, and in particular the threat of Islamic extremism to the U.S. and Israel - your basic Ed Koch-type Democrat (this is not an exclusively Jewish phenomenon, although in New York that's who the leading voices are). Typically, the News gave fawning and totally excessive coverage of every historic move of the historic new historic presidency of Barack Obama during the high watermark of his Administration, from November 2008 through late January 2009; at one point either Obama or his wife was on the front page every day for more than three weeks.
So, it's significant - in the way moderate-conservative outlets' turning on George W. Bush between mid-2005 and early 2006 was significant - that the News today has a blisteringly harsh assessment of Obama's sluggish public response to the attempted destruction of a U.S.-bound flight by a fanatic wearing bomb-laden underwear apparently designed by Al Qaeda bomb-makers in Yemen, especially given the revelation that U.S. intelligence had been warned by the Nigerian bomb-wearer's father that he was in cahoots with Islamist extremists. The News' assessment, which was featured with the front page headline "Get a Grip":
The moment demanded inspiring, decisive presidential leadership.

America waited four days for a glimmer.

President Obama's initial response Monday was too long in coming, too cool in delivery and too removed from the extreme gravity of the plot....

Before his first remarks on Monday, Obama had left a vacuum, and into that 76-hour empty space rushed Homeland Security Secretary Janet Napolitano, whose ineptitude made a mockery of her position and threw millions of fliers into continuing states of confusion.

What the public was left with was a never-to-be-repeated case study in crisis mismanagement. It's time to get a grip, Mr. President.
Napolitano's "the system worked" comment is perhaps the perfect symbol of this tone-deaf response, given that this particular attack was essentially thwarted by the passengers, not by the government. This is, of course, in contrast to how swift and vivid Obama's statements can be when he wants to make partisan hay from the news, as with his same-day statement declaring himself "shocked and outraged" at the murder of abortion doctor George Tiller. The News' assessment of the substance of Obama's response is no cheerier:
Obama's description of Abdulmutallab as an "isolated extremist" was remarkable and disturbing. This radicalized young Nigerian is nothing of the sort. He operated, in fact, as an Al Qaeda-recruited, Al Qaeda-supplied, Al Qaeda-directed foot soldier - as, to put it directly, an enemy combatant, and not as the criminal "suspect" of Obama's description.

In similarly distant fashion, the President ordered up a "review" of how Abdulmutallab smuggled explosives onto the jet and a "review" of how he slipped through the government's various terror watch lists despite signals of clear and present danger.
The Telegraph has a more detailed rundown of how the intelligence on Umar Farouk Abdulmutallab didn't prevent him from boarding the plane with a bomb in his pants, and how Obama's response continues a disturbing pattern:
There has been a pattern developing with the Obama administration trying to minimise terrorist attacks. We saw it with Abdul Hakim Mujahid Muhammad, a Muslim convert who murdered a US Army recruit in Little Rock, Arkansas in June. We saw it with Major Nidal Malik Hassan, a Muslim with Palestinian roots who slaughtered 13 at Fort Hood, Texas last month. In both cases, there were Yemen connections. Obama began to take the same approach with Umar Farouk Abdulmutallab.
As the News notes, the security problems that led to this attack include laxity at the TSA and a too-easy hand in releasing Gitmo detainees (such as the Yemeni bomb-makers who were released to a Saudi "art therapy" program), both of which have roots in the Bush Administration's periodic capitulations to political correctness and (in the TSA's case) the disastrous "leadership" of Norman Mineta. But the News also notes that Obama can't well avoid responsibility for Bush policies he inherited and chose to expand, rather than repair. He's particularly put on the spot by liberal California Democrat Dianne Feinstein's call for a halt to releases of further GTMO detainees to Yemen.
There will be no B+ for this effort.
FOOTBALL: Drive & Punt
The Wall Street Journal has a couple of interesting articles about long drives and punts. First, Tom Flynn looks back at the 2004 Emerald Bowl, in which Navy staged a 26-play drive against New Mexico that chewed up 14:26 of clock - including nearly the entire fourth quarter - and lasted more than half an hour, the most time-consuming drive in college football history. Second, Carl Bialik looks at whether NFL teams punt too much - even at a time when the average punt is reaching record lengths.
December 28, 2009
BLOG: Year In Review
As always, Dave Barry's year-end column is a must-read.
December 27, 2009
POLITICS: Health Insurers Have Second Thoughts About Riding The Tiger
The Wall Street Journal notes that even as Obamacare posed great threats to the independence and profitability of health insurers, they were willing to play along with an effort they thought inevitable as long as they could get the government to force more people to buy their product and dodge the poison pill of the public option:
A year ago, the industry's main trade group, America's Health Insurance Plans, decided to try to get out in front of the overhaul effort. Insurers agreed to renounce some of their most controversial practices -- such as denying coverage to applicants with pre-existing health conditions -- hoping to gain millions of new customers through mandated coverage.
It's a time-tested strategy by Big Business in making deals with Big Government: hope you can cut a deal that puts the real hardships on consumers and small competitors, and avoid the worst for yourself. But of course, once you have traded your freedom for crumbs from the government table, you lose control over the process. And the Journal notes that insurers are starting to have some second thoughts about the deal:
Big insurers are still hoping to influence some language in the legislation before Congress sends it to the president. But one thing is clear: The initiative is poised to change their industry more than any other sector of the U.S. health-care system, with huge potential to disrupt profitability.

Cuts in government spending for Medicare Advantage, the privately run health plans for the elderly, are a major source of funding for the overhaul. And an excise tax on most insurers is set to cost the industry $70 billion over 10 years.

"We will be taking a fundamental look at our business, our business model and how we invest our capital," Ron Williams, Aetna Inc.'s chief executive, said this week.
Maybe they should have thought of that sooner.
December 26, 2009
POLITICS: You Can't Teach Height
If it's true that being tall is a major advantage in politics, former Nets, Knicks and Trailblazers center Chris Dudley, at 6'11", will be a man to watch as a contender for the GOP nomination for Governor of Oregon in 2010. The Yale-educated Dudley seems to fit the bill of novice citizen-politicians for good and for ill - he's voted only sporadically in past elections, but is off to an outstanding start raising money - and is aiming to take on the likely Democratic candidate, former Democratic Gov. John Kitzhaber.
Dudley had some of his best basketball seasons with the Blazers and has recently been working in Oregon as a financial adviser. You can check out his campaign site here. A quick look suggests that at least on fiscal issues, Dudley will be running on a straightforward GOP platform of cutting taxes and spending:
Read More »
December 25, 2009
POP CULTURE: Christmas Collaborations
We've introduced our kids to some new Christmas entertainments lately, and it has me thinking about those rare occasions when great talents come together at the peak of their powers.
One is the Grinch. We've only just introduced the Grinch to our 3-year-old, first in book form and then the video of the TV special. And the TV special is truly a perfect storm of three great talents: you have the words by Dr. Suess, who isn't just a great children's writer but a great writer, period - the things he could accomplish and convery with a few words of the English language surpasses much of the vastly wordier and less lyrical literature and poetry aimed at adults in its artistry. You have the animation by Chuck Jones of Bugs Bunny, Road Runner and Tom & Jerry fame, the greatest of the 1930s-1970s golden age of animators - Jones was a true genius, and his signature moves are all pulled out for the Grinch. And you have the priceless narration by Boris Karloff. And on top of those three legends, you have the pitch-perfect songs and vocals by less well-known musical figures.
The other is White Christmas, the 1954 film, which we just introduced to our 10- and 12-year-olds and which frankly I only started watching - now an annual ritual - at my wife's insistence after I got married. The film may have some of the weaknesses common to the old musicals - contrived plot, cheesy scenery, songs that are wedged into the storyline - and it may have been a recycling of the idea of building a film around the song "White Christmas" (first debuted in the 1942 Bing Crosby-Fred Astaire film "Holiday Inn"), but it's a classic collaboration of four great talents in their primes - two great singers (Crosby and Rosemary Clooney), a great dancer (Vera Ellen), and the great comedy/song-and-dance talents of Danny Kaye, and of course the classic music by Irving Berlin. A classic alignment of the stars.
In a similar vein, a third film that seems destined to join those two in the pantheon of Christmas holiday entertainment is Elf, a film that has worn well now over seven Christmas seasons. As I think I have written before, my guess is that aside from the obvious exception of James Caan, none of the highly successful entertainers in the film - Will Ferrell, Bob Newhart, Ed Asner, Zooey Deschanel - will turn out to have done anything quite as lasting as a classic Christmas film.
(I should add here as well my recommendation of another Christmas favorite: "Scrooge," the 1970 musical version of A Christmas Carol, starring Albert Finney, for my money the best version ever done).
This is also the time of year when I annually revisit my list of the greatest contemporary Christmas songs.
Read More »
BLOG: Merry Christmas
To all. Enjoy the holiday.
December 22, 2009
BASEBALL: Decade of Gold
Rob Neyer has a provocative all-decade Gold Glove team. Granted, I had to get by the seizure I had at seeing Kenny Rogers on any sort of all-decade team.
BASEBALL: Javy's Back
Well, the Hated Yankees may have looked a day or two ago as if they'd settled on Joba and Phil Hughes as their #4-5 starters and Melky Cabrera backed by Brett Gardner in left field, but accepting the Braves' generous donation of Javier Vazquez in exchange for Melky unsettles all that:
Pitcher Javy Vazquez was traded back to the Yankees by the Atlanta Braves on Tuesday for outfielder Melky Cabrera, a move that pushed New York's payroll for next season over $200 million.

New York also got left-hander Boone Logan as part of the deal, and the Braves obtained a pair of pitching prospects, left-hander Mike Dunn and right-hander Arodys Vizcaino, along with about $500,000.
(As you'll see from following the links, Vizcaino has promising numbers in the low minors, but in small samples and is only 18; Dunn's numbers look unimpressive).
It would seem logical that this deal re-opens the Yankees to re-signing Johnny Damon, and if not it puts them back in the game for another serious left fielder (Vladimir Guerrero or Matt Holliday, I wonder? The AP's suggestion of Mark DeRosa seems ridiculous. But as the Mets are the only hot contender for Jason Bay at the moment, the Yankees may see an opportunity to kill two birds with one stone by pursuing Bay). And the Vazquez deal leaves them with four established starters (along with Sabathia, Burnett and Pettitte), so either Hughes and Chamberlain will fight for a rotation slot, or one of them will be slotted again as a reliever or packaged in a deal.
For the Braves, this looks like cost-cutting. The Mets, of course, could have used Vazquez, but presumably Atlanta wanted to deal him out of the division. But it's still hard to believe, unless they have a very high opinion of Melky, that they couldn't have gotten a better package from someone else, given the short supply of durable power pitchers with excellent control (yes, Vazquez is somewhat inconsistent and gopher-prone, but he's still unquestionably a valuable property who can be a frontline starter in his good years).
December 20, 2009
BLOG: Reading List
I was asked to come up with a book list for The New Ledger along with suggestions from other contributors - this was banged out quickly between shovelfuls of snow this morning, but it's a cross-section of what I've read lately (I'm still reading the Dalin, Amar and Churchill books). The Zubrin book is a true must-read - I've been looking in vain for any sort of rebuttal to Zubrin's thesis about methanol. And the Dalin book is one I wish I'd read years ago, given that the thesis it pushes back at is a much-beloved Known Fact of the anti-Catholic/anti-religious Left.
December 19, 2009
BASEBALL: The Granderson Deal and Nick Johnson's Return
I'm way overdue here to run through the results of the winter meetings, so let's start with the Hated Yankees' two big moves: the acquisition by trade of Curtis Granderson and by free agency of Nick Johnson (coupled with re-signing Andy Pettitte and letting Hideki Matsui and, apparently, Johnny Damon walk).
It's an interesting set of moves, and clearly continues (as with last year's offseason moves) the Yankees' determination to finally address the longstanding problem of the team being too many heavy hitters in their 30s and not enough guys who are younger or good defensive players. Granderson's not that young - he's 29 - but he's got 7 years on Damon and Matsui. And he's a fantastic defensive center fielder, probably the best the Yankees have had since ... well, it's a fair debate who was the last steady genuine center fielder the Yankees have had (Bernie was a good glove in his heyday but could never throw much, and neither could Mickey Rivers; Rickey was really a left fielder with good wheels).
Sabermetrically-inclined observers have fretted that Granderson slid to .249 withg a .327 OBP this season, but I wouldn't be overly concerned. First of all, he played at an MVP level in 2007-08, batting .292/.363/.524, and even in an off-year in 2009 he managed 30 homers, 72 walks, 20 steals in 26 tries, and batted into just one double play in 710 plate appearances. The Yankees can afford to carry a guy who is a defense-first center fielder, and if Granderson manages a happy medium on those numbers he'll be much more than that. Baseball-reference.com identifies the two most similar players at the same age as two athletic Tigers outfielders of recent decades (Kirk Gibson and Bobby Higginson), and while both of them hit the wall at age 32, they each had three outstanding seasons with the bat between age 29-31, including Gibson's MVP campaign. And Granderson's a power hitter, the kind who should thrive in the new Yankee Stadium. On the whole, the projected outfield of Granderson, Swisher, Cabrera and Gardner should be excellent and athletic defensively (all have played center field at length in the past two years), if less dangerous offensively than the Yankee infield.
The deal still doesn't make a lot of sense from the perspective of the Diamondbacks. At least the Tigers got high-upside frontline starter Max Scherzer (along with Austin Jackson, Phil Coke and pitching prospect Daniel Schlereth). Granted, Scherzer is brittle, but he's a heckuva talent. (Schlereth is a wild card, 24 and wild but with 82 strikeouts in 58 innings as a professional, a quarter of that in the majors; Jackson's become expendable due to failing to develop much power yet). So, you can understand this as a reloading deal. But Arizona gives up Scherzer for Edwin Jackson, who has matured into a solid third starter but doesn't seem to have Scherzer's upside, or indeed much upside at all beyond his 2009 season - unless the D-Backs are sufficiently concerned about the health of Brandon Webb and the rest of their rotation to feel the need to bring in someone more durable.
Then there's Nick Johnson. At 31, Johnson's not the high-upside "next Jeff Bagwell" he was projected as when he left the Yankees, having never stayed healthy enough at length to become a major star - even healthy last season he managed just 8 homers and slugged .405 - but since 2005 when he's played he's batted .285/.420/.467. His on-base skills make him a serious addition to any offense even if his power doesn't come back, especially a Yankee offense that won't depend on him any more than it will on Granderson. The slightly odd thing is that with Teixeira ensconsed at first, Johnson will have to DH, and while that's probably the best for his health (see Paul Molitor and Edgar Martinez for examples of guys who suddenly got healthy in their 30s when they gave up playing the field), it does mean - if Johnson's healthy, a big if - that the DH slot won't be left open to provide a blow to A-Rod, Posada and Jeter.
On the whole, a sound strategy by the Yankees. Now, we'll just have to see how they manage to settle on the roles of Joba and Hughes and, if they settle in the rotation, who will hold up the rest of the bullpen without them and Coke.
December 14, 2009
BLOG: Busy Signal
Real life intrudes, from time to time, so apologies to regular readers if I'm tied up a few days - I know I'm particularly overdue on the Winter Meetings roundup. Hopefully, I'll be back in the blog saddle again by Wednesday.
Feel free to treat this as an open thread - baseball, politics, whatever. You can even talk about the Giants, but you can't make me listen.
December 11, 2009
FOOTBALL: Bad Bet
Do not bet your television against the Saints.
POLITICS: Beware The Self-Funders
Patrick Ruffini has a very insightful post at The Next Right on self-funding candidates and their role in the conservative battle against the GOP establishment. I don't necessarily share quite his vehemence against self-funders, but he makes a lot of excellent points about why Republicans should be skeptical of them as standard-bearers. A sample:
Self-funders are particulary popular among money-addled political insiders for a few key reasons. First, their personal money takes the need for much party money off the table, or so it's thought. Second, they can afford to pay consultants, and lots of them, and for eye-popping amounts. Third, they will often refill the coffers of local parties in a wink and nod exchange for much-needed endorsements. But the record of self-funders in American politics is notoriously poor...

It's not just that these candidates were running unwinnable races. Often they were way ahead after an early barrage of advertising. But they blew it, despite their money.

The dollar signs dancing around in consultants' heads don't make up for the fact that most self-funders tend to be subpar candidates for important structural reasons. First, they're political dilettantes unfamiliar with the rigors of elected politics. They make rookie mistakes. They assume their records before their recent entries into politics aren't relevant or won't be scrutinized. They have less political acumen or knowledge than many of the people I follow on Twitter, or even most of them.
Read the whole thing.
December 10, 2009
HISTORY: Teddy Roosevelt on the Nobel Peace Prize and the Use of Force
Our second history lesson of the day: on the occasion of Barack Obama's acceptance of the honor, it is worth looking back to a little history. Theodore Roosevelt, the first sitting President awarded the Nobel Peace Prize, did not attend the ceremony, but sent a telegram. But TR gave a Nobel lecture in 1910 - two years after leaving office, four years after winning the prize for mediating the end of the Russo-Japanese War, and four years before the world was plunged into The Great War - and his observations on peace are worth recalling, even as he was (at the time) optimistic about the possibilities for then-nascent international institutions:
In any community of any size the authority of the courts rests upon actual or potential force: on the existence of a police, or on the knowledge that the able-bodied men of the country are both ready and willing to see that the decrees of judicial and legislative bodies are put into effect. In new and wild communities where there is violence, an honest man must protect himself; and until other means of securing his safety are devised, it is both foolish and wicked to persuade him to surrender his arms while the men who are dangerous to the community retain theirs. He should not renounce the right to protect himself by his own efforts until the community is so organized that it can effectively relieve the individual of the duty of putting down violence. So it is with nations. Each nation must keep well prepared to defend itself until the establishment of some form of international police power, competent and willing to prevent violence as between nations. As things are now, such power to command peace throughout the world could best be assured by some combination between those great nations which sincerely desire peace and have no thought themselves of committing aggressions.
And so it is today; sometimes those combinations act through international institutions like the UN, sometimes they don't - and the day is not on the horizon when we could trust such institutions with police powers of their own. Those of us who love peace, therefore, must continue to heed Roosevelt's caution at how it is maintained.
Read More »
POLITICS: Ted Kennedy, Pro-Lifer
An observant reader notes that my description yesterday of Ted Kennedy's support for legal abortion as "lifelong" is an overstatement. In fact, early in his public career, even Ted Kennedy had not yet embraced the casual cruelty of his party towards the defenseless unborn; indeed, Kennedy's rhetoric in those early days, displays genuine compassion for the defenseless unborn. Given Kennedy's centrality to Democratic strategy on this issue - he was the leader of the fight against the Bork nomination - it's interesting to look back. Here's Kennedy during his 1970 campaign for a second full term in the Senate:


Spaulding was what today would be called "pro-choice," and Kennedy, at that time, was passionately opposed to abortion. So when the subject came up, the senator was in full voice. He screamed, "Don't tell me there isn't enough love in the world to care for all the unwanted babies." He mentioned that adoption agencies had waiting lists.
In 1971, Kennedy put his pro-life convictions in writing to a correspondent on Long Island:


Wanted or unwanted, I believe that human life, even at its earliest stages, has certain rights which must be recognized - the right to be born, the right to love, the right to grow old....Once life has begun, no matter at what stage of growth, it is my belief that termination should not be decided merely by desire....I also share the opinions of those who do not accept abortion as a response to our society's problems...When history looks back to this era it should recognize this generation as one which cared enough about human beings enough to...fulfill its responsibility to its children from the very moment of conception.
Sadly, Kennedy's estimate of how much love there was in the world, and how much his generation should care about fellow human beings, dwindled with the years - I leave to the reader to speculate on his motivations in the regard, but two of the groups most ardently in favor of legal abortion (not to suggest that they are mutually exclusive) are Democratic presidential candidates and men who have a lot of sex with women not their wives and don't especially like to pay the consequences. What is clear, however, is that the many years Kennedy spent trying to convince Americans that the pro-life movement was somehow extremist and anti-woman were really a renunciation of his own heart. Because once upon a time, Ted Kennedy cared about the unborn.
December 9, 2009
POLITICS/RELIGION: A Kennedy Tries To Tell The Bishops How To Be Catholic
For all their protestations to the contrary, liberals have an awful habit of trying to tell people of faith, notably the Catholic Church, what their faith means and how it should apply in the political sphere. If you can stomach the irony, let's take a look at the latest example of this genre, an opinion piece in the Politico by Robert Kennedy's daughter, former Maryland Lieutenant Governor Kathleen Kennedy Townsend.
Kennedy (I use her maiden name because it's the only thing that gets her published) starts off well enough, with the title "On health care, the bishops have lost their way". There, we agree; the Bishops have inserted themselves into the health care debate by calling for a national health insurance scheme - including their call for it to cover illegal aliens - that may be well-intentioned but will have many dire practical consequences, and which confuses the individual duty of Christian charity with the power to compel others to give to Caesar. These are not problems of Catholic doctrine, they are problems of practical economics and practical politics, two areas in which the Bishops do not have the most sterling record. Worse yet, as far as their purely political judgment, the Bishops seem unable to understand that positive aspects of the proposed bills - restrictions on funding for abortion, conscience protections for Catholic hospitals - may be necessary for their passage into law, but will forever be subject to unilateral renegotiation by Congress, which when it comes to massive entitlement programs always operates on the principle of Darth Vader at Cloud City: "I am altering the deal. Pray I don't alter it any further."
Pray indeed.
But of course, Kennedy wants the Church to agitate for precisely this program; what she objects to is that the Church, having come this far in support of the bill, insists that it can't support a bill that doesn't include the Stupak Amendment's restrictions on abortion funding.
Kennedy can't resist dripping scorn at the sorts of folk the Bishops have associated themselves with:
As Catholics, are we so laser focused on the issue of abortion that we are willing to join tea partiers...
Presumably, tax collectors and prostitutes would be even worse. No, on second thought, considering who supports this bill, perhaps not. But in making an argument about how the Bishops should prioritize their moral teachings, Kennedy makes not the slightest effort to explain why the Church shouldn't be "laser focused" on abortion, given that the Church teaches that abortion is a grave moral evil that entails the willful taking of a human life. That failure to consider the core nature of the Church teaching at issue vitiates the entirety of Kennedy's argument.
Kennedy goes on to defend the weaker provisions of a substitute provision that would not include the Stupak Amendment's bar on the use of federal dollars to purchase any insurance that covers abortion. As I have explained previously, the intrusive nature of the bill makes any such "middle ground" wholly illusory; either you accept the Stupak Amendment's functionally pro-life provisions, or you accept a bill that is functionally pro-abortion; the bill leaves no room for a middle ground on this issue. But in doing so, she adds calculated insult to injury:


Catholic organizations like Catholic Charities receive hundreds of millions of dollars in federal funding for nonreligious services as long as those funds are separated from religious work. If this solution is good enough for Catholic organizations, then it is certainly good enough for health care reform.
So, now she just told the Catholic Church that it should regard the work of Catholic Charities as equivalent to the work of abortion mills. I'm sure that's an applause line at MSNBC and the New York Times, but if it's supposed to persuade the Bishops, she should maybe consider also comparing them to the Nazis.
If Nelson's amendment is a Senate version of the Stupak amendment, as expected, it will ban abortion not only in the public option but, effectively, throughout the exchange created by health care reform.
This is the point by which she has completely forgotten that she's still putatively talking to the Bishops, who obviously regard such a ban as a very good thing, perhaps the best thing the bill could do.


There are millions of pro-abortion rights Catholics who understand that women faced with unintended pregnancies or complications in wanted pregnancies have to make difficult, complex decisions for themselves and their families.
By now, the pretense of talking to the Bishops is completely gone, as she's instead pitching for the support of Catholics who reject the Bishops' teachings on a core issue. There are also millions of Catholics who are adulterers, drug addicts and hoodlums. The Bishops are supposed to minister to them and seek correction and forgiveness of their sins, not accomodate their embrace of sin.


The U.S. Senate recently took an important vote toward improving women's access to preventive health care under the Patient Protection and Affordable Care Act. The women's health amendment would guarantee health insurance coverage, at no cost sharing, for women's preventive care, including lifesaving screenings, well-woman exams and contraception to prevent unintended pregnancy.

This amendment captures the very essence of what health care reform is supposed to be about...
Again, Kennedy ignores here the possibility that perhaps the Bishops don't consider access to artificial contraception to be a good thing either.
I want Catholic bishops to heed the Vatican's call for charity and justice for all, not just for the wealthy and well connected.
The irony of this last coming from a Kennedy is staggering. Ted Kennedy, in his dying days, managed to get the ear of the Pope himself, and to get a Catholic funeral despite not only his personal sins - which after all, may be forgiven - but more importantly his lifelong, public and utterly unrepentant advocacy of legal abortion. There is perhaps no greater stain on the American Catholic Church's commitment to any sort of egalitarianism than the persistent favor and preferential treatment it has showered on the Kennedy family. There can be no less persuasive messenger to make such a claim than a Kennedy.
The Catholic Church is a human institution. As such, has been slow, terribly slow, to recognize the practical dangers presented by the healthcare bill. But even its belated efforts to avoid lending its support to a pro-abortion bill are apparently too much for Kennedy-style "Catholics" to bear. They have the right, of course, to reject the Church's teachings. But the last thing the Catholic Bishops need is a lecture on moral judgment by a Kennedy.
December 8, 2009
POLITICS/BUSINESS: Government Motors, British Style
Claire Berlinski on the pathetic British history with nationalized car companies:
British Leyland was born. It held 40 percent of the UK car market and within five years lost nearly a quarter of it.

Why? The early seventies saw ever more intense competition from continental auto manufacturers, as well as the rise of the Asian car tigers. Leyland's management was inflexible and slow to adapt. The group had too many companies under its control, and they made similar, competing, outdated cars. The oil-price shock didn't help. Neither did Leyland's militant union. Led by Derek Robinson, an unapologetic Communist known as "Red Robbo," the union embarked on a series of ruinous disputes with management, regularly bringing production to a standstill.

Leyland's factories were overmanned, its equipment old, its cars ugly. Antique collectors with a keen sense of irony now cherish the dumpy Austin Allegro, known at the time as the Flying Pig. Available in beige, brown, and wilted-lettuce green, it leaked, and its rear windows spontaneously popped out. Its proudest design innovation was its squarish steering wheel. While Leyland was busy inventing the world's first square wheel, the Germans were building the Volkswagen Golf, a stylish, family-friendly, fuel-efficient hatchback that quickly became one of the best-selling cars in history.
The rest of the piece is less humorous and more dire in its parallels to the present day, as the British spent 13 years pouring taxpayer money down this rathole. Margaret Thatcher was right to oppose the whole project - as Berlinski summarizes the Iron Lady's thinking, "[i]f the economy was in crisis, she held, the government should waste less of the taxpayers' money, not more" - but even Lady Thatcher lacked the political strength to stop subsidizing the misbegotten venture until almost the end of her tenure in office, thanks to the voting power of the auto workers whose jobs continued to exist solely as a matter of public charity.
Perhaps we can still learn a thing or two from real-world history before we spend the next decade going down the same dead-end road.
December 7, 2009
POLITICS: Science And Its Enemies On The Left, Part II(A)
In the first installment of this series, I looked at the real dangers to scientific integrity and scientific progress presented by junk science, quackery and Luddism promoted and practiced by the cultural and political Left, including the use of bad science in product liability lawsuits and the Left's attacks on vaccination, nuclear power and genetically engineered crops.
In this second part, we look at politicized science and the temptations of power. Part II is posted in its entirety at The New Ledger but my site won't support a single post that long.
III. Polticized Science
Many of the worst kinds of junk science and quackery are to be found when science is used to advance political agendas. The corrupting influence of money has nothing on the corrupting influence of political power. And contrary to what the Left may wish you to believe, the espousal of left-wing causes that advocate the expansion of such power is not an ennobling but a corrupting influence on scientific integrity. As I will discuss below, the current controversy involving climate researchers - the "Climategate" scandal triggered by the release of emails by the Climate Research Unit (CRU) at the University of East Anglia in Great Britian - vividly illustrates this.
There are at two main hazards presented when science is marshalled in political argument. One, politicians may take scientific data gathered in good faith and misrepresent, overstate or suppress it - witness John Kerry overstating the growth of carbon emissions by a factor of 32 for a recent example that didn't stand up to even mininal scrutiny. And two, scientists themselves may become willing pawns in the circulation of bad science for political ends. Recent history shows that the agenda of greater government control of society pushed by the Democrats and others on the Left has often been abetted by bad science.
A. The Politics of Stem Cell Research
The most notorious recent example of politicians running far ahead of any scientific basis for their claims, of course, came from Democratic vice-presidential candidate John Edwards, who in the course of a diatribe about the miraculous promise of embryonic stem cell research, declared in October 2004, the day after the death of actor Christopher Reeve:
If we do the work that we can do in this country, the work that we will do when John Kerry is president, people like Christopher Reeve are going to walk, get up out of that wheelchair and walk again.
Nancy Pelosi likewise claimed that embryonic stem cells had "the biblical power to cure," and Ron Reagan told the 2004 Democratic Convention, "How'd you like to have your own personal biological repair kit standing by at the hospital? Sound like magic? Welcome to the future of medicine." Of course, no such thing was or is imminent:
In January 2003, a science writer for the New York Times admitted: "For all the handwringing by scientists, you might think that therapeutic cloning is on the verge of curing a disease or two. . . . Almost all researchers, when questioned, confess that such accomplishments are more dream than reality."
But Edwards and Pelosi had elections to win. And scientists who should have known better went along for the ride:
In the summer before the 2004 presidential election, Ron McKay, from the National Institutes of Health, admitted that he and his fellow scientists had generally failed to correct the media's false reports about the promise of stem cells - but that was all right, he told the Washington Post, since ordinary people "need a fairy tale." They require, he said, "a story line that's relatively simple to understand."
In fact, the hot story in embryonic stem cell research in the middle years of the Bush Administration was a South Korean researcher, Woo Suk Hwang, looking at the use of stem cells for spinal cord research who claimed to have implanted cloned human stem cells in a cloned dog - results that turned out to be fraudulent. And proponents of embryonic stem cell research had fallen for it:
For all the major scientific journals, embryonic research had become what Robert P. George and Eric Cohen would call "a litmus test for being pro-science and the central front in the alleged war of scientific reason against religious barbarians." Science magazine had fast-tracked Hwang's work to let America know the cost of President Bush's refusal to fund embryonic stem-cell research. Scientific American published a mea culpa for all scientific journals, and it is, George and Cohen pointed out, "remarkable for both its honesty and remorse: 'Hwang is guilty of raising false expectations, but too many of us held the ladder for him.'"
This would not be the last time scientists made themselves willing pawns of the Left at the expense of their integrity.
POLITICS: Science And Its Enemies On The Left, Part II(B)
B. Anthropogenic Global Warming
More recently than the stem cell controversy, we have the series of mushrooming controversies - most spectacularly the "Climategate" scandal - over Anthropgenic Global Warming (AGW), i.e., the theory that human industry is responsible, by means of carbon emissions, for an upward trend in global temperatures. AGW is very important to the Obama Administration and its allies in the Democratic Party and on the international Left; recall Barack Obama's grandiloquent pronouncement that people would remember of his clinching of the Democratic nomination in June 2008 that "this was the moment when the rise of the oceans began to slow and our planet began to heal". But AGW theory and its adherents are rotten with bad science.
1. The EPA Report
The first sign that the new Administration was willing to push the barriers between science and politics in support of its AGW agenda was this spring's flap over the Obama Administration's suppression of an EPA report that contradicted the agency's decision to classify CO2 (the most natural of gases, being that it is exhaled by human beings) as a "pollutant" - a decision that has been used to justify "cap-and-trade" legislation as well as administrative actions on the issue without the need for legislation (the latter being supported by an agency "finding" released in April by the EPA and finalized in November that greenhouse gases threaten public health and welfare). This episode was a fairly classic example of how government policymaking in areas of scientific expertise remains more about politics than about science. Read the summary overview of that report here, and Ben Domenech's writeup here. Michelle Malkin sums up the kind of critique presented in the report:
[I]t spotlights EPA's reliance on out-of-date research, uncritical recycling of United Nations data, and omission of new developments, including a continued decline in global temperatures and a new consensus that future hurricane behavior won't be different than in the past.
Chris Mooney, the liberal author of the "Republican War on Science" book, went so far as to argue that because he disagreed with its conclusions, the EPA was right to suppress the report. Of course, this is rather a far cry from the arguments made during the Bush years that about the dangers of suppressing scientific skepticism and dissent; the orthodoxy must be enforced.
Given its policy aims, it is not surprising that the Administration was hesitant to publish a report that contradicted the AGW narrative. In fact, the AGW hypothesis presents the most egregious example in recent years - in terms of its sheer scale - of thoroughly politicized science. The AGW debate merits consideration at some length here because of its centrality to a policy debate affecting a vast proportion of human economic activity and the copious examples it provides of the corruption of politicized science. Put simply, any reasonable person who looks at the evidence must conclude that the proponents of AGW theory are political advocates first and scientists, if at all, a distant second.
Now, it may well be true - it is certainly possible - that the Earth is presently in a warming trend, and that such a trend can be projected into the future, and that human activity is responsible for that trend, and even that changes in future economic structures could alter that trend. All of that may be true, and it may be false; science is supposed to help us find the answers to such questions, and to tell us honestly if the answers cannot in confidence be found. Science is not about identifying what is possible or plausible or arguable and then asserting it as fact; it's about following the evidence wherever it may lead, to determine whether a particular hypothesis is proven, disproven, unproven or inherently unprovable. (Unprovable theories aren't without their uses in science, if they remain the most likely explanation for a set of facts - but such explanatory theories ought not to be asserted as fact, and they make a shaky basis for sweeping and disruptive public policy initiatives.)
If you were to construct a checklist of the warning signs of bad science, the campaign to persuade the public of AGW would tick off basically every box: the refusal to share data, to the point of outright destroying it; the manipulation of the peer-review process to skew results; the constant changing of models and predictions to avoid having them subject to testing against hard evidence; the campaign of alarmism and demonization of skeptics; the rank appeals to authority and consensus in place of reasoned discussion of the evidence. Only the most credulous rubes could believe the proponents of AGW without a raised eyebrow at these tactics.
2. Warming? What Warming?
The reason why AGW has such political salience, of course, is that it is used as justification for vast governmental controls over economic activity - long a project of the Left, but now with the newly-added patina of physical science as support for the same old programs. In order to justify the massive dislocations that would be caused by such controls, it is necessary not only that AGW be unquestioned, but that it be menacing; thus, we get things like a scientific advisor to the British Government claiming that AGW will annihilate 90% of the world's population if the temperature rises four degrees Celsius. And in some cases, the rush to make dire predictions founders on the most banal forms of sloppiness, as when the IPCC predicted the demise of Himalayan glaciers by 2035, when the data said 2350. A digit here, a digit there...
The need to generate predictions of doom is a double-edged sword. One of the problems at the heart of AGW theory, and which has caused no end of difficulty for its proponents, is that it is a predictive model, yet proponents of the theory keep having to change what it predicts to avoid ever allowing the theory to be falsifiable. A theory of global warming, after all, presupposes that the Earth is getting warmer, and indeed the entire basis for convincing anyone that the theory holds water is to point to the correlation between increasing industrial emissions of carbon and recent increases in global temperature. But even before you get to the questions of (1) whether the historical temperature readings are accurately recorded and presented and (2) whether correlation equals causation, you run up against the fact that persistent alarmist predictions that the warming trend would continue have not panned out.
As you may recall, the headline-grabber that made AGW a political issue in the 1990s was the famous "hockey stick" graph produced by Penn State climatologist Michael Mann, so-called because it showed a sharp upward spike in global temperatures, shaped like the blade of a hockey stick, near the end of the 20th century. The hockey stick, in turn, was premised in good part upon historical temperature data derived from a database of tree ring measurements maintained by the CRU. Mann's hockey stick was never the sole source of AGW theory, and the CRU was never the sole source of historical data, but the hockey stick graph was central to the project of capturing the public imagination and turning a scientific theory into a political juggernaut. The clear implication to anyone looking at the hockey stick was that at precisely the time of accelerating industrialization, we had entered a period of accelerating increase in global temperatures that would continue unchecked into the future. Correlation being easily confused with causation, much of the public simply accepted that the increase in carbon emissions resulting from increasing industrialization must have been the cause of the temperature spike; the two patterns were too visually striking to be coincidence.
While many scientists were convinced of the logic of computer models of how a "greenhouse effect" would work in transmuting carbon emissions into increased temperatures, scientists could never prove that their models of how carbon emissions affected the Earth's temperature were correct; you can't conduct an experiment on something as large and complex as a planet and its entire surroundings in the solar system, and there was no historical precedent for the Earth's industrialization, only a long history on this and other planets of climates changing without human intervention. But with the hockey stick, nobody needed to question the underlying logic of causation anymore than they do in the case of lung cancer and smoking (i.e., it's still not known how smoking causes lung cancer, but the statistical correlation over innumerable studies covering a very large sample is so strong that nobody today seriously disputes the causal connection despite the absence of a known mechanism - much of epidemiology works that way).
Unfortunately for the proponents of AGW, it turns out in retrospect that the hockey stick was just a figment of small and incomplete samples. You can read fuller explanations here and here, but I will summarize them briefly. Basically, the original "hockey stick" did two things: not only did it show a sharp upward spike in temperatures in the late 20th century, but it also rebutted the contention that this could be a natural phenomenon by showing the lowest temperatures in 1032, in the midst of what had been believed to be the "Medieval Warm Period." That hockey stock was premised on a 1995 paper that "depended on 3 short tree ring cores from the Polar Urals whose dating was very problematic," and when additional data became available in 1999, the updated temperature series was not published, but rather replaced with a new study from Yamal, also in Russia. But to skeptic Steve McIntyre, the Yamal data - collected in two sets - didn't add up, and he embarked on a years-long battle to get all the data to review independently. When he finally did, in September 2009, the resulting sample - using a larger sample size for late 20th century data - changed the shape of the "stick" to eliminate the blade (as well as modifying the medieval results), leaving something much more clearly resembling a random walk of statistical noise. You can see the results in this graph from McIntyre's site: the red line is the Mann/CRU hockey-stick graph, the black line is the data left out of the stick, and the green line is what you get when you combine the two sets:
At least eight papers purporting to reconstruct the historical temperature record times may need to be revisited, with significant implications for contemporary climate studies, the basis of the IPCC's assessments. A number of these involve senior climatologists at the British climate research centre CRU at the University East Anglia. In every case, peer review failed to pick up the errors.
The hockey stick isn't the only such example, as illustrated by National Oceanic and Atmospheric Administration (NOAA) data wrongly showing a non-existent and persistent spike in ocean temperatures in 2001.
If you had - as many AGW proponents did, in the 1990s - begun to make short-term predictions about climate trends along the lines of continuation of the Mann/CRU hockey stick trends, you would have been grievously wrong, as in fact all such predictions have proven. Since AGW rose to prominence as a political project, the past decade has shown no growth in global temperatures since the natural El Nino temperature surge of 1998. One study after another has shown that the Earth simply has not gotten warmer in the past 11 years:
[In the fall of 2009], Britain's Hadley Centre for Climate Prediction and Research added more fuel to the fire with its latest calculations of global average temperatures. According to the Hadley figures, the world grew warmer by 0.07 degrees Celsius from 1999 to 2008, and not by the 0.2 degrees Celsius assumed by the United Nations Intergovernmental Panel on Climate Change. And, say the British experts, when their figure is adjusted for two naturally occurring climate phenomena, El Niño and La Niña, the resulting temperature trend is reduced to 0.0 degrees Celsius -- in other words, a standstill.
It's not just temperature. Sea ice levels provide another example of how testing the AGW hypothesis by treating it as a predictive model has yielded more failures than successes:
[M]ean ice anomaly -- defined as the seasonally-adjusted difference between the current value and the average from 1979-2000, varies much more slowly. That anomaly now stands at just under zero, a value identical to one recorded at the end of 1979, the year satellite record-keeping began.
+++
Earlier this year, predictions were rife that the North Pole could melt entirely in 2008. Instead, the Arctic ice saw a substantial recovery. Bill Chapman, a researcher with the UIUC's Arctic Center, tells DailyTech this was due in part to colder temperatures in the region. Chapman says wind patterns have also been weaker this year. Strong winds can slow ice formation as well as forcing ice into warmer waters where it will melt.

Why were predictions so wrong? Researchers had expected the newer sea ice, which is thinner, to be less resilient and melt easier. Instead, the thinner ice had less snow cover to insulate it from the bitterly cold air, and therefore grew much faster than expected, according to the National Snow and Ice Data Center.
Likewise, Antarctic "sea ice coverage has grown to record levels since satellite monitoring began in the 1979, according to peer-reviewed studies and scientists who study the area" released in 2007.
The response of proponents of AGW: change the predictions so they don't risk being disproven by events, as illustrated by this report from September 2009:
Forecasts of climate change are about to go seriously out of kilter. One of the world's top climate modellers said Thursday we could be about to enter one or even two decades during which temperatures cool.

"People will say this is global warming disappearing," he told more than 1500 of the world's top climate scientists gathering in Geneva at the UN's World Climate Conference.

"I am not one of the sceptics," insisted Mojib Latif of the Leibniz Institute of Marine Sciences at Kiel University, Germany. "However, we have to ask the nasty questions ourselves or other people will do it."

Few climate scientists go as far as Latif, an author for the Intergovernmental Panel on Climate Change. But more and more agree that the short-term prognosis for climate change is much less certain than once thought.
+++
In candid mood, climate scientists avoided blaming nature for their faltering predictions, however. "Model biases are also still a serious problem. We have a long way to go to get them right. They are hurting our forecasts," said Tim Stockdale of the European Centre for Medium-Range Weather Forecasts in Reading, UK.
More here. Indeed, a 2007 study all but admitted that the prediction game would have to stay vague:
Climate change models, no matter how powerful, can never give a precise prediction of how greenhouse gases will warm the Earth, according to a new study.
+++
The analysis focuses on the temperature increase that would occur if levels of carbon dioxide in the atmosphere doubled from pre-Industrial Revolution levels. The current best guess for this number - which is a useful way to gauge how sensitive the climate is to rising carbon levels - is that it lies between 2.0 C and 4.5 C. And there is a small chance that the temperature rise could be up to 8C or higher.

To the frustration of policy makers, it is an estimate that has not become much more precise over the last 20 years. During that period, scientists have established that the world is warming and human activity is very likely to blame, but are no closer to putting a figure on exactly much temperatures are likely to rise.
AGW theory's inability to accurately predict global temperatures has gotten so bad that it has spurred a movement to rebrand "global warming" as "climate change," a moniker so vague that it can never be disproven (climates change; that's what they do, and have for all of Earth's history). The latest fad is "climate collapse," apparently because "change" wasn't scary enough. The ever-shifting definition of what the problem is, what it's called, and how it could be measured is a classic symptom of bad, politicized science. The constant goalpost-moving may be a drearisome feature of politics, but it's not supposed to be how science works.
Rebranding the AGW hypothesis allows things like Al Gore's scare tactics based on supposed trends projected from short-term fluctuations in natural disasters. In the specific example of Gore's misuse of disaster data, the question may be more one of politicians abusing scientific data than the underlying data being politicized, but both are problematic. It's unhelpful to have leading political figures running around telling us that "I hold in my hand a list of dire climate predictions" that nobody can subject to dispassionate review. Fortunately, the resort to dire predictions about natural disasters, like predictions about temperature, are subject to correction by events; we just finished an unusually mild hurricane season for the second time in four years, which is not at all the "climate change" that Gore is threatening (in fact, predictions of 2009 the hurricane season were also inaccurate). But not to worry; the predictions will just continue being kicked out further down the time horizon to ensure that they can't ever be disproven conclusively.
3. Consensus? What Consensus?
Given the mounting failure of efforts to convince the public that bad weather - or unseasonably good weather, either will do - is scientific proof of AGW, the theory's proponents have instead turned to appeals to authority, insisting that there is an ironclad scientific consensus that proves the theory to be true, and demanding that the citizenry trust the consensus because they're scientists.
This ought to set off serious alarm bells. To begin with, anyone remotely familiar with the history of science understands that scientific consensuses are made to be broken; most of the really important new scientific theories and discoveries since Aristotle have come from the overturning of an existing and erroneous consensus. If consensus was the end of science, we would have to consign Einstein, Darwin, and Newton to the ash heap of history.
Students of human nature should be equally alarmed. The proponents of policies supported by the "consensus" have sought to freeze that consensus in amber by embodying it in a series of reports by the United Nations Intergovernmental Panel on Climate Change, an international bureaucratic institution honored by another international bureaucratic institution with a Nobel Peace Prize. But the IPCC's reports are worth no more than the sum of their parts, especially given that only a fraction of the vaunted 2,500 scientists signing onto the IPCC reports have personally conducted sufficient research to validate AGW theory from their own personal experience and expertise.
Indeed, Jonathan Adler finds the very structure of the IPCC reports to be a threat to scientific integrity:
The effort to compile an "official" scientific "consensus" into a single document, approved by governments, has exacerbated the pressures to politicize policy-relevant science. So too has been the tendency to pretend as if resolving the scientific questions will resolve policy disputes.
Mike Hulme, an AGW believer and climate scientist at the University of East Anglia, agrees.
Government-backed and -enforced scientific consensuses have a dire history, the most notorious example of which was the work of Soviet geneticist Trofim Lysenko:
Lysenko...ruled the life sciences of Soviet Russia from the late 1920s until the early 1960s. He had a theory which fit Marxism perfectly: acquired characteristics can be inherited. This is not true, of course, but Lysenko had the Politburo and Stalin behind him. It was science that fit the political needs of the Bolsheviks, and so it was science backed by the awful power of the party and the state.

Lysenko's experiments were heralded, although the experiments were never replicated. The Soviet Union was full of botanists, biologists, geneticists, and other life scientists, and it was obvious to anyone with a free mind that Lysenko was propounding nonsense. But it was not until 1962 that the Soviet government allowed a real critique of his cartoon science.
As I will discuss below, the "Climategate" emails strike at the heart of the credibility of the IPCC reports. As the Future of Capitalism blog observes of the CRU emails:
On the broader question of climate change science, the group-think suggested by the emails is bad for the scientific process, and as Thomas Kuhn pointed out in his classic The Structure of Scientific Revolutions, it's often a precursor to a paradigm shift that, when it comes, is adamantly resisted at first. Just ask Galileo. And for a flavor of the way that the elite reacts to the questioning of the climate change consensus, check out how the once-dignified New Yorker handled Superfreakonomics, and the way that handling was praised by the Nobel laureate New York Times columnist Paul Krugman. Self-reinforcing orthodoxies have a way of being punctured in fields other than science, too, whether it is a single party's apparent dominance in Washington or mindless and widespread optimism about rising house prices.
(It should be borne in mind that groupthink and ideological bias are in addition to the far-from-foolproof nature of peer review in the first place; like any human endeavor, peer review can be and sometimes is also undone by ordinary cronyism or simple laziness or haste, as in the recent example of a scientific journal accepting for publication a nonsense article generated by a computer program, a scandal that resulted in the resignation of the journal's editor).
Proponents of the AGW consensus as definitionally unassailable have circled their wagons against the danger of free thinkers by attacking their critics as paid shills of industry. Unsurprisingly, given that carbon-emitting industries have an enormous amount to lose from the policy proposals at issue, the targeted industries have in fact sought to fund anybody who might question the forces arrayed against them. But in science, the proper remedy for self-interested assertion is transparency and replication of methods, not "na, na, na, I'm not listening."
The incessant attacks on the financial motivations of the skeptics - in addition to being antithetical to the whole project of scientific inquiry by means of evaluation of the evidence rather than argument ad hominem - not only ignores the fact that the proponents have great incentives of their own in terms of aggrandizing their political power, it also ignores that there's quite a lot of money in AGW too. As Vladimir at RedState notes:
[Employees and scientists funded by the IPCC] work for the U.N.'s Intergovernmental Panel on Climate Change. Of course they believe in Climate Change; it says "Climate Change" on their paychecks! The global warming opinions of organizations like the American Petroleum Institute have always been treated with skepticism; why should we not consider the source when it comes to the IPCC's studies?

If money corrupts and renders ones scientific opinions tainted, what's with Nobel Peace Laureate Al Gore? As a partner in investment bank Kleiner Perkins, he's positioned to score big from government's "investment" in green energy.
Bret Stevens notes the vast sums of money involved in the broader enterprise:
Consider the case of Phil Jones, the director of the CRU and the man at the heart of climategate. According to one of the documents hacked from his center, between 2000 and 2006 Mr. Jones was the recipient (or co-recipient) of some $19 million worth of research grants, a sixfold increase over what he'd been awarded in the 1990s....

Thus, the European Commission's most recent appropriation for climate research comes to nearly $3 billion, and that's not counting funds from the EU's member governments. In the U.S., the House intends to spend $1.3 billion on NASA's climate efforts, $400 million on NOAA's, and another $300 million for the National Science Foundation. The states also have a piece of the action, with California - apparently not feeling bankrupt enough - devoting $600 million to their own climate initiative. In Australia, alarmists have their own Department of Climate Change at their funding disposal.

And all this is only a fraction of the $94 billion that HSBC Bank estimates has been spent globally this year on what it calls "green stimulus" - largely ethanol and other alternative energy schemes - of the kind from which Al Gore and his partners at Kleiner Perkins hope to profit handsomely.
And of course, the CRU's funding includes money from the U.S. Department of Energy and the EPA. Another email shows concerns that the Commerce Department would grow "suspicious" of the CRU's activities. And the desire to keep the money flowing clearly affected AGW proponents' view of the legitimacy of criticism, as illustrated by this October 2009 email from the Climategate files:
How should I respond to the below? [an article questioning AGW theory] (I'm in the process of trying to persuade Siemens Corp. (a company with half a million employees in 190 countries!) to donate me a little cash to do some CO2 measurments here in the UK - looking promising, so the last thing I need is news articles calling into question (again) observed temperature increases--
Despite the confident assertion of consensus issued ex cathedra by the IPCC and the heavy costs in acrimony and ad hominem assault to dissenting scientists, the skeptics, organized politically by Oklahoma GOP Senator Jim Inhofe, have found no shortage of scientists willing to question the "consensus" on AGW. Senator Inhofe has released reports in 2007 & 2009 quoting more than 700 dissenting scientists, many of them quite distinguished. (One of the more distinguished skeptics is profiled by the New York Times here). Ditto for the direst predictions of climate-change disaster:
[I]f there is one scientist who knows more about sea levels than anyone else in the world it is the Swedish geologist and physicist Nils-Axel Morner, formerly chairman of the INQUA International Commission on Sea Level Change. And the uncompromising verdict of Dr Mörner, who for 35 years has been using every known scientific method to study sea levels all over the globe, is that all this talk about the sea rising is nothing but a colossal scare story. Despite fluctuations down as well as up, "the sea is not rising," he says. "It hasn't risen in 50 years." If there is any rise this century it will "not be more than 10cm (four inches), with an uncertainty of plus or minus 10cm". And quite apart from examining the hard evidence, he says, the elementary laws of physics (latent heat needed to melt ice) tell us that the apocalypse conjured up by Al Gore and Co could not possibly come about. The reason why Dr Morner, formerly a Stockholm professor, is so certain that these claims about sea level rise are 100 per cent wrong is that they are all based on computer model predictions, whereas his findings are based on "going into the field to observe what is actually happening in the real world".
In fact, one rarely has to look far for legitimate scientific skepticism about AGW climate models, even among those who buy into some aspects of AGW theory. Bjorn Lomborg, a skeptic who believes in AGW but argues that it's been overblown, notes that "there are reputable peer-reviewed studies out there that show that because we have pumped out so much CO2 in the atmosphere, we haven't gone into a new Ice Age.". A July 2009 article in Science argued that cloud behavior is a major player in global warming, and that if so, "almost all climate models have got it wrong." Others note that the historical evidence shows that the models don't account for or understand all the factors at work:
[A] new study published online [in July 2009] in the journal Nature Geoscience ... found that only about half of the warming that occurred during a natural climate change 55 million years ago can be explained by excess carbon dioxide in the atmosphere. What caused the remainder of the warming is a mystery.

"In a nutshell, theoretical models cannot explain what we observe in the geological record," says oceanographer Gerald Dickens, study co-author and professor of Earth Science at Rice University in Houston. "There appears to be something fundamentally wrong with the way temperature and carbon are linked in climate models."

During the warming period, known as the "Palaeocene-Eocene thermal maximum" (PETM), for unknown reasons, the amount of carbon in Earth's atmosphere rose rapidly. This makes the PETM one of the best ancient climate analogues for present-day Earth.

As the levels of carbon increased, global surface temperatures also rose dramatically during the PETM. Average temperatures worldwide rose by around 13 degrees in the relatively short geological span of about 10,000 years.

The conclusion, Dickens said, is that something other than carbon dioxide caused much of this ancient warming. "Some feedback loop or other processes that aren't accounted for in these models -- the same ones used by the Intergovernmental Panel on Climate Change for current best estimates of 21st century warming -- caused a substantial portion of the warming that occurred during the PETM."
To anyone who cares about the scientific search for truth, questions of this nature are an invitation to further research. To the political zealots who regard further inquiry as damnable heresy, they are simply quibbles to be brushed aside.
POLITICS: Science And Its Enemies On The Left, Part II(C)
4. Not So Interested In Sharing
Even before the Climategate story broke, we learned perhaps the most damning fact of all about the CRU: its refusal to share the raw data that purports to demonstrate that the Earth is getting warmer. There is nothing more essential to scientific integrity than the willingness to share data to enable everyone - colleagues, competitors, skeptics - to peer-review the conclusions drawn by applying your processes to that data. In a world of many minds, you can never know who will bring new insight to a problem, and the spirit of open inquiry demands that the largest number of minds be brought to bear on any problem. Yet, AGW proponents have fought tooth and nail to avoid sharing their data, until CRU admitted this summer that critical data supporting the AGW hypothesis has been tampered with to the point where it is no longer accessible in its original, unadulterated form:
In the early 1980s, with funding from the U.S. Department of Energy, scientists at the United Kingdom's University of East Anglia established the Climatic Research Unit (CRU) to produce the world's first comprehensive history of surface temperature. It's known in the trade as the "Jones and Wigley" record for its authors, Phil Jones and Tom Wigley, and it served as the primary reference standard for the U.N. Intergovernmental Panel on Climate Change (IPCC) until 2007. It was this record that prompted the IPCC to claim a "discernible human influence on global climate."
+++
In June 2009, Georgia Tech's Peter Webster told Canadian researcher Stephen McIntyre that he had requested raw data [regarding global temperatures], and Jones freely gave it to him. So McIntyre promptly filed a Freedom of Information Act request for the same data. Despite having been invited by the National Academy of Sciences to present his analyses of millennial temperatures, McIntyre was told that he couldn't have the data because he wasn't an "academic." So his colleague Ross McKitrick, an economist at the University of Guelph, asked for the data. He was turned down, too.

Faced with a growing number of such requests, Jones refused them all, saying that there were "confidentiality" agreements regarding the data between CRU and nations that supplied the data. McIntyre's blog readers then requested those agreements, country by country, but only a handful turned out to exist, mainly from Third World countries and written in very vague language.
+++
Roger Pielke Jr., an esteemed professor of environmental studies at the University of Colorado, then requested the raw data from Jones. Jones responded:

Since the 1980s, we have merged the data we have received into existing series or begun new ones, so it is impossible to say if all stations within a particular country or if all of an individual record should be freely available. Data storage availability in the 1980s meant that we were not able to keep the multiple sources for some sites, only the station series after adjustment for homogeneity issues. We, therefore, do not hold the original raw data but only the value-added (i.e., quality controlled and homogenized) data.
Jones' email response to McIntyre included a classic example of the mindset of politicized science:
We have 25 or so years invested in the work. Why should I make the data available to you, when your aim is to try and find something wrong with it.
H/T. As Bruce McQuain concludes from this shoddy episode:
Anyone familiar with data storage throughout the short history of the computer age knows this is nonsense. Transfer of data from various systems to newer systems has been accomplished without real difficulty all thorough its development. What Jones is trying very hard to do is one of two things a) hide data that he's pretty sure won't support his conclusion or b) admitting to a damningly unscientific procedure which should, without his ability to produce and share the original data, call into serious question any findings he's presented.
[T]he raw data on which the landmark 1996 United Nations Intergovernmental Panel on Climate Change based its conclusion has been destroyed. The University of East Anglia's Climate Research Unit acknowledged in August that it discarded data that, in addition to the IPCC report, has been cited by other international studies as the main justification for severe restrictions on carbon emissions worldwide.
More here on additional shenanigans with CRU's computer models. As the CRU emails reveal, the destruction of data was something of a pattern driven by the need to avoid scrutiny:
A May 2008 email from Mr. Jones with the subject line "IPCC & FOI" asked recipients to "delete any emails you may have had" about data submitted for an IPCC report. The British Freedom of Information Act makes it a crime to delete material subject to an FOI request; such a request had been made earlier that month.
Only the subsequent breaking of "Climategate" has finally forced CRU to agree that it will begin to release the raw data on which its studies rest.
As things stood until mid-November 2009, the refusal to share raw data was bad enough. But it was about to get uglier.
5. "Hide The Decline"
The "Climategate" revelation of the CRU emails - which show deliberations among the CRU's scientists and with allies such as Prof. Mann - came from an unknown source, almost certainly as a byproduct of McIntyre's battle to get the concealed data. But no one now seriously contests their authenticity, and they are damning in the extent to which they confirm all the worst suspicions about the politicization of the science underlying AGW theory at an institution that has been a central player in shaping the IPCC's "consensus" reports:
In global warming circles, the CRU wields outsize influence: it claims the world's largest temperature data set, and its work and mathematical models were incorporated into the United Nations Intergovernmental Panel on Climate Change's 2007 report. That report, in turn, is what the Environmental Protection Agency acknowledged it "relies on most heavily" when concluding that carbon dioxide emissions endanger public health and should be regulated.
At least one major figure in the scandal, CRU's Prof. Phil Jones, has already stepped down from his position pending an inquiry into the affair.
I can't hope to catalog here the full scope of the CRU emails - for example, accounts of the scientists cheering the death of one skeptic and musing about punching another in the face or questioning the motivations of their critics and comparing them to critics of Obama's health care plan - but will hit a few of the high points. The emails show CRU personnel frankly admitting the political process' impact on the science
Other emails include one in which Keith Briffa of the Climate Research Unit told Mr. Mann that "I tried hard to balance the needs of the science and the IPCC, which were not always the same"...
More broadly, they reveal a point of view in which facts need to be found to fit the theory rather than the other way around. Here's one email response to the BBC piece linked above regarding the lack of warming over the past 11 years:
The fact is that we can't account for the lack of warming at the moment and it is a travesty that we can't. The CERES data published in the August BAMS 09 supplement on 2008 shows there should be even more warming: but the data are surely wrong. Our observing system is inadequate.
In what is now the most notorious email, Jones, in a 1999 message to Mann and four others, discussed imitating a "trick" used by Mann to "hide the decline" in certain post-1960 temperatures (context explained here and here):
Once Tim's got a diagram here we'll send that either later today or first thing tomorrow. I've just completed Mike's Nature trick of adding in the real temps to each series for the last 20 years (ie from 1981 onwards) amd [sic] from1961 for Keith's to hide the decline. Mike's series got the annual land and marine values while the other two got April-Sept for NH land N of 20N. The latter two are real for 1999, while the estimate for 1999 for NH combined is +0.44C wrt 61-90. The Global estimate for 1999 with data through Oct is +0.35C cf. 0.57 for 1998.
(Mann, for his part, has offered the most unconvincing of explanations as to how he could be ignorant of what this email was talking about).
This graph shows precisely the impact of Jones' trick on the dataset at issue: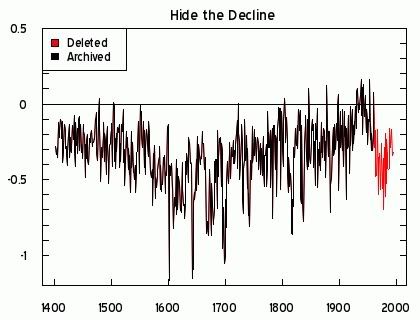 A similar attitude is found in a 2009 email to Jones from Wigley, presenting strategies to "explain" a "warming blip" in the data from the 1940s - again, the sort of thing one does if presenting data in an argumentative format, rather than in the spirit of disinterested inquiry:
Here are some speculations on correcting SSTs to partly explain the 1940s warming blip. If you look at the attached plot you will see that theland also shows the 1940s blip (as I'm sure you know).

So, if we could reduce the ocean blip by, say, 0.15 degC, then this would be significant for the global mean - but we'd still have to explain the land blip. I've chosen 0.15 here deliberately. This still leaves an ocean blip, and i think one needs to have some form of ocean blip to explain the land blip (via either some common forcing, or ocean forcing land, or vice versa, or all of these). When you look at other blips, the land blips are 1.5 to 2 times (roughly) the ocean blips - higher sensitivity plus thermal inertia effects. My 0.15 adjustment leaves things consistent with this, so you can see where I am coming from.

Removing ENSO does not affect this.

It would be good to remove at least part of the 1940s blip, but we are still left with "why the blip".
A similar example of Jones insisting that the data can't be right if it contradicts his "gut feeling" is discussed here, and here an example of the CRU crew's reactions to questions raised by skeptics that they recognized as having some validity. And the examples of the CRU's misconduct may not be isolated incidents, as examination of official data at NASA and in the New Zealand government's temperature records suggests.
Another of the alarming but - to observers of the AGW debate - unsurprising revelations was the extent to which the CRU cabal sought to control the peer-review process to determine its outcome:
Here's what Phil Jones of the CRU and his colleague Michael Mann of Penn State mean by "peer review." When Climate Research published a paper dissenting from the Jones-Mann "consensus," Jones demanded that the journal "rid itself of this troublesome editor," and Mann advised that "we have to stop considering Climate Research as a legitimate peer-reviewed journal. Perhaps we should encourage our colleagues in the climate research community to no longer submit to, or cite papers."

So much for Climate Research. When Geophysical Research Letters also showed signs of wandering off the "consensus" reservation, Dr. Tom Wigley ("one of the world's foremost experts on climate change") suggested they get the goods on its editor, Jim Saiers, and go to his bosses at the American Geophysical Union to "get him ousted." When another pair of troublesome dissenters emerge, Dr. Jones assured Dr. Mann, "I can't see either of these papers being in the next IPCC report. Kevin and I will keep them out somehow - even if we have to redefine what the peer-review literature is!"
Eduardo Zorita, a German climate researcher who reviewed papers for Climate Research, has called for three of the leading (Jones, Mann, and Stefan Rahmstorf) to be ousted from the IPCC, arguing that the CRU emails confirm what was already known by climate researchers about the corruption of the process:
I may confirm what has been written in other places: research in some areas of climate science has been and is full of machination, conspiracies, and collusion, as any reader can interpret from the CRU-files. They depict a realistic, I would say even harmless, picture of what the real research in the area of the climate of the past millennium has been in the last years. The scientific debate has been in many instances hijacked to advance other agendas.

These words do not mean that I think anthropogenic climate change is a hoax. On the contrary, it is a question which we have to be very well aware of. But I am also aware that in this thick atmosphere -and I am not speaking of greenhouse gases now- editors, reviewers and authors of alternative studies, analysis, interpretations,even based on the same data we have at our disposal, have been bullied and subtly blackmailed. In this atmosphere, Ph D students are often tempted to tweak their data so as to fit the 'politically correct picture'. Some, or many issues, about climate change are still not well known. Policy makers should be aware of the attempts to hide these uncertainties under a unified picture. I had the 'pleasure' to experience all this in my area of research.
Others have also come forward with stories of Jones' involvement in using peer review to stifle dissenting points of view. The structure of scientific peer review and of academia more broadly unfortunately creates opportunities for politicized groups to capture these institutions and enforce their particular brand of groupthink in a field like climate science. The critical way this is done - hinted at by Jones' threat to "redefine" peer review - is the existence of gatekeepers. An establishment consisting of a comparatively small number of people controls publication, which controls who gets to get jobs in academia and who has to go out into business. That establishment also controls or influences grant funding (which is often government grant funding, depending on the field), which controls whose jobs are made permanent with tenure and whose aren't. You have to publish and get funding to get and keep your job. If the gatekeepers refuse to publish or fund any dissenters, and they do refuse, then scientific consensus is not reached by reasoning but manufactured by brute force.
The kind of thinking apparent in the CRU emails is so common among AGW proponents that they are sometimes unafraid to say it aloud. Economist Thomas Schelling told The Atlantic that "It's a tough sell. And probably you have to find ways to exaggerate the threat" before musing that "I sometimes wish that we could have, over the next five or ten years, a lot of horrid things happening -- you know, like tornadoes in the Midwest and so forth -- that would get people very concerned about climate change."
Some environmentalists, like British leftist George Monbiot, found Climategate too much to stomach, leading calls for Jones to step down. But the head of the IPCC, after the fashion of all UN bodies, has circled the wagons around the Climategate miscreants; while he chastised them for being "indiscreet" in putting their comments in writing, he "said an independent inquiry into the emails would achieve little, but there should be a criminal investigation into how the emails came to light."
The Obama Administration's response, as the President prepares to journey to Copenhagen to promote new restrictions on the U.S. economy in the name of preventing AGW, has similarly been one of sheer denial of the need for re-examination of the science:
Press Secretary Robert Gibbs stressed this afternoon, and the White House nonetheless believes "climate change is happening."

"I don't think that's anything that is, quite frankly, among most people, in dispute anymore," he said during Monday's press briefing.
Climate czar Carol Browner was equally dismissive, leaning on the crutch of "consensus":
Ms. Browner initially shrugged when asked about the e-mails, saying she didn't have a reaction. But when a reporter followed up, she said she will stick with the consensus of the 2,500 climate scientists on the International Panel on Climate Change who concluded global warming is happening and is most likely being pushed by human actions.
And "science czar" John Holdren saw nothing unusual in the CRU's behavior:
"It's important to understand that these kinds of controversies and even accusations of bias and improper manipulation are not all that uncommon in all branches of science," Holdren told the House of Representatives Select Committee on Energy Independence and Global Warming.
This is unsurprising, since the email archive includes Holdren's own emails sharing support and suggestions with a number of the Climategate figures.
Pay no attention, in other words, to the politicized hacks behind the curtain; just know they have reached a "consensus."
C. Cutting The Corners
The assiduous use of shady science for political ends usually runs further under the radar than John Edwards' snake oil or the Climategate scandal. As liberal Slate writer Will Saletan admits of efforts to use politicized junk science to prop up "sin taxes" on junk food and fast food as a means of meddling with individuals' personal choices:
To justify taxes on unhealthy food, the lifestyle regulators are stretching the evidence about obesity and addiction.... Liberals like to talk about a Republican war on science, but it turns out that they're just as willing to bend facts. In wars of piety, science has no friends.
And Congressional liberals can be quite as uninterested in science when acting on product safety scares driven by junk science, quackery or Luddism, as NPR noted earlier this year:
A new federal ban on chemical compounds used in rubber duckies and other toys isn't necessary, say the government scientists who studied the problem.

The ban, which took effect in February, prohibits making or selling duckies and other children's products that contain chemicals called phthalates, which are used to make plastic soft. Congress passed the ban in 2008 after concluding that the chemicals posed a risk to children who chew on their toys.

The action came despite advice not to enact the ban from scientists at the Consumer Product Safety Commission, which regulates toys.

The commission opposed the ban because "there was not a risk of injury to children," says Dr. Marilyn Wind, deputy associate executive director for health sciences at CPSC.

It reached that conclusion after studying phthalates in toys for more than 25 years and acting several times to make sure children were not exposed to even a slight risk from products that contain the chemicals.
Overlawyered has extensive archives on the the Boxer-and-Feinstein-pushed legislation in question, the Consumer Product Safety Improvement Act (CPSIA), and its disastrous effects in practice - another reminder that injecting bad science into politics has real-world consequences. In fact, there is ample historical precedent, in the hard sciences as well as in social science, for left-wing political and social agendas to drive scientific hackwork whose influence far outstrips anyone's ability to replicate its underlying research:
Consider the residue of such frauds as Rachel Carson, Alfred Kinsey, and Margaret Mead. Carson's invented findings and unscientific methods led to the banning of DDT, which in turn cost the lives of tens of millions of children in undeveloped nations. Kinsey's tortuously doctored "sex research," as Dr. Judith Riesman has so amply demonstrated, was not only invented to sate his perverted lusts, but created scientific myths about normal and abnormal behavior which haunt us to this day. Mead also simply invented research to fit her idea of what the science of anthropology ought to be in order to justify her own immature and immoral behavior. Carson, Kinsey, and Mead had an agenda before they did any research, and this agenda governed everything else.
Which brings us to the root cause of politicized science: the temptation of power.
POLITICS: Science And Its Enemies On The Left, Part II(D)
IV. The Temptation of Power
Politicized science is, itself, a subset of the most profound problem of scientific integrity: the temptation presented when science is freed from the restraints that accompany all other forms of human activity, from accountability to moral opprobrium to external civilian oversight. When experts rule, the first casualty is the quality of their expertise.
The siren song of scientific triumphalism was graphically on display throughout the multi-year controversy over embryonic stem cell research. The conservative objection to such research was that it not only entailed the destruction of human embryos, but envisioned the future creation of more embryos - each containing a genetically unique human identity - solely for the purpose of destroying them in the process of scientific research. Even moreso than the question of the humanity of unborn fetuses growing in the womb, the question of whether to regard embryos outside the womb as fully human due to their distinct genetic identity is one on which people of good faith disagree. There is understandable reluctance to face the consequences of granting any legal status to an embryo, especially because embryos are routinely created with no prospect of a full human life in the process of in vitro fertilization, and by and large our society has settled without much debate on the legality and propriety of in vitro fertilization.
President Bush, weighing the moral calculus involved, reached a compromise decision - explained in a nationally televised address in August 2001 - to provide for the first time federal funding for stem cell research, whether or not it involved stem cells derived from the destruction of embryos, but drawing the line at taxpayer funding for any research that would entail the destruction of future embryos. Bush's compromise was not morally satisfying or entirely principled from anyone's perspective, but it was an attempt to balance the moral and practical considerations surrounding some of the thorniest problems of modern bioethics.
Honest critics of Bush's decision argued that Bush had drawn the line in the wrong place, and that embryos should not carry any moral weight. But those voices were few. By far the loudest talking point from the Democrats was that Bush had committed the offense of placing moral restraints of any kind on science. This was, we were told, "anti-science" or a "war on science," and as discussed above it set off an orgy of exaggerations of the promises of the science involved. At the core of the argument was the assertion that religious people in particular should not dare to speak against the morality of anything scientists might wish to explore.
The constant insistence by the Democrats that scientific progress should brook no moral restraint, and that anyone standing in the way of this particular scientific project was a dangerous theocrat, was positively chilling. Because science, with its great power not only over human liberty but human life itself, is if anything one of the human activities most in need of our most strenuous moral faculties. Biochemists and climatologists need to be subjected to civilian oversight and the moral conscience of society for precisely the same reasons as soldiers, economists, central bankers, lawyers, spies, diplomats, epidemiologists, rocket scientists, urban planners, and every other form of expert.
The temptation of the unrestrained expert comes in two stages. First, the expert in pretty much anything is subject to tunnel vision, and the greater the expertise, the greater the risk of such a focus. The expert is apt to have a limitless appetite for resources while ignoring competing social priorities. He may demand policies that maximize the ends sought by his discipline, while ignoring countervailing considerations and interests. He may refuse to accept any moral restraints or limitations on his methods or the uses of his creations.
Tunnel vision is only the beginning, however. Because the expert who learns that the recitation of jargon and the appeal to authority effectively exempts him from moral or social scrutiny has made the most dangerous discovery known to man: the ability to get away with virtually anything. Because if people will let you talk your way into money and influence with good science on the grounds that they do not understand it or have no right to obstruct it, what is to stop the expert from using bad science from accomplishing the same end, if the layman isn't equipped to tell the difference between the two?
Cracked.com, of all places, satirically captures the essence of the problem:
Every scientist dreams of a world without ethics. Whenever a scientist sees a set of twins, he or she secretly wonders what would happen if you surgically swapped their faces. They already have a chamber set up to harness the power of their screams as they gradually realize what has happened. Every day, ethics barely prevent experiments like this from being carried out.

But what if we didn't have these ethics? When Nazi doctors were let loose during WWII, the incredible rate of their discoveries were matched only by the inadequacy of words to atone for them. They might have been monsters, but without them, we never would have discovered the yield elasticity of the elderly, or learned what part of a prisoner's tongue detects the taste of angel meat.
The Nazis are obviously the extreme example, as is often the case, but the argument ad Hitlerum is a useful moral guidepost for precisely that reason: it reminds us why we insist that scientists, like everyone else, be subject to moral restraints and the skeptical eye of their fellow man. Because otherwise you do things like appointing a "science czar" who has written approvingly of compulsory abortion and sterilization as a solution to overpopulation.
In a society not yet as far gone as Nazi Germany, Climategate is what happens when scientists think nobody is looking, or at least that nobody is competent or willing to call them out. Given power, or the ability to influence those in power, the scientists have acted the way human beings have always acted around power. And because the Left provides greater scope than the Right for the exercise of power over civil society in the name of what science says is good for us - and because it denies the sources of moral remonstrance that can stand as a bulwark against scientific hubris - it will continue to offer the greatest temptations for scientists to be seduced by power.
In Part III: Dogma and the starvation of science and technology.
December 4, 2009
BASEBALL: Don't Call Us, We'll Call You
Interesting to see the breakdown of who was and wasn't offered arbitration among this year's free agents. Recall that if a player is offered arbitration, he can accept or he can decline and be a free agent, in which case the team gets compensation in the form of a draft pick. If the team doesn't offer arbitration, it loses the chance to get a draft pick. (In 2006, the CBA eliminated restrictions on re-signing players denied arbitration). In other words, given that offering arbitration gives the team a benefit (a draft pick) it would otherwise miss out on, the team should offer arbitration to ensure it gets compensated for its possible loss unless one of the following things is true:
1. It doesn't want the guy back at any price; or
2. It thinks the arbitrator is likely to give the player more money than he'd get on the open market.
In theory, the purpose of arbitration is to give players something like their value on the open market; the system looks at what comparable players make, and values them accordingly. Since the comparable players are either guys who signed on the open market or guys who lacked the leverage of free agency (usually because they're not FA-eligible yet), in theory, there should be almost zero risk of an arbitration award greater than the player's open-market value. Which means that if a significant number of teams are declining arbitration offers to players they still have some interest in employing (obviously some of the players denied arbitration are genuinely unwanted by their teams), the teams must feel that the arbitration system isn't working and/or that its system of comparisons is out of whack because the salary market is declining.
Here's ESPN's list of significant players denied arbitration so far:
Johnny Damon
Miguel Tejada
Randy Wolf
Orlando Hudson
Bengie Molina
Jermaine Dye
Octavio Dotel
Placido Polanco
Darren Oliver
LaTroy Hawkins
Orlando Cabrera
Kevin Gregg
Hideki Matsui
Andy Pettitte
Vladimir Guerrero
Kelvim Escobar
Jon Garland
Jarrod Washburn
Erik Bedard
Carlos Delgado
Mike Cameron
Miguel Olivo
By contrast:
Just 23 players received arbitration offers -- one fewer than last year -- and only 10 were position players: St. Louis outfielder Matt Holliday and third baseman Mark DeRosa; Boston outfielder Jason Bay; Los Angeles Angels third baseman Chone Figgins; Seattle third baseman Adrian Beltre; Tampa Bay catcher Gregg Zaun; Texas catcher Ivan Rodriguez and outfielder Marlon Byrd; and Toronto catcher Rod Barajas and shortstop Marco Scutaro.

Pitchers offered arbitration included Angels ace John Lackey; Boston reliever Billy Wagner; Detroit's Brandon Lyon and Fernando Rodney; Minnesota's Carl Pavano; Oakland's Justin Duchscherer; Tampa Bay's Brian Shouse; Atlanta's Mike Gonzalez and Rafael Soriano; Colorado's Rafael Betancourt and Jason Marquis; Houston's Jose Valverde; and St. Louis' Joel Pineiro.
Look at the Yankees as an example of this. They presumably want Pettitte back. They seem to prefer dumping Matsui and keeping Damon, but it's hard for me to see why they'd not even try to get Damon to accept arbitration. Yet they didn't offer arbitration to any of them. That suggests a lack of faith in the system.
December 2, 2009
WAR: Rumsfeld to Obama: What Troop Requests?
One line in President Obama's orgy of blame-Bush-for-everything speech last night has prompted former Defense Secretary Don Rumsfeld, who managed the Afghan war for five years, to call for the President to back up his assertions. Secretary Rumsfeld's statement, issued in a press release this morning, called for an investigation of a certain 21 words in Obama's speech:
"In his speech to the nation last night, President Obama claimed that 'Commanders in Afghanistan repeatedly asked for support to deal with the reemergence of the Taliban, but these reinforcements did not arrive.' Such a bald misstatement, at least as it pertains to the period I served as Secretary of Defense, deserves a response."

"I am not aware of a single request of that nature between 2001 and 2006. If any such requests occurred, 'repeated' or not, the White House should promptly make them public. The President's assertion does a disservice to the truth and, in particular, to the thousands of men and women in uniform who have fought, served and sacrificed in Afghanistan."

"In the interest of better understanding the President's announcement last night, I suggest that the Congress review the President's assertion in the forthcoming debate and determine exactly what requests were made, who made them, and where and why in the chain of command they were denied."
The Administration responded by backing away:
Robert Gibbs cheerfully responded to Donald Rumsfeld's denial that he'd denied troops to Afghanistan with, first, a clarification that Obama had been talking about the post-Rumsfeld era of 2008.

..."I will let Secretary Rumsfeld explain" whether the war in Afghanistan "was sufficiently resourced during his tenure" ... and how he thinks "history will judge whether they were or were not sufficient," Gibbs said.

Gibbs quipped: "You go to war with the secretary of Defense that you have."
Or, in the case of the Obama Administration, you go to war with the very same secretary of Defense - Robert Gates, the man who held the job in 2008 - that you just threw under the Obamabus. If you recall, Gates himself had testified in November 2008 (after the election) that he expected an additional 30,000 troops to be sent, but the incoming Administration put off its follow-through on that promise until March, and cut Gates' proposal nearly in half.
21 words don't say what they used to, do they?
Gibbs' back-and-forth with Jake Tapper below the fold.
Read More »
December 1, 2009
POLITICS: Silly Sarge Strikes Again
I follow a handful of writers on the Left to keep tabs on their latest pathologies (and, on rare occasions, to get out in front of stories when they actually have a point), and I must say that few of them provide such a persistent source of entertainment as Greg Sargent, formerly a paid left-wing activist employed by the Soros-funded Talking Points Memo family of sites, and now a paid left-wing activist employed by the Washington Post. While the WaPo has always been admirably even-handed in its selection of op-ed writers - unlike the New York Times, it not only gives a decent amount of airtime to conservative voices but uses talented intellectual combatants like Charles Krauthammer, not Washington Generals "conservatives" like David Brooks. The WaPo's news coverage, however, has remained stocked with the same sorts of establishment liberals who staff all the big-city newsrooms. But hiring Sargent as a full-time blogger was something different: there's no hiding the fact that he's a professional activist, and many of his blog posts are uncritical reprints of Democratic press releases without even the usual effort to cloak them in the garb of a news story. It is sadly telling that the WaPo felt no need to hire a professional activist on the Right, but then most of the online Right consists of part-timers with day jobs, anyway.
One of the more ironic of Sargent's hobbyhorses, therefore, is his participation in the Left's campaign to rid the airwaves of any remaining conservative voices or coverage of their arguments. In today's installment, he makes the self-evidently ridiculous argument that the media shouldn't cover criticism of the Obama Administration by Dick Cheney, who if you recall not only just completed 8 years as the Vice President of the United States, but has also served as Secretary of Defense, White House Chief of Staff, and House Minority Whip during his decade in Congress:
Politico is only the latest outlet to grant Cheney a platform to defend his legacy and to launch political attacks on the current president. The amount of airtime that has been granted by the networks and other news outlets to Cheney and his daughter, Liz Cheney, has been nothing short of extraordinary. Why is it happening?

Is Cheney a lead spokesperson for the G.O.P. on foreign policy? He's a private citizen with no policymaking role whatsoever -- leading G.O.P. Senators more properly hold that role. What's more, Cheney's foreign policy views are far out of the mainstream. Is he a contender for the 2012 G.O.P. nomination? Nope. He has flatly ruled out a run, and the recent Washington Post poll found that he's not on the radar of the G.O.P. electorate at all for 2012.

Is he the lead spokesperson for the previous administration? Yes, Cheney was a key architect of many of Bush's best known and controversial national security policies. But so what? Some of the policies he's all over the airwaves defending have been canceled and simply don't exist anymore. Why are we even debating them, when some of the new administration's most important national security initiatives haven't even been announced yet, let alone been subjected to the test of time?

The only conceivable justification for granting Cheney so much airtime would be to allow him to defend himself in the event of a real accounting of Bush-Cheney's interrogation program. But that's unlikely to happen. In any case, why not wait until it does before booking Cheney for more interviews?
One might ask why Greg Sargent is more qualified to get his views in print than Vice President Cheney, but let us ask a few questions here about how things would have gone down when George W. Bush was president.
What if Bush was criticized by former Vice President Al Gore, then a private citizen who signalled fairly early that he wasn't running again in 2004? We know that Gore generated tons of headlines. We know he was given an Oscar, and Emmy and a Nobel Peace Prize as a reward for his criticisms.
What if Bush was criticized by former President Jimmy Carter, a figure rejected by the American electorate as firmly as anyone in memory? Carter, too, generated scores of column-inches and was also awarded a Nobel Peace Prize.
What if Bush was criticized not by a former elected official but by a left-wing filmmaker with no political standing whatsoever? Michael Moore certainly got tons of play for his bizarre rants against the Bush Administration, as indeed did numerous Hollywood figures who represent nobody but themselves.
I could go on, but as usual with these kinds of "arguments" from the Left, a little examination is more than enough to get the point: during the Bush years, nobody tried to enforce Sargent's rule that press coverage of criticisms of the Administration should be strictly limited to officeholders and potential presidential candidates. As an activist, Sargent wants to limit the universe of critics, partially to limit criticism and partially because current officeholders and future candidates always need to be more constrained in what arguments they make, more hemmed in by calculation and less free to take a stand that moves the center of public debate.
Nobody who writes for the purpose of giving an honest opinion rather than activism would defend Sargent's point with a straight face. He's just trying to help his side.